Aquamarine waters glitter as they slide over fine, white sand. Palm trees sway in the breeze, refreshing cyclists and beachgoers alike. Marco Island is a lesser-known haven in South Florida, with expansive views and a little something for everyone.
The largest of the Ten Thousand Islands, "Marco Island," is located between Naples and Everglades National Park on Florida's Southern Gulf Coast. Six miles of wide beaches and over 100 miles of canals make the island a vacationer's dream. With impressive shelling on the beach, kayaking in the canals, and boating to nearby uninhabited islands, there's no shortage of things to experience. Not to mention the food; Marco Island restaurants have something for everyone's taste.
This six-mile-long island is packed with restaurants, over 50 in fact. In a nod to their beachy surroundings, most eateries are casual, embracing the laid-back island lifestyle, though the Marco Island fine dining scene gives even the most cosmopolitan of towns a run for their money.
Whether you're looking for something to eat on the go, by the water or all-dressed-up, these are the nine places to eat in Marco Island no visitor should miss.
Not in the mood to go out to eat tonight? Click here to have Grubhub deliver directly from the best restaurants in town to your doorstep.
Table of Contents
The 10 Can't-Miss Marco Island Restaurants
267 N. Collier Blvd. // (239) 394-2600
By far the most popular breakfast spot on the island, Doreen's can be a bit of a nightmare to get into at the height of the season. The wait is a hint at what's to come, and I assure you, it's worth it.
While anticipating the call of your name, check out the full-service bar. In addition to brunch classics, such as mimosas and Bloody Marys, coffee-based cocktails are on the menu to pick you up in more ways than one.
If you're the designated driver, rest assured you'll have your choice of premium coffees and seasonal juices too.
Doreen's menu has a little bit of everything, from the mundane to the positively inspired. My favorites are those that pay homage to their home state, making this one of the best places for breakfast on Marco Island.
Take, for example, the Key Lime Pancakes. Have you ever heard of anything so Florida? Fluffy pancakes are smothered in a tart and creamy key lime sauce. You'll swear you skipped straight to dessert.
If savory is more your style, try one of the Egg Bentley, aptly named, as they tend to outshine the classic Benedict. The Southern breakfast special is can't-miss. Made with fried green tomatoes, a homemade biscuit, and topped with cheesy grits, it's a true taste of the south.
For the more adventurous eater, there's the Fig Omelet. Filled with bacon, scallions, figs, and creamy brie cheese, it may feel a little out-there, but trust the chef! This is a flavor combo to love.
Like a true breakfast staple, Doreen's is only open 7:30 am – 2:00 pm, and they do serve a good variety of lunch items, including a flavorful selection of filling salads. But no matter what you choose, Doreen's is a place every visitor should experience for breakfast on Marco Island.
277 N. Collier Blvd. #1 // (239) 642-4141
If you're looking for something a little faster than Doreen's, though still filling and decadent, head to Empire Bagel Factory. It's a family-owned restaurant located near the Tigertail public beach and perfect for a day outside.
The bagels are cooked fresh every day, and if you consider yourself a bagel aficionado as I do, you won't be disappointed.
Another perk? With every sandwich slathered in cream cheese and piled high with meat and veggies, Empire Bagel Factory may be the best restaurant on Marco Island when it comes to bang for your buck.
These guys don't skimp on the seasoning either.
Asiago, Garlic, Sesame, and Everything bagels are loaded with the toppings that give them their name. Try the Everything bagel, perfectly toasted, with scallion cream cheese. You may not want to get close to anyone for the rest of the day, but you won't regret it either.
The bacon, egg, and cheese breakfast sandwich will keep you fueled up all day long. And if you're looking for a sweet treat, the cinnamon sugar bagel pairs well with maple or walnut cream cheese.
Did I mention they serve lunch too? I'm hard-pressed to choose anything over a bagel sandwich for lunch. Lox is a typical go-to, and it's a stand-out here. Made on a bagel with a schmear of your choosing, silky lox is piled with tomatoes, onions, and all-important capers. What a way to start the day!
The staff here is friendly and keeps the coffee coming for anyone dining in. Call ahead orders are also available for anyone on the go and in a hurry. Make sure you try this classic Marco Island restaurant for breakfast or lunch.
760 N. Collier Blvd. // (239) 393-2433
Hidden in a corner of the Esplanade Shoppes is a treasure worth seeking out. Mango's Dockside Bistro was opened as a family affair by Marco Island natives, and you can feel it in every detail, from the friendliness of the staff to the kitschy bathroom décor. The wall of stunning sunset photos donated by patrons could keep me occupied for hours.
More than just some friendly faces, Mango's Dockside is known for great waterside dining in Marco Island and has an expansive menu featuring various local delicacies and traditional bistro fare.
If you've never tried conch fritters, this is the place to take a chance! Battered and fried ever so lightly and served on a drop of lemon chili aioli, the conch is front and center and at its very best. The spicy conch chowder is also good, though more reminiscent of gumbo than a creamy chowder you may be expecting.
The fish tacos are another light option to enjoy as you soak up the sun. I recommend getting them grilled and springing for the fresh grouper. They're light and flaky with a tangy bite of scallion aioli and creamy guac.
An array of salads, sandwiches, burgers and even sushi is on the menu.
The Ceviche Roll stars delicate yellowtail topping shrimp tempura and avocado roll, but the "Mango's Way" ceviche sauce brings it all together for a bright and refreshing finish. I also recommend the Baked Scallop Volcano roll if you're looking for something more filling and with a little spice.
No matter what you choose, you can't go wrong with this nearly hidden gem. You'll see why it makes our list of the top nine restaurants on Marco Island.
900 S. Collier Blvd. // (239) 389-0509
Sunset Grille is an in-demand tourist attraction as it's located on Marco's popular South Beach. But let's be real, the whole island is a tourist attraction. This one just happens to be worth more than most!
The food is largely normal bar fare, Florida-style. We tried the mini-crab cakes, and I highly recommend them. Most crab cakes tend to disappoint because the crab is used sparingly. Not at Sunset.
These mini crab cakes were loaded with fresh crab meat and not weighed down with bread crumbs and oil. They're served on a creamy aioli that lends a brightness to the overall dish.
We also splurged on crab legs, and I got mine with a side of perfectly prepared onion rings. Large rings were lightly but adequately breaded and fried to deliver that crispy crunch followed by the sweetness of the onion. No matter what entrée you get, the onion rings should not be missed!
Fried fish baskets, juicy burgers, saucy wings, and a whole host of other items are on the menu as well. If you can't find something to eat here, you're not hungry. This is the best waterfront restaurant in Marco Island for classic American food.
The bar is indoor-outdoor style, flowing onto the patio. It's the perfect place to perch and watch the sun disappear into the Gulf. Pay close enough attention, and you might just catch the "Green Flash" as the sun wins its final goodnight.
961 Winterberry Dr. // (239) 393-4960
This unpresuming restaurant looks like a quaint, Italian bistro, but the sign outside promises American Cuisine. The eclectic menu combines multiple inspirations to produce show-stopping delights. The impressive presentation and daily entertainment are how they won my heart.
Do yourself a favor and start with the Warm Brie. Heated to optimal melty-ness and topped with toasted pine nuts, a drizzle of sweet honey, and arugula to balance it all together, each bite is delivered on crispy ciabatta crostini.
For the main course, try the Seafood Linguini in a velvety cream sauce or the spiced-just-right Fra Diavolo. Neither dish skimps on the seafood.
A Half Rack of Lamb is not only a perfect portion, but the price is just right too. Served over roasted garlic mashed potatoes and topped with a cherry and mint demi sauce, it's a dish no one should miss.
Don't leave without at least splitting a dessert. The Key Lime Pie and Flourless Chocolate Torte are both gluten-free, so an excellent option for sharing with a large party. If you're looking to splurge, go for the homemade Waffles and Ice Cream served with caramelized bananas and Nutella.
Once you've eaten to your heart's delight, kick back and enjoy the entertainment after your Marco Island dining experience. There's no better way to spend a night out.
480 S. Collier Blvd. // (239) 393-1600
The moment you step through the doors at Sale e Pepe, you'll think you've been transported to Italy. The dining room is the picture of elegance, all marble, and richly appointed chairs. But the Terrace is reminiscent of trendy, Italian lake-side bistros. Order an Aperol Spritz and settle in.
If you're not sure where to start, one word: burrata! This creamy, milky, slightly sweet cheese is one of the best things on the planet, and Sale e Pepe's Caprese preparation does not disappoint.
All of the pastas come highly recommended, though try the Cacio e Pepe. It's a twist on a classic, made with agnolotti filled with pecorino, peppers, and guanciale. The Pappardelle Alla Bolognese stays true to its roots and is a warm and familiar option.
The Passera is brightly flavored flounder prepared "meuniere" style with olives, capers, and of course, lemon. Try not to lick the plate when you've finished. Sale e Pepe also offers a full, salt-crusted fish if you're looking for a unique Marco Island dining experience to share around the table.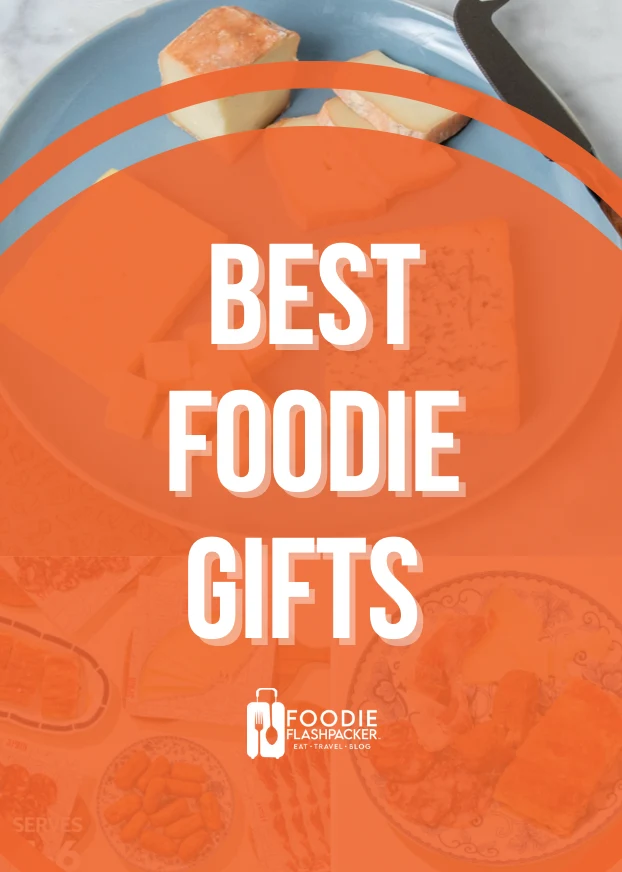 Are you a real foodie? I've compiled a list of the best foodie gifts you can get for yourself and your closest ones. Cheese, meat and sweets subscriptions, and some classic must-have foodie gadgets.
If you're going with meat, stick with a classic: Vitello Alla Milanese. Thin, tender veal is crusted in Parmigiano and topped with arugula and cherry tomatoes. It's light but packed with flavor and will leave you with room for dessert.
This may be one of the pricier places, but it's also among the more memorable Marco Island restaurants.
1215 Bald Eagle Dr. // (239) 394-3313
The Snook Inn is a staple in Marco and exemplifies one of the more unique, and my favorite aspect of island life – sail-up dining! Located on the water at the north end of the island, Snook Inn offers several boat slips for diners coming in off the water.
The location and view alone make Snook Inn a can't miss for visitors, but the food's pretty tasty too. It's also one of the more reasonably priced waterfront restaurants on Marco Island. With a daily happy hour and all-you-can-eat crab special running in the summer, there's always a good deal to be found.
There's ample outdoor seating and live music every day, making this the perfect beach bar to post up at on a lazy afternoon. If you're feeling fancy, sip on the house Frosé. For the truly daring, you can even top it with a vodka floater.
The Spicy Grapefruit Jalepeño Margarita is refreshing and comes with the promised kick. Made with fresh-squeezed juice, fresh jalepeños, and a sriracha salt rim, it's quite the treat on a hot day.
And, for those looking for their next Insta-inspiration, the Loaded Bloody Mary is definitely picture-worthy, piled high with meats, cheese, and pickled veggies.
The menu is huge, and the food is fabulous, so you'll have no trouble soaking up your libations. Between the Stuffed Oysters, Smokehouse Baby Back Ribs, and Calusa Flatbread, you could make a meal out of the appetizers.
Save room for the Grouper Sandwich, though; it's famous for a reason. Available fried, blackened, or grilled, I recommend blackened, though all preparations are fantastic. Served with a side and a trip to the salad bar, it's worth every penny.
Sit back, relax, enjoy, and you may even see a dolphin stop by to wave hello as he passes this great place to eat on Marco Island.
599 S. Collier Blvd. // (239) 389-2333
One of four restaurants owned by the Carvelli family, but with a personality all its own.
DaVinci's, an upscale Italian restaurant, was the family's first contribution to the island, bringing all the flavors of their home in Mesoraca, Italy, to southwest Florida. In 2013, they opened the doors to Marco Prime Steaks and Seafood, their take on the classic American Steakhouse.
The family also owns The Oyster Society and the previously mentioned Snook Inn. All, except for the last, are located in the same small retail block on South Collier Blvd.
All offer attractive Happy Hour specials featuring a substantial selection of custom cocktails too. At Marco Prime, start with the Vesper, a light yet potent cocktail of gin, vodka, and floral Lillet.
A nice selection of wine and appetizers are also available at a hefty discount during happy hour and only at the bar.
The Wagyu Beef Crostini is a must-have. The meat is so tender and flavorful, it feels delightfully decadent. It's accompanied by sautéed mushrooms and onions that highlight the creamy tang of blue cheese crumbles sprinkled on top. If you're into the presentation, you'll also dig the edible flowers.
The lamb carpaccio is also highly recommended and a rare find. Served with a briny combination of olives, peppery arugula, tart sundried tomatoes, goat cheese, black truffle, and topped with a lemon vinaigrette, it's a worthy opponent to the more traditional beef preparation.
As a premium steakhouse, there are a variety of cuts and a school of fish available, all of which can be made to order.
The filet mignon cooked rare and topped with rich, umami foie gras is tender and sinful. Enjoyed with creamy spinach made with smoked gouda and a double stuffed loaded potato, it's a dinner fit for a king.
The Asian BBQ Yellowfin Tuna served with black rice, crab, and pineapple pico is a robust seafood option. As you feel yourself begin to slip into a well-earned food coma, don't miss the Family's Secret Espresso Martini for a delicious wake-up call.
If you are looking for a Marco Island steakhouse, this is your spot.
599 S. Collier Blvd. #218 // (239) 394-3474
If there's one restaurant you'll hear recommended, again and again, it's The Oyster Society. It seems that one thing everyone here can agree on is that it's the best restaurant on Marco Island – and they're absolutely right.
A sister restaurant to Marco Prime, and right next door, Happy Hour specials abound here too, though in a nod to the prohibition-era theme of the restaurant, it's delightfully referred to as "Social Hour" here.
If you only try one thing, let it be the Spicy Tuna Bites. Creamy tuna mixed with a spicy aioli is set atop the most delicately fried pieces of sticky rice. Finished with micro herbs and a combination of sweet and spicy sauces, this appetizer hits every note.
You won't want to stop there, though. Blue Point Oysters are only $1.50/each during Social Hour, so you can enjoy to your heart's delight without breaking the bank.
For diners more interested in land-side fare, try the Pork Belly and Tostones. The pork belly is rich but balanced with an herbaceous chimichurri sauce and fresh pico de gallo.
Not offered at happy hour, but worth it, is the Caramelized Spanish Octopus. Served over a white bean salad with smoked pepper vinaigrette, it's like taking a trip to the Mediterranean before the main course.
There's also a decent selection of sushi. Hamachi Crudo is always a home run, and the Surf and Turf roll is a fun departure from the norm. It's a bit pricey but worth it if you're looking to splurge.
As a fine-dining seafood restaurant in Marco Island, you'll recognize some staples like Lobster Thermidor, Salmon Oscar, and Ciopinno, but look a little closer, and you'll discover what makes this place so special.
Pistachio Crusted Sea Bass is a fun take on this delicate fish. Crushed pistachios generously cover the mild sea bass served over a white bean and shrimp ragout. It's complex, flavorful, and a fan favorite for good reason.
The Seared Diver Scallops offer another unique treat, topping butternut squash and mascarpone ravioli with a carrot and beet puree, sprinkled with a vanilla bean beurre blanc. You won't find anything like it anywhere else.
The Moroccan Lamb Shank with sundried tomato couscous and roasted vegetables is spiced to perfection and a decadent alternative for carnivores.
Reservations can and should be made, though keep in mind that Happy Hour is only available first-come, first-served at the bar for all of the Carvelli family restaurants.
Whether you're looking to indulge in the bounty of seafood a coastal town has to offer or just looking for something you can't get anywhere else, Marco Island has several of the best places to eat for you.
350 Royal Palm Dr, Marco Island, FL 34145, United States //+12393890580
Grilled & fried fish, seafood, and sides with rustic, eclectic interiors and a large patio to fulfill your experience. A house like a restaurant that gives you a village vibe, perfect for family gatherings.
The restaurant is not huge or fancy, but the food is fresh, cooked to order, and delicious! The menu consists of fresh fish and local gulf shrimp, which you can get grilled or fried. The fried option is not like you will get at other restaurants: it's an impossibly light batter, flash fried, retaining all of its sweet flavors. Sides include fries, cole slaw, or black beans and rice.
The fish taco is huge and extremely delicious. It is definitely something you can not find everywhere, and their homemade fries are perfectly seasoned and crispy.
---
FAQ
What are the most popular restaurants on Marco Island?
The best restaurants in Marco Island include:
La Tavola
Marco Prime
The Oyster Society
What are the best restaurants in Marco Island that deliver?
Some of the most popular restaurants in Marco Island that deliver are:
Mango's Dockside Bistro
La Tavola Restaurant and Bar
Sale e Pepe
Which one of these Marco Island restaurants will you try first? Let us know in the comments below!
While in Marco Island, don't miss out on activities that will help immerse yourself with the city (hurry while they're hot!):
Visiting other destinations in Florida? Check out our restaurant guides to the following cities:
---
By the time she was ten, Kerri Smith had already lived in five different states and had attended as many grade schools. Moving to new places instilled a love of adventure from an early age and a desire to see as much of the world as possible.
Kerri is an avid traveler and believes firmly that culture is rooted in a community's food and dining experiences that can make or break a trip. Whether solo or with friends, She enjoys traveling best when the most are made of every experience. Good, bad, or otherwise, her motto is "…but would it make a good story?"
Kerri left her traditional job in advertising sales to become a full-time travel writer and to live her one life as fully as possible.