You might think you know all about the local cuisine if you're planning a vacation to the Sunshine State. However, you'd be wrong. After being colonized by Spanish and Frenchmen, Florida now has regional differences that rival the bragging rights of your state.
You'll find some of the country's tastiest foods on this palm-tree paradise, so whether you have a sweet tooth, health nut or carb obsession, you'll find it in Florida.
Aside from Disney World and having places like Key West and Naples (both known for their fishing!), Florida is also famous for its food. So, are you ready to head on your Sunshine vacation and try some of the best food in Florida?
Whatever part of Florida you're in, you'll find some great eats!
Get ready to feast on the most popular food in Florida with our list of the state's best local cuisines!
Table of Contents
Best Of Florida Food – 18 Dishes You Must Try
The Cuban Sandwich
Cuban sandwiches, also known as Cubanos, are popular in Miami and Tampa and have become Florida's unofficial state sandwiches.
This sandwich is stuffed with roasted pork, ham, Swiss cheese, mustard and pickles, which is served between warm and toasty Cuban bread.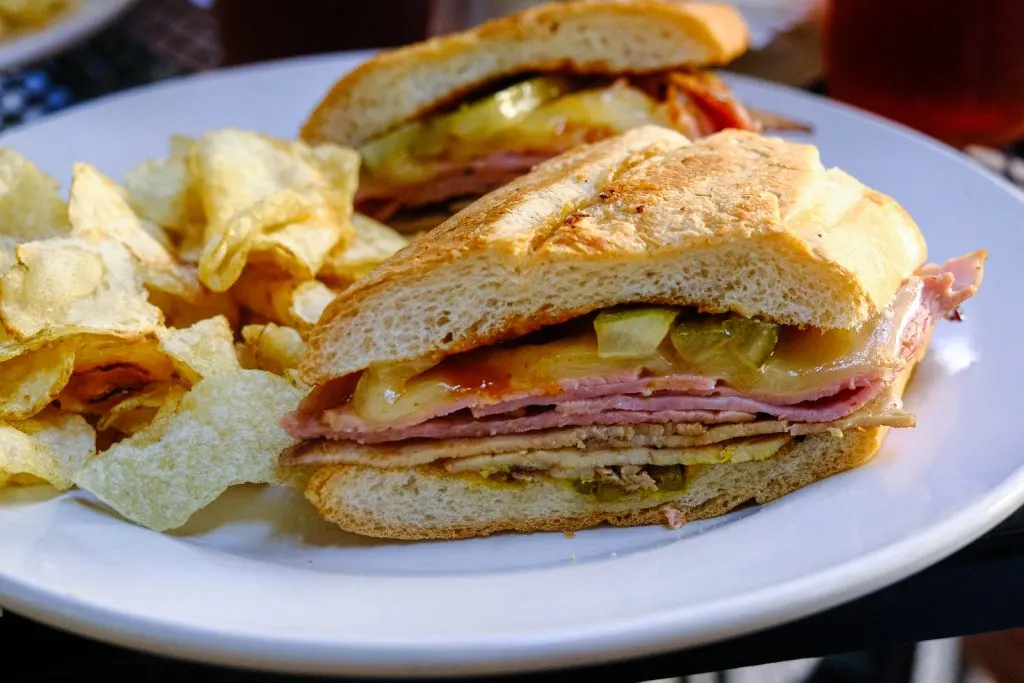 In my opinion, they go best with plantain chips, not potato chips or fries.
The best Cuban sandwiches can be found at several restaurants in St. Augustine, including Taberna del Caballo on St. George Street and La Herencia Café on Aviles Street.
Florida Stone Crab
The Florida stone crab season kicks off in October and ends at the end of May. A time when professional and amateur anglers alike head to Florida's bays and waterways with their pots and traps to catch these sweetmeats.
But, unlike blue crabs, lobster and shrimp, this delicacy cannot be found fresh in the supermarket.
Rather the best way to get your claws on some stone crabs is through dining at a local seafood restaurant or purchasing them live from a local fishmonger.
The sweet, meaty claws served chilled and pre-cracked with mustard sauce are a seafood-fan favorite.
Once you try this dish, you will see why it's earned its place among the most popular Florida foods!
Cedar Key Clams
Cedar Key is another small town in Florida famous for its clams Cedar Key, but it is also one of Florida's coolest. It is approximately an hour south of Gainesville.
Almost any clam dish can be found there, but Tony's Seafood is known for its 'World Championship' clam chowder.
Tony's Seafood does not just claim to make the best clam chowder in Florida but in the whole world. Quite a clam, isn't it?
I think you won't find fresher clams anywhere else than these from the Gulf of Mexico.
There is nothing more Florida than key lime pie and what better way to top it off than with a mudslide? So be sure to bring your appetite!
Gator
A good way to experience local cuisine is to try the local game or order a catch of the day, whether it comes from a swamp or the ocean. Gator is a signature dish in most Florida restaurants, and it's quite a popular Florida food often served as an appetizer or entree.
Currently, Florida's gator population stands at 1.25 million, making this meat popular in many of the state's restaurants.
Typical dish preparations include grilling or smoking marinated ribs, as well as deep-frying golden finger-food bites. You just can't leave without trying one of these Florida food specialties!
I heard that the meat is very similar to chicken, but I never got a chance to try it. We eat chicken all the time, so I would find it hard to say that I like gator meat better than chicken or vice versa.
Grouper
It's no secret that seafood is something that overflows in the Florida cuisine. In fact, I can't think of a better state for a seafood lover than the Sunshine State!
A fixture in the Florida seafood scene, grouper is considered a warm water fish that can be caught either along the east or west coasts of Florida. It's also very popular on menus across other parts of the US.
This is due to the fact that there are over 400 different species of grouper!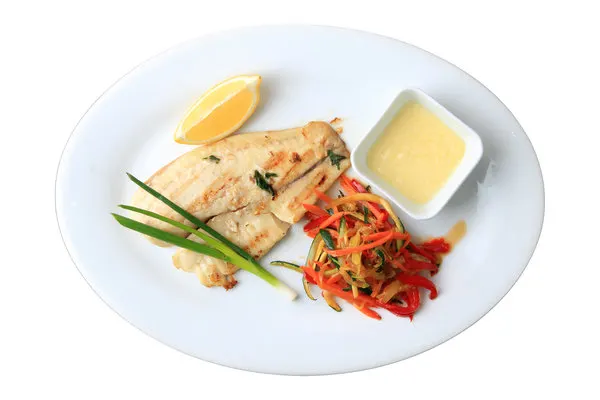 Among its species, the goliath grows far over 600 pounds and is known to be heavy by nature. This type of fish has a mild flavor and a very firm density and is perfect for serving in a sandwich, on top of a salad, or simply baked with some lemon juice!
Florida has no shortage of seafood shacks offering fried, broiled, grilled, or blackened versions of this iconic fish.
If you're heading to The Sunshine State and want to devour some fresh fish, try this one that offers a big flavor and a taste of the state's coast and sea!
Ceviche
Have you ever tried ceviche? It's Florida famous food, it's seafood, it's influenced by Spanish conquistadors and colonizers, it's delicious and it's time to find out why this is such a quintessential part of the Sunshine State!
This is a citrusy and delicious Latin dish eaten as an appetizer that showcases the power of the sunshine state's abundant citrus crops.
It was popularized in Florida by Spanish conquistadors and colonizers who used citric acids from local citrus fruits to "cook" raw fish.
The dish has raw fish that is naturally cooked with a magical chemical reaction produced by citric acids in lemons, limes, and oranges. It's literally a dish that is cooked by the Florida sunshine!
There's an incredible fusion of science, citrus crops and seafood- and the result is amazing!
Florida's sunny shores are teeming with all sorts of seafood, and ceviche is one more delicious way to enjoy it.
Minorcan Chowder
Florida's long agricultural history, diverse population and tropical climate make it a treasure trove of quality, flavorful food.
This thick and creamy chowder is a variation of the original Minorcan clam chowder recipe brought by Minorcans who first settled in the area.
Minorcan chowder is a local specialty in St. Augustine, and recipes have been carried down for generations. Most locals will tell you that key to the taste is datil peppers, native to Minorca (and only found locally).
Authentic Florida Minorcan chowder is made with hearty diced potatoes, peppers, onions, chopped clams and tomatoes.
More tangy than spicy, this chowder is best enjoyed alongside hush puppies or oyster crackers.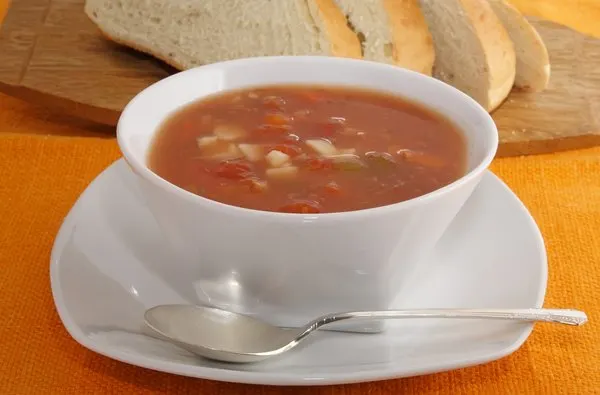 This popular Floridian dish is simple and easy to make! You first need to fry some diced onions, then add some tomatoes, datil pepper and garlic.
It is then cooked slowly, and after it turns into a paste you can add your boiled and diced potatoes.
Finally, add some thyme, salt and pepper to taste, pour in the boiled clams and enjoy your Minorcan Chowder!
Greek Salad Of Tarpon Springs
Americans have been enjoying the harmony of lettuce, feta, olives, cucumbers, tomatoes and onions for years.
The biggest Greek community in the U.S. lives in Tarpon Springs, where the unusual addition of potato salad is sneakily hidden at the base of this classic salad. There are conflicting reports about how this came about.
Louis Pappas, a Greek native and former army chef, is credited with starting a tradition of using potato salad to bulk up military meals during World War I.
According to other stories, an employee of his later Tarpon Springs restaurant made it together when he ran low on basic Greek salad ingredients.
The salad is the best way to end a meal in Tarpon Springs, regardless of the truth behind the story!
Fried Green Tomatoes
Green tomatoes aren't particularly appealing to me, largely because I hate the taste of tomatoes in general, but also because they're not ripe. But, fried green tomatoes – now that's another story.
Green tomato slices that have been dipped in batter and fried in oil are fried green tomatoes. You can dip them in blue cheese, ranch dressing, spicy mayonnaise or even mustard.
You can choose between toasted pretzel bread or untitled wheat bread, topped with lettuce, mayo and tomato. If you like green tomatoes, try the sandwiches too! It's a tasty combination of fresh ingredients.
Therefore, if you're looking for something new to try, come on over to the Blue Hen to try one right now. Let's eat!
Shrimp & Grits
Floridas cuisine is heavily influenced by the Caribbean or creole cuisine. No wonder shrimp and grits, a popular Southern seafood dish from this Creole culinary tradition, is served as breakfast, lunch, or dinner.
For a rich Florida taste, low-country grits and fresh seafood are combined in this hearty dish.
Harry's Seafood, a Florida-based chain of Cajun restaurants, serves Shrimp and Grits in St. Augustine.
Conch Fritters
What would the perfect Florida dinner look like? One thing's for sure- it wouldn't be complete without a plate of seafood!
The seafood cuisine in Florida garnishes some big names such as the king crab and swordfish but It's hard to beat freshly made conch fritters.
These shallow-water snails are deep-fried and served as an appetizer at local seafood restaurants. A conch is a type of sea snail, and a conch fritter is a way they're prepared. They're like Florida's escargots but far more appetizing.
Deep-fried conch fritters are best devoured dipped in rich, creamy tartar.
The Conch House is a great place to order conch fritters, located on Anastasia just a bit over the Bridge of Lions. Or if you decide to, you can just make your own at home!
The recipe is fairly simple to make, and all you need is 2 cups of self-rising flour, 2 cups of conch, tenderized and finely chopped, diced onions, 1 green pepper, tabasco sauce, eggs and milk.
Using all the above ingredients and enough milk, mix in a big bowl and make sure that the mixture holds its shape. Shape into fritters and deep fry until golden brown in 350-degree oil. Then drain the fritters onto paper towels before serving with a sauce of your choice.
These simple and delicious bites will surely satisfy your appetite, and it is no wonder they are a signature food in Florida!
Rock Shrimp
A species of shrimp endemic to Florida found in deep waters along the Gulf coast and on the eastern shore of Cape Canaveral, rock shrimp are highly prized for their uncanny similarity to lobster meat in taste and texture.
During peak season from June through November, you can usually find them frozen at local fish markets all year round, even if you miss the season.
Butter or fried preparations are typical, but no matter how you eat these tiny ocean delights, you'll be hooked!
Apalachicola Oysters
Apalachicola Bay is located on Florida's northwestern coast, home to Florida's natural jewel, the Apalachicola oyster.
Bivalve enthusiasts adore these colossal oysters because they're sweet and tasty. Unfortunately, over the past few years, the decline in harvests has been caused mainly by growing environmental issues, though recent federal assistance is hoped to improve these conditions.
Many restaurants in the Panhandle serve oysters, despite the economic and social effects of lower oyster counts.
Arroz Con Pollo
It is known in Florida as Arroz con Pollo or Rice with Chicken. Many Florida restaurants serve this dish as an entrée. It has both Spanish and Puerto Rican roots which proves the diversity of Floridian cuisine!
Like many of the recipes passed down from previous generations of Floridians, it has become a part of the local food culture here in the Sunshine state.
A staple food in many Cuban and Puerto Rican households, Arroz con pollo, is an easy dish to prepare and perfect for a home-cooked meal any night of the week.
Home chefs often find that this dish pairs well with eggplant or fried plantains as a side dish, and it's also very delicious alongside sweet potato fries or rice and beans.
Empanadas
The empanada is a savory pastry that's baked or fried. There are different fillings, but they are typically made of meats, cheese or seafood.
This makes the encased goodies a popular dish for any meal of the day.
Both St. Augustine's Spanish Bakery on St. George Street and Rincon Criollo on King Street offer empanadas to visitors looking for some sweet or savory entertainment.
Kumquats
Many Florida homes have kumquat trees in their yards, which are members of the citrus family.
It's okay to eat these vivid orange olive-shaped jewels whole without worrying about peeling. They're tart in the middle but sweet on the outside.
Whenever you're not eating them as snacks, you'll usually find them cooked low and slow and simmered down into thick jams and marmalades.
You won't want to miss the annual Kumquat Festival in historic Dade City during the peak of the citrus season.
Key Lime Pie
If you've been paying attention to foodie culture, you've probably heard about Key lime pie. In short, it's a yellow pie filled with a sweet-sour mixture of condensed milk and key lime juice.
The pie originated in the Florida Keys in the late 19th century, when sailors from Fort Zachary Taylor created it to honor their wives who'd stayed behind in Key West while they were at sea.
Today, it remains a quintessential Florida dessert. It's a simple dessert loaded with a rich history.
Florida Oranges
Floridians have a seemingly endless list of delicious and healthy cuisine awaiting them on the dinner table. However, when it comes to fresh, flavorful citrus combinations that are beloved around the world, no one can compete with the Sunshine State – especially during the warmest time of year!
In the US, Florida produces more citrus fruits than any other state, including the most flavorful and juicy oranges. This yummy, nutritious, and versatile fruit is used in a wide variety of dishes.
Floridians use them to make fresh juice for breakfast each morning, pair them with seafood for lunch and make cocktails for dinner – all of which are crowd favorites.
Due to its sandy soil and subtropical climate, the state proved to be perfect for growing the seeds planted by its early residents. These juicy fruits have flourished ever since!
Over 70 percent of the citrus that the United States imports come from Florida, where major export markets include Canada, Japan, France and the United Kingdom. Additionally, the vast majority of orange juice produced in the United States is made from Florida oranges!
It's no wonder everyone loves this citrusy fruit so much! Nothing gets your day started like a glass of vitamin-packed glass of orange juice. Oranges have vitamin C, they are full of folate and niacin, and they are an excellent source of fiber.
Don't leave the Sunshine State without trying a burst of sunshine in its most delicious form: fresh-squeezed Florida Oranges!
The 18 Dishes You Must Try When Visiting Florida
Looking for some interesting Florida foods to eat when you're visiting the state? Well, this food guide is here to help. There has long been a rumor that Florida is a coconut and pineapple lover's paradise. You might find out if that's true or not while visiting the Sunshine State.
When it comes to Florida food, the Sunshine State is a melting pot of distinctive cuisines from all corners of the world. So while there may not be a singular 'Florida cuisine,' there are plenty of native foods that Americans have embraced for generations.
Florida weather is perfect for growing many tropical fruits and vegetables, resulting in a state with some of the most delicious food and drinks!
Whether you're in the mood for delicious seafood, soul food, or even delicious pastries, Florida will have something on its menu for you.
So make sure you visit the Sunshine State to have a taste of various unique cuisines and delicacies and try one of these Florida meals!
Visiting other destinations in Florida? Check out our other guides:
Igor Jovanovski is an aspiring digital nomad, travel blogger and graphic designer who really loves food. He also has a creative side, and he works as a freelance graphic designer in his spare time. He has traveled across Europe quite a few times since he was young and recently started his mission to visit every country in the world! Igor's favorite thing about traveling is the way he gets to know new people, food, places and cultures.
This exciting experience helps him create his own stories and make memories that will last forever