Theme park food has come a long way since the 1970s hamburgers and hot dogs, chicken nuggets, and soggy french fries. Though improved versions of each of those are available, some theme parks offer fine dining or good food at cafeteria-style locations where you'll still take your old school tray to collect your order from the service area and return to your party at tables within the restaurant space.
Universal Orlando has distinguished itself with Mythos restaurant which has been named the best restaurant inside theme parks for multiple years. Here are some of my favorite places to visit at Universal Orlando.
Visiting other destinations in Florida? Check out our other guides:
20 Best Restaurants in Universal Studios
6000 Universal Blvd // +14073638000
While you must be careful about how you enter and exit this '50s-style diner, you'll appreciate the '50s fast-food individual items or combos served with fries and a milkshake. You can even order onion rings or chili cheese fries for a slightly higher charge than the French fries. Their platter options include barbecue brisket burger, bacon cheeseburger, chicken fingers, or grilled chicken sandwich.
Your choice of combo meal options is either served with fries, or with fries and a regular shake for the increased price. Their self-described healthier choices include a beyond burger, grilled chicken salad, and a plant-based chicken and avocado sandwich. I do recommend them cooked well done.
For drinks, they offer Coca-Cola products, juice, bottled water, milk, coffee, hot tea, hot chocolate, or an ICEE. The Coke ICEEs are my favorite. They also serve beer; I noted Bud Light when I was there.
For dessert, they sell an old-fashioned root beer float or apple pie a la mode, and a plethora of shake combinations including chocolate, vanilla, or twist of the two, and toppings like sprinkles, strawberries, or Oreos. Definitely one of the best restaurants in Universal Studios.
6000 Universal Blvd // +14073638000
Universal's Irish Pub and second restaurant to offer sit-down service, it has much the same feel as a pub back in Dublin, therefore making it one of the best restaurants in Universal Studios. Their starters include Scotch eggs, which are hard-boiled eggs wrapped in sausage and dusted with breadcrumbs, and then deep-fried, served with apple beet salad, Finnegan's potato and onion web which are hand-dipped in beer batter and crisply fried golden brown, almost like a potato pancake.
Their Irish-loaded chips are topped with corned beef, Leicester cheese and a Killarney gravy that may make you feel like you're transported to Emerald Isle. Reilly's chicken wings are tossed in Buffalo sauce, as are their chicken stringers and chicken tenders. One of our friend's favorites is the Guinness warm three-cheese dip which is served with a fresh-baked soft pretzel and a tangy mustard sauce.
You can purchase a very tasty housemade Misty Isle potato and leek, or split pea and ham soup. Their salads include an Irish Cobb, the leprechaun's rainbow which is fresh fruit served with a strawberry sorbet and utterly delicious, the Celtic chicken club which includes julienned squash and is garnished with the Finnegan's potato and onion web, or, my current favorite, the pistachio-crusted salmon.
I do ask for mine to be well done and it's scrumptious served on a bed of baby greens, roasted root vegetables, tomatoes, onions, Havarti dill cheese, and a house-made mustard ale vinaigrette. Full disclosure, I do have them hold the vinaigrette and the cheese for me, and I still love it.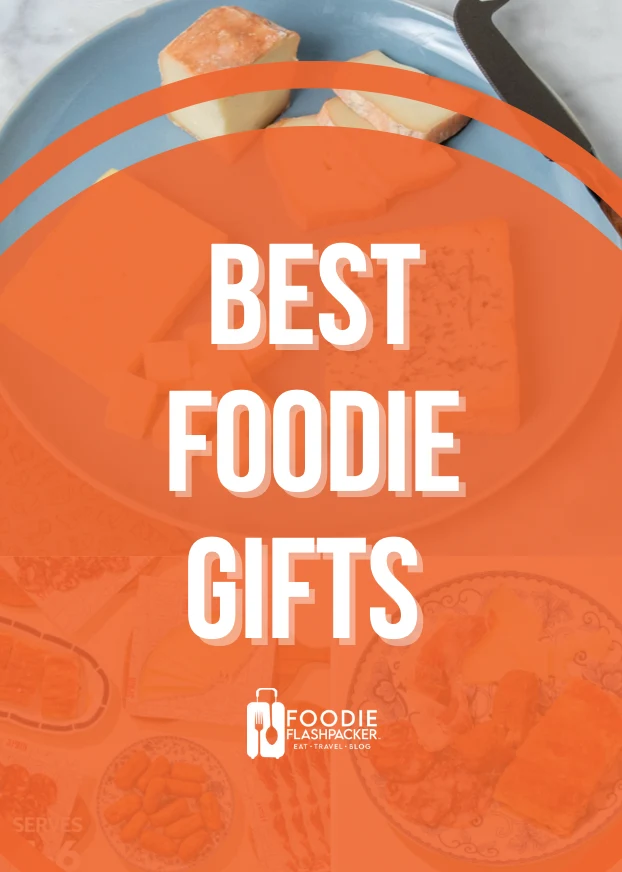 Are you a real foodie? I've compiled a list of the best foodie gifts you can get for yourself and your closest ones. Cheese, meat and sweets subscriptions, and some classic must-have foodie gadgets.
If you're ready for a substantial meal since this is several blocks into the park, you may want to have the full meal grilled filet of salmon with garlic mashed potatoes, beef tenderloin, bangers and mash, a Kilkenny pot pie, shepherd's pie, Irish fish and chips which come from the North Atlantic, North Atlantic baked cod fish, the Guinness beef stew, Finnegan's chicken, Finnegan's pork loin, County Cork corned beef and cabbage, vegan sausage Wellington or one of six sandwiches including a Tipperary corned beef sandwich which tastes not at all like a French dip.
My favorite sandwich is probably the Dublin chicken sandwich which is a marinated grilled chicken breast and apple smoked bacon on a toasted bun with lettuce and tomato. I usually have them hold the cheddar cheese and pickle. I don't really understand the point of a fried cod fish sandwich since it's a battered fish on a bun, so it seems duplicative, but not as bad as getting one of those fish in a fish taco.
For some adult sustenance, check out their bar menu which includes a dozen types of Irish whiskey; three of them Jameson and then regular whiskeys, two Jack Daniels, and then Johnnie Walker Scotch is in their five Scotch selections. They also have three types of bourbon, including Jim Beam. They have nearly a dozen bottled beers—ask them about their mixed draughts, especially if you like the dark ales. I counted 9 draughts including Guinness while I was there.
Their selections include sparkling wine, white wine and red wine, in addition to signature cocktails, including some of my favorite traveling companions' gin and tonics. It's a garnish island gin, tonic water, raspberry, and rosemary which—some people tell me—can actually make the taste of the tonic water less bitter.
To feel most at home, I think you should try the Ring of Kerry—it's the patron silver tequila, watermelon pucker, sour mix, lime juice, and club soda. The Ring of Kerry is beautiful, especially this time of year, so I hope that the eponymic drink is just as delicious.
6000 Universal Blvd // +14073638000
When you're ready for some fast but tasty Italian food, go to Louie's—one the best restaurants in Universal Studios. They offer signature pizzas, salad sides and desserts, including cheesecake, chocolate chip cookies and tiramisu. They offer a chicken Caesar salad or Caesar salad, minestrone soup, and even breadsticks with marinara.
They offer Coca-Cola products and Powerade, water, milk, juice, coffee, beer, and wine. The pizzas offered include cheese, pepperoni, garden vegetable, and supreme and can be purchased by the jumbo slice, a combo with a drink, or as an entire pizza pie.
They also offer entrees including Fettucine Alfredo with chicken, spaghetti and meatballs, spaghetti Bolognese, or a meatball sub. A small side salad is always available. When you see the red and white checkered bandanas and aprons, you may feel as though you're in Little Italy.
6000 Universal Blvd // +14073638000
If you're interested in a Richter scale salad or the Big One, their juiciest burger with cheddar cheese and bacon, you can order either at the counter or mobile express pick up, to save yourself time in line—which can be significant. It's in the San Francisco portion of the park and there is a lot of through-traffic; no wonder it's the one of the best restaurants in Universal Studios.
6000 Universal Blvd // +14072246401
My favorite amongst the restaurants in Universal Studios to eat is Lombard's. They usually have a bonus option for annual pass holders. If you're one of my regular readers, it won't surprise you to learn that my appetizer is usually the roasted garlic edamame, and my daughter enjoys her calamari, but they also have a Mission Street shrimp cocktail, a San Pablo spinach and artichoke dip, New England clam chowder, classic French onion soup, and tuna poke.
I really like that they work towards sustainable practices by obtaining the freshest sustainable fish available that day. If the catch of the day is one that I like, I usually order it grilled and I like the chef's preparation with snow peas and corn. I still haven't decided how I feel about the micro marigolds. The Baja Mahi tacos are always a contender for my choice each visit, as the pan-seared spiced Mahi and lime cabbage slaw go so well with the cilantro crema, and avocado salsa and fries, and salad. The lemon vinaigrette brings all the flavors together so nicely on the palate.
Other entrees for larger appetites include my perennial favorite, the filet mignon, 6-ounces served with roasted parsnips and rainbow carrots, garlic broccolini, and fingerling potatoes. The fisherman's basket is Alaskan cod, shrimp, calamari, and oysters which my daughter has come to enjoy. They also have shrimp Alfredo, fish and chips, Miso Ramen bowl, and Cioppino ocean bowl which is mussels, calamari, littleneck clams, Atlantic cod, jumbo shrimp, tomato fennel broth with a rosemary focaccia toast. I have a feeling that will become one of my daughter's favorite dishes in the near future.
Be sure to ask to see their dessert tray, as it changes based on the chef's fresh ingredients of the day.
6000 Universal Blvd // +14073638000
One of the few restaurants in Universal Studios that serves three meals each day, the Leaky Cauldron is best visited on a day with an early opening, as breakfast is served only until 10:30 AM. Order a traditional breakfast of scrambled eggs, sausage links, black pudding, English bacon, baked beans, grilled tomato, sauteed mushrooms, and breakfast potatoes or pancake breakfast, or American breakfast. Apple oatmeal flan with fruit and yogurt, or an egg, leek, and mushroom pasty are also available.
Children's options are a reduced size compared to the traditional, pancake or American, at a reduced cost. If you want to try an unconventional taste profile, try their pumpkin juice instead of your typical orange juice. It's definitely more savory than American orange juice.
The rest of the day, try their fish and chips—it's in Atlantic cod—and probably my favorite dish there; bangers and mash, Toad in the hole, Guinness Stew, cottage pie, fisherman's pie, a mini pie combination which includes both small cottage pie and small fisherman's pie with a garden salad, Scotch eggs served with an apple beet salad and mustard sauce, soup and salad, Irish stew, shepherd's pasty pie, or ploughman's meal that serves two. They are very mindful of allergens, so just ask your attendant.
Sandwich options are served with French fries and include Banger (English sausage) or specialty chicken.
For the kids, macaroni and cheese, fish and chips, or mini pies are available.
Coca-Cola products from the fountain are available. I prefer the frozen butterbeer to the unfrozen version. It tastes like cream soda with butterscotch foam.
Save room for their butterbeer ice cream dessert, served soft—it's one of the more flavorful options. They also have potted creams including either butterbeer or chocolate which, I admit, I haven't tried yet. You could also order their sticky toffee pudding; or, there's Harry Potter's favorite strawberry and peanut butter hard-packed ice cream, and vanilla or chocolate.
To truly immerse yourself in the Scottish experience, try the uncontested king of Scottish dessert, cranachan. I can't have it due to allergies, but I'm told it's wonderful, typically made following the raspberry harvest in June; it's a combination of cream and fresh raspberries (in season), Scottish oats, and whiskey. It's the best amongst the restaurants in Universal Studios to try out.
6000 Universal Blvd // +14073638000
Across the street from Gringotts bank with its fire-breathing dragon on the roof, visit the ice cream parlor and have a cold treat ready for when the dragon breathes fire at the top of the hour. Despite long lines, the time will seem to fly by, as you watch the swirling ice cream cone-decorated cakes from which the Weasley twins (or boys that look just like them) appear with every revolution.
Options include hard-packed or soft-serve ice cream, sundaes, butterbeer, pumpkin juice, Wizard's brew, and Hogsheads' brew. When I visited last, the recommended flavors of the day included Earl Grey and lavender, chocolate chili—and Harry Potter's favorite, strawberry and peanut butter ice cream.
When I reached the counter, I asked about the latter, concerned that I wouldn't care for that combination of flavors, and was offered one scoop of that and one scoop of another ice cream of choice. She told me that chocolate ice cream is the most common request for a second scoop when two scoops aren't a preferred option.
I chose the apple crumble and asked for that to be placed on the bottom of the cone, just in case. You can't combine the butterbeer with the strawberry and peanut butter because the butterbeer is soft serve, and the strawberry and peanut butter is hard-packed. I appreciated that the strawberry and peanut butter is fairly well delineated because of the color of the strawberry, so you can eat them separately. Apologies, Harry—I'm not a fan of the combination. Leaves more for you.
Hard-packed flavors included sticky toffee pudding, salted caramel Blondie, Chocolate chili, apple crumble, vanilla, clotted cream, Earl Grey and lavender, strawberry and peanut butter, and chocolate and raspberry.
Soft serve flavors include banana, chocolate, granny Smith, mint, pistachio, vanilla, strawberries and cream, toffee apple, toffee, and orange marmalade. Definitely one of the best restaurants in Universal Studios.
6000 Universal Blvd // +14073638000
Tucked along the right-side corner by the entrance to Central Park and the crepe cart, you'll spot the white lattice restaurant, which is the VIP place to eat and one of the best restaurants in Universal Studios. Only accessible when you take either a semi-private or private VIP tour (contact guest relations for more details) this high-end buffet-style service provides a continental breakfast in the morning, with pastries, bread, fruit, and pork products with eggs, with chefs available to confirm that they're made to your preferences.
Lunch has always struck me as the "better deal", although it does take time away from your park tour. With proteins including fish, beef , chicken, pork, salads, and side dishes, you can have a very healthy and filling meal before returning to your VIP park experience.
Throughout the park, you'll see food stands or "walk-up kiosks" like the Monster's Cafe where you can purchase quick-on-the-run items like a turkey leg, churro, beef empanadas, and chips, frozen drinks, soda, Powerade, four types of beer or water. You'll find ice cream cases, but the frozen. chocolate dipped bananas are a thing of the past. I hope they bring them back someday.
If you need a quick pick me up as you walk in the door, there's a Starbucks and Cinnabon right near the entrance. Walk a little further and find even more unique options. The Crescent Moon Bakery has many fresh and delicious pastry treats. The Comic Strip Cafe was closed for renovations at the time I was writing this article.
6000 Universal Blvd // +14073638000
This fast-casual dining location is one of the best restaurants in Universal Studios and offers pizza, spaghetti and meatballs, fettuccine, meatball subs, and chicken Caesar salads. They also offer cheese, pepperoni or veggie pizza by the slice—or by the entire pie.
Their specialty pizza includes mozzarella, pepperoni, Italian sausage, ham, tomato sauce, on the housemade dough. It's to get you ready for what they call "clobberin' time."
Entrees also include chicken parmesan, eggplant parmesan, vegan eggplant parmesan, or spaghetti Bolognese.
6000 Universal Blvd // +14073638000
Many consider this the second-best restaurant amongst the restaurants in Universal Studios—only because Mythos is world-renowned. If you haven't made reservations at Mythos, though, this will be your favorite. If only because you can get in. It's considered an exotic port of entry establishment and has a broad range of food items that truly meets the criteria of global fare.
When I asked the staff about their favorites, it ranged from pad Thai to sweet and sour sticky ribs, penne a la vodka, to the pan-roasted salmon. Although I do take the skin off the salmon as soon as I receive it, and ask for it to be well done, the combination of green bamboo rice, asparagus and charred pineapple salsa is delicious. It's a great texture and flavor combination.
Appetizers include oci tuna nachos, wings, chicken quesadilla, loaded nachos with beef and bean chili, lemon chicken soy lettuce wraps, spinach and artichoke dip, and a summer hummus. Soups and salads include a heart of romaine Caesar with a choice of protein, a southwest salad—also with a choice of protein—or a classic French onion soup.
Entrees include an udon noodle bowl, sweet and sour sticky ribs, penne a la vodka, brick oven half chicken, pad Thai, chilled tuna noodle bowl, and my pan-roasted salmon.
Handhelds are served with French fries and include a Hearthstone baked chicken sandwich, the Confisco BLTA, Chipotle chicken wrap, or pork belly Banh mi sandwich. It still amazes me… The first time I had Bahn mi was on a Northern Lights expedition just south of the Arctic Circle. It's amazing how even the scent of it can bring back flashes of that experience.
Their non-alcoholic drinks include Coca-Cola fountain products, iced tea both sweet and sweetened, hot tea, hot coffee, cafe latte, cappuccino, espresso, bottled water, juices, milk, or hot cocoa.
6000 Universal Blvd // +14072243663
Pro tip: don't think that you can get in without a reservation. The experts know to call the restaurant directly at 407-224-3663 or even book on the website or, if you'll be there multiple days, with the maître-d'. Attempting to use the Universal app provides fewer seating options.
Recognized as one of the best restaurants in Universal Studios, you'll be impressed by waterfalls, ancient figures and rock formations carved into the walls.
The "everyday menu" includes grilled lamb meatballs, semolina-crusted calamari, shrimp sushi katsu rolls, lemon hummus, Mediterranean grilled octopus, spanakopita dip, mezze platter, and pan-seared halloumi.
Their signature soup is a Tuscan tomato. Salad options include the chef's signature Greek, a wedge salad, or a heart of romaine Caesar.
Entrees include spinach and garlic ravioli, brick oven-roasted chicken, beef loin medallions, souvlaki couscous bowl, gnocchi bolognese, sea scallop and truffle risotto, catch of the day, spiced lamb, a 12-ounce bone-in pork chop, pad Thai, and pan-roasted wild salmon. With my less developed palate and allergies, I really enjoyed the pan-roasted wild salmon which has edamame and asparagus along with their forbidden black fried rice. I appreciated that they were able to hold the shitake mushrooms for me.
Sandwiches include the Mythos signature lamb burger, traditional bacon cheeseburger, balsamic grilled chicken sandwich, or the fork, knife, and spoon grilled cheese, which is a three-cheese sandwich set in a Tuscan tomato soup. This turn on your childhood classic may be something you can try to re-create at home.
Their non-alcoholic drinks include Coca Cola fountain sodas, iced tea, including sweet or unsweet or raspberry, juices, milkshakes, an espresso shake, coffee, hot chocolate, a selection of teas, cappuccino, or espresso. They also have a fruit slush banana daiquiri, strawberry daiquiri, or pina colada. The strawberry daiquiri is refreshing.
I can definitely see why this restaurant with its excellent staff and delicious food is regularly recognized as the best restaurant in theme parks worldwide. Make your reservations early and visit one of the best restaurants in Universal Studios..
6000 Universal Blvd // +14073638000
When you walk into this cafe, you're grateful for two things immediately—air conditioning and the aroma of sizzling barbecue. The chefs work quickly to prepare ribs, rotisserie chicken, smoked turkey legs, and roasted pernil—their slow-roasted pork served with their very own onion mojo. You'll be happy to know if you have problems choosing, you can get a combination of the chicken and roasted pernil, or a rice bowl with your choice of mojo chicken, jackfruit or roasted pernil.
A safe bet is always the rotisserie chicken salad, which is served with green vegetables and a scrumptious citrus vinaigrette.
For sides, they offer white rice with cilantro and lime, black beans, herb-roasted potatoes, seasoned French fries or fresh corn. Somehow the corn always seems to hit the right beat with either chicken or turkey.
6000 Universal Blvd // +14073638000
Surprisingly easy to pass while you're staring at the awesomeness that is Hogwarts brought to life, Three Broomsticks is one of the restaurants in Universal Studios to stop if you have a large party. They have a Great Feast platter and other British classics, keeping with the Harry Potter theme. They do serve breakfast until 10:30 in the morning, similar to the Leaky Cauldron, with a traditional English breakfast, porridge breakfast, continental breakfast, pancake breakfast, American breakfast with pumpkin juice, hot tea, coffee, juice, or milk; both 2% white and chocolate are available.
The "Great Feast" includes two courses meant to serve four. The first course is the garden salad tossed with their vinaigrette dressing. The main course is a combination of spareribs and rotisserie smoked chicken, corn on the cob, and roasted potatoes. If you have more than four people but less than 8, they will provide an additional serving for about $20 per person. Otherwise, with more people, you'll likely want to order two or more feasts.
Other main courses include shepherd's pie with garden salad, fish and chips, beef pasties with garden salad, rotisserie smoked chicken, chicken, and ribs, spareribs, smoked turkey leg, or mushroom pie.
My favorite salad there is still the rotisserie smoked chicken salad. Their soups are typically a leek and potato soup, or split pea and ham. They do serve both butterbeer and frozen butterbeer at this restaurant. I still think the frozen butterbeer tastes like cream soda with butterscotch on top. A must try amongst the restaurants in Universal Studios!
Desserts available include butterbeer potted ice cream, butterbeer ice cream, a cup of vanilla, chocolate, or strawberry and peanut butter ice cream, Harry Potter's favorite, chocolate trifle, or freshly baked apple pie.
6000 Universal Blvd // +14073638000
Acclaimed as the "best hamburger of the parks", the hamburger connoisseur extraordinaire, Wimpy presents his delicious cheeseburgers; you can ask him to hold the cheese and have a hamburger, chicken fingers, salad, and ice cream. The universal dining plan is accepted here, instead of Wimpy's classic "I'll gladly pay you Tuesday for a hamburger today." Curly fries are crisp and tasty. It's the place to be amongst the restaurants in Universal Studios.
The Wellington cheeseburger platter includes cheddar cheese, tomato, lettuce, pickle, onions, and mayo ketchup. Vegan supreme cheeseburger has a plant-based burger and vegan cheese. A chicken fingers platter is also available. Their desserts include a dole whip pineapple sorbet or vanilla soft serve ice cream. They offer Coca-Cola fountain drinks, Powerade, water, and three types of beer.
6000 Universal Blvd // +14073638000
Old comic strip fans will remember Blondie's patience as Dagwood was eating them out of the house and home, yet still managed to have a sandwich that measured several feet in height. At this restaurant, you'll find the Dagwood immortalized, sculpted right over their front door. It's one of the restaurants in Universal Studios that serves the best dogs.
For a shorter wait time, order ahead through their mobile food and drink ordering app.
Their famous Dagwood sandwich contains baked ham, turkey, roast beef, and American and Swiss cheese, piled high and topped with lettuce, tomato, mayonnaise, and mustard on a fresh-baked onion and poppy seed bread. Served with chips, that can feed several people.
Other options include baked ham, smoked turkey, roast beef, tuna salad or hot dogs, Nathan's famous footlong, chili dog, and Chicago dog.
Side dishes include potato salad, coleslaw, or chili or cheese sauce, that can be added to your meal.
For Dagwood's famous midnight snack or dessert, they offer chili cheese fries, French fries, chips, fruit cups, jumbo chocolate chip cookies, or the famous "Brookie," a chocolate chip cookie-filled brownie.
Throughout the park, you'll find small stores and kiosks with quick food like the Hop-on Pop ice cream shop, Cathy's ice cream, or vendors that sell street tacos or, at the Green Eggs and Ham Cafe, green eggs and ham tots or pizza tots. The number of places with ICEEs always pleases me, as it's a nice cool option on a hot day.
6000 Universal Blvd // +14073638000
This shaded hideaway created from stalks of bamboo offers imaginative New Zealand island fare with chef-crafted burgers and sandwiches including the Waturi Mahi sandwich, quinoa edamame burger, and Karika chicken sandwich. For the little ones, they offer chicken tenders and fresh salads—my favorite is the tropical fruit salad. Another thing I really like is that all their combinations are served with an ICEE. Definitely one of the most unique restaurants in Universal Studios.
Choose a bacon cheeseburger, a bamboo burger, quinoa edamame chicken and avocado sandwich, chicken sandwich combo, Mahi sandwich, or chicken tenders. Caesar salad, Cobb salad, tropical fruit salad, or island chicken salad which includes diced chicken, apples, grapes, and almonds, is tossed with a creamy coconut dressing.
For dessert, they had a brookie, tapioca pudding, coconut cream pie, and chocolate pineapple upside-down cake.
6000 Universal Blvd // +14073638000
If you're anything like me, you're bound to get caught in the same loop until you get your bearings or start following the map. I kept passing the Feasting Frog and its patio seating, drawn by the tropical frog structure. I saw several people enjoying the poke poke bowl, and others enjoying the street tacos offered as either carne asada or chicken. When the clouds were out, covering the sun so it was a little cooler, the nachos were the most obvious choice. Fountain beverages and gold peak iced tea either sweetened or unsweetened are available here. It's one of those restaurants in Universal Studios that just makes sense when you sit down.
6000 Universal Blvd // +14073638000
This is one of the restaurants in Universal Studios that serves a specialty footlong hotdog on a pretzel bun—actually probably any hotdog on a pretzel bun. They offer barbecue chicken pizza, tropical baby green salad, Hawaiian pizza, and jerk mac and cheese—which the kids just loved. Their longboard pizzas also come in the traditional cheese or pepperoni, as well as veggie.
All of their combination meals are served with an ICEE. In addition to the jerk shrimp mac and cheese, they also offer a traditional mac and cheese with a white cheddar cheese sauce. There's a grab-and-go section at these restaurants where you can take an island chicken salad, tropical fruit salad, baby greens, Cobb salad, Caesar salad, or hummus and carrot sticks, back to your cabana or lounge chair at the wave beach.
The Kunuku Boat bar is in the section and does not serve food—only alcoholic beverages. There is a limit of one alcoholic beverage per person and it is tracked on the Tapu Tapu wristband each guest wears.
6000 Universal Blvd // +14073638000
At the base of the most popular water roller coaster and the Krakatau volcano, choose from a tangy mango barbecue pulled pork sandwich, crunchy coconut-crusted fried chicken, or tasty quinoa edamame burger, and enjoy the lagoon atmosphere. If you like more of a bite to your food, try the coconut curry chicken which has a green coconut curry sauce. Here are more reasons why Kohala is one of the best restaurants in Universal Studios.
My favorite is the jerk mahi sandwich with a cucumber mango basil slaw, lettuce, tomato, and sriracha mayo, without the toasted coconut bread—but with extra fries. The Kohala chicken is tandoori marinated. They also offer the island bacon cheeseburger, Hawaiian ribs and beyond burger, as well as cheese, pepperoni or veggie longboard pizzas.
Here, too, you can get an island chicken salad, tropical baby greens, Cobb salad, arugula salad, Caesar salad, sushi pack, turkey wrap, veggie wrap, tropical fruit salad, or hummus and carrot sticks as a grab-and-go option.
6000 Universal Blvd // +14073638000
For fast but filling food, stop at this kiosk for lumpiang Shanghai the ground pork and minced vegetable Filipino spring rolls, pork adobo, turkey wrap, veggie wrap, California roll, or fruit salad. They have bottled beverages including Coca-Cola, water and Kona longboard beer. A must try amongst the restaurants in Universal Studios.
Gail Clifford, MD, a physician for more than 25 years, has traveled to five continents and all 50 United States. An avid traveler, she happily goes on new adventures, especially on birthdays. Multi-generational travel remains a treasured pastime. She divides her time between Ireland and the U.S. You can find her on Instagram, LinkedIn and Facebook.