Historic and coastal Ventura, California, is a beach town like no other. Only thirty minutes south of Santa Barbara and about an hour north of Los Angeles, this little slice of paradise has so much to offer visitors and locals. Ventura restaurants offer something for every visitor.
Founded in 1782 by Fr. Junipero Serra, Ventura is home to the last mission Fr. Serra established. Old Mission San Buenaventura is a working church today and is located on the pedestrian-only Main Street in Ventura's historic downtown.
Not in the mood to go out to eat tonight? Click here to have Grubhub deliver directly from the best restaurants in town to your doorstep.
Visiting other destinations in California? Check out our other delicious guides:
While in Ventura, don't miss out on activities that will help immerse yourself with the city (hurry while they're hot!):
Things to do in Ventura
Downtown Ventura hosts the bountiful Ventura County Certified Farmer's Market on Saturdays, and Midtown Ventura hosts on Wednesdays. I love supporting local businesses and so enjoy the freshest produce from the farm direct to my table. The Ventura County Certified Farmer's Market is a goldmine for healthy food options from mushrooms to lettuce to tamales.
Many colorful murals add interest to the Ventura landscape and tell the story of its people and art. Utility boxes also wear imaginative cloaks and make waiting for traffic lights more interesting.
The Ventura Pier is one of the longest wooden piers in California. It has been designated as the Ventura Historic Landmark No. 20, is the oldest pier in California, and is Douglas fir.
Bike paths start at Ventura Beach Promenade for coastal routes that lead to Santa Barbara and Ojai, with breathtaking views along the way.
Four locations along the Ventura beaches offer bicycles, surreys for the family, beach chairs, and bodyboards for rent. I found the location near the pier to be most convenient and closest to the parking lot.
Beaches in Ventura
One of my favorite beaches in Ventura is Surfers Point at Seaside Park, west of the pier. The waves roll ashore at an angle. Early morning surfing is popular here, of course, as is walking dogs on the Ventura Beach Promenade. Countless cairns dot the sandy landscape. Some commemorate a loved one, and others are feats of architectural balance.
San Buenaventura State Beach is nestled between the historic downtown and Ventura Harbor. The entrance is just south of the pier and can also be reached by the Ventura Beach Promenade. A State Park-staffed kiosk collects your admission at the gate. The San Buenaventura State Beach is one of the few California beaches that allow alcohol.
Ventura Harbor
Ventura Harbor is on the southern border of town at the mouth of the Santa Clara River. The Harbor is home to many delightful restaurants offering stunning harbor views, boutiques, galleries, and water sports. Kayaks, canoes, pedal boats, or standup paddleboards are available to rent. You can get up close to the local sea lions and seals that live nearby in the marina.
The harbor is a great place to order a nice glass of wine, an adult beverage, or sparkling water and enjoy a sunset. With an average of 275 days of sunshine a year and boats of all kinds plying the harbor waters, relaxing and soaking in the view is a viable pursuit.
Channel Islands National Park
Channel Islands National Park and Marine Sanctuary are just off the Ventura coast. Local activities on the islands include camping, snorkeling, diving, sea cave kayaking, whale and bird watching.
The only way to get to Channel Islands National Park is by park concessionaire boats, private boats, and planes. The concessionaire boats take from one to three hours, depending on which island is your destination. There is no available transportation on the islands, so you must travel by kayak, private boat, or foot.
So now that we know what to see and do in Ventura, let's address the ensuing hunger issues by looking at the seven best Ventura restaurants.
7 Best Ventura Restaurants
222 E Main St // +18056419440
Imagine ordering your favorite foods piled on a single plate. I'm talking about mac and cheese, thick maple-cured bacon, and a fried egg on top. How does a chef know that makes such a perfect combination?
On a recent visit to Paradise Pantry, my morning meal was complete with this perfect union. A friendly staffer helped me select the best wine to go with my meal, offering me tastings until my palate agreed.
Local suppliers bring the newest and freshest ingredients to Chef Kelly to create her masterpieces. She gets to innovate in her scratch-based kitchen, and her customers delight in what she puts on the table.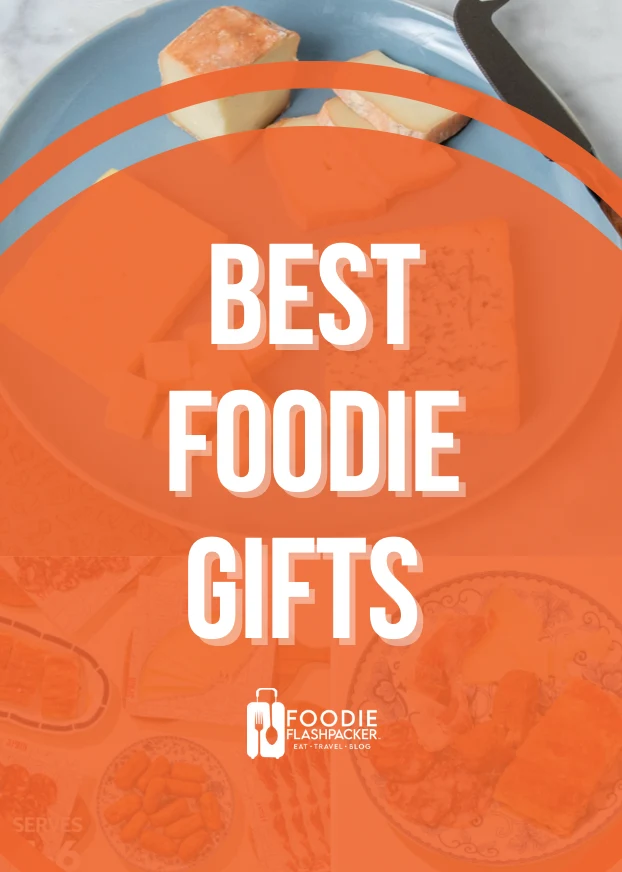 Are you a real foodie? I've compiled a list of the best foodie gifts you can get for yourself and your closest ones. Cheese, meat and sweets subscriptions, and some classic must-have foodie gadgets.
Paradise Pantry is located just steps away from San Buenaventura Mission on pedestrian-only Main Street. Outside dining with heaters provides countless opportunities for people-watching at any time of day.
The Artisan Market and Cheese and Charcuterie Counter inside Paradise Pantry will astound you. The selections are curated to solve gifting matters or satisfy your sophisticated tastes at home, like an art exhibit. The Pantry Provisions are themed specials featuring a country or to help you restock your pantry.
Shop for great finds in wine at Paradise Pantry. The European Wine and Cheese Tour is an enjoyable way to sample wines and cheese from Europe and America. The wines are paired with cheeses from the regions inspired by the rich history of the producers. A row of baskets line one wall of the store and hold the Wine Club customer's orders making a great addition to the ambiance.
Make sure that this unique Ventura restaurant makes your list of places to eat in Ventura.
1001 N Ventura Ave // +18056678688
The Taco Trail in Ventura is a mile-long district filled with 14 long-time Mexican restaurants belonging to Mexican immigrants. Each restaurant is known for its specialty. Located on the north side of Ventura, the Taco District is bordered by the Ventura River to the west, Ventura Botanical Gardens on the east, and Surfer's Point on the south.
My first stop on the Taco Trail, Taqueria Ventura Doña Raquel, was the perfect place to start. Their specialty is fish tacos. The homemade tortillas, superb creamy sauce, and three salsas to accompany the meal were memorable.
Devin, a dining customer, said the shrimp tacos were the bomb! There seemed to be an endless supply of shrimp with a single thick corn tortilla that held the meat, cabbage, guacamole, and chipotle sauce.
While the restaurant is on a busy street corner, the casual outside dining area filled with potted palm trees makes a comfortable, family-friendly experience on the Taco Trail. For great tacos in Ventura, try this taqueria.
668 E Harbor Blvd // +18056483177
Tacos and beer or a house-made Margarita are the perfect accompaniment to live music events at Beach House Tacos. With show-stopping ocean and Channel Island views, this casual eatery is your first or last stop when visiting the Ventura Pier. Start your day with hot cocoa and inviting French toast, pick up the ideal lunch box, or grab a sunset burrito at the end of the day.
Place your order effortlessly at the outside window and pick it up inside. Tacos, bowls, and burritos are packaged into neat little boxes for easy transport. You can eat inside or somewhere along the pier where there are numerous picnic tables.
Choose fish or shrimp tacos in a soft shell, or go with crispy potato, crunchy ground beef, or a combo plate. Design your burrito or bowl starting with beans, rice, and avocado, then add some tangy cilantro-lime slaw, pickled veggies, or chipotle cream.
"There's no better place to be…with a taco in hand by the sea." Beach House Tacos
1510 Anchors Way Dr // +18056421200
Water's Edge Restaurant is tucked in a corner on the water at Ventura Harbor Village. Striking views of the marina and harbor through giant picture windows make this an ideal spot to watch the sunset. The entertainment continued throughout my dinner as I observed anglers, kayakers, standup paddleboarders, and even a two-person, lighted swan paddleboat plying the waters through the marina.
Making it a point to source local ingredients, Water's Edge Restaurant produces redefined cultural favorites in the freshest way possible.
The menu includes Alaskan Halibut, Diver Scallops, Cornish Hen, cuts of beef, pork chops, Ahi tuna, and oysters. The talented Executive Chef, Alex Montoya, creates colorful and appealing plated food designs with his original menu items.
Starting with a split of Ruffino Prosecco, my tastebuds prepared for the catch of the day on a bed of pureed sweet potato. The side dish, a creamy, cheesy risotto, was delightful. Both were dressed with delicate microgreens adding a touch of contrasting color.
For great dining with a marvelous view, you can't top this best of Ventura restaurant.
34 N Palm St, Ventura // +18056679288
This hybrid pub, bar, and restaurant, Rumfish y Vino – Gastro-Bar, brings people to downtown Ventura and is a popular destination for Belizean dishes. A lovely patio with a nighttime outdoor fireplace welcomes diners for lunch, happy hour, dinner, and brunch on Sundays.
If you want cocktails and appetizers, try the Smoked Fish Spread with Crostinis. The red snapper was nicely smoked with sweet yellow ginger, red onions, and cilantro. Every bite was heavenly. Pair with a Tangerine Spiced Old Fashioned, an Arctic Haze Beer, or a Pineapple Habanero Rum Fizz, and you will become pleasantly relaxed.
Pair oak-fired flatbreads and the Small Plates or Soup & Salad offerings, and you will have a hearty meal. Vegan and Vegetarian options are unique and healthy.
The Halibut Special had some curry flavor and was paired with the veggie entrée and goat cheese flatbread, which had a little kick. We finished it off with the Crème de pot for dessert. That is a "must-have." Try this Ventura restaurant for a special Central American flair to your dining adventure.
1559 Spinnaker Dr // +18056390865
From Bloody Mary time to Hot Combo Saturdays, the food and beverages at Brophy Brothers receive rave reviews.
What about a Monday afternoon lunch recommendation of traditional beer-battered Fish & Chips served with Cole Slaw? Count me in.
And then, there's the freshly baked sourdough boule that is perfect for dipping in a steaming hot bowl of clam chowder.
No matter what meal you select, they all come with a lovely view of the harbor at the great place to eat in Ventura.
1583 Spinnaker Dr #104 // +18056582837
Thirty-nine ice cream flavors, fish-shaped cones, hot Zookies, and the Fairyland Seacret menu tempts the child in all of us at Coastal Cone. Build your fancy fish cone or select gluten-free options like the Sea Unicorn (complete with unicorn eyes or sprinkles), Pixie the Fairy, or Babyshark with shark flippers.
Coastal Cone has been baking sweet and delicious waffle cones every morning since 1983 on the Ventura coast. In the early 2000s, Coastal Cone opened The Parlor – a family-friendly burger and malt shop.
They serve breakfast sandwiches alongside their Espresso Bar for designer coffees, floats, milkshakes, malts, and a berry freeze. The lunch and dinner menu includes Brioche Burgers, Brioche Hot Dogs, and Ciabatta Sandwiches.
Don't miss the Unicorn Poop or any of the all-American foods at this best of Ventura restaurant.
So that wraps up our article on what to do and where to eat in Ventura. We noted seven of Ventura's best restaurants; be sure to try them all.
Julie Diebolt Price is a professional photographer, educator, travel writer, and journalist. She helps corporations and solo entrepreneurs establish their brands with imagery and business training. She educates and mentors aspiring photographers. As a journalist who loves to travel, she creates memorable experiences and shares them with words and pictures. Learn more at linktr.ee/PhotoTravelWrite.