Los Angeles is located on the Pacific Ocean in Southern California and is surrounded by natural wonders, with sweeping views of mountains, valleys, and beaches. It boasts a year-round mild Mediterranean climate, with rich sunshine, low humidity, and wide daily temperature ranges. It covers a total of about 469 square miles (1,210 km2), and it is the second-largest city in the United States based on population.
Home to Hollywood and the film industry, Los Angeles is a sprawling melting pot of different cultures with many varieties of cuisine, including Mexican cuisine. So if you're looking to visit the best Mexican restaurants in downtown Los Angeles, look no further.
Known as the City of Angels, Los Angeles is a vibrant mecca of entertainment, with plenty to see and do. From Santa Monica to Hollywood, from Venice Beach to Santa Monica Pier and beyond, this exciting American city has a history that spans over two centuries. It is a remarkably diverse city boasting top-notch sunshine, a well-balanced culinary scene, and more attractions than you can shake a stick at. From world-class museums to hike-able mountains and beaches that offer something for everyone, no matter how long your visit lasts, there's always something new to discover.
Visit Los Angeles for the sunshine and scenery, stay for the food and culture!
Table of Contents
The 6 Best Mexican Restaurants in Downtown Los Angeles
Downtown LA is a culinary destination providing something for every palate, preference, and budget. There are several types of restaurants represented within the Downtown LA neighborhood, including fine-dining, upscale cocktail lounges, indoor/outdoor bars and taverns, and rooftop bars and clubs; so many to choose from, so you'll never get bored.
Downtown's restaurant scene is its crown jewel, a premier dining destination in the country and one of the most enviable in Los Angeles. It boasts a bevy of legendary restaurants, as well as many new ones with exceptional food, a lively atmosphere, and friendly waitstaff.
Food lovers will be delighted wherever they go!
541 S. Spring St. #101, Los Angeles, CA 90013 // +12136277656
Established in 2010, Guisados is a family-owned and operated restaurant serving handmade corn tortillas filled with slow-cooked meats. Since then, they've expanded to five locations and continued to focus on the commitment to making tasty food with fresh local ingredients.
Guisados, which means "stewed" in Spanish, is authentically inspired. Their menu, which features braises and tacos made with organic locally-grown produce, pays homage to the Mexican culinary tradition of simmering meat with chiles and herbs while refusing to compromise on taste. If that doesn't scream one of the best Mexican restaurants in downtown Los Angeles, I don't know what does.
The exceptionally portioned tacos at Guisados are uniquely delicious, with meats braised for hours in their signature chile sauce. Each taco is stuffed with the finest seasonal vegetables and some of the highest quality ingredients. The textures and flavors of their food, dishes such as Camarones, Pescado, a variety of Quesadillas, Steak Picado, and many more are a testament to the passion that goes into making them.
Their guests will notice all this attention to detail as soon as they walk through the door; through that same craft, they also hope to touch their hearts and remind them of simple home comforts like mom used to serve.
They are there for you to eat happily! And that's why it's one of the best Mexican restaurants in downtown Los Angeles.
208 E. 8th St., Los Angeles, CA 90014 // +12136283710
Sonoratown in Downtown Los Angeles is a taste of Mexico City through the eyes of Mexican-American owners Teo Diaz-Rodriguez and Jennifer Feltham. The restaurant was opened in 2016 as a tribute to Teo's small border town of Sonorama, and to Downtown LA's revitalization.
The menu features traditional Mexican dishes with an emphasis on street food. The medium-sized plates offer diners a vast array of options, as each dish can be ordered individually from the menu. Sonoratown represents an alternative to dining choices found throughout DTLA, with its focus on ingredients sourced from local California farms and purveyors. Sonoratown is an opportunity to enjoy an incredibly diverse menu of tacos, chimichangas, quesadillas, and burritos with some frosty sodas or a refreshing agua fresca.
Sonoratown is the kind of place where people had time for one another—where cousins weren't strangers and neighbors shared an intimacy that couldn't be found anywhere else. They've created a unique environment that promotes a diverse and vibrant community for their patrons. With a strong focus on friendly service and authentic Mexican cuisine, Sonoratown is home to everyone it can fit, and then some. Definitely a must-try amongst the Mexican restaurants in downtown Los Angeles.
1050 Flower St., Los Angeles, CA 90015 // +12132751826
Welcome to Sonoritas, where you will find food prepared with love, flavorful and bold, a bit messy, and always real.
Real tacos are made with only the freshest ingredients, all chosen with an eye toward quality and taste and with respect for family traditions. Sonoritas' chefs were seeking out the tastiest recipes and working hard to bring you this new interpretation of an old favorite. From top-quality hormone-free meats to hand-crafted corn tortillas, every ingredient has been carefully considered, prepared just for you, and cooked to perfection. Because they believe tacos, and the people who eat them, should be treated right.
Feel the difference of authentic Mexican food as soon as you bite into their delectable tacos. Every ingredient is painstakingly selected by their chefs, who want to paint your tongue with the flavor of Mexico's rich culture.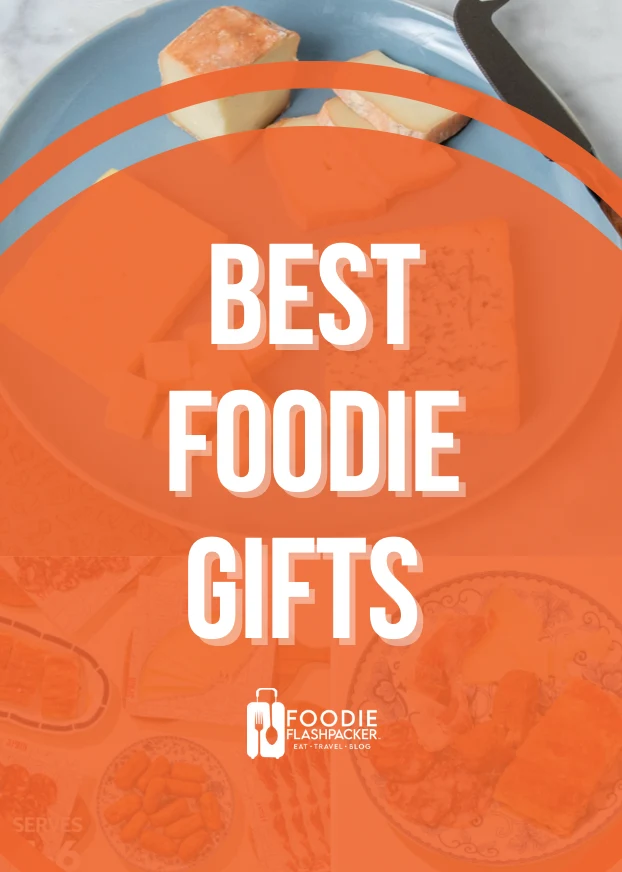 Are you a real foodie? I've compiled a list of the best foodie gifts you can get for yourself and your closest ones. Cheese, meat and sweets subscriptions, and some classic must-have foodie gadgets.
Visit Sonoritas and try their classic Mexican food in a relaxed yet vibrant atmosphere. They offer a variety of tacos, burritos, enchiladas, and quesadillas, as well as exciting creations from seafood and a variety of meats. There is always at least one vegetarian taco on the menu. Pause, chew slowly, and savor: that's the alchemy of the border! No wonder it's one of the best Mexican restaurants in downtown Los Angeles.
1037 Flower St., Los Angeles, CA 90015 // +1 213-746-7750
Los Angeles is full of great Mexican food, and many claim to be the best. There is no doubt El Cholo is one of the best Mexican restaurants in downtown Los Angeles and consistently delivers a dining experience that lives up to its reputation.
Established in 1923, El Cholo is an institution in L.A. The family business stretches back six generations (98 years).
Their menu consists of traditional Mexican dishes with a modern interpretation, which the whole family enjoys preparing and serving to you, including Enchiladas, Chimichangas, Tacos, Meat specialties, soups, burritos, and many more authentic recipes. The restaurant is credited with bringing a regional specialty, the burrito, which was born in Mexico, to the United States in a full-service setting. Today, you can find their delicious burritos at any one of their six locations.
When you enter their restaurants, the staff is so nice; they greet you with a warm smile and ask if they can get you a drink. Dedicated team members are there to serve you in a fun and friendly environment.
Visit the restaurants of El Cholo, and have a taste of their rich history! Deserved its place amongst the best Mexican restaurants in downtown Los Angeles.
510 S. Broadway, Los Angeles, CA 90013 // +12136283337
Named after the Mexican state, Mezcalero opened its doors in 2016. The menu features dishes that capture the essence of Mexican cuisine and traditions while incorporating local ingredients. They pride themselves in quality ingredients, fair trade coffee, agave spirits, and classic margaritas. While they are a neighborhood spot, the creative cocktail menu will have you second-guessing if you are on the Pacific Coast or Mexico's Gulf Coast.
Drop into the inviting setting of Mezcalero, Angeleno modern Mexican. The menu is rich with bold flavors and seasonally driven ingredients grown, baked, or sourced locally. The extensive list of Mezcal, crafted in-house or imported, provides a foundation that complements any meal. A must-try on their menu are the Tacos, Burritos, and Bowls.
Their mission is to create an environment where understanding and appreciation of this spirit can be explored, from its production and distillation to pairing it with indigenous flavors. They are committed to bringing you not only the best mezcal that Oaxaca has to offer but also mezcals from other parts of Mexico. This is definitely a must-try gem amongst the Mexican restaurants in downtown Los Angeles.
118 W. 4th St., Los Angeles, CA 90013 // +1 2136878002
Award-winning restaurateur Josef Centeno is bringing his culinary talents to Downtown LA with an authentic restaurant, Bar Ama. Throughout this menu, you'll find Centeno's take on classic Tex-Mex dishes he grew up eating.
The restaurant offers a menu that focuses on classic recipes such as Chile Rellenos, tacos, enchiladas, seafood and meat Mexican dishes, guacamole, and soups, featuring ingredients such as house-made masa, Texas queso fresco, and locally grown organic produce. They have both indoor and outdoor seating for you to enjoy authentic Mexican cuisine!
Bar Ama is the embodiment of a genuine taste in Mexico. With its chef Josef Centeno's own childhood memories delicately layered in, the restaurant offers an experience by taking guests on a trip to Mexico through its offerings. The interior is warmly decorated with wooden walls, while the Latin, soul, and jazz music provide an intimate style to the space. In addition to its menu, Bar Ama also offers an endless option of margaritas made with 100% agave tequila, making it the perfect spot for any patron who wants to take a vacation without having to travel and rightfully claims it's spot amongst the best Mexican restaurants in downtown Los Angeles.
The City Of Angels And Its Mexican Cuisine
When it comes to food, Downtown LA is a world-class dining destination. Just beyond the bustling skyline, the area's diverse culinary scene draws enthusiasts from all over the globe.
There are few things as pleasurable as a meal enjoyed with like-minded foodies, and in Downtown LA, there are plenty of restaurants to satisfy every palate.
Discover the diverse, eclectic, and surprising assortment of Mexican cuisine that Downtown LA has to offer. Go in for breakfast, lunch, or dinner seven days a week to experience cozy surroundings, amazing dishes that are loaded with flavor, and service that takes you from ordinary to extraordinary.
Experience the cuisine of authentic Mexican food anywhere in LA, and be sure that you will have time to remember!
---
Which of these downtown LA Mexican restaurants will you try first? Let us know in the comments section below!
While in Los Angeles don't miss out on activities that will help immerse yourself with the city (hurry while they're hot!):
Visiting other destinations in California? Check out our other delicious guides:
Igor Jovanovski is an aspiring digital nomad, travel blogger and graphic designer who really loves food. He also has a creative side, and he works as a freelance graphic designer in his spare time. He has traveled across Europe quite a few times since he was young and recently started his mission to visit every country in the world! Igor's favorite thing about traveling is the way he gets to know new people, food, places and cultures.
This exciting experience helps him create his own stories and make memories that will last forever