Nestled a mile high in the San Bernardino National Forest, Lake Arrowhead is a stunningly beautiful four-seasons destination surrounded by stately cedars, ponderosa pines, and oaks. It's also one of the deepest man-made lakes in the U.S. and because it's a private lake, it's kept incredibly pristine.
This outdoor lover's paradise also sports some amazing places to dine, with several restaurants in Lake Arrowhead boasting views of the magnificent lake or surrounding mountains. For a small town, Lake Arrowhead has a surprising number of dining options. And they range from casual pizzerias and food trucks to bistros and somewhat more fine dining venues. But no matter where you dine, the outdoor fresh-air vibe is always casual, laid-back and delightful.
Our criteria for choosing our favorites includes a number of factors – cuisine, setting, views, atmosphere, service, and our overall dining experience. Let's visit a few recommendations on great places to eat, imbibe, and relax in this lakeside paradise.
Visiting other destinations in California? Check out our other delicious guides:
The 6 Best Restaurants In Lake Arrowhead, California
27984 Highway 189 // (909) 336-1511
As the signature restaurant of the Lake Arrowhead Resort and Spa, BIN 189's interior reflects an homage to Mother Nature even before diners are seated and treated to stunningly picturesque lake views. The restaurant is heavily accented with birch panels, tree stumps, antler chandeliers, and a cozy stone fireplace.
Open for breakfast, lunch, and dinner, BIN 189 offers both indoor and outdoor seating. Wherever you are seated, the views are spectacular.
We had the pleasure of having both a breakfast and dinner here. My Breakfast Parfait was a light and refreshing selection with Greek yogurt, granola, honey, and seasonal berries. My hubby, who's much more of a breakfast fan than me selected the Buttermilk Pancakes with mixed berries, topped with a dollop of whipped cream. A side of maple bacon was an ideal accompaniment, and yes, those pancakes were fluffy and tasty.
When the sun sets over the lake, the evening brings its own special magic to Lake Arrowhead. The dim lighting of the restaurant instills a perfect ambience for a lovely dinner experience. Burrata Cheese & Roasted Beets Salad was a savory starter for sharing. Our dinner entrees included a rich Butternut Squash Ravioli with sage brown butter, crushed tomato, and basil. Our server suggested the Prime Rib, served with a house salad, baked potato, asparagus, and dessert. The meat was medium rare perfect as requested and absolutely melted in our mouths. Oh, and the dessert…what a delectable treat to share – the white chocolate cheesecake topped with strawberry drizzle and mixed berries.
On top of the gourmet quality food here, service couldn't have been more attentive. For those visiting Lake Arrowhead, you just can't miss dining here.
28299 Highway 189, Suite B-100 // (909) 744-8269
With stunning dockside views, Jettie's is a delightful eatery sporting food scratch food using the freshest of local ingredients (which means the menu will occasionally change).
Open for lunch, dinner, and happy hour, diners come in and order their food at the counter or the bar, and wait staff from the kitchen delivers the entrees to the table. The restaurant underwent a complete restoration, name and ownership change from the previous venue located here. And as fans of Lake Arrowhead, we couldn't be more pleased with the results.
Jettie's has an open-air roomy feel with old lake photos lining the walls, and the hull of an old Chris-Craft boat graces the counter that greets diners as they enter. Both indoor and outdoor dining options are available.
The menu features starters and shareables, fresh salads, burgers, sandwiches, and lake plates. And my, is the food here top-notch. Poke nachos are great for sharing and even then, you may need a to-go box. Honestly, it's main-entrée sized. Made with wild caught marinated ahi, avocado, cilantro, nori, green onion, diced cucumber, sesame seeds, sweet soy, sriracha and wasabi aioli, and served over wonton chips, this is one amazing dish. On a warm day, the poke is ideal paired with a slightly oaked Chardonnay.
My favorite entrée was the Peach Burrata Salad, an absolute must-try. Comprised of fresh field greens, grilled peaches, lightly fried burrata cheese, pickled onions, basil, roasted almonds, and topped with a house-made vinaigrette, it's an exceptional explosion of flavor and texture.
Jettie's is a fabulous choice for the freshest, creative entrees and views to die for.
28200 CA-189 C-210 // +19093288262
This wine bar, bistro, and retail store calls itself "Purveyors of the good stuff in life." We call it one of Lake Arrowhead's most precious hidden gems. And it's one of our favorite places to chill.
Located directly overlooking the crystal azure waters in the quaint European styled Lake Arrowhead Village, The Grapevine not only serves and sells a selection of hand-selected quality wines and beers on tap, but the bar bites here are equally impressive.
The wine bar is open Thursday from 4:00 pm to 9:00 pm, Friday and Saturday, 11:30 am to 9:00 pm, and Sunday 11:30 am to 6:00 pm. Wine and beer lovers can order individual selections or to get in on a fun experience and opt for a flight. Seating is available indoors at the bar or on the outside spacious deck.
If you're looking for the perfect accompaniment to your wine or beer, order an artisan cheese plate, charcuterie, traditional cheese fondue, or other daily specials like artisan flat-bread pizzas.
The Grapevine also offers a soup of the day, which just happened to be an aromatic French onion soup the day we visited. We could smell it before we even entered the wine bar.
And don't forget to peruse the selection of wines, olive oils, and artisan spreads and dips in The Grapevine's store on your way out. Save room in your luggage.
26125 State Highway 189 // (909)336-2600
Open Wednesday through Saturday for dinner only, The Grill is located at Antlers Inn, shares the historic 100+-year old rustic wood-beamed homestead in Twin Peaks, Lake Arrowhead.
Reservations are highly recommended as this is one of the area's most popular restaurants, not just for visitors, but beloved by locals as well. Without reservations, even a seat at the bar to dine can mean a 30-60-minute wait. On cooler days, it's ideal to snag a table by the fireplace.
The décor of no surprise is lodge/cabin-inspired with huge wooden beamed ceilings, and a chandelier so fascinating, we had to ask about its origin. How fascinating to find out it was once a prop on Disney's Pirates of the Caribbean ride in Disneyland. It came on the auction block, and The Grill's owner won the bid!
The menu isn't extensive but is quite interesting and one of our surprises was the popularity of its sushi appetizers. There's also a selection of salads along with main entrees that feature the best of the land and sea, along with daily specials. Caribbean Salmon is one of the house favorites, and I can attest to the unique, creative and perfectly prepared entrée served with grilled banana, mango-lemon Dijon and chutney sauce, served over chili sticky rice and accompanied by fresh veggies.
A special of the day, the Beef Tequila Fettucine with sweet onion, roasted red peppers and lime, served over a spinach fettucine and tequila cream sauce was delectable. There's also an option to select chicken in lieu of the beef.
No matter how many times we've dined at The Grill at Antler's Inn, we have been extremely pleased and satisfied. It's a special place we seek out on every Arrowhead visit.
300 S. Highway 173 // (909) 337-3113
Who can possibly resist staying at a quiet 34-room rustic and historic lodge in the heart of Lake Arrowhead?
But even for those who aren't staying at the Saddleback Inn, you can still dine at the quaint and cozy 1919 on-site restaurant. The classic American dish menu isn't extensive but the entrees are well thought-out and wonderfully prepared. It's also a local favorite for homemade food and karaoke nights. And it's an iconic Lake Arrowhead venue that reflects so much of the area's history.
We love starting with the Pixley Pear Salad with fresh baby spinach, blue cheese crumbles, cherry tomatoes, candied walnuts, topped with a raspberry vinaigrette. Perfect for sharing. Each day features a special other than regular entrée selections. Fish and Chips here are amazing, lightly battered, and served with fries and a side of coleslaw. With three large pieces of fish, the portion is large enough to share. Order a pint of beer, and you're in for quite a tasty treat in a homey welcoming atmosphere.
Again, reservations are highly recommended as the restaurant isn't spacious, but it's really big on great food and ambience.
26824 Highway 189 // (909) 337-3663
One of the premier dining destinations in Lake Arrowhead, Stone Creek Bistro was established in 2013 as an upscale Southern California bistro with a Southern and French twist. It may sound confusing, but you'll have to trust that it all works. And that it's all amazingly creative, delightful, and delicious. One visit here for a lunch or dinner, and you'll understand why it's such a favorite place to dine in the area.
Family owned and operated, the restaurant features seasonally-driven produce, locally sourced dairy and meats, and house-made desserts. Which is why the menu can change daily. But you'll always find a special chef-favorite dish to enjoy.
We love the setting that can almost be described as "industrial rustic" and the cool mountain vibe this place radiates. Service is very attentive. We're totally in to Stone Creek's eclectic menu and the extensive wine list (impressive for a small eatery).
If a Shishito pepper starter is on the daily menu, go for it. The creative ways this dish is prepared will knock your socks off both in flavor and how perfectly charred the peppers are. Some type of fish or seafood entrée is always on the menu – be it snapper, salmon, scallops, shrimp, or mussels. On one of our visits, we enjoyed a Thai Snapper that was divine. Save a little space for dessert as Stone Creek's made-to-order beignets are a perfect ending.
After dining here, we can totally understand how this bistro has earned the name "king of the mountain." It's that good!
Luciano Pavarotti once said "One of the nicest things about life is the way we must regularly stop whatever it is we're doing and devote our attention to eating."
We can say without a shadow of a doubt, that Lake Arrowhead not only makes us stop to enjoy the simpler life of an outdoor paradise, but that the foodie experience here in this mountain retreat puts the whipped cream on the overall experience of the good life.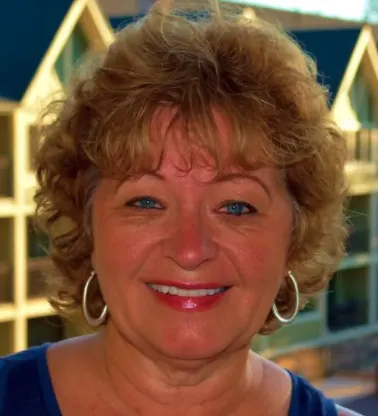 Noreen Kompanik is a Registered Nurse and San Diego-based travel writer and photographer. Over 400 of her published articles have appeared in 38 different digital and print publications. She especially loves writing about family travel, luxury travel, food, wine, coffee, history and travel writing and shares these articles on her travel website What's In Your Suitcase.