Located on the southeast strip of Maine that lies on the coast lies Bar Harbor, Maine.
It's conveniently located near Acadia National Park and is known around the state for its fresh seafood that flies off the boat each morning.
Beyond seafood, it also boasts a cultural explosion of delights. This includes Mexican, Italian, Cuban, and other cultural foods found around the globe. You can't forget about the locally brewed beer either.
The best Bar Harbor restaurants list is difficult to create as there are so many amazing options!
Thankfully, we've narrowed it down to the 10 best Bar Harbor restaurants.
In no particular order, let's begin the food fight.
While in Bar Harbor don't miss out on activities that will help immerse yourself with the city (hurry while they're hot!):
Visiting Bar Harbor?
Don't forget to check out our other guides:
The 10 Best Bar Harbor Restaurants
565 Eden St. // +1 207-288-9740
The Chart Room sits just two miles away from downtown Bar Harbor on the seaside.
It's a staple among Bar Harbor restaurants and has been serving the area for more than 20 years. It has a long history of providing some of the best ocean views and such a delectable menu of fresh seafood entrees you can find on the east coast.
Their specialties include prime rib, blackened fish, and surf and turf.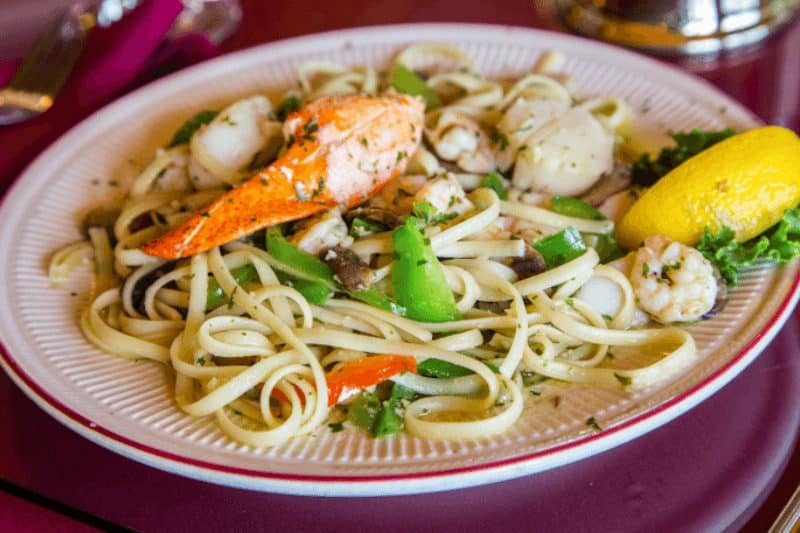 To say their portions are abundant is an understatement. The Chart Room doesn't hold back and your stomach will be grateful for it.
Seating options include indoors and outdoors so you can enjoy the comforting breeze as it glances off the ocean waves.
It's a summertime favorite of locals and tourists alike. If the weather is good, expect a jam-packed experience. However, a plethora of seating is available and you won't find yourself waiting for a table often.
40 Cottage Street // +1 207-288-9335
As the name implies, the Thirsty Whale is an excellent spot to get great food and stout drinks.
Specifically, the Thirsty Whale brags about their lobster rolls, chowders, and regional craft beers.
It's a great opportunity to experience all the cultural offerings of Maine in one place. From some of the best lobster roll you can find to their unique offering of craft beers, The Thirsty Whale doesn't disappoint.
Their selection of craft beers includes fourteen draught lines that range from local brewers to those from around the area.
Outdoor seating is available when the weather is good, so you can get your drink on in the sun as you deserve.
Unfortunately, breakfast isn't served. The tavern opens at 11 a.m. and allows customers to stay until one in the morning.
While you can't begin your morning at The Thirsty Whale Tavern, you can certainly end your night there and be amazed by their dinner service.
15 Cottage Street // +1 207-288-4166
The list of my Bar Harbor favorite restaurants can't be complete without a great breakfast spot. Great Maine Breakfast serves up some of the best breakfast in Bar Harbor.
It's located in downtown Bar Harbor and boasts a tremendous view of the sunrise as it peeks over the Cadillac Mountains that grace the area.
Their menu only uses the freshest ingredients possible and everything is cooked in-house. You won't find a frozen sausage insight at Great Maine Breakfast.
Gluten-Free and Vegan options are also available for those on dietary restrictions. Oatmeal pancakes with walnuts are a highlight of their restricted options.
Great Maine Breakfast has made it a goal of theirs to continue to expand their gluten-free options on the menu, so keep a lookout for additional entree options being added to the menu.
Other breakfast options include blueberry pancakes, tofu scramble, and their special Great Maine Breakfast.
864 State Highway 3 // +1 207-610-3060
The Rose Eden Lobster is a great place for on-the-go seafood without sacrificing the quality of your meal.
Formerly known as the Travelin' Lobster, Rose Eden Lobster is now a takeout lobster shack. They serve lobster prepared to go as well as live Maine lobsters if you're in a rush to take one home.
As a bonus, they also deliver to local campgrounds and various motels and cottages. They're the perfect solution for a hungry stomach that's on the move.
Rose Eden is located just a bit north of Bar Harbor and has a great location for those who are traveling and visiting nearby sites.
Activities nearby include whale watching, kayaking, bicycling, the Atlantic Brewery, Pirate's Cove Adventure Golf, a drive-in theater, and, of course the beautiful Acadia National Park.
It's a great popular spot to get a quick bite when you're traveling and taking full advantage of everything Bar Harbor has to offer.
130 Cottage Street // +1 207-288-2808
2Cats has a history that spans more than 20 years in Bar Harbor. It's been featured in Down East Magazine and quickly became a staple within the Bar Harbor restaurants scene.
It's a popular tourist destination and boats between 300-500 breakfasts every morning when the tourist season is at its peak. They're known for delivering fresh seafood and one of the best breakfasts in Bar Harbor.
You'll find chocolate pancakes smothered in peanut butter, homemade granola, and traditional breakfast menu items as well.
Everything is made from scratch, down to the orange juice. Expect your OJ to be freshly squeezed for your pleasure. Nearly everything is served in small plates.
The casual atmosphere may remind you of your home when growing up. The walls are a salmon-pink color, appropriately themed for the nearby coastline.
Unfortunately, they're only open for breakfast and at certain times during the year.
They operate from January to September and are open on weekends during January and February.
If you find yourself searching for Bar Harbor restaurants at the right time, you may just be lucky enough to experience what everyone raves about.
17 Main Street // +1 207-288-9706
You'll find Gayln's nestled in the corner of Bar Harbor, nearby the town pier.
They specialize in hand-cut steaks and fresh seafood and have been operating for more than 30 years. Their success is no doubt related to the magnificent food that they prepare each day.
Galyn's can be considered a fine dining establishment, but don't worry about wearing the right clothes. It's casual enough for jeans and a t-shirt but you'll feel like you're in a much classier environment.
Their dining rooms are plastered with art all along the walls. Locals and tourists alike enjoy taking in the artwork and observing its intricacies while enjoying one of the best restaurants in Bar Harbor.
Whether you're wanting a casual lunch/dinner or a date night, Galyn's is an excellent pick.
Outside seating is available on their wrap-around patio. During the night, your table will be lit up by candlelight to provide a much finer dining experience.
Fresh Maine lobster, hand-cut steaks, fresh local fish, and a variety of wines and beers make this restaurant too good to pass up. Some say they're known to carry the best lobster in Bar Harbor.
Their food is taken each morning as the fresh fish is brought in. You won't find fresher seafood almost anywhere.
Their local beer, wine, and cocktail list is rather extensive as well. They include local beers and aged wines that aren't commonly found.
318 Main Street // +1 207-288-2822
If you thought traditional American seafood is the only thing Bar Harbor restaurants have to offer, Havana will gladly prove you wrong.
They use fresh seafood and naturally raised meat products to bring quality meals with a Latin flair to them. Naturally raised means your meat won't have been fed steroids, antibiotics, or any hormones.
They're also ensured to be humanely raised. It's a value that they care deeply about and customers cherish them for it.
They partner with several local farms to provide their meats and own their organic garden for the produce. You can find the organic garden in downtown Bar Harbor. Havana takes the food they serve seriously, not many other restaurants can say the same.
If you're looking to get your wine on, you'll be pleased to know Havana is well recognized for its excellence in the world of wine.
They're famously one of two restaurants in Maine that have received the Wine Spectator Award of Excellence. Beyond simply winning the award, they've won it every year since 2004.
Good food and great wine is a hard pair to beat. This, plus their unique blend of Latin flair and seafood makes this restaurant land on the must-visit list of Bar Harbor restaurants for tourists and locals alike.
80 Cottage Street // +1 207-288-3586
If you love blueberries, you're going to find Jordan's Restaurant to be one of the best places to eat in Bar Harbor.
They're home to the amazing Wild Maine Blueberry Muffin and the same style pancakes.
The entire restaurant focuses on featuring wild Maine blueberry products. While they've evolved to serve food that doesn't use blueberries, they make a point to provide as many delicious meals that include them as possible.
If you've slept in, don't worry. Jordan's Restaurant is open for breakfast as well as lunch. You'll be able to enjoy all the blueberry pancakes and muffins you'd like at all times.
The only downside is, like many Bar Harbor restaurants, they're seasonal. You won't find them open during the off-season because of a lack of tourists.
However, when they're open from early April through late November, you'll find the restaurant filled with happy customers.
49 Rodick Street // +1 207-801-2591
Side Street Café boasts that you can live like a local when you eat here. They're not lying.
The café provides a welcoming relaxed atmosphere that is perfect for families, casual lunches, and professional dinners as well. It's a relaxed environment that is welcoming to anyone who's looking for a good bite of fresh seafood and other delectable meals.
Their menu is a seasonal one. You can expect it to rotate depending on the time of year. They do this to ensure that they're only providing the freshest ingredients that are available at that time of year.
They are the perfect place for creative comfort food. From seafood to steaks, to hamburgers, to Tex Mex foods, Side Street Café provides it all. Customers love the diverse menu and quality of service they're known to provide.
Not only are the menus rotating and seasonal, so is the drink menu. Cocktails, beers, and wine all change as the season do. This helps keep the restaurant's menu fresh and new so you can keep having a new dining experience with each visit.
It's no wonder Side Street Café would find itself on the top 10 list for Bar Harbor restaurants in Maine.
52 Cottage Street // +1 207-288-2326
If you're a beer lover, Atlantic Brewing has got you covered.
The local brewery is known around the east yeast for its variety of craft beers. From light and fruity to dark and rich, Atlantic Brewing Company has found the answer.
They use varying amounts of their core ingredients to consistently create unique beers that are a joy to taste. By only tampering with a few ingredients, you'll also find that their beers are similar yet different. Once you've been hooked, you'll want to try them all.
Originally, the Atlantic Brewing Company was Acadia Brewing when they began their journey in 1990. This was done to honor the Acadia National Park that resides nearby.
They began with just one barrel to pump out all of their products. Within several years, their popularity had boomed and they began to move to their new location where they've cemented themselves as a Bar Harbor staple.
The success wasn't short-lived as they moved again in 1999. They're known in their final spot on Knox Road where they craft dozens of different beers for the masses.
Beyond beer, Atlantic Brewing Company will serve up standard pub grub that includes burgers, fried foods, and a variety of seafood.
Expect to leave a bit tipsy and with a full stomach.
In Summary
Bar Harbor restaurants come in many shapes, sizes, and flavors.
If you're looking for the best lobster in Bar Harbor, Galyn's and Eden Rose Lobster are good bets. That's not to say that the others won't provide you with excellent lobster, but these two proudly specialize in it.
No matter if you're looking for a quick breakfast, lunch, dinner, steak, seafood, or lobster, Bar Harbor Restaurants won't leave you disappointed.
To get the best culinary experience, try to travel during the tourist season to take advantage of the seasonal restaurants. It's well worth the wait.
And, if you'll also be visiting Rockland during your time in Maine be sure to check out our guide to the best restaurants in Rockland.
---
Which of these restaurants in Bar Harbor, Maine do you most want to try? Let me know in the comments section below!
Travel writer and owner of the blog. My work has been featured on Fodors, Eater.com, International Living, and Great Escape Publishing, among many others. My story? Nearly six years ago, I left my job at an Oklahoma City law firm and embarked on a journey around the world. At the time, I thought I would only be gone for 6 months, but the more I traveled, the longer my bucket list became. Flashpacker describes how I travel. Rather than traveling as the normal world wise backpacker and staying in hostel dorms, I prefer a more comfortable experience, and typically stay in private rooms, take Ubers instead of taxis, and now use a suitcase instead of a backpack. Foodie, on the other hand, describes one of the key reasons why I travel. I love to pick a central "base camp" and then explore the surrounding area, really immersing myself in the culture and interacting with the people, and enjoying and exploring the food of an area is an essential part of this experience.