Just a short drive down the road from Portland, you will find this sweet town nestled in the heart of Maine known as Rockland, Maine. Rockland is a small town that has so much to offer in its tight-knit community of family and friends.
Rockland, Maine has so much to offer and they have a number of delicious restaurants with delicious, great food and friendly service.
Here are the 13 best Rockland, Maine restaurants for you to try out.
Not in the mood to go out to eat tonight? Click here to have Grubhub deliver directly from the best restaurants in town to your doorstep.
Traveling To Maine? Check out our other Foodie guides:
Best Bar Harbor Maine Things to Do
The Best Restaurants in Bar Harbor, Maine
The 10 Best Seafood Restaurants In Bar Harbor, Maine
The 13 Best Rockland Maine Restaurants
2 Main Street || +1 207-596-0770
Stop in and joy a delightful meal prepared by Chef Kelly, 2013 James Beard Foundation Award Winner and winner of Express Best Chef: Northeast Award. Primo provides their dining guests with a charming farm-to-table experience that is unrenowned.
Enjoy a variety of dishes and support a restaurant that supports the economy. They use the freshest ingredients of local produce and they leave no waste but rather put the waste to appropriate use.
Primo's is an upscale restaurant with small plates that can be a bit on the pricy side, but worth every penny spent.
58 Ocean Street || +1 207-594-2435
Located directly on the waterfront, Archer's on the Pier offers fresh seafood delight. Their menu has an array of creative and tasty dishes that are sourced from the heart of Maine. Enjoy a beautiful view of the water. If you come at the right time, you might even get to hear some local jazz.
Archer's is locally owned and owner, Lynn Archer, remains heavily involved with the proceedings of the business as well as customer service. You're bound to feel right at home when you dine at Archer's. At Archer's you can enjoy a great view and great view, even on a budget.
441 Main Street || +1 207-596-7556
When you dine at Rockland Café, you become a friend no matter where you're from or where you're going.
Rockland Café is well-known for its always-fresh lobster rolls and its award-winning prime rib. You also can't be disappointed with their delicious seafood chowder.
Rockland Café has been family-owned since 1992 and is located in the beautiful downtown Rockland. Enjoy fresh seafood every single day at this quaint Maine café. This little café is one of the most affordable restaurants in town.
415 Main Street || +1 207-593-9110
At one of the local favorites, In Good Company, you can enjoy a gourmet dinner and spend time tasting the delicious creations of this restaurant.
Sit down with wine, food, and friends. Good Company uses local sources for as many of its ingredients as possible.
Enjoy an upscale-style meal in a comfortable and relaxed atmosphere. They offer delicacies that are enjoyed from a variety of countries.
Oh, and don't skip dessert! Don't be fooled by the description, the menu items are rather affordable.
305 Main Street || +1 207-596-5960
If you're on a journey through town and want to grab breakfast, brunch, or lunch while you're out you should stop by the Brass Compass Café, one of the best family restaurants out there. This cozy little café has quick options, the best coffee, and a variety of options with great prices to fill your appetite.
Make sure you stop in early because they only serve breakfast and lunch. However, this café is comfy, cozy, and family-friendly. This restaurant is also affordable and easy to find.
2 Park Drive || +1 207-596-6661 ext. 606
Eclipse is the perfect location to take a seat and eat, drink, and simply enjoy the atmosphere. You can enjoy a wide selection of everyday American comfort foods or go with a traditional seafood meal made by their excellent kitchen staff which will not disappoint you.
Stop by for lunch or dinner but be sure to stop by on a day besides Tuesday or Wednesday as they are closed on those days. This is a family-friendly locale with plenty to offer. They are affordable and friendly.
266 Main Street || +1 207-593-8400
When you're on the coast, it's a given you must find the best seafood establishments Maine has to offer and Hills Seafood Co certainly fits into that category. This quaint restaurant and bar is family-owned and operated. Their goal is to give families an enjoyable and delicious seafood meal in a cozy location.
You can enjoy fresh seafood dishes in a family-friendly setting and you can do so without breaking the bank. You will be pleasantly surprised by this small gem. Hills Seafood Co is seasonal and closes through the wintertime.
419 Main Street || +1 207-596-7447
If you're a lover of seafood and cultural cuisine, you simply can't pass up the Suzuki Sushi bar that brings you seafood in a twist commonly known as sushi. The ingredients for their sushi are sourced locally and consist of the freshest seafood.
Suzuki sushi bar is only open for dinner Wednesday through Saturday so plan your schedule accordingly. This dynamic restaurant takes reservations as well. Many of their meals center around what is in season at the time.
Suzuki Sushi bar also offers many delightful seafood options aside from sushi as well as noodles, salads, and more.
315 S Main Street || +1 207-594-0015
Sit down for a culinary delight at this authentic Italian restaurant in Rockland, Maine. Rustica offers eclectic Italian foods with hand-crafted pasta and delicious meals that will leave you fully satisfied. This family-owned business uses fresh ingredients and hand makes as many things as they possibly can.
Rustica is the perfect balance of eclectic and authentic. They have been named the "Best of the Best" for Italian cuisine in the area. They are delightfully friendly and reasonably priced as well with a wide assortment of foods to choose from.
Don't miss out on their array of wines, a selection of beers, and a fully stocked bar as well. This restaurant is warm and inviting and opens all year.
650 Main Street || +1 207-596-2449
Home Kitchen Café is a bright and cheery stop for your breakfast and lunch dining times. They are known for their delicious baked goods that are made entirely from scratch each and every time. Additionally, they offer an array of other breakfast and lunch menu items as well.
From bread and sweets to sandwiches and subs and multiple options in between, you won't be disappointed with this sunny stop. Home Kitchen Café was listed as the "Best Breakfast in New England" by Yankee Magazine Editor's Choice in 2014.
This perfect little café is open year-round with varying hours based on the seasons.
7 Lindsey Street || +1 207-596-2753
If you're looking for the perfect local stop for some fish and chips, look no further than Waterworks Restaurant. Waterworks is a quiet tavern that serves American food, bistro dishes, and some seafood options as well.
This is a comfortable wood-planked building with red-brick walls that are inviting and comfortable, giving a relaxed vibe and an enjoyable menu and atmosphere. This tavern is family-friendly and serves meals year-round.
Don't forget to stop in for a happy hour and enjoy your favorite things at an awesome discount.
1 Commercial Street || +1 207-594-3011
Another of the best seafood restaurants around, the Landings Restaurant is a waterfront dining option in a two-story building that has plenty of room to invite everyone in for a delicious meal. They have amazing views on the water with many of their seating options and you simply can't beat the menu and the atmosphere.
From appetizers to entrees to desserts, you simply won't be disappointed with the local food caught by local fishermen that the Landings restaurant offers to their patrons. The Landings has a variety of menu options that are often changed up based on the season and the availability of some of the specific seafood options.
This family-friendly restaurant is open and airy and couldn't be more inviting or charming.
488 Main Street || +1 207-466-9059
You never know what you will find at Sammy's Deluxe, but the one thing you can count on is always getting a satisfying meal well worth it. At Sammy's Deluxe, the menu is playful and unique while also being delicious.
The menu changes often to mix things up but there is always a little something for everyone available. The meals from Sammy's will feel like you are at an upscale restaurant when you are really at an affordable family dining locale.
Sammy accepts reservations but walk-ins are welcomed at all times as well. You can enjoy an array of items and a full drink menu is available at all times.
---
No matter what your tastes are, the charming town of Rockland, Maine has a variety of restaurants to welcome their patrons and local crowd at all times. Many of the restaurants have varying hours and some of them are seasonal but you're bound to find a suitable solution amongst the options.
We've shared the 13 best restaurants in Rockland, Maine here but rest assured that this is just the tip of the iceberg when it comes to variety and selection. Whether you're looking for authentic seafood, a romantic dinner, or a charming family setting there is a little something for everyone in Rockland, Maine.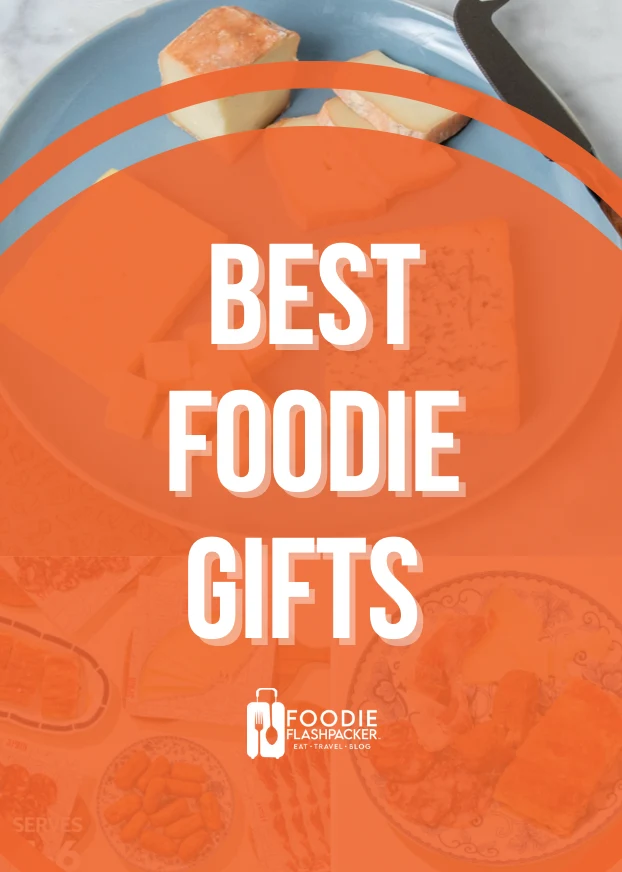 Are you a real foodie? I've compiled a list of the best foodie gifts you can get for yourself and your closest ones. Cheese, meat and sweets subscriptions, and some classic must-have foodie gadgets.
This area is well-known for its charm and its seafood but there are so many options to be had and many of the restaurants have their own unique variety and offerings. You simply can't go wrong with anyone that you choose.
Also, I recommend you visit Rockland during The North Atlantic Blues Festival, one of the most prestigious festivals on the East Coast that is an annual two-day event. It's a celebration of R&B, soul and rock 'n' roll music at its best. This event attracts visitors from around the world and has been known to sell out quickly. You will enjoy it for sure!
Will you also be visiting Bar Harbor during your time in Maine? Be sure to check out our guide to the best restaurants in Bar Harbor!
Which of these Rockland, Maine restaurants do you most want to try? Let us know in the comments section below!
Travel writer and owner of the blog. My work has been featured on Fodors, Eater.com, International Living, and Great Escape Publishing, among many others. My story? Nearly six years ago, I left my job at an Oklahoma City law firm and embarked on a journey around the world. At the time, I thought I would only be gone for 6 months, but the more I traveled, the longer my bucket list became. Flashpacker describes how I travel. Rather than traveling as the normal world wise backpacker and staying in hostel dorms, I prefer a more comfortable experience, and typically stay in private rooms, take Ubers instead of taxis, and now use a suitcase instead of a backpack. Foodie, on the other hand, describes one of the key reasons why I travel. I love to pick a central "base camp" and then explore the surrounding area, really immersing myself in the culture and interacting with the people, and enjoying and exploring the food of an area is an essential part of this experience.