Jacksonville, with a population of nearly a million, is over 840 square miles, making it the largest city by landmass in the continental United States. Add the beach communities, which are included in the Greater Jacksonville Area, and you have a colossal number of folks to feed.
Despite this challenge, Jacksonville is a paradise for food lovers. Not only does it boast some of the best seafood to be had along Florida's Atlantic Coast, it's also home to a treasure trove of international eateries.
In the same way that countries and regions have unique signature dishes, Jacksonville claims Mayport shrimp as its own. Locally caught, and prepared in a variety of ways, this wild Atlantic crustacean can be found at restaurants and fish camps throughout the area. These succulent shrimp are sweeter than average and are highly addictive.
My husband and I had the pleasure of exploring Jacksonville's food scene and found it abundant with fresh seafood, friendly service, and choices to fit every mood or craving. Here are seven of the best Jacksonville restaurants worth trying.
Table of Contents
The 7 Best Jacksonville Restaurants
6359 Heckscher Drive, Jacksonville, FL 32226 // +1 (904) 240-1672
Picture a superb meal, a friendly, laid-back atmosphere, and a gorgeous view of the St. Johns River from a waterfront deck. This was the highlight of our first evening in Jacksonville at Palms Fish Camp, and the image remains clear in my mind months after our visit. Yes, it was that good!
Palms prides itself on serving fresh locally caught seafood that had been swimming only hours earlier. I can't vouch for this, but the Mayport shrimp that wowed my husband and me were definitely fresh.
I had the Baja Tacos,: two Soft flour tacos generously packed with blackened Mayport shrimp, cabbage, black bean-pineapple salsa topped with a savory ginger dressing, and black beans and coleslaw as sides. This was where my love affair with Mayport shrimp began which makes this one of my favorite Jacksonville restaurants. Although the blackening spices added a pop of heat, it was the sweetness and firm texture of the shrimp that took center stage. You can also get these tacos with flounder or mahi mahi.
My husband opted for a plate of those scrumptious grilled Fresh Mayport Shrimp, which came with hushpuppies and two sides. But if you're really hungry, try the Palm Platter, where you can choose two or three seafood items – Mayport shrimp, fresh catch of the day, flounder, fried oysters, or fried calamari – served with corn on the cob, coleslaw, hush puppies, and a deviled crab.
Palms is heavy on fresh seafood, but they also serve salads, sandwiches, burgers, pizzas, and vegetarian-friendly items. The menu is extensive, so everyone will fall in love with one of the best Jacksonville restaurants.
Daily specials offer surprises, as do Palms's special events. Live music, fishing tournaments, and other scheduled events throughout the year are listed on Palms's website.
Palms Fish Camp is open Monday – Thursday 11:00 am – 9:00 pm, Friday – Saturday 11:00 am – 10:00 pm, and Sunday 11:00 am – 9:00 pm.
301 Atlantic Blvd., Neptune Beach, FL 32266 // +1 (904) 372-9791
The Local is one of those restaurants where you feel at home the minute you walk in. Casual and comfortable, a meal at this restaurant is meant to be savored slowly. With two locations in the Greater Jacksonville area, a tasty, artfully presented meal is close at hand and this is definitely one of my favorite Jacksonville restaurants.
My husband and I had dinner at the Neptune Beach location – the second Local is within Jacksonville's city limits in the Miramar neighborhood – and thoroughly enjoyed the entire experience. The food was excellent, the service prompt and friendly, and when we asked for our check, learned that a fellow diner, who slipped out before we could thank him, had already paid for our dinners.
Wanting to try something a little different, my husband ordered the Cauliflower Shrimp Pad Tai, a colorful combo of those addictive Mayport shrimp atop egg and cauliflower rice, in soy-peanut sauce, with carrots, pickled Fresno chilis, Thai basil, crushed peanuts, scallions, sesame seeds, and lime. It had just the right amount of kick, crunch, and subtle changes in texture to make the dish as interesting as it was tasty.
I chose the Quinoa Fried Rice, pan-fried quinoa, edamame, carrots, onion, zucchini, and egg with sesame-soy glaze, topped with – you guessed it – Mayport shrimp. This too was a palate-pleaser, and although the dish wasn't heavy on heat, the combination of flavors more than made up for this.
One tempting option is Shrimp and Swine; a dish consisting of Mayport shrimp, crispy fried pork belly, and charred corn, in a light BBQ sauce over grits with fried okra. Or consider trying Crab Mac n' Cheese or Thai Basil Tuna.
The Local also serves a variety of burgers, sandwiches, salads, brunch items, and small plates. And the kid's menu assures a pleasant family dining experience.
The Local is open Monday – Wednesday 11:00 am – 10:00 pm, Thursday 11:00 am – 11:00 pm, Friday and Saturday 9:00 am – 12:00 am, and Sunday: 9:00 am – 9:00 pm
20 W Adams St, Jacksonville, FL 32202 // +1 (904) 441-1180
Jumpin' Jax House of Food is a relatively new fast-casual restaurant, located in downtown Jacksonville. If you're looking for a quick bite that will do more than simply quiet your growling stomach, this restaurant will throw in an extra helping of flavor.
On a day when my husband and I didn't have much time to spare for lunch, we fell back on a hungry-but-in-a-hurry favorite; a shared pizza. We quickly settled on The Veggie Patch Pizza, blanketed with some of our favorite toppings: sautéed mushrooms, roasted red peppers, sautéed onions, roasted garlic, sautéed green peppers, black olives, and fresh tomatoes. It definitely hit the spot without making us late.
For the committed carnivore, Jumpin' Jax serves up The Caveman Pizza, topped with pepperoni, sweet Italian sausage, crumbled bacon, grilled fresh beef, diced smoked ham, and fresh grilled chicken. Or, if you prefer it's opposite, try Jax Cheesy Pizza. And if none of Jax's topping combinations suit your taste, you can order a Five Pizza, and top it with five of your favorites. Amongst all Jacksonville restaurants, here you will find the best pizza.
If pizza isn't your jam, Jax also prepares a variety of salads, wraps, burgers, and sandwiches. And there's a kid's menu to keep the little ones fed and happy.
Jumpin' Jax House of Food is open Monday – Friday 8:00 am – 3:00 pm, Saturday and Sunday 9:00 am – 2:00 pm.
245 Water St, Jacksonville, FL 32202 // +1 (904) 791-4995
Late one evening, my husband and I returned to the Marriott Jacksonville Downtown where we were staying, with an uncharacteristic yen for some dessert. Juliette's Bistro, the hotel's restaurant had already closed, so we drifted into the connecting J Bar, which stayed open until midnight.
Juliette's and J Bar share a common kitchen. When the restaurant closes at 10:00 pm, J Bar serves craft cocktails, wine, beer, and small plates. Some of the shareable dishes include a charcuterie board featuring local meats, cheeses, nuts, dried fruit, bread, and jam.
Also available is a plate of six jumbo wings seasoned with Buffalo, Spicy Asian, or BBQ sauces, or a dry rub. The wings are served with ranch dip and carrot and celery sticks. Another possible choice is Southwest Egg Rolls, with chipotle ranch.
Everything looked and sounded wonderful, but we were on a mission. My husband is a sucker for pecan pie, and I'm a chocoholic who couldn't resist the Flourless Chocolate Torte. Both were rich and killed our cravings on the spot. My torte was more like an overdose of fudge, but no one heard me complain.
J Bar is open daily 11:30 am – 12:00 am, and offers a late-night menu 10:00 pm – 12:00 am.
1116 Edgewood Ave South, Jacksonville, Florida 32205 // +1 (904) 381-0097
On the last morning of our visit, we stopped for breakfast at Community Loaves, a neighborhood bakery and cafe, in Jacksonville's Murray Hill. And were we glad we did. Not only did we enjoy a scrumptious start to our day, but we also picked up sandwiches to keep us away from the fast food traps on our long upcoming drive.
Community Loaves started out as a wholesale bread bakery in 2012. Over the years it evolved into a popular breakfast and lunch café, offering a wide selection of made-from-scratch pastries, croissants, and sourdough pieces of bread. Amongst all Jacksonville restaurants here you will find the best bread selection.
Community Loaves uses organic flour in its baked goods and sources ingredients locally as much as possible. The menu highlights seasonal and local produce.
On the surface, the menu might seem somewhat confusing. Some items are available daily, others only on weekdays, and still others only on the weekend. It also changes according to the seasons and availability of fresh ingredients. The bottom line is you'll know the food you're consuming is fresh. Remember, surprises can be fun, and all of this cafe's surprises are good ones.
For breakfast, I ordered the Baked Egg Sandwich with some surprisingly good cheese melting inside. My husband chowed down on the Baked Egg Bowl with grits, two sausage links, and cheese, topped with a baked egg. Then we shared an exquisite blueberry pastry, all of which kept us going late into the afternoon.
Other tasty options include Everything Bagel with green onion cream cheese, Avocado Toast with or without a poached egg, and the scrumptious Smoked Salmon Sandwich, which we happily consumed on our drive later that day.
With the exception of the bagels, all of the bread baked at Community Loaves are sourdough. They also prepare some excellent beverages such as Iced Honey-Ginger Green Tea, Arnold Palmer, half mint tea and fresh squeezed lemonade, Turmeric Latte, and a variety of hot and cold coffees.
Community Loaves is open Tuesday – Friday 7:00 am – 2:00 pm, Saturday and Sunday 8:00 am – 2:00 pm.
14286 Beach Boulevard #29, Jacksonville, FL 32250 // +1 (904) 977-8382
If you have an appreciation of good ramen, you know it's in an entirely different dimension from those cellophane-wrapped bricks that somehow – along with copious amounts of caffeine – help keep college students alive. And, if you're only familiar with the instant variety of ramen, you should take yourself down to Karai Ramen Bistro. Here the only thing that's instant is the pleasure you experience with your first taste of the real thing.
Karai is a Japanese ramen-ya, where you'll experience creative, boldly flavored bowls expertly crafted with traditional Japanese ingredients. The dishes stand at the crossroads of innovation and tradition, and the results are impressive. This one is one of my favorite Jacksonville restaurants.
Karai has enough ramen options to suit every food preference. A ramen after my own heartburn is Spicy Tonk Ramen. This one is hot in every sense of the word, made with creamy pork bone tonkotsu broth, straight noodles, pork belly chashu, scallions, red onions, Japanese custard egg, and sesame seeds. On the tamer side is the delectable Tonkotsu Shoyu Ramen, which has some of the ingredients found in the above, but without the heat.
Whichever ramen you choose, Karai offers a number of additional pairings to personalize your experience. And/or, you can order from a selection of sharable small plates. Wash it all down with some Japanese beer, and you have a feast fit for an emperor.
Karai Ramen Bistro is open Monday – Friday 11:30 am – 9:00 pm.
2130 Kings Avenue, Jacksonville, FL 32207 // +1 (904) 240-0250
Sometimes it's difficult to choose from the ever-growing number of Mexican restaurants available, especially when you're traveling. But if you're in Jacksonville, Tepeyolot Cerveceria makes the decision a no-brainer, if you fancy in-house brewed craft beer with your meal.
Freshly prepared family recipes are the backbone of the restaurant's menu. And the beer brewed on-site provides a refreshing counterpoint to the food. If you're not a beer drinker, have no fear. You can sip margaritas, sangria, wine, and a selection of mixed drinks with your meal.
At Tepeyolot Cerveceria you'll find all your favorites: tacos, burritos, quesadillas, nachos, and more. Many of the dishes can be made spicy, vegetarian, and/or vegan upon request.
For breakfast, try the Chicken & Waffle Burrito, a homemade waffle, and a piece of fried chicken packed into a burrito served with hot sauce-infused maple syrup. Or perhaps a plentiful platter of Huevos Rancheros.
If you're famished, go for a Gringo Quesadilla, a massive flour tortilla stuffed with cheese, grilled on a flattop with a choice of protein, served with cilantro, onion, crema, with a side of chips and salsa. You might also like the Sopes, two thick masa-cakes, topped with refried beans, a choice of protein, pico, crema, a choice of hot sauce, with a side of chips and salsa
As for the beer, be sure to check out what's on tap. It might be Tezcat's Sacrifice Sour, a sour ale bursting with juicy berry, cherry, and pomegranate flavors, and/or 3×3 IPA, which is smooth and juicy. Tepeyolot Cerveceria creates some interesting brews, so it might be worth asking for a small sample of one or two before committing.
Tepeyolot Cerveceria is open Monday 4:00 pm – 9:00 pm, Tuesday – Saturday 11:00 am – 10:00 pm, and Sunday 11:00 am – 9:00 pm.
The Jacksonville Restaurants: Wrap-up
Jacksonville and the beaches consume a large amount of real estate, but the number and variety of restaurants keep locals and visitors well-fed. Now, if you have an insatiable sweet tooth, fear not, Jacksonville restaurants have you covered. While not a restaurant, no visit to Jacksonville would be complete without a stop at Sweet Pete's, the largest candy store in the southeast.
Sweet Pete's is located in a historic 22,000-square-foot mansion in the heart of downtown Jacksonville, across the square from the Main Library. The store is chock full of every kind of candy you can imagine. The variety of jelly beans alone is enough to make you dizzy. You'll get a sugar high that could last for days. Just don't tell your dentist.
Disclaimer: Our visit to Jacksonville restaurants and beaches was generously hosted by Visit Jacksonville. However, all opinions are entirely my own.
Visiting other destinations in Florida? Check out our other guides: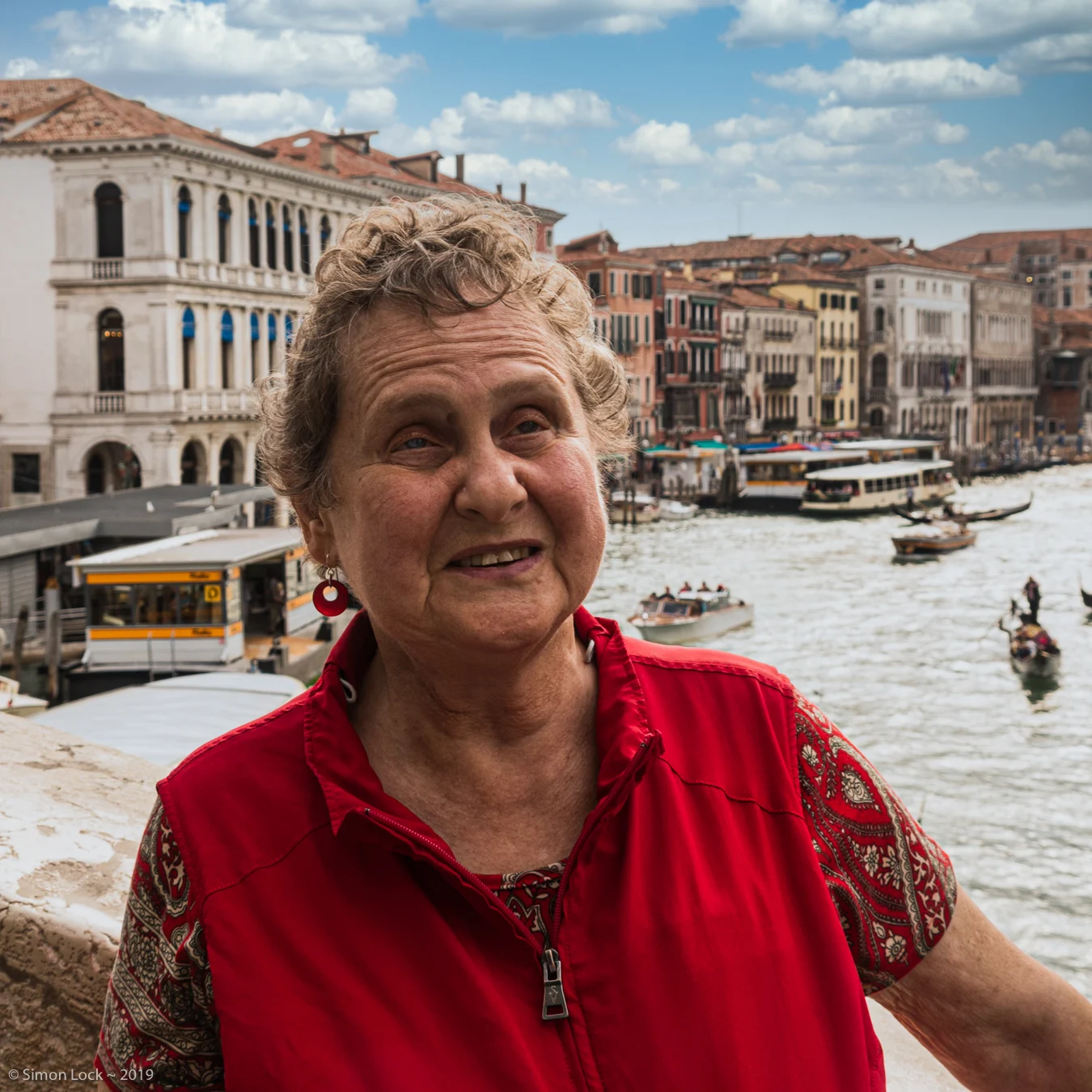 Penny Zibula is a freelance travel writer based in Greenville, South Carolina. She has always had a passion for travel, writing, and learning. With her husband/photographer, Simon Lock, and her guide dog, she travels the world focused on creating content of interest to serious travelers, armchair travelers, boomer travelers, and travelers with disabilities. She shares her experiences through her blog http://www.sixlegswilltravel.com