Nestled along the shores of Lake Michigan, Holland is an absolute gem that effortlessly blends small-town charm with big-city flavors.
Trust me, your taste buds are in for a treat. It's no secret that Michigan has an incredible food scene, and Holland is no exception.
From mouthwatering farm-to-table delights to creative fusion dishes, this picturesque town has a little something for everyone.
So, grab your stretchy pants and put on your explorer's hat because we're about to embark on a culinary journey that will make your heart (and stomach) sing!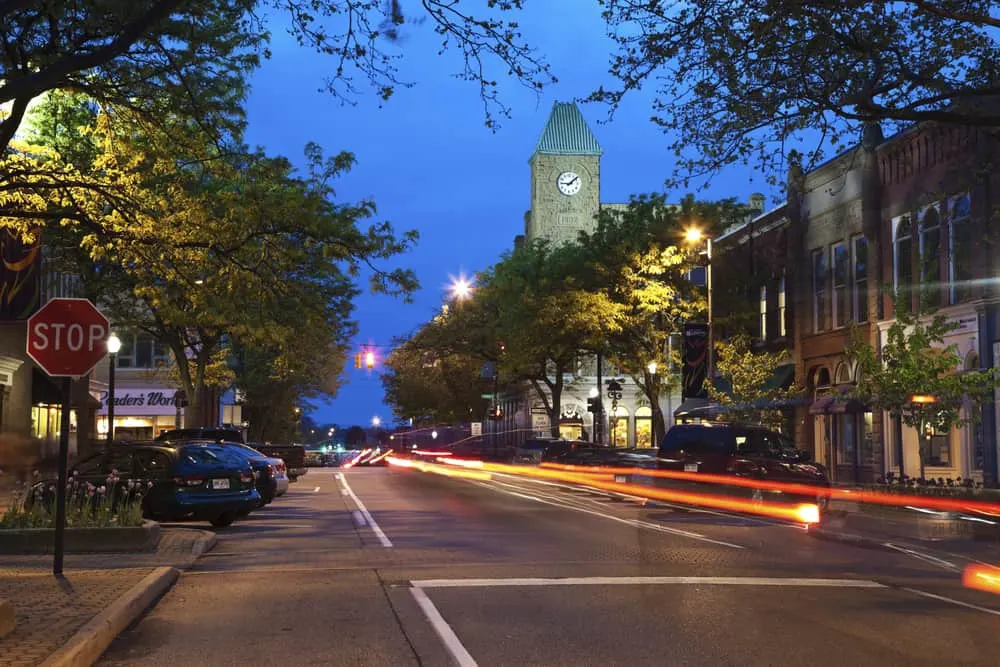 Walking down the quaint, brick-lined streets of downtown Holland, you can't help but feel like you've been transported to a European village.
The atmosphere is fantastic, with the delicious fragrance of freshly baked goodies drifting through the air and the cheery chatting of residents and visitors alike.
The city's Dutch heritage is proudly showcased through its beautiful architecture, lush gardens, and, of course, its incredible food scene.
Holland's downtown area is packed with tantalizing options for every palate, from cozy cafes to exquisite fine-dining restaurants.
Whether you're a foodie or simply looking to fill your hunger after a day of touring, you won't be disappointed.
So, without further ado, let's take a look at some of the top downtown Holland, Michigan, restaurants that had me grinning from ear to ear and planning my next trip before I even left town!
Table of Contents
My Top Three Picks of the Downtown Holland Restaurants
| Restaurant | Top Pick | Our Rating |
| --- | --- | --- |
| Seventy-Six | Smoked chicken quesadilla | 5/5 |
| Crust 54 | Pizza | 5/5 |
| Butch's Dry Dock | Roasted Shishito Peppers | 4.5/5 |
The Five Best Downtown Holland Restaurants
44 E. 8th St., Holland, MI 49423, United States // +16163968227
I'm kicking off the article with this fantastic downtown Holland restaurant called Butch's Dry Dock. I mean, if you're in town and looking for a spot to indulge in a memorable meal, look no further.
From happy hour drinks and snacks to a full-blown lunch or dinner extravaganza, this place has it all.
I was enveloped by a classy ambiance, complete with soothing jazz tunes playing in the background.
The attentive service instantly made me feel at home, and I couldn't wait to dive into their mouthwatering menu.
I decided to kick things off with their roasted shishito peppers, and oh my goodness, talk about a flavor explosion!
These little beauties had just the right amount of char for that perfect smoky taste, and they were drenched in a sauce that packed a delightful punch. Paired with a glass of pinot noir, it was a match made in foodie heaven!
Next up, I couldn't resist trying their tomato and roasted red pepper soup. Trust me, if you're as much of a pepper fan as I am, you're in for a treat at Butch's. (Seriously, don't miss out on those peppers!)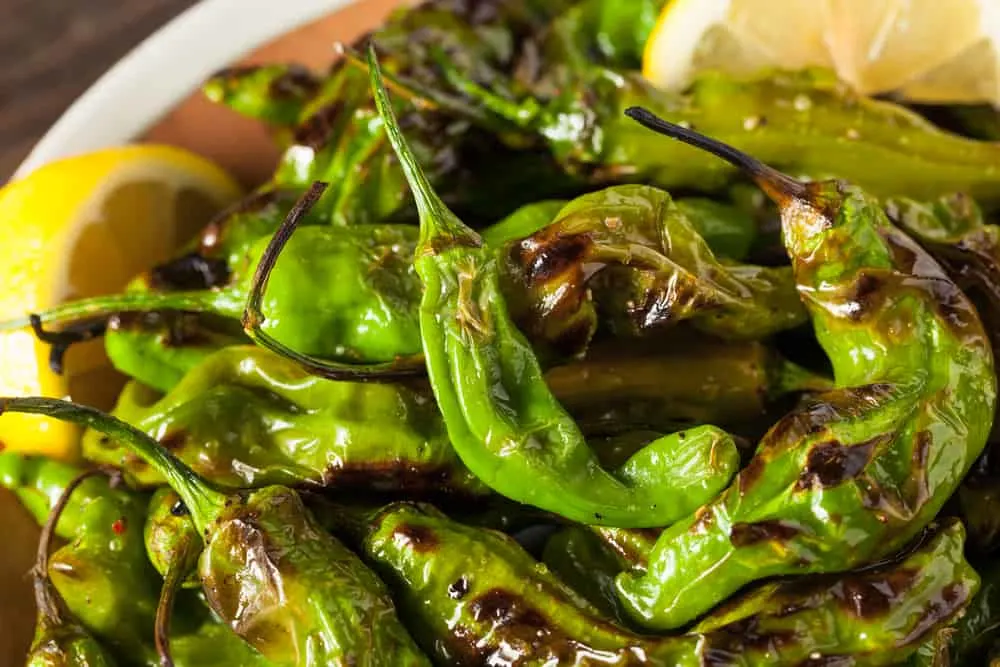 When it came time to choose an entrée, my lovely waitress enthusiastically suggested the hanger steak, something I'd never had before.
Well, let me tell you, it was a game-changer! The steak was so tender and bursting with flavor, and the accompanying sauce was just divine.
The side of roasted potatoes and arugula completed the dish beautifully. And the wine? It paired so perfectly that it felt like a culinary dream come true.
If you're a steak lover, you simply must try the hanger steak at Butch's Dry Dock.
To round off my incredible meal, I couldn't resist ordering the freshly baked chocolate Madelines.
Made to order and drizzled with a delicious raspberry and cocoa sauce, they were the perfect combination of sweet and bitter to wrap up my dining experience.
If you're in the area and looking to treat yourself at a downtown Holland restaurant, I can't recommend this place enough. Just make sure you call ahead for reservations – trust me, you won't want to miss out on this must-visit spot!
52 W. 8th St., Holland, MI 49423, United States // +16169948414
Next up, picture this; a cozy yet chic Holland, Michigan, restaurant offering the perfect blend of elegance and warmth.
Yes, my friends, I'm talking about the one and only Seventy-Six. So whether you're looking to unwind after a day exploring the great outdoors or planning a romantic evening with your special someone, this charming downtown hotspot will steal your heart (and taste buds)!
I was immediately captivated by the love-soaked atmosphere that enveloped the space. Want to hear something super sweet?
The restaurant is the brainchild of a couple who have been smitten with each other for almost 40 years.
The name "Seventy-Six" pays homage to the same year their enchanting love story began. Now, if that doesn't set the tone for a magical dining experience, I don't know what does!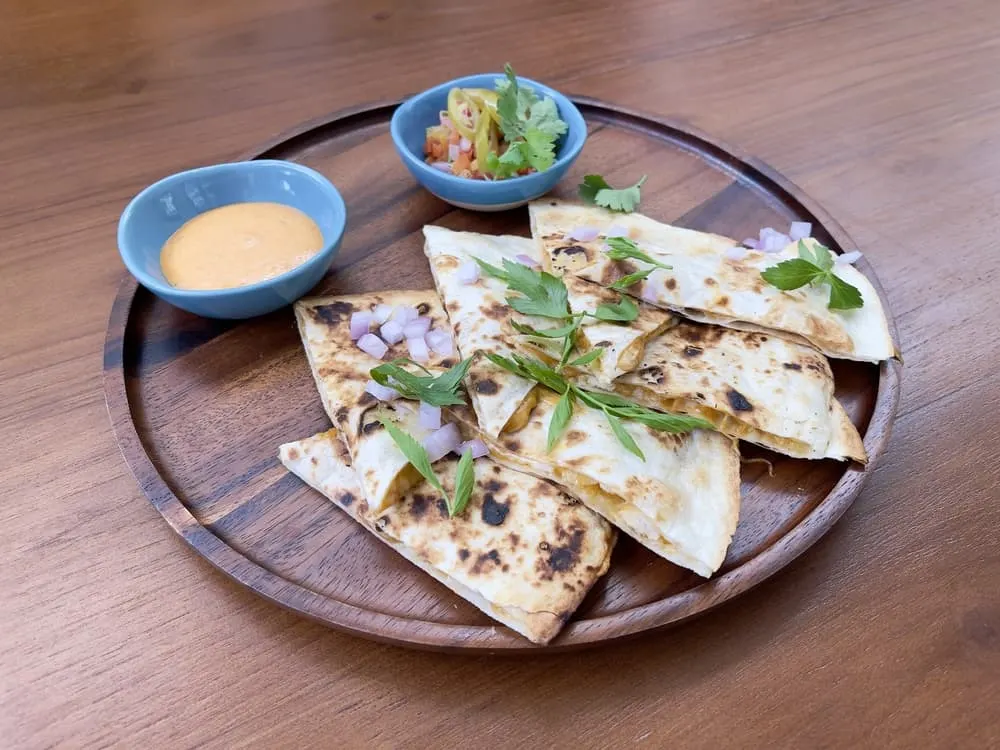 But enough about the ambiance; let's dive into the scrumptiousness that awaited us at this culinary haven!
I decided to tantalize my taste buds with their smoked chicken quesadilla, complete with chargrilled avocado – talk about a flavor sensation!
My friend chose the oh-so-decadent short rib grilled cheese and a silky-smooth tomato bisque that had us swooning with delight.
However, the highlight at Seventy-Six has to be the chef's extraordinary ability to pair their mouthwatering modern American dishes with the most heavenly wines. I mean, this place takes the concept of "a match made in foodie heaven" to a whole new level!
To sum it up, our dining adventure at Seventy-Six was an unforgettable whirlwind of flavors, laughter, and love.
So, if you ever find yourself wandering the picturesque streets of Holland, Michigan, don't miss the opportunity to treat yourself to a meal at this delightful gem.
Your taste buds will be doing cartwheels of joy, and you'll leave with a smile that lingers long after the last bite!
45 E. 8th St., Holland, MI 49423, United States // +16163943002
Next up is a delightful Holland Italian pizzeria that's perfect for all you deep-dish and thin-crust enthusiasts out there.
Get ready to fall head over heels for Crust 54, a charming, rustic gem that serves up some seriously mouthwatering pies with fresh, tasty toppings.
It's the kind of place where you can imagine cozying up with your family for a laughter-filled meal or catching up with colleagues over a leisurely lunch.
I found myself chatting away with my friends, reminiscing about our fun-filled day in Holland, all the while surrounded by the restaurant's quaint and peaceful atmosphere.
We kicked off our pizza party with a plate of their delicious pinwheels – think pepperoni pizza meets cinnamon roll, and you've got yourself a match made in flavor heaven.
Bursting with generous amounts of pepperoni, garlic, and cheese, these little bites of joy had us dancing in our seats!
But trust me; you could easily make a meal out of these delicious pinwheels alone.
But oh, the pizza! How could I not rave about the glorious pizza that graced our table? The buttery crust effortlessly held up the mountain of toppings and cheese, while the mouthwatering garlic flavor was present without overwhelming our taste buds.
My only advice? If you indulge in the heavenly pinwheels first, consider ordering a smaller pizza (though I can't promise you won't be tempted to devour the whole thing!).
So, fellow foodies, if you ever find yourself with a hankering for some authentic, drool-worthy pizza in Holland, Michigan, make a beeline for Crust 54.
Your taste buds will thank you, and you'll be left with memories of a meal that's nothing short of pizza perfection!
61 E. 7th St., Holland, MI 49423, United States // +16167962100
1847 Lounge is a culinary wonderland that boasts a fantastic happy hour, a warm and inviting atmosphere, and a medley of tempting dishes that will leave you craving more!
From the moment I waltzed into 1847 Lounge, I was smitten by the cozy seating arrangements scattered around the bar and lobby area.
It was like stepping into a charming little nook that whispered, "Come, sit, and enjoy!" And trust me; I did just that, embarking on a happy hour escapade that was nothing short of extraordinary.
I got a mouthwatering pizza, a vibrant garden salad, crispy potato skins that made my taste buds sing, and a selection of refreshing Arbor Brewing Company beers that hit the spot just right.
Oh, and did I mention the Mexican Moscow Mule that was like a fiesta in a glass? Sheer bliss, my friends!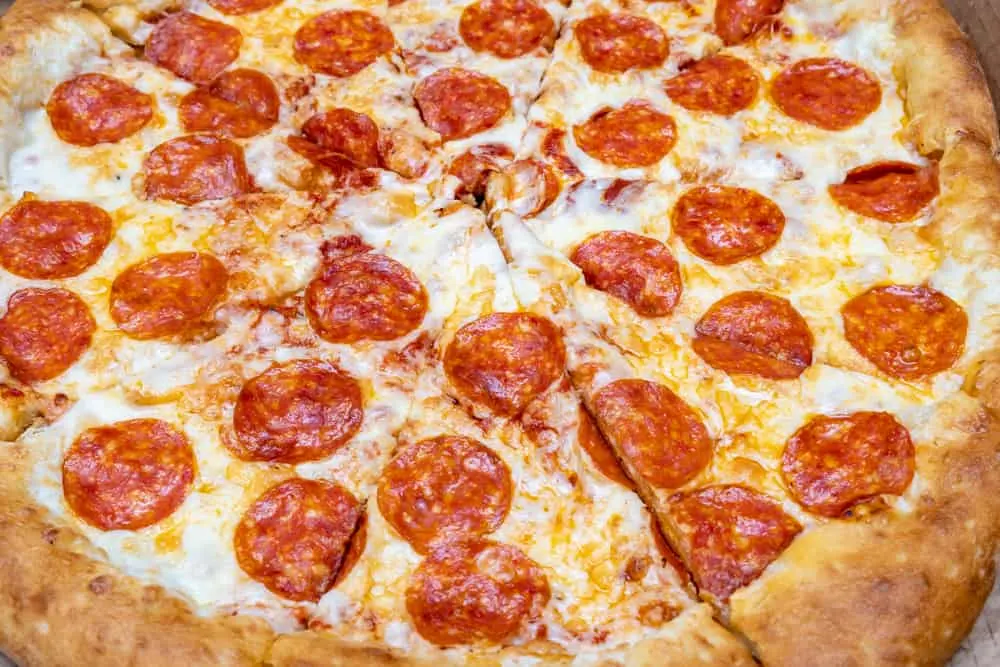 Now, let's talk about that garden salad for a moment. My dining buddy and I opted for the large size, which turned out to be more than enough for two hungry souls.
It was a veritable feast of fresh, colorful veggies that set the stage for the culinary extravaganza that awaited us at 1847 Lounge.
The star of the show was undoubtedly the mushroom and green olive pizza we ordered, with an extra crispy thin crust that had me swooning with delight.
Each bite was a harmonious symphony of flavors, with the perfect balance of toppings and that oh-so-satisfying crunch.
Make a beeline for 1847 Lounge for outstanding pizza in Holland.
80 W. 8th St., Holland, MI 49423, United States // +16164996269
Last up on the list is a unique, woodwork-filled brew pub that's just waiting to wow you with its enormous beer list, creative pub fare, and delectable brunch items.
Get ready to hop on over to HopCat, located in the heart of downtown Holland!
It is the perfect spot for a laid-back lunch with colleagues or a lively gathering with friends; this Holland brewpub has excellent service, tasty food, and a cozy ambiance that makes you feel right at home.
Despite the bustling scene, the staff was all smiles, and I just have to rave about the cosmic fries – they were out of this world!
And the pizza rolls? Don't even get me started! They were bursting with flavor, and I couldn't help but gobble them up.
Oh, and the stuffed burger? Let's just say it was a mouthwatering masterpiece that left me eager to come back for more.
But what really sets HopCat apart is its impressive beer selection. There were so many choices I could've spent hours just admiring the array of brews on offer.
With a beer list that massive, there's something for every taste, whether you're a craft beer aficionado or a casual sipper.
Since it was such a gorgeous day, I took advantage of the outdoor seating, basking in the sunshine while grooving to the upbeat tunes that played throughout my visit. It was the perfect setting for a memorable dining experience.
So, my dear food-loving friends, if you're looking for a fantastic spot to grab a bite and a brew in a downtown Holland, Michigan, restaurant, look no further than HopCat. Trust me, this playful, lively joint is one you won't want to miss!
FAQs
What cuisine can I expect to find in downtown Holland, Michigan?
Downtown Holland restaurants boast a diverse food scene, with a little something for everyone! You'll find everything from upscale dining experiences to casual pubs offering cuisines such as American, Italian, Mexican, Asian, and more.
There are also plenty of cafes and bakeries for those with a sweet tooth.
Is outdoor dining available in downtown Holland?
Yes, a number of restaurants in downtown Holland offer outdoor seating, especially during the warmer months.
Enjoying a meal al fresco is a great way to take in the charming atmosphere of downtown Holland while savoring some delicious food.
Is there a nightlife scene in downtown Holland?
Yes, downtown Holland has a lively nightlife scene, with several bars, pubs, and lounges offering late-night bites, craft cocktails, and live entertainment.
It's the perfect place to unwind with friends after a day of exploring all that Holland has to offer.
Wrapping Up: The Five Best Downtown Holland Restaurants
Well, our culinary journey through downtown Holland, Michigan, has come to an end, for now, at least!
It's been an absolute pleasure sharing my personal experiences and food adventures with you, showcasing this charming town's fantastic variety and top-notch quality.
Downtown Holland truly has everything from sizzling steaks and heavenly pizzas to mouthwatering burgers and unforgettable appetizers.
Each restaurant we've explored together has left a lasting impression on me, and I'm sure you'll feel the same way once you've had a chance to taste the magic for yourself.
What I love most about downtown Holland's food scene is that it combines the warmth and friendliness of a small-town atmosphere with the sophistication and creativity of big-city dining.
There's an undeniable passion for food that emanates from each establishment, and it's evident in the delicious dishes they serve and the unforgettable experiences they create for their guests.
As you stroll through the quaint streets of downtown Holland, you'll be delighted by the aroma of freshly baked goods wafting through the air, the cheerful chatter of diners enjoying their meals, and the enticing sight of restaurant patios filled with happy patrons.
It's a sensory experience that's sure to leave you craving more.
So, the next time you find yourself in downtown Holland, Michigan, I wholeheartedly encourage you to embark on your own foodie adventure.
Don't be afraid to try new dishes, ask for recommendations, and maybe even strike up a conversation with the friendly locals.
After all, through these shared experiences, we truly connect with one another and create lasting memories.
In the end, the best downtown Holland restaurants are not just about the food – they're about the people, the atmosphere, and the shared love of all things delicious.
And who knows, maybe you'll discover a new favorite dish or make a lifelong friend along the way. Until our next culinary expedition, happy eating!
Visiting Holland, Michigan? Check out our other Holland foodie guides:
Visiting other destinations in Michigan? Check out our other delicious guides:
Igor Jovanovski is an aspiring digital nomad, travel blogger and graphic designer who really loves food. He also has a creative side, and he works as a freelance graphic designer in his spare time. He has traveled across Europe quite a few times since he was young and recently started his mission to visit every country in the world! Igor's favorite thing about traveling is the way he gets to know new people, food, places and cultures.
This exciting experience helps him create his own stories and make memories that will last forever