Located at the base of the West Grand Traverse Bay and nestled between two of Michigan's major wine-making peninsulas is a delightful town called Traverse City. It is considered a hidden gem of the midwest, with its romantic peach sunsets over dazzling waterfront views and an array of dining options to satisfy all palettes.
It's a region of award-winning coastal wineries, artisanal cheese creameries, local produce farms, and even expert chocolatiers. It is the perfect all four seasons getaway for all who seek exquisite food options ranging from neighborhood cafes to fine dining restaurants in one of the midwest's most scenic locations.
This back-in-the-day lumberjack town shares a latitude with the renowned wine-making regions of France and Italy. Hence, there is a rich history of attracting European winemakers to settle into the rolling hills of Northwest Michigan. Where lumber barons once owned ornate homes of local wood-paneled rooms, descendants of European winemakers took great advantage of the grape-and-cherry friendly atmospheric conditions to produce the richest wines of the midwest.
With these came farmers of small farms producing local honey, fruits, and vegetables as well as dairy creameries to complement the industry. This four-season town became the perfect stage for midwesterners looking for a fall foliage weekend getaway or summer vacation retreat for the family.
Visiting other destinations in Michigan? Check out our other delicious guides:
The 7 Best Traverse City Restaurants
144 Hall St. // (231) 486-6128
This vegan and vegetarian venue vibes with the concept of embracing and promoting respect for gender and racial equality in both its nurturing ambiance and worldly food. It's located across the street from the Hotel Indigo as part of the MRKT warehouse building. The mastermind chef is Christian Geoghegan, who brings his mixed heritage of Irish and Palestinian roots to the table with thoughtfully inclusive dishes, pastries, and drinks from all corners of the world.
The name "Hexenbelle" derives from the German and French words for "beautiful witches," which is marked by a feminine hand grasping a picked wildflower in the restaurant logo, according to the staff. Wafts of sugar and spice reel you in right away and direct you to smiling faces behind a broad counter displaying a tall glass case of baked goodies. Large Palestinian and PRIDE flags openly welcome people of all backgrounds and preferences into an embracing, blush-themed cafe.
There are no reservations, but you can pre-order online (highly recommended as the wait time can be up to thirty minutes during peak hours) or place your order there. If you do order online but wish to eat on their charming self-seating patio, you simply ask "for here," and they will plate your order to be enjoyed on the covered deck.
Open from breakfast to mid-day caffeine break, the cafe is featured with locally roasted coffee from BLK/MRKT Roastery. Signature drinks to soothe the soul include a honey lavender latte called Bee Change, iced Sencha tea, and a milky drink called the Damascus Gate. While the name is inspired by the sacred cultural icon, the drink's ingredient list (rose, black cardamom, clove, and saffron) is a spa treatment in a cup.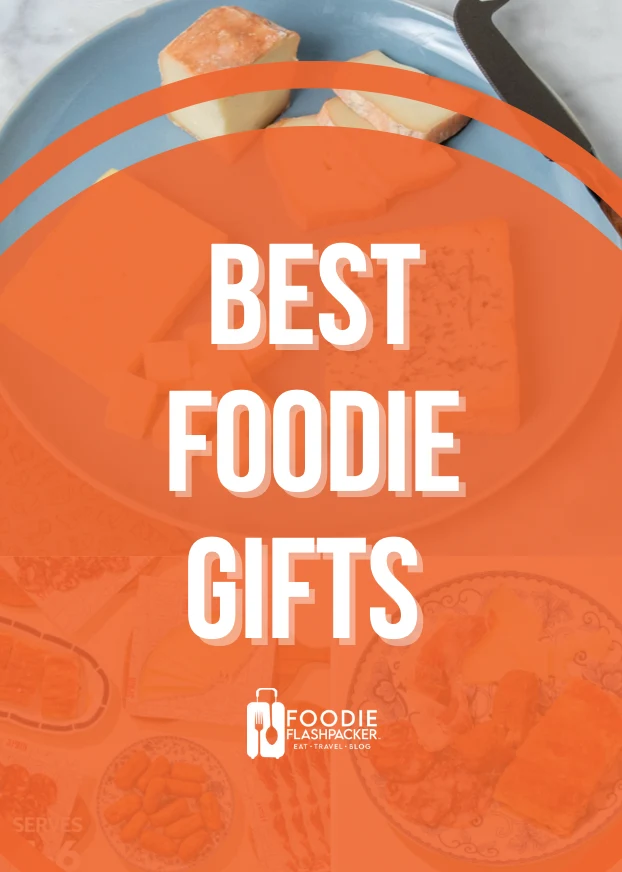 Are you a real foodie? I've compiled a list of the best foodie gifts you can get for yourself and your closest ones. Cheese, meat and sweets subscriptions, and some classic must-have foodie gadgets.
Eclectic meal options include a smashed egg salad pita sprinkled with dill and pickled onions and with the option of having it topped with a dollop of housemade Shatta (an Arabic Chile Relish); it's great for a packed lunch for a wine tour or fishing trip. Heartier dishes include a Palestinian Rice Bowl made with ghee butter, vermicelli rice, warm lentils, pickled stuffed eggplant, and a traditional strained yogurt cheese sauce or the Mapo Tofu in a spicy bean sauce sprinkled with Sichuan peppercorns over aromatic herbed rice.
Their featured hummus is a local favorite made with authentic olive oil imported from Palestine and topped with a special blend of dried spices. Visiting at the tail end of summer, we missed some special menu items, including one worth mentioning called Japchae. Per the server at the counter, this is a Korean-inspired dish of glass noodles drizzled in a cooling vegan version of their Ponzu sauce.
For an on-the-go pastry, they have a selection of sweet and savory offerings include green chile and cheddar as well as coconut with white chocolate scones, or their signature glazed hand pies, including one made with local apples and frosted with brown sugar and cinnamon.
100 Grand Traverse Village Blvd. // 231-534-6800
The Grand Traverse resort invites both guests and visitors, including couples, small and medium-sized groups, and even families with children, to its crystally glassed-ceiling and floor-to-ceiling windowed restaurant located on the 16th floor. Showcased by a panoramic backdrop of the East Grand Traverse Bay and Old Mission Peninsula, every seat is deemed the best seat in the house.
Aerie's staff speak of winters with stunning views of layered glistening treetops and glittery snow-covered grounds, and the autumn season presents an ombre of colors of the turning foliage. Considered casual fine dining, it's no wonder this spot is known for romantic proposals, corporate events, and intimate family gatherings such as Sunday or holiday brunches.
The elevator takes you to the 16th floor and double doors open to an airy (pun intended) restaurant with a tall white steel grid-beamed glass ceiling and floor-to-ceiling windows, as if stepping into a greenhouse on top of a tall building with a wide-angled view of the region.
But the ambiance is only part of the Aerie experience. Michigan native Chef Auston Minnich returns to his roots after building up his resume at top chef restaurants around the U.S. to celebrate the local bounty of freshwater fish, colorful produce, farm-raised meats, and of course, the regional wines through his menu. Gluten-free and vegetarian options are offered as well as made-to-order items for patrons with allergy restrictions.
Make a reservation during twilight to be surrounded by its golden haze while sipping on their signature cocktail called Tiny Pink Bubbles. A resort staff recommendation, this nose-tickling fizzy craft drink is made with the scandalously named sparkling wine called Sex from the local L. Mawby Vineyards. A perfect apertivo to our starter of a gorgonzola creamed gnocchi topped with brown butter crumbs and paired with tomato bacon jam. So divine, we ordered seconds right away.
Next came the greens and vegetables, including vibrantly plated green tea soba noodles with miso grilled chicken, surrounded by sliced radish and carrots, shredded bok choy, a speared trio of pickled shishito peppers, and drizzled with spicy cashew vinaigrette. The crispy fried Brussells sprouts doused in "Sasawan sauce" with a generous smear of thick black garlic aioli disappeared fast!
Though we did not order it, it's worth mentioning a staff recommendation of the colorful Aerie Salad made with all local field greens, candied pecans, and Michigan's own tart cherry vinegarette. The table next to us ordered it with the optional duck breast, and it looked delicious!
Our main course selections included a crunchy potato-crusted halibut topped with tangy tapenade and cheery tomato confit and paired with an Italian-style aged balsamic "mostardo," a blackened salmon (regionally caught) with chimichurri sauce and vinegar fried potatoes, and a tender six-ounce filet with roasted onion and candied bacon, potato confit with an unexpected crunch of potato chips, and slurp-worthy green peppercorn bordelaise sauce.
Our vegetarian friends raved about the tomato "tart tatin" made with house ricotta cheese, charred cipollini onions, a watercress basil salad, and dollops of roasted garlic tomato aioli. With barely a spoonful of room in our stomachs to spare, we topped the meal off with a birthday toast and devoured the Traverse City Cherry Toffee Pudding for dessert.
120 S. Union St. // (231) 421-9499
A sidewalk patio with hot pink tables and chairs is surrounded by planters full of purple blooms and ferny greens against the sophisticated black storefront. When you walk inside, you are immediately transported to France, with aromas of sugary, bubbling crepe batter, melting chocolate, and foamy coffee immediately pulling you in toward the walled chalkboard menu behind the wide tiled counter.
The cafe is themed with whimsical flowers stenciled on the walls and tables and wooden shelves stacked with charming pottery and small kitchen essentials for sale. The menu marks all of the gluten-free options as the crepes are categorized under Savory or Sweet. When delivered, the toasty warm crepes are encased in a conical sleeve marked with the cafe's signature pastel pattern.
I started with a savory cheese crepe made with melted gruyere cheese enveloped in folds of buckwheat. I added fluffy scrambled eggs, verdant spinach, and caramelized onions for an all-in-one breakfast.
If you are looking for a meatier and filling meal, "The Turkey" includes folded slices of succulent turkey and mayo, or the, stuffed with roasted pork, ham, spicy pickles, gruyere, and their very own house mustard sauce.
My vegetarian friends expressed that "The FMSO" was a true crowd-pleaser, consisting of crumbled feta cheese, sauteed mushrooms, spinach, and melted onions.
The sweet options were equally thrilling and challenging to pick just one. So we chose to try three! There was a Nutella crepe made with the ever-popular, creamy hazelnut and cocoa spread; we optioned to have it layered with thin slices of ruby sweet strawberries and a salted caramel delight with creamy rich bananas. Of course, when in Michigan, the T.C. Cherry Crepe is a must-try, stuffed with cherry preserves, sugary cream cheese, and crumbled graham crackers.
The creperie also offers fresh fruit smoothies, fluffy parfaits, or milkshakes, as well as all espresso and tea favorites.
229 E. Front St. // (231) 941-8888
Located in the downtown area of Traverse City, surrounded by boutiques, cafes, and antique shops, is an absolute must-try spot called Amical. True to its namesake "friendly" in French, entering the restaurant, you are immediately greeted by all of the moving staff, and the restaurant oozes a warm, cozy ambiance of fifteen dimly lit tables surrounded by a welcoming open kitchen.
The general manager (soon to be partner), Jeffrey Libman, confirms the restaurant's reputation by stating that the restaurant is known for retaining a lot of long-time patrons and staff, including servers and kitchen workers and a sous chef that started off as a dishwasher fourteen years ago. For outdoor dining, there is a seven-table, enclosed patio with drop curtains, and an outdoor heater for the cooler months.
Standing the test of time through Traverse City's changing restaurant scenes, Amical has been serving its patrons since 1994. What started off as a French-inspired bistro has today evolved into tasting the world, touched especially by the many facets of the Meditteranean. Local ingredients are well-regarded, including meat farmers, dairy creameries, Michigan cherry orchards, and even the mushrooms are delivered daily from people foraging in the forest.
Currently open for dinner only, the restaurant is planning to offer their once-popular Sunday brunch and lunch in the future. Between the hours of 4 and 5 pm, budget-friendly patrons can enjoy a late lunch or small dinner with a pre-fixed two-course menu where they can choose between two salads and six entrees with a glass of a regional winemaker's Chardonnay or Merlot.
Another unique fun fact is the cookbook series that runs for the first week of the month, starting in November through May. The kitchen team is challenged weekly with cooking seven to eight featured recipes from a chosen cookbook and feature them on the dinner menu.
In the past, they have chosen cookbooks of Israeli, Vietnamese, and Japanese cuisines, as well as those written by renowned chefs such as Mario Batali and culinary explorers like Anthony Bourdain. Interestingly, the kitchen team does not get to practice the dishes before serving them on the menu. If you go on a Monday, know that the kitchen staff comes in at 3:00 pm, and it will be their first shot at making the cookbook-featured items.
We started our evening with a round of the recommended pear ginger martinis and Ambrose sour (named after a previous server who concocted this tasty tart cocktail, Jess Ambrose) cocktail. A vast selection of locally crafted beers are always featured on the menu, and whiskey lovers are encouraged to try the Traverse City favorite apple whiskey.
Feeling very indecisive due to the abundance of mouth-watering menu items to chose from, my group made the best decision to go family-style tonight. The common thread with trialing each dish went something like this, "Mmmmm…yeah, this one is a party in my mouth." I fell in love with the olive tapenade, crumbled feta, and orange pepper cream entwined in pillowy soft puff pastry appetizer, wittily called Oliver Twist.
The White Pizza with a cracker crust had a foundation of bechamel sauce topped with baby spinach and black truffles, and not one but two cheeses (mozzarella and parmesan) were melted to a bubbling crispy brownness.
The Lobster Tacos were a refreshing starter with buttery sweet lobster chunks, crunchy jicama slaw, and a cool yellow tomato salsa drizzled with peanut-lime vinegarette, all rolled up in a soft tortilla.
The soups were a belly-warming welcome to a temperature-dropping end of a summer evening. We all had to have a spoonful of the tomato soup with the poofy pastry baked on top. It just looked like a hug. The French onion soup had the perfect stringy cheese topping and carmelized onions bathed in the deep brown broth.
Tonight's special did not disappoint as I watched the tines of my fork disappear into the seven-ounce leg of lamb like quicksand. Miso-smoked honey crusted the edges, and warm sake butter spilled over the sides of green apple-kale kimchi and grilled bok choy, only to be soaked up by the bed of jasmine rice. I don't think I opened my eyes once until the plate was licked clean.
The risotto was a tasty rainbow of roasted carrots, sweet little green peas, and delicate pea shoots creamed with a local goat milk chevre and topped with bright green pistachio crumble. It complemented every dish on the table!
I passed on ordering the recommended local cornmeal-dusted and fried pork chop with pickled green tomato relish, but only because I had to save room for dessert. Next time.
Desserts are all made in-house, and the menu is very mouthwateringly difficult to choose just one. When asking the staff, they say that it's like picking your favorite child; it changes every day. We ended up choosing two. The peach cobbler with glazed blueberry compote and raspberry creme brulee did not disappoint!
For those of you who were not blessed with a sweet tooth, I would highly recommend the three-cheese plate of imported and local cheeses paired with Marcona almonds and seasonal peach jam with two fingers of the aforementioned apple whiskey.
Amical's worldly food, cozy ambiance, and friendly service built a lasting impression on me and my group, to the point where we were dreamily talking about the treasures we ate well into the next day during our wine tour. In fact, I am dreaming of Oliver Twist right now! Chef Ben Hoxie's version, that is, not Dickens.
800 Cottageview Dr. // (231) 252-4648
Wind your way through the yellow brick tunnels and low archways of what was once a state-run "Victorian-Italianate styled" insane asylum of the 1800s to make your way to this hidden gem. The building itself is a historical icon for the town, marked by the ruby red spires on the roof.
Guided tours are available to hear the story of Dr. James Decker Munson's vision of building a sanctuary for a humane approach to treatment for psychiatric patients with the model of "beauty is therapy." It has a campus-like feel of gardens and fountains built for patients to either walk the expansive grounds full of greenery and flowering shrubs or at least have a brightly lit view from their room windows.
Today, it is well-loved by the locals as a charming market called the Grand Traverse Commons, where handmade goods (like the Alpaca shop or jewelry stores) are woven along the hallways and corners. Follow the signs for the Red Spire Brunch House on the lower level or ask any of the friendly shop owners to kindly point you in the right direction should you get lost or turned around while shopping or reading the historical fun facts and upcoming events posters on the walls.
This lively comfort food brunch spot has all the staples and more. From homemade pecan and cinnamon rolls to custom-made omelets with a list of optional ingredients, including green onions, asparagus, spicy jalapenos, gruyere cheese, potato, and even crab. Four varieties of benedicts are available, including crab cake and smoked salmon, and classic egg breakfasts as well. It was the pancake and French toast selection that called to us.
For anyone that has a sweet tooth or needs a Sunday brunch indulgence, Red Spire's melt-in-your-mouth red velvet pancakes are made from their house recipe and topped with whipped cream cheese. A generous pour of the perfectly sweetened house pancake syrup immediately put a wide smile on my face.
We ordered two French toasts dishes to share because the descriptions made it too hard to choose just one. The apple cinnamon streusel French toast consisted of thick triangle slices of sourdough dipped in a secret egg wash with sticky cooked apples. The crunch came from the streusel bits sprinkled all over the plate.
I had the pleasure of sinking my teeth into a life-changing French toast made with homemade grilled banana bread dipped in the same egg wash, but stuffed to the brim with sweet cream cheese and Nutella and then layered with chunky bananas slices (also grilled) and candied pecans and generously drizzled caramel. All were happily washed down with multiple refills of their featured coffee, an organic blend from Higher Grounds Trading Co.
Located in the Hotel Indigo at 263 W. Grandview Pkwy. // (231) 932-0500
We stayed at Hotel Indigo due to its prime location for access to two of Traverse City's main wine trails, its bayside vicinity, and home to Traverse City's popular rooftop bar called H & L Social. Open only during the spring through fall seasons, visitors can enjoy delicious bites from the lunch and dinner menu shared with the hotel's main restaurant, Warehouse KiTChen + Cork. Note the capitalized "TC" for Traverse City.
Since we were here during the late swing of summer, we made a beeline for appetizers and drinks at H & L Social. Just kitty-corner to the Duncan L. Clinch Yacht Harbor and across the street from where an open green space lined with a jogging trail juts up against the water makes this a great spot for boat watching. The sensational views of deep sapphire waters, the rustling trees of the peninsulas, and rows of yachts in the harbor with gloss-shined decks in the corner of my eye were worthy of a champagne toast and shared appetizers among good friends.
Our group chowed down on the crispy arancini, which are thick arborio rice balls made not with the traditional ham and cheese, but cold water lobster claw and glued together with truffle aioli and smothered in a smokey orange tomato sauce. The grilled crostinis that came with the dish were perfect for soaking up the leftover bits of rice and sauce.
Sticking with continuing our homage to the Michigan cherry theme, we ordered the cherry barbeque pulled pork flatbread. It is a rustic flavored appetizer made with tender roasted pork shoulder bits and red peppers layered atop a warm, doughy crust locally made by the Detroit Bread Company.
Though topped with melted farm country cheese that strings when each piece is pulled apart, it was the tarty sweet cherry barbeque sauce that stole the show! The veggie-lovers thoroughly enjoyed a spinach and artichoke version with wild mushrooms, fresh buffalo mozzarella, and herb bechamel sauce baked upon a crispy light gluten-free cauliflower crust.
According to the staff, the H+L Cheesesteak is a popular lunch item that Traverse City folks would claim can compete with Philadelphia. I was very tempted to order it, but since we were here for a pre-dinner happy hour, I made a friend with the patron at the table next to us to describe it to me, and he was happy to oblige!
The TC version includes tender pieces of shaved prime rib and juicy grilled onions, bell peppers, and shallot all stuffed into a crusty Detroit Bread Co. hoagie bun and gooey cheddar cheese. Each bite oozed cheese and grilled veggie juice. It came with a side of truffle fries, which he actually added to the sandwich itself and claimed to give it the perfect crunchy texture. I believed it was as good as every word he said since he inhaled it within fifteen seconds.
After our dinner, we found ourselves going back to the rooftop bar for a bit of nightlife and heard of a popular dessert item on the menu that we missed due to our late-night timing. The restaurant proudly featured Moomer's ice cream! If you ask any native, the best ice cream comes from Moomer's Handmade Ice Cream made right here from a family-operated dairy farm. Its popular flavors include key lime, chocolate peanut butter crunch, and oreo cream, and H & L has a generous supply on hand to serve for dessert or an afternoon snack.
15900 Rue Devin // (231) 223-4110
Imagine dining on a deck overlooking layers of autumn foliage and rows of mangled grapevines while watching the sun dip into the distant blue water. Enjoy an exquisite meal and toast to the love story of a nun and a priest who left the church to seek a different life, fell in love, got married, and followed their dream of building a winery chateau.
At an all-inclusive price of $95 per person, this two hours and thirty minutes event begins with an outdoor vineyard tour starting at 6:00 pm, followed by a dinner seating of a fixed six-course meal paired prepared by Chef Chris Mushall, with each course paired with the winery's signature and reserved wines.
What a great way to get a taste of the local region. They have partnered with Taste the Local Difference for certification of all of their wine dinners as local food events. This means at least 20% of the food must be locally sourced from Michigan farms and businesses. They proudly boast of exceeding this goal by using 54% local ingredients each week.
An advanced booking is required. For those with food allergies or dietary restrictions, there is an available preset menu with alternatives such as tofu or portabella mushrooms. They suggest calling ahead of time to discuss what substitutions are available prior to booking.
A sneak peek at the proposed upcoming fall Wine Dinner menu included a goat cheese crostini with locally grown fava sprouts and aromatic fresh herbs paired with a pinot noir, butternut squash chicken curry paired with Gewurztraminer, a naughty apple cider sorbet float, oven-roasted Scottish Salmon over a spaghetti squash latke paired with Chardonnay, and Hanger Steak prepared with a Malbec demi-glace and caramelized onion and potato hash.
If that wasn't enough reason to come back in the fall, a milky white chocolate mousse might be featured as dessert.
Traverse City has become a well-known foodie destination in the midwest, where flavors of all four seasons can be enjoyed by welcoming local producers of foods and wines amongst miles of scenic bays and fruitful hills and pastures.
---
Which of these Traverse City restaurants do you most want to try? Let us know in the comments section below!
A Chicago-born Indian woman, I thrive in learning about the cultures, cuisines, and fashions of the world with an extra special place in my heart for all things Italian. Twenty years (and going) in the healthcare industry has taught me the importance of nurturing the mind, heart, and body. Travel has been my playbook to work on all three. My mother says I learned how to walk too early as a child, and my favorite word was "go." I later found it a significant word for those of us who find "going" an essential part of living. Hence, sharing this word with my readers has become the theme of my travel writing.