Michigan's capital city is Lansing. Whether your mission is to cross off another capital from your bucket list, attend a game at Michigan State University, or check out the city's automotive history, you'll find some great spots through your way in exploring Lansing Restaurants.
With options ranging from world-class BBQ to the authentic Mediterranean and everything in between, Lansing restaurants have a variety to please everyone in your group. And maybe you are going to discover your favorite restaurant right here!
Check out this local's guide to my favorite places to find and eat delicious food in Lansing, Michigan but we don't recommend reading on an empty stomach!
Not in the mood to go out to eat tonight? Click here to have Grubhub deliver directly from the best restaurants in town to your doorstep.
Visiting other cities in Michigan? Check out our foodie guides to the following cities:
Top 6 Best Lansing Restaurants
Best Lansing Restaurants for Pizza
1200 North Larch // +1-517-897-3563
Located in Lansing's Old Town neighborhood, Cosmos is a blend of sci-fi and other-worldly pizza pie. Cosmos makes their delicious pizzas in a wood-fired oven that results in charred and slightly smoky edges on a thin and crispy crust. It's brushed with olive oil when it comes out of the oven to keep the rim moist and flavorful. Your taste buds are going to love it!
Images of early sci-fi comic books top the tables, science fiction comic murals decorate the walls, creating old-school science-fiction comic book décor circa 1960. Starburst chandeliers add to the space-themed design.
Cosmos don't try to do everything; they stay focused on appetizers, salads, and pizza while doing them exceedingly well. Cosmos is all about house-made — dough, sauce, mozzarella, ricotta, and yes, even the duck sausage. Yeah, and they always have fresh food items.
One of my favorite appetizers is the stuffed corn fritters with a cream cheese filling, soft on the inside and crispy on the outside. They are served on jalapeno aioli and topped with tomato jam.
For both pizza and dessert donuts, Cosmos offers a mystery flavor – the Trust Us. If you have trust issues, it isn't for you. When ordering the Trust Us, trust the chef to make you something unusual. What you're getting is a mystery until it arrives at your table. The Trust us changes daily so you'll always be in for a surprise.
I was bold enough to try the "Trust Us," and I wasn't disappointed. The wood-fired oven cooked the chorizo, red onions, mozzarella cheese, and roasted tomatoes. Then they topped the pizza with shredded lettuce and jalapeno aioli, reminding me of a taco.
DDD Duck Sausage Pizza had its start as a "Trust Us" pizza. It was so popular after it appeared on Food Network's Diners, Drive-Ins, and Dives they added it to the regular menu.
Pro Tip:
When ordering the Trust Us pizza tell your server about dietary restrictions, and they will advise if you should make another selection, but they won't tell you what it is. That's part of the fun!
Fast Casual Lansing Restaurants
940 Elmwood Road // +1517-203-5728
Zaytoon, Arabic for olive, serves Mediterranean cuisine focused on the Middle East and Greece with an American twist. "Fast Food – Cooked Slow,"– it's a healthy alternative to fast food. The counter-service venue provides a casual atmosphere; the attentive servers bring your selections to the table and check-in at regular intervals.
They emphasize from-scratch cooking with fresh Michigan ingredients, never frozen. Making hummus, for example, is a slow three-day process, soaking the chickpeas, then boiling them, and finally, after cooling overnight, they're made into silky-smooth hummus served with pita. For a little kick, order the spicy version. Round puffy rolls accompany the hummus.
Zaytoon's most popular dish is the garlic-flavored chicken shawarma. Chef-owner Sam is the only one who knows the secret marinade recipe. In one of our conversations, Sam said, "I should probably write it down, just in case." Enjoy the chicken shawarma as a meat plate with sides or as a wrap. The dish comes with hummus, rice, and a choice of soup or salad. House-made garlic sauce is a favorite condiment. Simply put, they have great food.
Pro Tip:
Many dishes including the chicken shawarma, kabobs, eggplant, and cauliflower are gluten-free. At Zaytoon, the chef has even switched the bulger (wheat) in the tabbouleh for quinoa to make it gluten-free.
Best Lansing Restaurants for Date Night
677 South Michigan Road, Eaton Rapids (7 miles south of Lansing) // +1-515-663-2500
Located seven miles south of Lansing on the banks of the Grand River, The English Inn is such a nice place and is on Michigan's State Register of Historic Places. Sitting on 16 acres, beautifully manicured gardens and hiking trails provide the perfect place for an after-dinner walk.
The Inn rich with history was constructed in 1927 for Irving J. Reuter, then General Manager of Oldsmobile Corporation, and his wife. Original white ceiling tiles, stain-glass windows, and a roaring fireplace help maintain the building's history. They also have a very nice outdoor seating area in private greenhouses so you are able to enjoy a socially distant outdoor dining experience.
French cuisine stars here — escargots, baked brie, and French onion soup. The fig galette, a vegan preparation, has mission figs baked in puff pastry and pistachios sprinkled on top. Red pickled onions cut through the subtle sweetness of the figs.
Chateaubriand for two is a sixteen-ounce center-cut beef tenderloin; the server carves at your table. Tomato Florentine and a mushroom cap duxelle come as sides. The daily vegetable and a ruffled mountain of whipped potatoes complement the meal.
Voted one of the most romantic inns in America, live piano music plays softly in the background during dinner contributes to the romantic ambiance. When celebrating an anniversary, your server will present a scrolled lithograph of the English Inn tied in a red ribbon as a remembrance of your celebration. Definitely one of the best Lansing restaurants. They really have a great service, I really enjoyed the attention of the staff.
Pro Tip:
Feel free to look around the Inn. The open-door policy indicates if the overnight room door is open, you may go in and explore.

Make sure you dine at their outdoor area, you will not regret it.
Best Lansing Restaurants for Comfort Food
1419 E. Michigan Avenue// +1-517-316-2377
Soup Spoon Café is a great place that highlights soup and its accompaniments — sandwiches and salads. However, a variety of pasta dishes, game and seafood choices are equally delicious, which makes it one of the best seafood restaurants around.
The chef handcrafts six soups daily. They always have French onion soup and seafood chowder. Daily they make a cream-based soup, a broth-based soup, a vegan, and a seasonal soup. The issue is with over 200 soups in their recipe collection your favorite probably won't be there on a return visit. The solution is you'll find an equally delicious new one next time you visit.
With over 20 sandwiches to choose from, sandwiches are a café specialty. Wolfe Meats, a brand of deli meats developed in-house offers corned beef, pastrami, and roast beef.
One of my favorite sandwiches is the lamb sliders. If you expect a patty made from ground lamb, you'll be surprised with bite-sized pieces of braised lamb drizzled with a Greek yogurt-mint sauce and topped with feta, served on butter-toasted Brioche buns.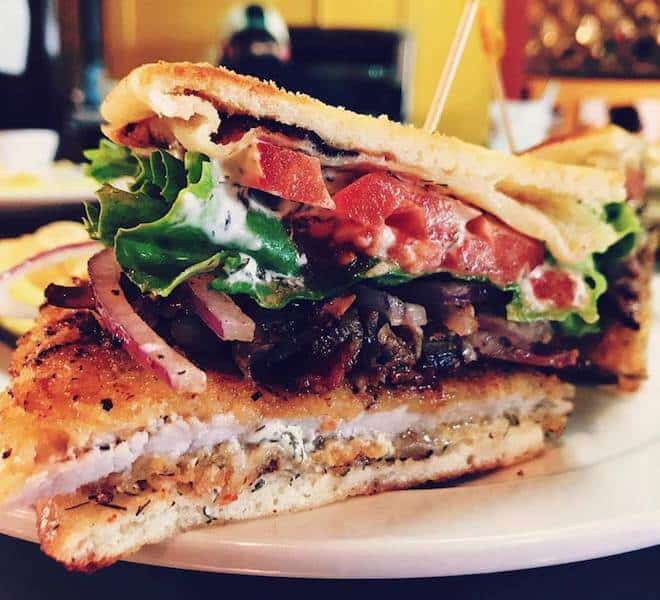 Pro Tip:
If you can't decide among the six nightly soup offerings, try the soup flight. Choose four soups for your flight accompanied by French bread. It's perfect for a light supper and a fun way to sample several soups.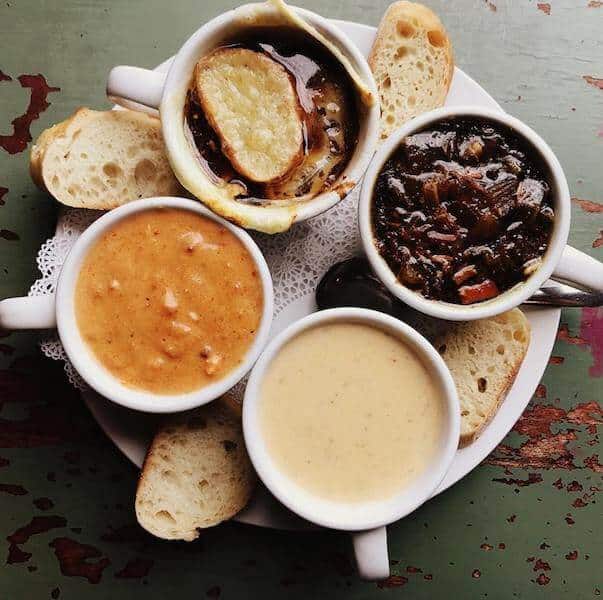 1200 N Larch St, Lansing // +15178973563
If you're looking for a place to grab a drink and some great food in a place that has a cool vibe, then Zoobies Old Town Tavern is the place you're looking for.
Located right in the middle of historic Old Town Lansing, Zoobie's is one of Lansing's hidden gems.
Zoobie's Old Town Tavern is one of Lansing's best craft beer joints. You won't find any macro brews here, but what you will find are some great local favorites like Grand River Brewery and short's, as well as some great imports and rotating beers on tap.
They also have some delicious pizzas such as The Spaceball with red sauce, meatball, fresh mozzarella, ricotta, sweet onion and pepperoni. Amazing!
Best Seafood in Lansing
2975 Preyde Blvd, Lansing // +15174823474
The Mitchell's Fish Market concept is an upscale casual seafood restaurant featuring the freshest seafood on the market.
Dining at this restaurant is an exceptional experience in an inviting environment that celebrates the joy of sharing a great meal with friends and family.
Among Mitchell's Lansing's features are a raw bar, open kitchen, fish case displaying Today's catch, and a customized cutting room that offers a variety of seafood options including grilled or broiled, blackened, cooked Shang Hai style, or cooked to your liking.
A gluten-free menu is also available at Mitchell's. Prepare to enjoy the best seafood around! They also have takeout options, so you can enjoy your favorite seafood anywhere.
Best BBQ in Lansing
1224 Turner Street // +1-517-580-4400
The barbeque aroma hits hard. Dry-rubbed, slow-smoked up to 18 hours with cedar, Meat Restaurant located in Lansing's Old Town neighborhood is indeed all about the meat — beef brisket (lean or fatty), pork ribs, turkey, wings, pulled pork, and Texas hot links.
I love the Cherry Bomb Sauce on the Trailer Park Bruschetta, so I request some for the meat too. They used to put it on the table with the rest of the housemade BBQ sauces, but people drank it. Now it's served on request. All of their sauces are made from scratch except the ketchup.
Five sauces remain on the table — vinegar-based Vin 666, coffee-based Black Magic, Buffalo-garlic-infused Hot Garlic, Dijon-spiked Carolina Mustard, and the traditional, sweet, and tangy tomato-centered Jazzy Q sauce with mild spice.
You won't miss the lack of lettuce or desserts on the menu, as traditional sides with a twist more than fill the gap: jalapeno cilantro coleslaw, bacon, blue cheese potato salad, and made-to-order mac and cheese. Take leftovers for tomorrow's lunch; the entrée weighs a pound.
If you're starving try their "ultimate carnivore food challenge." If you can eat The Boss Logg Meatwich, with one side, the made-to-order mac, and cheese, with two types of meat, you'll get it for free, along with a t-shirt, a complimentary beer, and your photograph on the wall! However, understand, eating the Boss Logg is no small accomplishment, with 18 layers including two burger patties, bacon, pork, brisket, cheddar, American and Pepper Jack cheese, fries, bacon gravy, hot garlic sauce, jalapenos, and a sunny-side-up egg.
And if it's your first time visiting this restaurant I'm sure you will be coming for more. Just like I did.
Pro Tips:
Meat's closed on Mondays. Sometimes they run out of meat and close early.

Sunday afternoon at about 3:00 p.m. is a great time to visit. Typically waiting is minimal at that time.
1147 South Washington // +1-517-306-9002
Here the BBQ is personalized. They post your pitmasters' names, so you know who stayed up all night to smoke that meat. A sign also lets you know what type of wood they used to smoke that night. The variety of wood types is one thing that makes Michigan BBQ different. You'll frequently find apple and cherry woods used, as Michigan is a top producer of these fruits.
My favorite food here is the brisket tacos. Their briskets bark comes from the rub featuring cayenne pepper and brown sugar. A favorite side is the corn cake that comes with each entrée. The hint of sweetness balances out the meat's smokiness. Make sure to wash their amazing food down with their cold local artisan craft beer.
Pro Tip:
Saddleback BBQ is closed on Sundays.
---
Which of these Lansing restaurants do you most want to try? Let me know in the comment section below!
Travel writer and owner of the blog. My work has been featured on Fodors, Eater.com, International Living, and Great Escape Publishing, among many others. My story? Nearly six years ago, I left my job at an Oklahoma City law firm and embarked on a journey around the world. At the time, I thought I would only be gone for 6 months, but the more I traveled, the longer my bucket list became. Flashpacker describes how I travel. Rather than traveling as the normal world wise backpacker and staying in hostel dorms, I prefer a more comfortable experience, and typically stay in private rooms, take Ubers instead of taxis, and now use a suitcase instead of a backpack. Foodie, on the other hand, describes one of the key reasons why I travel. I love to pick a central "base camp" and then explore the surrounding area, really immersing myself in the culture and interacting with the people, and enjoying and exploring the food of an area is an essential part of this experience.