When you think of the Upper Peninsula, the first few thoughts most likely aren't about UP food or restaurants. The collection of small cities is better known for Lake Superior, the untouched wilderness, and small-town folks bundled up for winter nine months of the year.
But, believe it or not, there are some must-try restaurants and bars in the Northern Upper Peninsula. Here are the places to check out on your next road trip, going from east to west.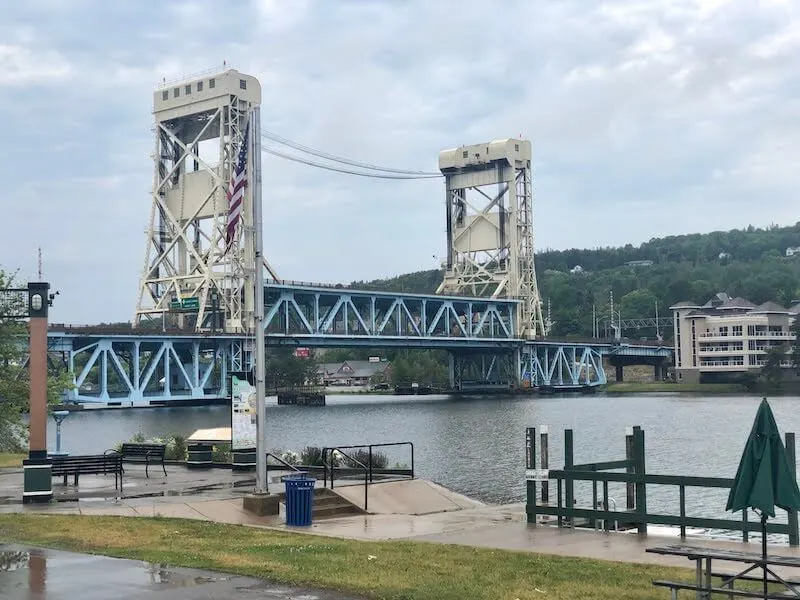 Visiting other cities in Michigan? Check out our foodie guides to the following cities:
11 Must-Try Upper Peninsula Restaurants & Bars
Must-Try Houghton, Michigan Restaurants
126 Shelden Ave // (906) 482-5054
Let's kick this "best of the Upper Peninsula restaurant tour" off with the ever-popular Ambassador. It seems as if it's always busy, and when you get a chance to eat their pizza and drink a fishbowl, you'll understand why!
The ambiance is dark and moody with an old-school vibe and murals covering the walls. If you're seated in the back, you will have views of Lake Superior and the Portage Lake Lift Bridge.
Their creative menu includes Greek dishes, Taco, BLT, and Lobster Pizzas, all with a thin, crispy crust. I recommend both Garlic Chicken and Greek pizzas.
They also serve a long list of specialty sandwiches, pasta, and appetizers. And don't miss one of the 25-ounce fishbowls, sure to give you a nice buzz! A great place for pizza, food, and drink in Houghton!
408 Shelden Ave. // (906) 482-5596
Since it is not a Houghton restaurant, as it doesn't serve food (though many local restaurants will deliver), you can argue it should not be on the list of best Upper Peninsula restaurants. But you are going to find some great beer!
Keweenaw Brewing Company beer is brewed fresh, right on-site, and you can't beat the prices ($3 for a pint – what!?). They have a back deck overlooking the lake that's perfect in the summer, as well as a cozy brick-walled inside with a fireplace that's optimal for winter.
Stop in here before you hit the Ambassador (go put your name on the list there first!) or afterward for a nightcap.
As a light beer drinker, I go for the Pick Axe Blonde or Red Jacket Amber. But make sure you try the Widow Maker Black which is a fan favorite.
Where to Eat in Marquette, Michigan
900 N 3rd St. // 906) 226-1112
If you find yourself in Marquette, hit this traditional American restaurant where you can grab a burger and a beer and enjoy every minute. Stucko's is a fun, laid-back sports bar with an outdoor patio, and reliable service. Plus, they serve Marquette's #1 burger – grab The Hangover!
If burgers aren't your thing, they have a variety of fish options, fried in homemade beer batter and cooked to perfection. Never shy away from whitefish in the U.P.
And don't miss the Brussels Sprouts appetizer. They are doctored up with Parmesan cheese, dried cherries, drizzled with honey, and they burst with flavor.
Best Munising, Michigan Restaurants
1246 M-28 // (906) 387-5880
The Pastie. An Upper Peninsula staple. If you are visiting the area, a pastie is a must. And one of the best places to find a good (award-winning) one is Muldoon's.
For those thinking what is a pastie?… it's basically a pot pie mixed with a hot pocket. Homemade crusts are filled with beef, chicken, or vegetable, and combined with potatoes, onions, carrots, and rutabaga to make what's called a pastie.
By the way, it's "pass-tee," not "pay-stee." And don't forget the ketchup.
There are two locations in Munising, Michigan, and if the original one (right off M-28) is really busy, just head over to the other one on Elm St. Same recipe, so make sure you hit one of these two must-try restaurants in Munising.
Eh! Burger is an "order at the counter" style restaurant with both indoor and outdoor seating. It's the perfect stop before or after a tour of the Pictured Rocks – it's about a 42-second walk from there and makes for a quick, convenient meal.
Their burgers are 100% fresh ground Angus steak burgers on a garlic butter toasted brioche bun that you can complete with one of their menu creations or decide toppings for yourself. They also have chicken and fish (100% wild-caught whitefish) for those not feeling a burger.
And the real winner here? The side of tots. Don't miss them! They are crunchy and delicious.
You'll enjoy this restaurant if you are looking for classic American food in Munising.
Cap'n Ron's Smoked Fish & Sausage
1326-1344 Commercial St. // (906) 202-0025
Not technically a restaurant, but this smoked fish shack is one I will never miss when passing through. It's been running through five generations and you really can't beat the prices! It's right on the water, located on Commerical Street just inside M-28.
If you love fish, the trout is delicious. And if you need a milder fish flavor, the smoked whitefish is the best I've ever had!
Definitely a must-try for seafood in the Upper Peninsula.
Must-Try Paradise, Michigan Restaurants
32520 W M-123 // (906) 492-3901
This just might be the best restaurant recommendation on the list.
Fresh fish (literally caught that morning), fried up, and served hot with homemade tartar sauce. It is drool-worthy.
I recommend going for lunch because as soon as they are out of fish, sometimes as early as 3:00 PM, they close for the day. And although prices aren't cheap, you definitely get what you pay for.
If you even sort of like fish, then consider Brown Fisheries a must-stop! And stick with the Entree's – Whitefish section of the menu. You're going to want to fill your belly up with fish and not waste room on appetizers or chicken tenders!
Note: they are closed every Sunday and for the winter.
8112 M-123 // (906) 492-3529
Both locals and tourists love The Inn. It seems it's always busy when you drive by! They make everything in-house, right down to the ketchup, so if you're looking for a fresh salad, sandwich, or burger, here is your spot.
Start with smoked wings and Yooper Poutine, move on to one of their smoked meat sandwiches, and wrap things up with "The Best Damn Carrot Cake You'll Have All Day." You can't beat food from scratch, and this place will prove it!
You've already found Paradise, MI, and you'll really find paradise when you try this classic Upper Peninsula restaurant.
Note: This is another one that closes for the season so check their Facebook page before you visit.
Best Grand Marais, Michigan Restaurants
14260 Lake Ave. // 906) 494-2111
This is my favorite restaurant along the Northern Upper Peninsula. Not just because of their great food (a whitefish platter to die for), but the vibe is fun with a great atmosphere.
Grab Michigan beers on tap in a modern-rustic inside with lake views. They play great music and have friendly bartenders. You can sit inside at one of the tables/bars, or opt for the outdoor patio.
Whether you want to eat, party, or both, Grand Marais Tavern is a great choice after a day at Agate Beach or exploring waterfalls in Grand Marais.
14283 Lake Ave // (906) 494-2337
If breweries are up your alley, Lake Superior Brewing Company is a great stop. The place is a bit unassuming but pleasantly surprises you with its delicious food and beverages.
Enjoy their outdoor patio and an array of brewed craft beers. And don't miss their garlic butter popcorn that makes for the perfect snack between gulps!
They are best known for their pizza, which I recommend. Fill your belly with a thick, fluffy crust and a delicious sauce with toppings of your choice. The Deluxe is a great choice.
You can't beat beer and pizza, and this will be your best choice for pizza in Grand Marais.
14263 Lake Ave // (906) 494-2900
The Sherpa Shack is a jack of all trades! They have a simple menu that starts in the morning with picnic tables out front for a quick and easy meal. Grab coffee or tea and a breakfast sandwich. Or make it a lunch stop for a sandwich or flatbread pizza. The best reason to visit Sherpa Shack though…
Dessert. They serve The Chocolate Shoppe Ice Cream—a delicacy. And it's perfect after a stop at one of the restaurants above – just steps away from both. Don't pass up the Vanilla Bean waffle cone!
Make your sweet tooth happy, and try this restaurant for dessert in the Upper Peninsula.
Northern Upper Peninsula Restaurants & Bars
Though you might not think of the Upper Peninsula as a place to find amazing food, some places will change your mind. Don't miss grabbing a pastie. Definitely try some of the fresh whitefish. And we know Yoopers can put a few back, so make sure to try some beers. If you're not quite sold on a trip to the north, read 12 Reasons to Visit Michigan's Upper Peninsula.
Amber, a Minneapolis-based travel writer, is happiest on the go. She spends weekends exploring Minnesota, the Upper Peninsula (where most of her family is from), and the greater Midwest mixed in with vacations far and wide. When she isn't traveling, she is probably watching Michigan Football, reading a book, or enjoying a lake somewhere.