Pensacola is well-known for its pristine white sandy beaches with the waters of the Gulf of Mexico sparkling in the sun. But there is much more to do in this friendly, laid-back town than working on a tan.
Now, don't get me wrong. The beaches are first-rate, but it does occasionally rain, and you have to eat sometime. So, when you're not indulging yourself in sun and surf, Pensacola offers numerous ways to feed both body and mind.
In 1559, Spanish explorer Don Tristán de Luna y Arellano established Pensacola as the first European settlement in North America. The area offers many fascinating opportunities to trace the town's rich history through the centuries: museums, a 19th-century fort, historic trails, and more. But you want to know about the food, right?
My husband and I have an unbreakable rule when we travel, and that is to eat locally. So, when we're on the coast, seafood is mostly what we choose. Pensacola has a vibrant and varied food scene, and finding fresh, exquisitely prepared seafood is easy, because the options are endless. Here are seven spots that will scratch the strongest seafood itch.
Table of Contents
Top 7 Seafood Restaurants in Pensacola
400 Pensacola Beach Blvd., Pensacola Beach, FL 32561 //+18506779153
The Grand Marlin is a spacious, cheerful waterfront restaurant and oyster bar with a relaxed, casual atmosphere, open seven days a week for lunch, dinner, and Sunday brunch. The regular menu offers plenty of choices without being overwhelming. And daily specials based on catches of the day present diners with an ample variety of dishes from which to choose.
Chef Gregg McCarthy is an award-winner who creates innovative dishes without compromising the natural flavors of the seafood. For those who don't fancy anything that comes out of the water, The Grand Marlin also serves steaks, chicken, burgers, and salads prepared with the same commitment to freshness and flavor as the seafood.
Portions are generous, and a group could easily make a meal from a selection of appetizers. The panko-encrusted Lobster Fingers with Vanilla Bean Honey Mustard are tender, sweet, and—for those who don't like to work for their food—easy to pull out with a fork.
Blu Angel Chips with Sauce are great for sharing. A half portion equals approximately eight cups of homemade chips topped with a creamy, but not-too-strong blue cheese sauce. They're messy, but addictive.
The Fresh Shucked Gulf oysters are delightfully plump, served with cocktail sauce and wine mignonette. The BBQ Oysters have a flavorful kick from the pepper jack cheese, garlic, and butter. The Oysters Rockefeller are also a good choice.
On our visit, my husband and I chose two of the daily specials. I had Blackened Triple Tail, which was perfectly spiced and flakey, with a mild flavor. My husband opted for the Seared Yellowtail Tuna, which was cooked to perfection. Both my husband's green beans and my asparagus were crisp-tender.
I sampled a friend's Grouper Piccata and swore this would be my next meal at The Grand Marlin. Lightly breaded with a lemony caper sauce and spinach, the dish was a masterful marriage of flavors.
The wine selection is impressive, with domestic and imported wines from France and Italy. And if you have room for dessert, try the Praline Basket, a crispy shell filled with vanilla bean ice cream, fresh berries, and chocolate and caramel sauces.
997 S Palafox St., Pensacola, FL 32502 //+18504325226
Jaco's Bayfront Bar and Grill is a cozy eatery overlooking the Palafox Pier Marina. They're open for lunch and dinner seven days a week, but if you want a magnificent sunset to go along with your meal, keep an eye on the time so that you can coordinate.
My husband and I stopped for lunch on Jaco's patio, where we could see the water. It was a good thing we decided to share the Crab Cake Salad because it was enormous.
Two king-size lump crab cakes, just waiting to be devoured, sat atop a vibrant bed of corn, black beans, cucumbers, tomatoes, and roasted red peppers. This eye-popping feast included a sweet Thai chili dressing and mango salsa.
Our salad was a refreshing mid-day indulgence and tasted as spectacular as it looked. It left us with just enough room left over for a sinfully tart and tangy individual Key Lime Pie, which we also shared.
Jaco's specializes in seafood but also serves a variety of meaty and vegetarian dishes. Try the Greek Chopped Salad with cucumbers, tomatoes, chickpeas, kalamata olives, red onions, banana peppers, roasted red peppers, and feta. This, along with other dishes is also gluten-free.
There's something to please everyone atop one of Jaco's Signature Flatbreads. The Mediterranean Classic sports a topping of Italian sausage, pepperoni, mozzarella, tomatoes, red onions, roasted red peppers, and tomato Basil Sauce.
If you can't stay away from the seafood, bite into the Island Style with shrimp, crab, pancetta, mozzarella, spinach, jalapeños, red onions, mango salsa, and tomato basil sauce. This is one of the best Seafood Restaurants in Pensacola.
The Calamari Trio is one of those dishes that is every calamari lover's dream. Crispy, fresh rings and tentacles served in three ways: Kung Pao, Garlic Parmesan, and Tomato Basil Sauce.
If you plan on making an evening of it at Jaco's, consider arriving during Happy Hour, Monday through Friday from 3:00 p.m. to 6:00 p.m. for Sunset Specials. Featured wines by the glass are half-off. You can get $3 off the featured cocktail, or go for $6 off top-shelf.
5B Via de Luna, Pensacola Beach Florida, 32561 //+18506778899
Perched on high chairs at an even higher table, my husband and I truly felt on top of the world as we gazed out at the calm waters of Santa Rosa Sound as twilight descended.
It was a magnificent start to a delightful evening at Red Fish Blue Fish. We were fortunate to have been staying at the Hampton Inn Pensacola Beach because the restaurant was direct across the street from the hotel.
This family and planet-friendly restaurant serve up excellent food in a relaxed and welcoming atmosphere. Lawn games keep the youngsters occupied while parents enjoy a cocktail and some quiet time. The restaurant is fully ADA accessible, including designated parking spaces and a conveniently located ramp.
The wooden planks in Red Fish Blue Fish's entryway, salvaged from an old Coca-Cola warehouse, are among a number of sustainable aspects of the restaurant's cheery design, including solar power panels and repurposed shipping containers. And you won't find any plastic straws with which to drink your beverage.
My husband loved his Grouper Piccata on a bed of rice and asparagus. Dressed with a white wine, lemon, and caper sauce, it was truly delectable. The grouper was flakey, and the sauce had the ideal amount of tartness.
I had absolutely no regrets regarding my selection of the Penne P-Cola. The bowl arrived piping hot and filled with sautéed pasta tossed in a silky tomato garlic cream sauce, along with generous amounts of succulent shrimp and sausage.
The dish was topped with scallions and parmesan. Not only did it contain all the major food groups, it checked all my boxes in terms of flavor, texture, and composition.
The entrees are large, so a group might consider sharing several appetizers. Try the Blue Fish Fries, sidewinder fries, piled high, and covered with a house-made cheese sauce and topped with Cajun sausage, crawfish tails, and green onions.
Or there's the Grouper Bites, fresh, local gulf grouper fried and served on a bed of leaf lettuce with house-made cocktail sauce.
Red Fish Blue Fish produces a variety of tempting tacos. The Fish Tacos will give you three fresh gulf catch tacos, fried, grilled or blackened, and topped with house-made slaw, diced tomatoes, jalapenos, and Cajun aioli on flour tortillas, served with black bean corn salsa.
The Bangin Shrimp Tacos—they are similar, but they contain your choice of shrimp.
Among the restaurant's signature dishes is the seafood gumbo in a cup or bowl. This is a Creole gumbo loaded with shrimp, crab, oysters, and crawfish, topped with rice and green onions.
The Fried Shrimp Po'boy is a traditional colossal sandwich with mayo, lettuce and tomato served on Gambino's bread.
Note: Red Fish Blue Fish does not take reservations. Guests must be onsite in order to be added to the waitlist. Amongst all Seafood Restaurants in Pensacola, this is definitely my favorite.
421 W Belmont St., Pensacola, FL 32501 //+18509124856
Jazz Brunch at Five Sisters Blues Café is one of those experiences that will stay with you far longer than the calories you consume. Between the outstanding Southern-style food, the moody music, and the knowledge that you're sitting on a piece of Pensacola history, Your senses will be on overload in all the best ways.
Five Sisters is one of several Pensacola restaurants locally owned and operated by Great Southern Restaurants. Its location on the corner of Belmont and DeVilliers streets—known as The Blocks—puts the restaurant right in the heart of historic downtown Pensacola.
The corners of the intersection feature buildings dating back to the neighborhood's historic era, when it was the hub of the blues community.
In 2010, community leaders and residents joined to revitalize this historical treasure of a neighborhood that once welcomed iconic performers such as B.B. King, Sam Cooke, Louis Armstrong, Aretha Franklin, James Brown, Ray Charles, and Count Bassie.
Five Sisters occupies a 1911 building that once housed Gussie's Record Shop and WBOP Radio Station. The retro décor includes original performance posters and other memorabilia that graced the record shop.
Cecil Johnson, a former chef at a nearby restaurant, opened Five Sisters in 2010 to honor his mother and her four sisters, their recipes, and the rich blues history of the neighborhood. The substantial menu offers original recipes from the original five sisters alongside contemporary twists on classic dishes.
My husband and I had the pleasure of chatting with the general manager, Chris Stevens, who filled us in on the history of Five Sisters, the food, and the surrounding neighborhood. He pointed out the Mississippi Blues Marker in front of the restaurant, celebrating Pensacola's rich blues history. The marker is No. 203 on the Mississippi Blues Trail.
Chris's expert advice proved invaluable, as everything on the menu looked amazing. We began with the Five Sisters Bloody Mary, a blend of vodka, Louisiana hot sauce, pickled okra, Worcestershire sauce, olive juice, and black pepper, topped with a chicken wing.
The combo was my idea of the perfect Bloody Mary, and was almost a meal in itself.
My husband's Smothered Chicken Biscuit was outstanding, with crispy fried chicken tenders, served on a flakey buttermilk biscuit and smothered in house-made sausage gravy. Two eggs, poached to perfection, completed the brunch bonanza.
My Fish, Shrimp & Grits offered the option of fried, grilled, or blackened seafood. I went for the blackened and was delighted with the decision.
The flakey catfish fillet paired with shrimp was served over creamy house-made cheese grits. The side of collard greens was an ideal accompaniment to the dish.
Other tempting options included Chicken & Waffles and Crab Cake Benedict. The latter consisted of an English muffin topped with poached eggs, crab cake, and homemade hollandaise sauce. Served with potatoes O'Brien.
Many of the tempting items on the brunch menu are also available throughout the week. The award-winning fried chicken is a Five Sisters staple and is touted as a must-try. Perhaps my next meal at Five Sisters will see me abandoning my seafood rule just this one time.
Five Sisters is open for lunch and dinner Monday through Saturday and offers to dine indoors or on a covered patio. The restaurant doesn't accept reservations, so come early, especially for Sunday brunch.
An excellent way to walk off some of Five Sisters' phenomenal food is to explore the historic neighborhood centered around Belmont and DeVilliers Streets.
Once a gathering place for lovers of down-home music, and food, in the early 20th century. The neighborhood is now undergoing a revitalization that positions it as one of the area's culturally rich treasures.
Visit the Zion Talbot Chapel, housing one of Pensacola's first pipe organs, and St. Cyprian's Episcopal Church, formed as a mission church. The DeVilliers Cultural Heritage Museum, a performing arts venue showcasing local and national blues, gospel, and jazz artists are also worth a look.
41 Fort Pickens Rd., Pensacola Beach, FL 32561 //+18509326313
Casino Beach Bar and Grill turned out to be a short, pleasant walk from the Hampton Inn Pensacola Beach, and an ideal spot to relax after a long day exploring Pensacola. The restaurant is located on the Gulf of Mexico, right next to Pensacola Beach Pier.
My husband and I shared one of Casino's small plates and an order of shrimp tacos. The Ahi Tuna Nachos consisted of avocado, sriracha soy glaze tuna), and sriracha mayo, piled on flour tortilla chips and garnished with tobiko, wasabi aioli, and cilantro.
Light, yet packing a hefty flavor punch that went well with the crisp tortilla chip, it was a winner.
The Grilled Shrimp Tacos came with beans and rice and were filled with fresh shrimp, crunchy slaw, pineapple pico, cotija, jalapeños, radishes, sriracha mayo, and cilantro lime cream. Amongst all seafood restaurants in Pensacola, here I found a flavor combo I could eat any day of the week.
The Ahi Tuna Or Spicy Crab Poke Bowl with avocado, sushi rice, radishes, cucumber, seaweed salad, carrots, beets, daikon root, sriracha soy glaze, and wasabi aioli was tempting, as were the Coconut Shrimp, served with wild rice pilaf, vegetable of the day, and pineapple curry sauce.
Casino is open seven days a week for lunch and dinner, with live music on the weekend. The menu is varied, leaning toward seafood, but you'll find plenty from which to choose.
Try the Fresh Catch Reuben, which takes the classic sandwich to a whole new level with grilled mahimahi replacing the traditional corned beef.
Soups, fresh salads, oysters, burgers, steaks, and chicken will keep everyone at the table happy. And if there's still room, you can always order some bread pudding or caramel-salted cheesecake for dessert.
Take some time to Explore the Pensacola Beach Pier. This 1,471-foot pier is an ideal venue for fishing or a leisurely stroll. It's an excellent spot for catching king and Spanish mackerel, cobia, pompano, mahi-mahi, flounder, and whiting, as well as white and speckled trout.
600 South Barracks Street, Pensacola, FL 32502 //+18504700003
A Pensacola tradition for 20 years plus, the Fish House has built its reputation on serving the freshest seafood in an upscale atmosphere. Here, diners enjoy expertly prepared food while drinking in views of beautiful Pensacola Bay and Seville Harbor.
The Fish House is located in downtown Pensacola, within walking distance of historic Seville Square. In addition to sumptuous seafood dishes, this award-winning restaurant features house-smoked steaks, sushi, and the wildly popular Grits á Ya Ya.
The decadent dish is a true flavor bomb of smoked Gouda cheese grits in a fresh cream sauce, topped with sautéd Gulf shrimp, spinach, portobello mushrooms, applewood-smoked bacon, garlic, and shallots.
Choose from a variety of tempting starters such as Sautéed Mussels, plump mussels in garlic and white wine cream with charred tomato, served with a toasted Emerald Coast Bread, or Fried Green Tomatoes, panko-crusted green tomatoes over creamy crawfish étouffée, served with Creole remoulade and crispy Louisiana crawfish tails.
Treat yourself to a cup or bowl of Gumbo. New Orleans style Cajun dark roux gives this classic its full, rich flavor. Loaded with Gulf fish, Gulf shrimp, and served with basmati rice, it never fails to satisfy.
The main event could seeing you digging into a platter of Southern-Fried Oysters or Crispy Jumbo Shrimp, served with fries, sweet corn hushpuppies, coleslaw, cocktail sauce and smoked corn tartar.
Or Tuna Kalbi, sesame-crusted yellowfin tuna, seared sticky rice cake, marinated carrot slaw, miso-glazed grilled asparagus, and sweet soy-ginger Kalbi sauce may be calling your name.
If you have room for dessert, try the Triple Chocolate Cheesecake, Oreo cookie crust filled with a layer of milk chocolate cheesecake, topped with a layer of white chocolate cheesecake, drizzled with a dark chocolate ganache.
Or for something on the lighter side, Vanilla Bean Créme Brulée, a delicate egg custard infused with Madagascar vanilla beans, and finished with a crisp, caramelized crust.
Fish House's 3,500 square foot deck treats diners to a stunning water view, a fire pit, nightly music, a maritime-inspired bar, and plenty of seating. Join locals and visitors for Happy Hour from 4 p.m. until 6 p.m. daily, and Ladies' Night with $2 drinks every Wednesday after 4 p.m.
The restaurant is one of the best seafood restaurants in Pensacola for lunch and dinner. The Fish House also serves Sunday brunch, and a late-night menu.
800 Quietwater Beach Road, Gulf Breeze, FL 32561 //+18509324653
Technically, Flounders is one of the most beloved seafood restaurants in Pensacola, but there's even more in store for visitors than a first-rate meal. The Flounder Brothers, Fred, Floyd, and Felix, love to share their collection of unique finds and fleet of boats with all who set foot on the property.
When you arrive, you'll notice the 55-foot, 30 tons, fully outfitted M/V Flounder, built in Louisiana and commissioned in Alabama in 1946. The brothers and their father utilized this sturdy shrimp boat to earn their living through fair and foul conditions until they retired her in 1998.
The parade of surprises continues inside. A slew of assorted ship models, a stunning fan-shaped piece of stained glass from a convent in upstate New York, and sections of confessional booths from a church in New Orleans are a small sample of what your eyes will devour even before you've opened the menu.
Speaking of the menu, try to tear your eyes away from your surroundings long enough to peruse your choices. You can decide to order fresh sushi, selections from the regular menu, or a bit of both.
A good start might be some Southern Fried Dill Pickles with creamy ranch dressing for dipping, or a plate of Seafood Nachos for sharing.
For your entrée, you might be craving some turf as opposed to surf. Flounders expertly grills several cuts of steak to perfection. Accompany the beef with your choice of Yukon Gold Potatoes, Flash Fried Potatoes, or asparagus. You can also add a little surf in the form of Six Flash Fried Deep Water Shrimp or a Shrimp Skewer for an upcharge.
Since Flounders is a chowder house, do give Floyd Flounder's prize-winning Flounder Chowder a try. Accompany your cup or bowl with one of a variety of small and large salads, and you're all set. Perhaps the Florida Cobb Salad, an eye-pleasing combination of fresh greens, mango salsa, tomatoes, bacon, blue cheese, praline pecans, and boiled egg, with raspberry vinaigrette as a dressing will hit the spot.
Flounders offer an impressive selection of tacos, fresh seafood entrees, pasta, colossal burgers, and more. And don't forget the ultimate house-made Key Lime Pie, layered with both yellow and green lime filling for dessert. Amongst all Seafood Restaurants in Pensacola, here you will find the best desserts.
Flounders is the place to go when you want an excellent meal and enough conversation pieces that topics such as politics, pop culture, and Prince Harry's tell-all book need never be raised.
Seafood Restaurants in Pensacola: Wrap-up
There's no doubt Pensacola has much to offer visitors, and one of the areas in which the town shines brightest is in its abundance of fresh seafood. We have been inspired by the care and skill local chefs employ to take seafood to new heights. But whether or not you are a fish fanatic, you are guaranteed to eat well in the seafood restaurants in Pensacola.
Disclaimer: Although our trip to Pensacola was generously hosted by Visit Pensacola, all opinions are entirely my own.
Visiting other destinations in Florida? Check out our other guides: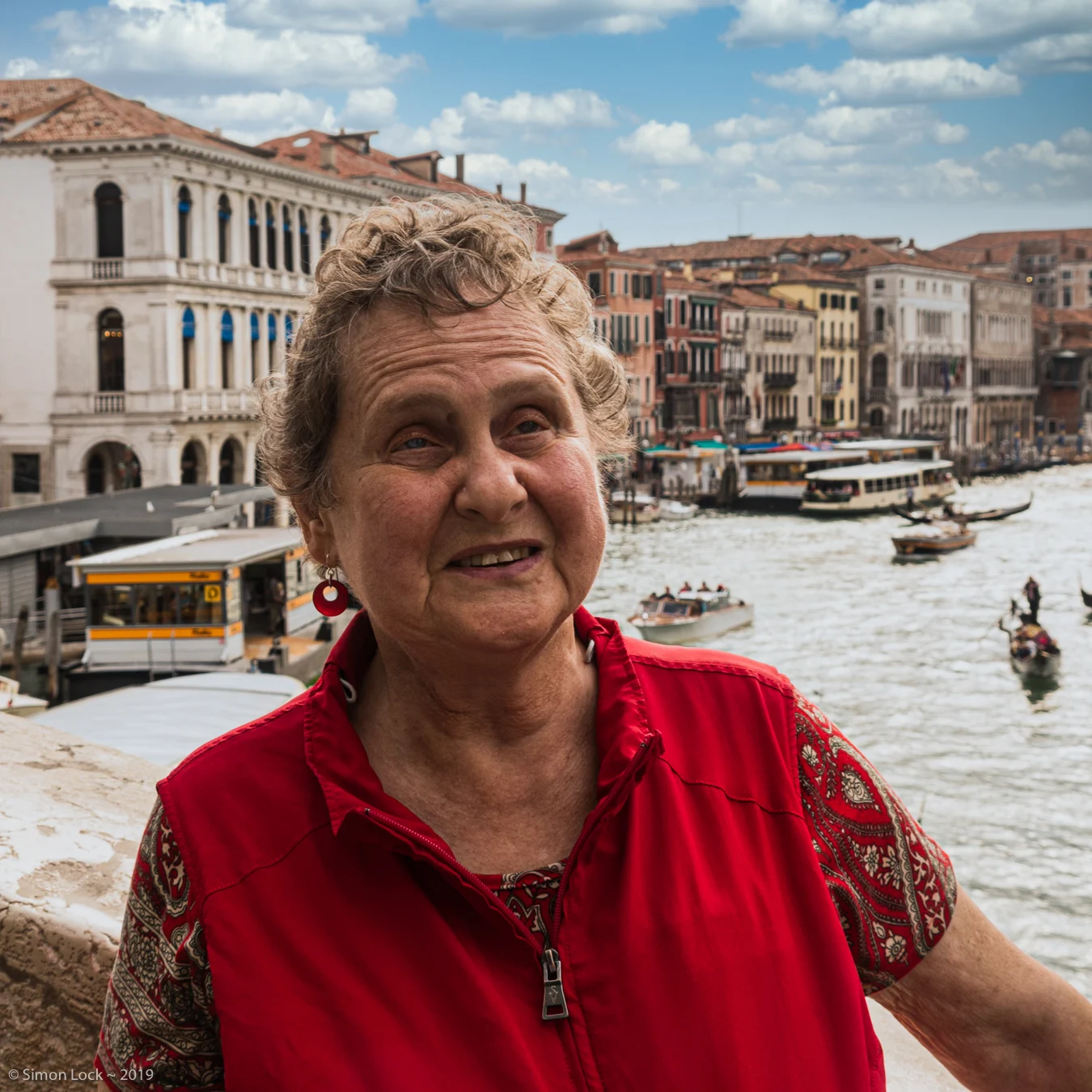 Penny Zibula is a freelance travel writer based in Greenville, South Carolina. She has always had a passion for travel, writing, and learning. With her husband/photographer, Simon Lock, and her guide dog, she travels the world focused on creating content of interest to serious travelers, armchair travelers, boomer travelers, and travelers with disabilities. She shares her experiences through her blog http://www.sixlegswilltravel.com