In 1955, Walt Disney opened the gates to Disneyland, the magical, whimsical amusement park that lured visitors by the thousands to Mickey Mouse's home, and still does to this day. Since then, the Disneyland Resort has grown to include three hotels, two theme parks (the California Adventure Park was added in 2001), and the delightful Downtown Disney District.
What we love about Downtown Disney is its proximity to both amusement parks and its array of retail shops, Disney resorts, live entertainment, and places to dine.
When the parks get too crowded and we're done waiting in lines, heading to Downtown Disney is a welcome escape, and the restaurants here are rarely as busy as those in the park. Guests to this district don't have to buy a theme park ticket to visit. Many of the Downtown Disney restaurants take reservations, so planning ahead makes for an even better dining experience, with a touch of Disney magic sprinkled in.
Foodie venues here range from casual walk-up-and-order eateries, ice cream shops, and beer pubs to more fine dining establishments in the downtown district.
No matter when our family heads to the amusement parks here, we always plan at least one meal in Downtown Disney. We love the vibe, the unique shopping, the views, the entertainment, and, of course, the food!
Visiting other destinations in California? Check out our other delicious guides:
The 6 Best Downtown Disney Restaurants
1580 Disneyland Drive // (714)-774-4442
For a fine dining yet laid-back experience, we always head to Catal, one of our very favorite places to dine in Downtown Disney. If the food in this Mediterranean-inspired restaurant isn't fantastic enough, evening views on the outdoor balcony overlooking the district are simply stunning.
Both indoor and outdoor seating for lunch and dinner are available in this two-story restaurant, though if you want that prime balcony setting, it must be requested when making your reservation.
There isn't a dish here that we haven't thoroughly loved. I have to give special kudos to one of my number one choice of dishes — the paella. This traditional entrée is served with mussels, clams, shrimp, roasted chicken, chorizo de Bilbao, peas, and saffron bomba rice. It's magnificent.
Skuna Bay Salmon is another great option I often order, served with a Spanish piperade, grilled lemon, and fresh herbs. My daughter-in-law hails this as her all-time favorite entrée here.
An inside secret is that guests can bring their own wine to the restaurant with no corkage fee. It's a lovely gesture by the restaurant and can save diners some money.
For a more upscale, yet relaxed dining experience with an amazing view, Catal has my highest recommendation.
1540 S. Disneyland Drive // (657) 276-2498
Who isn't fascinated with a restaurant whose motto is "Come for the shakes. Stay for the burgers?"
We walked past this immensely popular casual eatery and noted the long line to get in. As we stopped to check out the menu, a young lady waiting with her friends said "Yep, it's worth it. The food and shakes here are just unbelievable."
After lunch here with our two grandchildren, we totally get it. Patrons order at the bar and the food is delivered to their table. But make no mistake, this is not a fast-food joint. This is honest-to-goodness top-quality food and some of the most creative shakes imaginable.
Burgers are the mainstay, but the menu also offers salads, chicken sandwiches, snacks, and sides. Portions are large, so we recommend sharing (if you're so inclined). We split an Old-Fashioned burger with cremini mushrooms, caramelized onion, Swiss cheese, and horseradish sauce. The kiddos loved their sweet and spicy Korean BBQ wings with a house buttermilk-dill dressing and sweet potato fries.
But let's get to the stars of the show—the incredible CrazyShakes. Though visitors can order the more traditional classic shakes, CrazyShakes are the most creative, impressive eye-candy creations we've ever experienced—anywhere. They are super cool!
Menus changes seasonally, but our grandson loved his Cookie Shake topped with a "cookiewich," smothered in chocolate chips, whipped cream, and chocolate drizzle. Our granddaughter raved over her Strawberry Shortcake shake sporting crumbled cake topped with strawberry shortcake ice cream bar, whipped cream, strawberry drizzle, and topped off with a bright red cherry.
Come hungry, leave happy, and enjoy this delightful place to dine in Downtown Disney.
1550 Disneyland Drive // (714) 776-6200
This two-story Downtown Disney Italian restaurant serves up traditional thin-crust Neapolitan pizzas, pasta, seafood, and salads with both beautiful indoor and outdoor seating in a festive family atmosphere.
We are in love with their newly remodeled expansive outdoor patio with bar and table seating. Open for lunch and dinner, the restaurant provides the tantalizing tastes of Southern Italy in a beautiful Southern California setting.
Like Catal, Naples Ristorante allows diners to bring in their own wine with no corkage fee. However, their own wine list is impressively extensive, and servers will help diners choose the perfect vintage to go along with their menu selections.
Wood-fired pizza is definitely a favorite mainstay, ranging from individual pies to family-size offerings. Although other entrees are equally superb, we highly recommend ordering a pizza with your choice of favorite toppings. They will even split toppings on the pizza to accommodate your group. We usually start with a few appetizers like the Calamari Fritti and Caprese Salad and add a family-sized pizza to share.
Of note here: reservations are absolutely necessary at this in-demand restaurant, especially for larger parties. But you can't go wrong with a Neapolitan pizza or other Italian entrees at this lovely place to drink and dine.
1540 S. Disneyland Drive #201 // (714) 687-9813
Though Ballast Point has brewery restaurants in various Southern California locations, it's no chain, as each is different with varied menus. When we saw that the restaurant opened in Downtown Disney, we were ecstatic. And on a warm sunny afternoon, we were hankering for some good food and a cold brew.
Ballast Point features award-winning, on-tap craft beers and locally-inspired cuisine in a stunning rooftop patio setting featuring an outdoor bar and lounge area. Diners will also be pleased with their optional cider, kombucha, seltzers, and wine selections.
Our favorite foodie choices here are the Bavarian Pretzel Bites, served with authentic beer cheese and mustard, and BP Wings coated with a Spicy Sculpin buffalo glaze and served with a blue cheese dipping sauce. We absolutely loved the Ahi Poke here as well. The delightful dish, a Hawaiian marinated Ahi tuna with avocado, pineapple vinaigrette, sriracha aioli, kelp, and macadamia nuts served with wonton chips, was both fresh and palate-pleasing.
Ballast Point's menu also features salads, wraps, main dishes, and desserts.
Bottom line, you'll love this classy brew pub with its cold beer and top-notch entrees in the heart of the Downtown Disney promenade.
1590 S. Disneyland Drive // (714) 776-5200
It's jazzy, lively, whimsical, and fun. This is Ralph Brennan's Jazz Kitchen, a creation by one of New Orleans' most-famed restauranters.
Just as you would expect, the lunch and dinner menu here is all about Louisiana's mouthwatering cuisine we've all come to love and lust for. And every evening, guests can tap to the strains of live jazz music playing at Brennan's on-site New Orleans-style jazz club, Flambeaux's.
When making a reservation, we request the outdoor "jazz balcony" overlooking all the festivities of the Downtown Disney District. It's always fun to start with one of Brennan's specialty drinks like the Mint Julep or Southern Peach Sweet Tea with lemonade, Peachtree Schnapps, and Deep Eddy Sweet Tea Vodka.
My favorite menu item here is the signature dish—the Pasta Jambalaya. This flashy New Orleans mainstay is loaded with Gulf shrimp, andouille sausage, roasted chicken with a Creole sauce over spinach fettuccine. The flavors meld together magnificently, and the dish is so divine, I always promise to order something else with each new visit…but it just doesn't happen!
My hubby is a huge fan of Shrimp and Grits and loves Brennan's NOLA BBQ Shrimp & Grits entrée. Gulf shrimp are simmered in a New Orleans barbecue sauce with roasted garlic and lemon served over andouille sausage and parmesan grits. Other Big Easy menu items include soups, salads, starters, sandwiches, and other mains.
Do not leave Brennan's without dessert. Our favorite here is their Beignets, French donuts deep-fried and topped with powdered sugar. If you happen to be wearing black the day you dine here, everyone will know where you've been as you'll be covered in the sugary white dust!
For a wonderful taste of New Orleans in a festive, authentic setting, head straight to this delectable dining venue. And if you just want a taste of some N'Awlins favorites, Brennan's JK Express, located right next door, serves walk-up-and-order beignets and gumbo.
1556 Disneyland Drive // (714) 490-0233
In 1989, La Brea Bakery opened for business on La Brea Avenue in L.A. serving crusty, rustic, sourdough, artisan bread. The bakery was so successful, the tasty bread completely sold out by 11 am each day.
When the bakery café opened its doors in Downtown Disney, locals and visitors were absolutely delighted. The bread, cheese, and produce served here are all locally grown or produced, and the Café serves daily breakfast, lunch, and dinner.
La Brea is our go-to breakfast place. First, because we cannot resist the fragrant scents of freshly-baked bread and other goodies wafting through the air. And second, because the food here is so incredibly fantastic. Portions are large, so, you may want to consider sharing.
French Toast, a brioche bread dipped in egg wash and griddled to a golden finish and topped with powdered sugar and fresh berries is our favorite breakfast entrée. If you're really hungry, go for the Stuffed French Toast filled with a cream cheese blend and pecans, then topped with bananas, fresh berries, and powdered sugar.
Blueberry pancakes, a filled egg, meat, and cheese breakfast croissant, and eggs any style are other great options to fuel your morning. When we're heading back to San Diego, we always grab a loaf of fresh-baked bread to enjoy at home with a lunch or dinner.
Any time of the day, the aromatic La Brea Bakery is a great place to chill and dine in Downtown Disney.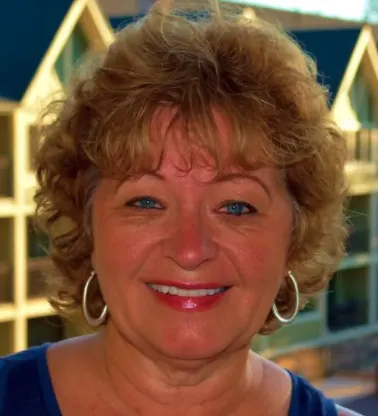 Noreen Kompanik is a Registered Nurse and San Diego-based travel writer and photographer. Over 400 of her published articles have appeared in 38 different digital and print publications. She especially loves writing about family travel, luxury travel, food, wine, coffee, history and travel writing and shares these articles on her travel website What's In Your Suitcase.