Salt Lake City has over 200 restaurants. That's one of the most diverse restaurant scenes in the country. Not only do they have amazing traditional cuisine, but their chefs are constantly innovating and trying new techniques.
If you're looking for American, Indian, French, Japanese – they have it all!
Depending on what you think about it, Salt Lake City is either Utah's capital or home to the LDS church.
However, did you know that Salt Lake City is an emerging dining destination? There are plenty of delicious restaurants in Salt Lake City, so much so that it's earned the title of "Restaurant City USA."
So, If you are planning on visiting SLC anytime soon, or if you are a local who would like to discover some local favorites, here is the list of the ten best restaurants in Salt Lake City.
Table of Contents
The 10 Best Restaurants In Salt Lake City
173 W. Broadway, Salt Lake City // +18015214563
Valter's Osteria (formerly Valter's Restaurant) is one of the best restaurants in Salt Lake City. There are similarities between this restaurant and high-end restaurants in New York or San Francisco, not only because it serves good food but also because it presents itself as a high-end restaurant.
Valter Nassi, owner and founder, has created an authentic Italian dining experience that transports you directly to his mother's kitchen in Italy.
There may be changes in the menu, but the chopped Agnelli salad, Tutta pasta di Valter, lasagna made with Valter's mother's sauce, butternut squash and sage ravioli, or "pizza" carne are always favorites. A must-try is the lemon gelato with local honey and salt!
18 W. Market St., Salt Lake City // +18015199595
Takashi serves innovative Japanese cuisine and exceptional sushi in a modern and fresh setting.
Fresh fish is always available on the menu, so you can always expect great food.
There is always a line here at Takashi's, so plan on waiting, especially on weekends. My advice? You can show up for lunch or dinner right when the restaurant opens if you have a group reservation beforehand.
My favorite sushi rolls on the menu are the crunchy Ebi, sunshine, and summit rolls, as well as the deconstructed azekura and the nigiri sampler (my all-time favorite).
They also have some of the best panna cotta you will ever taste; I kid you not.
418 E. 200 S., Salt Lake City // +18015399999
For a truly amazing dining experience in Salt Lake City, you should head over to HSL. The restaurant offers one of the best New American dining experiences you can find in the city.
It's really quite simple: the food is delicious, the service is always fantastic, and the restaurant itself is absolutely beautiful.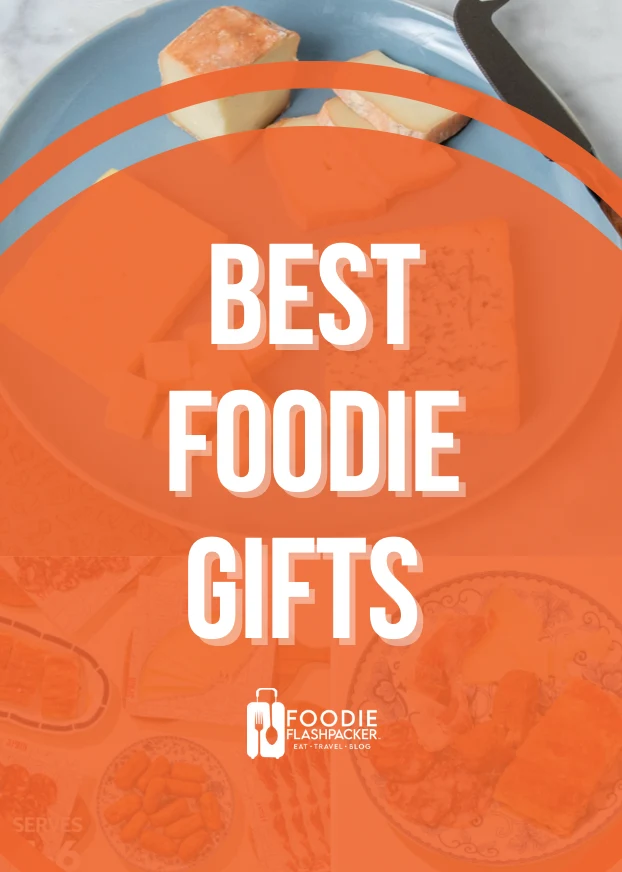 Are you a real foodie? I've compiled a list of the best foodie gifts you can get for yourself and your closest ones. Cheese, meat and sweets subscriptions, and some classic must-have foodie gadgets.
They take great pride in sourcing all ingredients fresh from local farmers and producers, which shows up in the dishes they serve and their taste. Plus, you can't beat their attractive prices and diverse menu.
If you're just stopping by for the first time, I recommend ordering the delicious General Tso's cauliflower and trying something from each section of the menu – bites, cold, hot, hearty, and dessert.
Whether it's a weekend dinner out, a special occasion with friends, or a girl's night out, HSL is the perfect place for great food.
260 S. 200 W., Salt Lake City // +18013223556
There's no better pizza in the city than the one from Settebello, located only a few blocks from Salt Palace Convention Center.
The pizza here is authentic Neapolitan, cooked at nearly 1000 degrees to produce the best pizza ever, with a light, fluffy crust, imported San Marzano tomatoes, and toppings that are so flavorful and fresh that you'll feel transported to Napoli.
After living in Italy and becoming enamored with the art of authentic Italian pizza, owners Mike Brooks and Brad Otton decided to bring it back to the U.S.
They have expanded their family-owned business to two locations in the Las Vegas area, several in southern California, and one in Salt Lake City.
Settebello's Margherita pizza, made with crushed tomatoes, fresh mozzarella, and basil, is the restaurant's best-selling pizza. If you're dining at Settebello for the first time, I recommend ordering the Margherita.
In second place, my favorite is Diavola, a dish made with red bell peppers, garlic, fresh mozzarella, and basil. And when you're done eating, don't forget to finish off with a homemade gelato.
356 E. 900 S., Salt Lake City // +18018291032
It's no secret that SLC has some fantastic restaurants, but not all of them are known for their seafood. This is where Fresheis Lobster comes in to break the mold.
Heaven forbid I should mention the cliché "crab legs," because that's not what this Maine import is about.
The Maine lobster on a hot dog bun served with mayo, butter, and seasoning at Fresheis is really good and delicious. It's so simple, yet so divine.
When you're in the Park City area, you can get your lobster fix at their iconic food truck, their first brick-and-mortar store in Park City, or their relatively new downtown location.
2005 E. 2700 S., Salt Lake City // +18019060369
For one of the best bites in Salt Lake City, head over to Feldman's Deli for the best sandwich in town, or better yet, something you've never tasted before.
In a gorgeous, vibrant café setting, Feldman's Deli offers a variety of traditional Jewish deli sandwiches, as well as some of the old-time classics.
You will go back again and again for their killer sandwiches, made with bread that comes directly from bread heaven. Feldman's Deli should be one of the first restaurants you visit in Salt Lake City as soon as possible.
Feldman's is a family-owned and operated delicatessen, and their menu is long and impressive and packed with some of the best sandwiches in town.
The pastrami and corned beef arrive lean and tender, and if you're feeling particularly interested, one of their gourmet sandwiches would be the way to go.
They feature chicken, turkey, or meatball,as well as unparalleled fixings such as fresh mozzarella, pesto mayo, fresh basil, homemade vinaigrette, and roasted peppers.
1457 E. 3350 S., Salt Lake City // +13855283712
Table X is a chic restaurant that serves fantastic food in an upscale, contemporary setting. Try the restaurant if you're looking for a molecular, modernist feel in one of SLC's best restaurants.
You come here on special occasions to impress your significant other, or just to have a gastronomic experience worth dressing up for.
There is a five-course tasting menu and a seven-course extended tasting menu that includes a variety of snacks, appetizers, entrees, and desserts.
Popular items on the menu include the house-made burrata, the bavette steak, and the hazelnut cake. You'll want to grab one of their homemade sourdough loaves to take home – it's the best you'll find in the city.
2843 S. 5600 W. Suite 140, West Valley City // +13852668729
Despite not being a taco mecca by any means, Salt Lake City has a few solid taco joints. Which one's the best? It's simple. West Valley City's La Casa Del Tamal.
Aside from tacos, this Mexican restaurant serves a wide variety of delicious, authentic Mexican dishes, such as tamales, sopes, and gorditas.
The tacos de birria con consome are definitely the highlight here. Served in homemade corn tortillas, these tacos are filled with juicy beef and topped with melted cheese. Likewise, tacos de birria are served with a side of consomme.
They've only been around for just over a year, but they're already one of the best Salt Lake City restaurants.
736 W. North Temple, Salt Lake City // +18013221489
You should take your friends and family to Red Iguana if you're looking for the best Mexican restaurant in Salt Lake City.
This Mexican restaurant in the area has an extensive menu and a popularity to match it (two restaurants in close proximity to each other).
My favorite dishes here are the Chile Verde, Puntas de Filete a la Norte, and Tacos La Iguana.
Get a sampler of their moles with your guacamole and a side of guacamole – a small plate with quarter-size samples of each mole they make in-house!
54 W. 1700 S., Salt Lake City // +18019531978
Sweet Lake Biscuits & Limeade is one of Salt Lake City's must-try restaurants. You're simply missing out if you haven't tried it yet.
It's hard to miss the beautiful limeades filled with fresh mint leaves and thick lime wedges at the Salt Lake City Farmers Market, and it's no secret that this is the best brunch in town.
The decor matches the menu because it's a brunch/lunch that must be experienced at the venue. The rustic-chic theme is closely mirrored with a dining room that is spacious and brightly lit, along with a beautiful outdoor patio complete with string lights and bistro seating.
You can choose a variety of breakfast options at Sweet Lake Biscuits & Limeade, including organic wheat pancakes, asparagus toast with egg and parmesan, and sourdough toast with egg, egg yolk, and cheese.
I would strongly recommend heeding the owner's advice and ordering The Hoss. You won't be disappointed.
Summary Of The 10 Best Restaurants In Salt Lake City
Once you visit SLC, you might find yourself planning more than one trip here in the future. That's because there's no shortage of things to do, restaurants and attractions to visit. From restaurants near the airport to discrete ones with vegan options, this city has something for everyone.
Salt Lake City has become a culinary destination in its own right, thanks to amazing chefs, restaurants, bakeries, and food carts.
Also, downtown Salt Lake City is where you'll find the best independent boutiques, most brick-and-mortar bookstores, art galleries, and small music venues.
Salt Lake City is indeed an emerging dining destination. Add to that a phenomenal roster of things to do and stunning hotels, and you've got yourself a travel bucket list-worthy city you should consider visiting as soon as the possibility arises!
Visiting other destinations in Arizona? Check out our other guides:
---
Which of these SLC restaurants do you most want to try? Let us know in the comments section below!
Igor Jovanovski is an aspiring digital nomad, travel blogger and graphic designer who really loves food. He also has a creative side, and he works as a freelance graphic designer in his spare time. He has traveled across Europe quite a few times since he was young and recently started his mission to visit every country in the world! Igor's favorite thing about traveling is the way he gets to know new people, food, places and cultures.
This exciting experience helps him create his own stories and make memories that will last forever