If you're looking for a place where you can truly get away from it all, soak up the sun on an unspoiled uncrowded beach, and immerse yourself in history and culture, then Ocracoke Island is for you. Located along North Carolina's scenic outer banks, Ocracoke is well known for what it doesn't have as well as for what it does.
Imagine no chain restaurants, no traffic, and no sense of urgency to be anywhere somewhere at a particular time. In fact, kicking back and unplugging is easy thanks to the relaxed vibe of the island
Oh yes, Wi-Fi access is readily available, but why bother? Island time is better spent strolling the village, popping into quaint, quirky shops, and chatting with friendly locals who are a wealth of information about Ocracoke's past and present.
With a population of fewer than 900, one might think there's not much in the way of a food scene. But as my husband and I recently learned, Ocracoke's quality and variety of places to eat is nothing short of impressive. The Ocracoke Island restaurants are more than enough.
Whether you fancy Italian, Greek, or Thai, your international palate won't be deprived. But if you love fresh seafood, the island is a paradise.
Feast on fresh locally caught Spanish mackerel, mahi-mahi, red drum, and flounder. And if you crave shellfish, sweet, tender blue crabs, clams, and North Carolina brown shrimp will keep you cracking and shelling to your heart's content.
Also, let's not forget award-winning Cedar Island farm-raised oysters from the Pamlico Sound.
With the exception of breakfast, we indulged ourselves at every meal in Ocracoke's bounty of fish and seafood with abandon, and we recommend the food and vibe of the island to anyone seeking a unique and unforgettable experience.
Note: Since hours vary according to the season, and some establishments are closed during the winter, I suggest you contact your restaurants of choice to ensure they will be open during your stay.
The 8 Best Ocracoke Island Restaurants
621 Irvin Garrish Highway, Ocracoke, NC 27960 // +1 (252) 928-0200
Ocracoke Oyster Co. is centrally located – in reality, nothing on the island is far from anything else – in a building that appears to have been renovated with a large addition to the front. Windows on three sides make the interior bright and airy. A bar stands at the rear of the original building, with two large flat-screen TVs on the back wall.
Opened in 2020, this friendly family establishment has become a welcoming gathering place for locals and visitors alike. A covered patio and frequent live music offer customers room to circulate and enjoy the energetic vibe.
We enjoyed dinner at Ocracoke Oyster Co. our first evening on the island. It's definitely one of the best Ocracoke Island restaurants. My husband and I shared the Raw Oyster Combo, which featured four of each of the restaurant's three raw specialty oysters.
The BBQ Oysters were covered in a slightly sweet, slightly tangy sauce that didn't overpower the oysters. The Oysters Ceviche had house Mexican salsa, lime, and cilantro, which captured the ceviche flavor quite well.
We delighted in the assortment of styles and their accompanying flavors, but we both especially enjoyed The Oysters Sushi. Flavored with ginger, mild wasabi, and soy sauce, the taste was spot on.
Still hungry after having eaten very little during the day, we shared a small house salad and each had a bowl of Crab Bisque. The salad was fresh, and the bisque was outstanding.
The base was smooth and creamy, and instead of the usual microscopic scraps of seafood, this bisque was generously laden with chunks of local crab we could actually chew.
Ocracoke Oyster Co. also offers a variety of appetizers, sandwiches, main dishes, and desserts. Although seafood is featured, you can have a beef or veggie burger, fried chicken, or main dish salad.
Along with the usual assortment of libations, the bar serves some tasty and creative concoctions. Bonus points for being one of the best Ocracoke Island restaurants.
The patio is at street level, but you have to climb several stairs to enter the building. There is a wheelchair ramp around the back.
51 Ocean View Road, Ocracoke, NC 27960 // +1 (252) 928-5701
Open for breakfast, lunch, and dinner, Pony Island Restaurant has been a go-to eatery since 1959. With its friendly service, excellent food, and unassuming atmosphere, the restaurant's longevity comes as no surprise.
My husband and I began our first full day on Ocracoke at Pony Island Restaurant, and it took us almost as long to decide what were going to eat as it did to eat it. It wasn't the size of the menu that held us up. It was that everything looked and sounded so tempting.
Taco omelets, blueberry pancakes, hotcakes, enormous stick-to-your-ribs platters of eggs, grits, and meats, loaded breakfast sandwiches, and more beckoned us. But since we're anal about not ordering more than we can eat, we opted for fresh-baked biscuits.
I had sausage and fried egg, and my husband ordered the same with bacon. It turned out two biscuits comprised an order, but fortunately, these were an average size.
My husband's bacon was crisp and not overly fatty, and my sausage had a pleasant hit of heat. The orange wedge on the plate only assuaged our guilt to a small degree, but it was refreshing nonetheless.
This restaurant is Southern to the core, but you can expect tasty vegetarian and healthier options along with fresh Pamlico Sound seafood and other dishes, prepared in a variety of ways.
Pony Island Restaurant has outdoor seating and is fully wheelchair accessible. It's one of the best Ocracoke Island restaurants.
180 Irvin Garrish Highway, Ocracoke, NC 27960 // +1 (252) 928-9999
S'MacNally"s is Ocracoke's only waterfront restaurant, due in part to the 2019 ravages of Hurricane Dorian. The restaurant is strictly an outdoor venue consisting of an open wooden deck, chairs, and tables with white umbrellas providing welcome shade.
From this vantage point, you can see the dock and watch fishing boats bring in their fresh catches.
My husband and I opted for house salads consisting of fresh mixed greens, Roma tomatoes, red onions, and red grapes. Blackened tuna topped his salad, while I graced mine with mahi mahi.
The salads arrived in a crispy tortilla bowl. We divided up the fish and found both to be exquisitely seasoned and cooked to perfection.
We drizzled a delightful sesame ginger dressing over our salads, which added an extra boost of flavor.
Open since 1999, S'MacNally's has been serving lunch and dinner to loyal regulars and tourists. The restaurant is famous for its fresh-caught seafood, juicy burgers, platters, sandwiches, small plates and more. And there's nothing like a cold beer or mimosa in this congenial setting.
S'MacNally's welcomes well-behaved leashed dogs to stretch out on the deck and keep their humans company. Probably one of the best Ocracoke Island restaurants.
305 Irvin Garrish Highway, Ocracoke, NC 27960 // +1 (252) 928-7119
If restaurants had split personalities, Dajio would be among them. Housed in a modern building, the dining room is elegant with white tablecloths and all the fancy fixings. But if that's not what you want, you merely have to step onto the covered screened porch or street-level patio, and you can let your hair down and chill.
My husband and I dined on the porch and enjoyed the fresh breeze without the mosquitos. Of course, the menu featured seafood, along with some modern twists on familiar dishes.
I chose the shrimp platter with remoulade sauce, sea salt fries, and coleslaw. The shrimp were plentiful, and the blackening spice had a healthy pop of heat. But the fresh sweetness of the shrimp still came through.
The fries were crisp and not greasy, and the slaw lacked the typical goopy overly sweet mayo and was tangy with a touch of heat. It was one of the best I've ever had.
My husband's Dajio Blue Plate was equally satisfying. It included the Fish de Jour, which was red drum, as well as the fries and slaw. Like me, he chose the blackened version and was just as pleased. The drum was firm and flaky and done to a turn.
Dajio is open for lunch and dinner, serving a wide array of innovative made-from-scratch dishes. If you can tear yourself away from the seafood, try Dajio's signature burger with white cheddar, bacon jam, and candied jalapenos.
Or if you can't, indulge in the cast iron seared scallops with cream corn maux choux and Meyer lemon beurre blanc.
The restaurant also has an impressive selection of wines, cocktails, and craft beers. It's one of the best Ocracoke Island restaurants.
294 Irvin Garrish Highway, Ocracoke, NC 27960 // +1 252)928-0627
Co-owned by husband and wife team, Austin Daniel and Mysha Sissine, Stockroom Street Food's menu reflects the couple's favorite street foods from their travels and their dedication to flavorful, healthful food. Here's why it's one of the best Ocracoke Island restaurants.
Stockroom is an outdoor eatery serving breakfast and lunch. The menu isn't enormous, but the choices are varied and tempting.
My husband and I decided to give the delicious-sounding breakfast burritos a pass and chose the Chilled Overnight Oats instead.
The base consisted of rolled oats and chia seeds, chilled overnight in Greek yogurt, whole milk, and wildflower honey. Fresh blueberries and strawberries topped the oats, making for a tasty and substantial start to our day.
For lunch, try the Pork Meatball Bánh Mí, topped with sliced cucumber, pickled carrots, cilantro, and sriracha aioli, served on a baguette.
Or you might want to tuck into an order of 5-spice Chicken Tacos with pickled carrots, cucumber, cilantro, and sriracha aioli, on a flour tortilla, served with cucumber salad.
Austin is the chef who creates and prepares the food. He has a background in cooking in the Chapel Hill area. Mysha has a background in public health and has worked on-and-off in restaurants over the years.
She handles operations and helps keep the menu on the healthy side. Their passion for flavor and quality is evident in every dish.
10 Lawton Lane, Ocracoke, NC 27960 // +1 (252) 928-0234
When is a food truck not a food truck? When it's on jack stands with decking built around it to facilitate access; it is obviously not going anywhere.
This aptly describes Eduardo's, a large green and blue painted stationary trailer serving authentic, regional Mexican cuisine to Ocracoke's growing Hispanic population and all lovers of Mexican food.
After picking up our order from the window, my husband and I found a picnic table in the small yard and dug in.
He had the Taco Special, which changes daily. On this day, it was two tacos loaded with grilled mahi mahi, lettuce, tomato, avocado, and corn.
I had the Shrimp Tacos, equally loaded with large, sweet, juicy grilled shrimp. The accompanying salsa was spicy enough for me, but may be too hot for those not accustomed to heat. Those were some of the best tacos I've ever had.
We washed it down with bottles of Jarrito, a Mexican soda. The mango version tasted exactly like fizzy mango should.
Eduardo's is open for breakfast, lunch, and dinner, serving creatively prepared meals, using locally sourced seafood.
From breakfast burritos to a wide assortment of tacos, enchiladas, burritos, and other dishes, the food is fresh and full of sunny flavors.
1129 Irvin Garrish Highway, Ocracoke, NC 27960 // +1 (252) 928-7586
Plum Point Kitchen is a casual dog-friendly restaurant located inside 1718 Brewing Ocracoke. The atmosphere is friendly, the music good, but not too loud, and the food excellent.
My husband's hazy double IPA was crisp and hoppy, and my Mexican stout had notes of chocolate and cinnamon.
The flavor was pleasant, but a little sweeter than I would have liked. It was a pleasant change to be able to order a four-ounce glass because I don't think I could have finished a full-size one.
As for the food, my husband's fish of the day was blackened rockfish, which was firm and well-seasoned. It came with crisp-tender mixed vegetables and jasmine rice.
My VooDoo Shrimp was also superb. The choice was fried or grilled shrimp, but I requested blackened, and my wish was granted.
The portion was generous with a tasty remoulade, sautéd onions and peppers, Voodoo Sauce, cilantro, and jasmine rice. Everything was cooked to perfection.
Plum Point serves main dishes, burgers, a variety of tacos, small plates, and appetizers. Several are infused with flavors used in the brewery.
A number of sharable items caught my attention. The most tempting was the Crab Stuffed Jumbo Soft Pretzel, filled with local blue crab meat, she-crab soup base, cheddar, and parmesan cheese, and dusted with Old Bay seasoning.
The behemoth is served with house-made beer cheese sauce. If I can find enough accomplices to share it, that's what I'm having next time.
Plum Point Kitchen is open for lunch and dinner. You can sit indoors or out and enjoy the beer, food, and relaxed atmosphere. It's a gem amongst the Ocracoke Island restaurants.
226 Back Road, Ocracoke, NC 27960 // +1 (252) 928-7473
We stopped at Ocracoke Coffee Company for breakfast on our last morning on the island. This was another eatery with outdoor seating, so we ordered and found a table in the shade.
We split two croissants, one with ham and cheese and the other wit
h spinach and feta. Both hit the spot without overstuffing.
Since we had a long drive ahead, we also shared one of OCC's Cin-a-Yum Buns, which was flaky, cinnamony, and kept us going most of the day.
OCC is the type of organization that can produce quantity without sacrificing quality. With 19 fruit smoothies and six espresso smoothies, several daily coffee options, and every hot and cold style of fancy coffee you can imagine, you're bound to find something you like.
They open at 7:00 with a case full of freshly baked scones, muffins, cakes, doughnuts, and breads. And when they're gone, they're gone.
So get there early for the best selection. Because the menu changes daily, you never know what you'll find. Hope you love surprises, because at OCC, they're all tasty ones. It's definitely one of the best Ocracoke Island restaurants.
The Ocracoke Island Restaurants Wrap-Up
Ocracoke is an island of plenty: Plenty of fresh air, sandy beaches, history to explore, and fabulous food. Food is always best enjoyed slowly, savoring the taste and texture in every bite.
Although fish and seafood are the rock stars of island cuisine, there are plenty of options for kids, carnivores, and vegetarians. But whatever your food preferences, Ocracoke will fill your belly and soothe your soul.
Disclosure: Our visit to Ocracoke was generously hosted by Ocracoke Township Tourism Development Authority. However, all opinions are entirely my own. All photos © Simon / MyEclecticImages
Visiting other destinations in North Carolina? Check out our other delicious guides: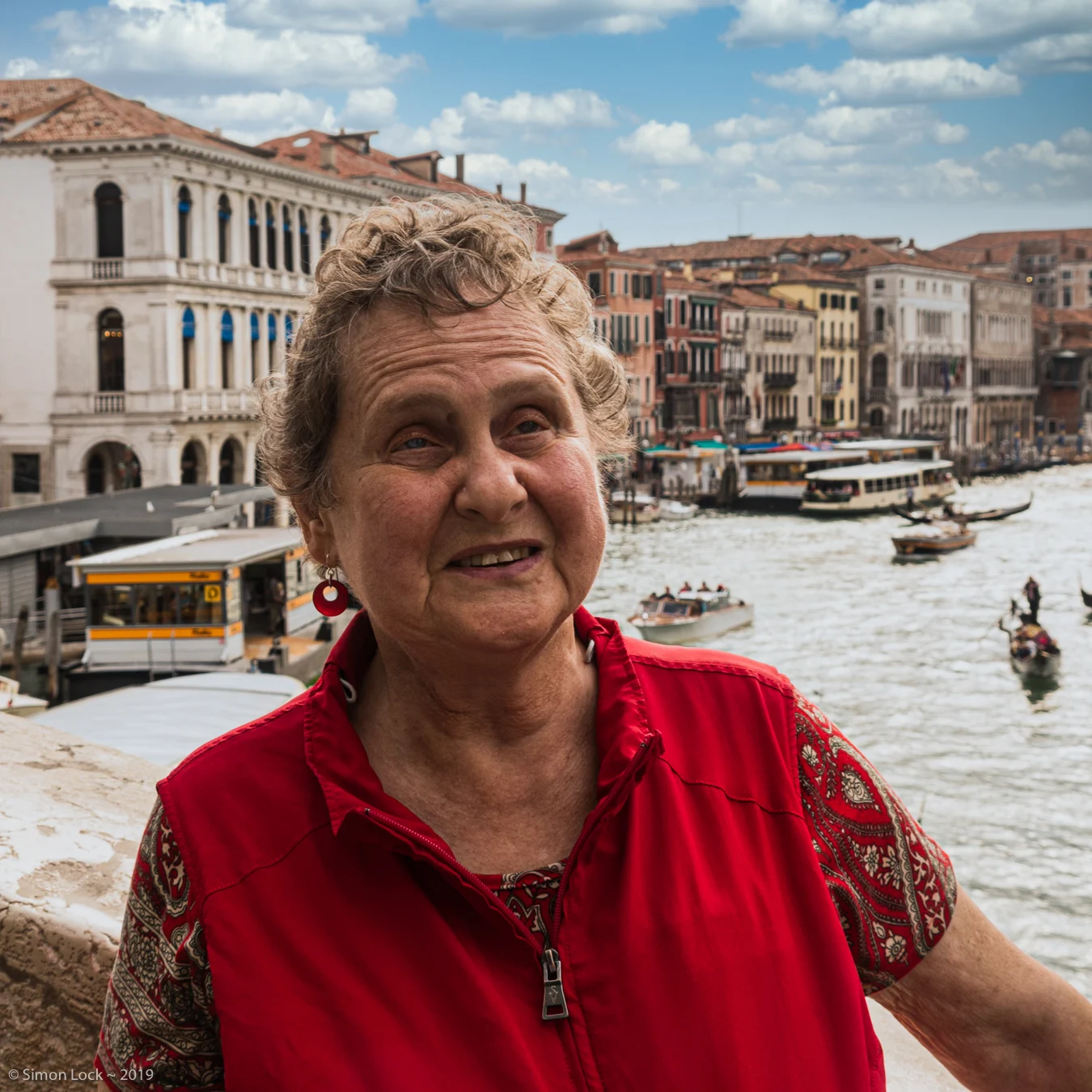 Penny Zibula is a freelance travel writer based in Greenville, South Carolina. She has always had a passion for travel, writing, and learning. With her husband/photographer, Simon Lock, and her guide dog, she travels the world focused on creating content of interest to serious travelers, armchair travelers, boomer travelers, and travelers with disabilities. She shares her experiences through her blog http://www.sixlegswilltravel.com