The northernmost isle on North Carolina's Outer Banks (OBX) boasts the East Coast's tallest sand dunes, Orville and Wilbur Wright's First Flight, and family fun. This barrier island, known as Bodie Island, is a year-round destination for all generations. It is also a foodie's paradise with opportunities ranging from fine dining to the eclectic breakfast joint in a converted gas station.
The Northern Beaches towns of Duck, Southern Shores, Kitty Hawk, Kill Devil Hills, and Nags Head dot the narrow 17 mile stretch of land surrounded on both sides by the Atlantic Ocean and Albemarle Sound. Two main roads – the Beach Road (Virginia Dale Trail) and Highway 158 – run north and south on the island, and destinations are typically located by the Milepost number (e.g., MP 6).
The natural beauty, lighthouses, and iconic beach house rentals equal summer vacation for many. There is no shortage of fun with eco-tours, abundant marine life, fishing, golf, and shopping. And it would not be a vacation without sampling some of the local food. So I'm pleased to share some of the best Outer Banks NC restaurants.
8 Best Outer Banks NC Restaurants
3848 Virginia Dare Trail // +1 252-261-3171
Built in 1874 as a United States Lifesaving Station, the structure blends seamlessly in the relaxing beach vibe with its faded cedar shake siding. The building also served as a weather station. It earned a small place in history as the Wright Brothers planned their flights based on the station's weather reports and even telegraphed the success of their first flight from here.
The Black Pelican today is where the locals grab a pint or something from the steamer. The bar is always lively. Inside you'll find a treasure trove of historical images and memorabilia that inspire conversation. Those curious items weave their way throughout the homey and welcoming adjoined dining spaces conjuring an authentic OBX atmosphere.
For us, no trip to the Northern Beaches would be complete without a meal in this rustic space. A meal here always starts with an appetizer or two. We love the Hummus with house-made pita bread. But this time, we opted for crispy beer breaded onion rings, and Crab Rangoon served with a sweet and spicy chili sauce.
Seafood is king here, and the OBX has the freshest locally caught shrimp. So naturally, we opted for an order of succulent steamed shrimp. The wood-fired pizzas also serve as a vessel for local seafood. I enjoyed the White Seafood pizza topped with decadent béchamel sauce, shrimp, scallops, house cheeses, scallions, oregano, and Old Bay seasoning. The crust has a great chew. We also sampled the Aloha Pizza topped with pineapple and chicken.
1469 Colington Road // +1 252- 255-5594
The Saltbox Cafe is a cheery cottage-style venue tucked away on the bayside in Colington Island. The earthy-sounding crunch of gravel and crushed shells beckon you inside this neighborhood gem. The dining room is cozy but comfortable (reservations are highly recommended). The surrounding property invites you to have dinner on the screened porch. You'll also want to hang out in the backyard and sip a cocktail at the colorful picnic tables.
One of the most impressive aspects is the abundance of vegan, gluten-free and vegetarian entrees. Owners and chefs Randolph and Amanda Sprinkle are classically trained and well-traveled. Their sunny little place won multiple Best of the Beach in 2020, including Best Chef, Best Server, Best Vegetarian, Best Brunch, Best Salad, and Most Pet Friendly.
The menu at the Saltbox Cafe is seasonal. We started the meal with a southern tradition, Fried Green Tomatoes, but with a twist. The meaty tomatoes were served with a local fresh strawberry jam. This produced a salty-sweet treat.
Our entrees ranged from creamy to spicy to savory. The highlight was the Charred Corn Risotto, where the smell of fresh corn wafted towards you. This creamy delight included a hint of chipotle aioli. The Cajun Shrimp and Grits were balanced and authentic. And finally, the Chef's Pork Ribs were grilled perfectly with house-made BBQ.
Our evening was wrapped with a sampling of the house-made desserts. Even the dessert menu included vegan options. We chose to feast on Chocolate Pecan Pie and Peanut Butter Mousse.
1520 S. Virginia Dare Trail // +1 252- 441-7674
Miller's Steak & Seafood is a family-friendly restaurant located on the Beach Road in Kill Devil Hills. The restaurant is open for breakfast and dinner. Although the emphasis is on steak and seafood, the venue is comfortable and friendly. It also is a good choice for large parties. The entire dining room is open and bright, with no walls, just well-arranged tables of happy diners.
We ate here twice during our trip! We enjoyed starting our meal with one of the fun cocktails. Have you ever had a Purple Flipflop? It's a swirling mix of coconut rum, vodka, blue curacao, cranberry, and a splash of soda. Service also starts with a complimentary heaping order of sweet, fluffy hush puppies.
Our favorite dish was Scallops Miller's Style. The scallops are sautéed in lemon, butter, and white wine then topped with lump cramp meat and melted fontina cheese. The dish is both exciting and delicious.
The broiled Outer Banks Shrimp tasted as the shrimp had just jumped onto my plate. The accompanying asparagus was fresh and crisp. We also tried the Stuffed Flounder and Blackened Bourbon Tuna. Local flounder was stuffed with an entire crab cake and bathed in creole sauce. The tuna was grilled well and dusted with a house seasoning.
Milepost 6, Highway 158 // +1 252-449-6616
If you require satisfying those caffeine urges, head over to the Front Porch Café. The original location in Kill Devil Hills is tucked in a shopping plaza with plenty of seating and free, fast wifi (a bonus in the OBX). There are also locations in Nags Head and Manteo, all with a welcoming porch, of course.
The atmosphere is both friendly and quirky, but coffee is taken seriously here. The beans are sourced from 20 unique single-origin coffees, micro-roasted in-house, and blended. I can smell the aromas now.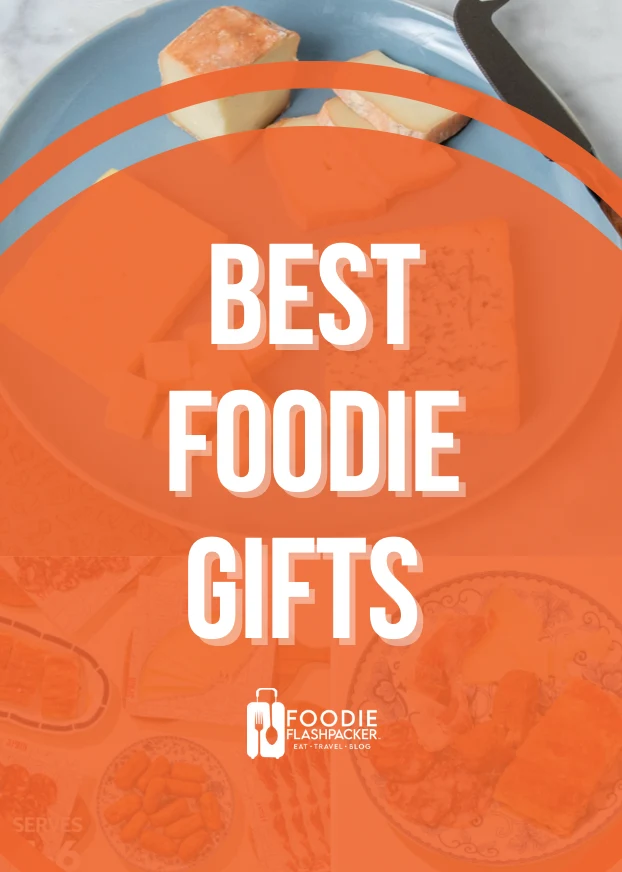 Are you a real foodie? I've compiled a list of the best foodie gifts you can get for yourself and your closest ones. Cheese, meat and sweets subscriptions, and some classic must-have foodie gadgets.
Grab a savory Spinach Feta Croissant with your Apple Latte. Or try a Pomegranate Green Tea and a Blueberry Muffin. For an afternoon treat, a Chocolate Chip Cookie goes well with the coffee of the day. Stay for a while and enjoy the connected OBX Art Studio next door, a paint-your-own-pottery, fused glass, canvas painting studio, and a full-service retail bead store.
6810 Caratoke Hwy // +1 252- 491-5205
Imagine a brewery, butchery, and farm all in one location, and you have the Weeping Radish. The German-style pub has been recognized on Diners, Drive-Ins, and Dives. Located about 20 minutes from the Northern Beaches, it's worth the trip for homemade brats and sauerkraut.
The Weeping Radish is the oldest microbrewery in North Carolina. It brews beer according to the Bavarian Reinheitsgebot Purity Law of 1516. That means the beer must be brewed using only hops, malt, yeast, and water. No additives, chemicals, or preservatives may be used. I recommend the crisp Kolsch-style OBX Beer.
Whether you eat inside or in the large outside yard, you must try the Classic Reuben sandwich with pastrami and locally sourced marbled rye bread. Another classic choice is the crispy pork loin Schnitzel served spaetzle and braised cabbage. Finally, don't forget to order a Fresh Baked Soft Pretzel with savory beer cheese sauce and the Potato Pancakes.
If you can't get enough in one sitting, the retail counter sells select sausages, bacon, pastrami, cuts a beef, and of course, beer.
1029 Colington Road // +1 252-480-1123
We knew it would be a special meal as we walked up to the stately Victorian building surrounded by gigantic live oaks. You can even dine under the trees as several tables are tucked into the landscaping at the restaurant's forefront. There is even a very special table inside a sweet white gazebo. The Colington Cafe is a hidden gem with the same ownership for 32 years.
Our table was located up the steep, charming wooden stairs in the dining room with a treehouse view of the surrounding greenery. The room was bright and filled with French paintings and décor. Service was attentive and friendly; smiles were served generously.
We started our meal with rich She Crab Soup and Scallops Rumaki. The soup was full of crabmeat and served with a side of sherry. Our scallops were locally sourced, wrapped in bacon with a savory teriyaki ginger sauce.
The Fish Dujour on the menu was Halibut and Crabmeat in a tart lemon caper butter. Although the fish was the star, I particularly enjoyed the savory goat cheese, whipped red potatoes, and fresh broccolini. Other highlights included perfectly cooked Mixed Grill – surf and turf. The Seafood Pasta dish was filled with fresh shrimp, juicy scallops in a fresh parmesan sauce.
1002 Croatan Highway // +1 252-441-5900
Kill Devil's Frozen Custard & Beach Fries has something for the kid in all of us. After all, it would be a trip to the beach without some hand-cut fries, hot dogs, and frozen custard? Frozen custard, by definition, must be 10% milkfat and 1.4% egg yolk. It's rich, creamy, and dense as the product isn't blended with air. It's so good that Kill Devil's make their custard fresh hourly.
The food at this take-out restaurant's menu is based on locally sourced ingredients and homemade goodness. They are making their own BBQ sauce and coleslaw for the NC Bar-B-Que Sandwich. They also top their Coney Island Hot Dog with homemade chili, cheese, and freshly chopped onions.
We went there for lunch and grabbed a picnic table topped with a red umbrella. We shared an order of salty, fresh-cut Idaho Russett potatoes and juicy Corn Dogs. But, let's face it, we were really there for the frozen custard. We dove into a Sea Turtle Sunday topped with sweet butterscotch, hot fudge, whipped topping, and salted nuts.
1836 N. Virginia Dare Trail // +1 252-441-6530
Eclectic, random, cheeky décor surrounds you from the moment you enter this local's favorite eatery. This converted gas station /grocery store is filled with a blend of Christmas, pirate paraphernalia, aquatic murals, and old-time movie posters. So give yourself time to enjoy the cozy and quirky gift shop immediately adjacent to the hostess station.
Owner Carol Ann Angelos' style and good nature fill the Jolly Roger. The restaurant is open for breakfast, lunch, and dinner. However, our family tradition is to head for a hearty breakfast before heading home.
The Bloody Marys are generous, and the homemade bread for thick, buttery slices of toast make for an exceptional vacation breakfast. Next, order up 2 Eggs over easy with salty corned beef hash, crispy home fries tossed with grilled onions, and toast for a breakfast of champions. Then, of course, you can't go wrong with one of the Benedicts or Homemade Biscuits and Gravy. Finally, save room for the Breakfast Special Homemade Bread Oubbidng served with Bourbon Sauce!
Visiting other destinations in North Carolina? Check out our other delicious guides:
---
Which of these Outer Banks NC Restaurants do you most want to try? Let us know in the comments section below!
When not mentoring scientists, speaking at conferences or sunning herself at the beach, published
author and photographer Julie D. Suman can be found traveling the world and capturing those moments
through her lens. Follow her on Instagram @seebyjuliedee.