Chapel Hill, North Carolina, home to the University of North Carolina at Chapel Hill, is not only one of the most beautiful small towns in the U.S., but also home to a thriving foodie scene, exemplified by restaurants, bars, and quick bites that are known across the country. Several chefs on this list have received or were short-listed for various Beard awards, and the Chapel Hill restaurant scene offers options for every palate, budget, and craving.
From traditional brunch to down-home Southern soul food, and everything from Turkish to Indian cuisine, the Chapel Hill restaurants have you covered. As a UNC alumna myself, I may be biased towards my beloved college town, but I also spent four years there gathering the scoop on the best places to grab a bite– the scoop that I am now thrilled to share with you. But not if you're a Duke fan (just kidding… maybe).
Keep reading for my list of the top 19 restaurants to consider on your next visit to Chapel Hill, separated into breakfast, lunch, and dinner spots, with an honorable mention of "late-night" that can't be missed.
Enjoy!
Not in the mood to go out to eat tonight? Click here to have Grubhub deliver directly from the best restaurants in town to your doorstep.
Visiting Chapel Hill? Check out our other guides:
The 19 Best Chapel Hill Restaurants, NC
Breakfast/Brunch Chapel Hill Restaurants, NC:
1305 E Franklin St. // (919) 933-1324
When looking for a Chapel Hill restaurant for your morning meal, you must have breakfast at Sunrise. I don't make the rules, but I'm happy to abide by them.
Known mostly for their chicken biscuit, but with a host of other options on the menu, Sunrise is a relaxed, drive-through-only establishment that opens daily for breakfast and lunch.
Recipient of the "Best Biscuit in the U.S." award from Food and Wine, the owner swears by his grandma's original recipe as the secret to their success.
A biscuit combo comes with hash browns and homemade sweet tea, and there are a few (not many) vegetarian options if you don't eat meat.
The biscuits are huge and the menu is infamously cheap, with most biscuits under $5 and all combos under $8.
101 E Weaver St. // (919) 929-0010
If you're with a group or looking for slightly more options, Weaver Street Market is a good place to check out. It's a community-owned food co-op that sources fresh produce and ingredients from farmers daily, as well as fresh-baked pastries and other goodies every morning.
There are also hot food bars for breakfast, lunch, and dinner, organized similarly to Whole Foods; you serve yourself and pay by weight at the cash register.
The pastries are a particular favorite, and their coffee is top-notch.
Note that Weaver Street Market is technically in Carrboro, the town neighboring Chapel Hill, but both towns are so small that you will invariably go back and forth a few times during your visit.
No matter the geography, try this Chapel Hill area restaurant.
750 M.L.K. Jr Blvd. // (919) 967-3663
Looking for Chapel Hill Restaurants that serve breakfast until 2 PM? Yes, please!
Everything at Root Cellar (formerly Foster's Market) is fresh and delicious. If you can't stop in for a sit-down breakfast, check out their to-go bakery items.
I especially recommend the hefty pieces of individually wrapped coffee cake, but they have a variety of paleo, gluten-free, and other goodies, too.
If you have time to "sit a spell," as we say in the South, they have both sweet and salty fare that's filling, satisfying, and mostly healthy (with some unhealthy, but absolutely worth-it, options thrown in for good measure.)
Make sure you order a cup of coffee and take advantage of free refills in their cozy stoneware mugs while you relax on their super comfortable couches and armchairs.
261 S Elliott Rd. // (919) 967-7110
Breadmen's is definitely not what we would call a high-brow establishment, but it's super popular with the student population and an absolute madhouse on weekends.
If you're looking for distinctly American, no-nonsense breakfast fare– pancakes, waffles, corned beef hash, etc. on your choice of bread, this is the place for you. Their omelets are also quite good, and customizable!
Best Chapel Hill Restaurants for Lunch & Dinner:
200 W Franklin St. // (919) 967-5055
For a taste of Vietnam in the Triangle, check out Lime and Basil. Their pho is delicious, and they have tons of vegetarian and vegan options, including soy meat options.
If you're seeking something other than pho, the lemongrass shrimp with vermicelli is delicious, as is the BBQ chicken dish.
Though it's a small place, there is seldom a wait for food, and the portion sizes are very generous. For a touch of the Far East in the American East, try this Chapel Hill restaurant.
456 W Franklin St. // (919) 933-1177
Talulla's combines colorful, snazzy decor with absolutely mouthwatering Turkish food.
You can't go wrong with anything with eggplant in it, but you haven't lived until you've tried their patlıcan oturtması: layers of eggplant, tomato sauce, and feta cheese, baked in their stone oven, similar to an eggplant parmesan in Italian cuisine.
A few other favorites for the non-eggplant enthusiasts include güveç, sautéed seasonal veggies baked in a tomato-based herb and wine sauce with your choice of meat, or their wide variety of shish-kabobs.
For dessert, check out their take on classic Middle Eastern künefe, or a baked rice pudding called sütlaç. A lot of people love their baklava, but we prefer Med Deli's– more on that below!
100 E Franklin St #300 // (919) 929-8676
"Topo" to locals, Top of the Hill doubles as a Chapel Hill restaurant and brewery/distillery.
In the early summertime, check out their blueberry beer, complete with blueberry or two floating on top! We would recommend their drinks and bar fare perhaps more than their food (since there are so many restaurants to go to in Chapel Hill!), but visiting Topo is a must for the authentic Tar Heel experience.
To enter, take an elevator on the side of the building to the top floor, and make sure you dine outside on the patio on a nice day for beautiful views of Franklin Street.
410 W Franklin St. // (919) 967-2666
Located a bit further out on the western side of Franklin Street, Mediterranean Deli (Med Deli to locals!) is a place to return to again and again.
With pitas fresh-baked daily (kosher, gluten-free, and whole wheat available) and a mouth-watering assortment of options, there's always something new to try.
Med Deli is decidedly no-frills, and your order by proceeding through the line pointing at the different menu items you want to be added to your platter. The pides (similar to flatbreads) are fantastic, but keep in mind that they take a bit to bake, since they are made to order.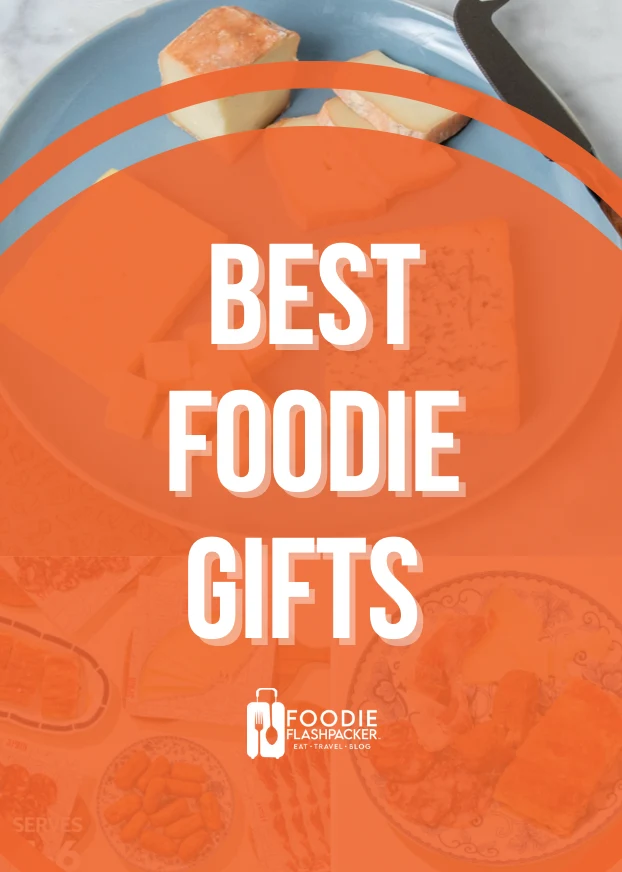 Are you a real foodie? I've compiled a list of the best foodie gifts you can get for yourself and your closest ones. Cheese, meat and sweets subscriptions, and some classic must-have foodie gadgets.
Don't miss the all-you-can-eat pickle and tzatziki bar– the pickled beets and radishes are a favorite– and don't leave without a piece (or several) of baklava. Maybe you can even compare it to Talulla's!
There's an attached grocery which is also worth a visit for lots of other Middle Eastern goodies.
Med Deli is absolutely packed most of the time, though, so you may have to wait for seating or get your order to-go. When you're finished eating, just deposit your plates and utensils in bins before you leave.
159 E Franklin St. // (919) 942-5161
For a nostalgic blast-from-the-past eating experience in Chapel Hill, check out Sutton's. It's like stepping into a time machine to the 1950s, complete with "sundries," hand-made milkshakes, and old-fashioned sodas and candies. It's actually also an independent pharmacist, one of the last of its kind and a Chapel Hill tradition.
The sandwiches and burgers here are quite good, and you're likely to see at least a few basketball players at any given time.
Multiple Locations
If a burger and "fixins" is what you seek, look no further than Al's Burger Shack. TripAdvisor named Al's chili burger the best burger in the U.S., but everything on their menu has rave reviews.
They source their beef and dairy from local North Carolina farms and also have a large selection of NC beers to try. The Mookie is also a crowd-pleaser, with its bacon and onion jam, roasted garlic mayo, and blue cheese toppings.
508 W Franklin St. // (919) 968-4671
IP3 has it all– piping hot, melt-in-your-mouth Neapolitan-style pizza, ice-cold, inexpensive pitchers of beer, sports on the TV, and a welcoming and fun atmosphere that can't be beat.
IP3 is owned by Napoli natives Angelo and Vincenzo Marrone, an adorable set of brothers who have made anyone who steps through their doors feel like they're family since 1980.
IP3 is the best place to catch whatever big game is on TV, especially if there's a World Cup going on while enjoying the aforementioned delicious pizza.
They have other menu items as well, notably homemade manicotti, but their pizza tends to steal the show.
If you're planning to drop by, try to do so while there's a UNC basketball game on– it will definitely be an experience to remember. The brothers are huge fans, and it tends to get packed on game nights, with community-style seating (i.e. grab the first seat you see) and lots of cheering and displays of sports passion, Italian-style.
If you are looking for a sports bar in Chapel Hill, IP3 is your place to go.
423 W Franklin St. // (919)-969-8846
Lantern serves up "Asian fusion," with all their ingredients sourced locally from North Carolina farms. Their head chef, Andrea Reusing, is a James Beard award winner for Best Chef, Southeast, and Lantern alums has gained fame all over the U.S. for their innovative contributions to American cuisine.
Lantern is great for a date night, with a glowy, cozy decor that feels very romantic, and their menu details which offerings are local.
Their menu changes often (perhaps even more often than seasonally), so they recommend calling ahead to ensure that something on their website will be available that evening.
They also run a neat program for kids called "Kitchen Patrol," which teaches them the importance of locally sourced food and inspires them to become chefs in their own right. Try Lantern for fine dining in Chapel Hill.
431 W Franklin St #415 // (919) 929-3833
Vimala's is a Chapel Hill restaurant institution, known for its dedication to building community and resilience from "farm to fork."
The cafe is named for Chef Vimala, who, in addition to being a chef extraordinaire, is also committed to a variety of important social justice causes. She originally started out cooking meals for the community, with a commitment to activism for world peace and a living wage. However, her meals were so popular that she opened the cafe. Even today, she keeps a "Food for All" fund for those who can't afford the cost of their meal; consider adding a donation after eating here if you're able.
As for ordering, you can't go wrong here. Try some samosas as a starter, or perhaps the mixed vegetable pakoras, but keep in mind that the entree portions are enormous, and you will likely have leftovers.
The Malabar shrimp (in a coconut tamarind sauce) is delectable, as are their variety of curries, dosas, or tandoor options.
Make sure you order some extra naan (the Peshwari naan is delicious if you're seeking something nutty and slightly sweet), and the hibiscus tea is a must.
1009 S Columbia St. // (919) 942-4897
The BLT at Merritt's is legendary and is considered by many to be the best BLT in the United States.
As the story goes, People Magazine went on a quest many years ago to find "the perfect sandwich," and Merritt's was one of their champions.
Winner of myriad awards in addition to People's accolades, you have to try the BLT here at least once. Consider adding pimento cheese to make it a true NC specialty.
If BLTs aren't for you, there are a variety of other sandwiches to try, all made on artisan bread. I am a huge egg salad fan myself and have heard rave reviews about their burgers, fried bologna, and other offerings. This is definitely one of the best places to eat in Chapel Hill.
746 M.L.K. Jr Blvd. // (919) 904-7326
Have you ever had Latin-Asian fusion? Well, I hadn't either, but this place does it well.
I especially recommend checking it out at lunch, with really reasonable lunch menu prices, but the tequila-sake combination bar in the evenings is also fun to check out.
If you're still wondering what Latin-Asian fusion looks like, picture beef bulgogi tacos, pad Thai al pastor (a fan favorite), or General Tso's chicken empanadas. Two cultures meld together to yield one great food experience at this Chapel Hill restaurant.
1505 E Franklin St. // (919) 918-2545
Said to be the best Italian restaurant in the Triangle (Raleigh, Durham, and Chapel Hill area, for new visitors), Il Palio is absolutely not a budget eating experience but is an experience to remember.
Primarily serving Tuscan fare, the combination of imported meats and cheeses with locally sourced greens is both fresh and traditional.
Located within the also-fancy Siena Hotel, Il Palio is a "AAA Four Diamond" restaurant and winner of a host of awards through the years. You should definitely try the delicious wood-grilled octopus appetizer, and the carbonara is a particular favorite.
408 W Rosemary St. // (919) 942-5837
Mama Dip's, is easily the best example of Southern soul food in Chapel Hill.
A Chapel Hill institution since 1976, today, Mama Dip continues to work thanks to her children and grandchildren who run the restaurant.
It's a lovely and cozy family-style establishment where you can eat fried chicken, barbeque, and catfish gumbo to your heart's content.
The serving staff is kind and friendly here, and it's one of those restaurants that makes you feel like you're at home.
The chicken and dumplings and country soups and stews are also delicious, and I guarantee that you will leave Mama Dip's absolutely stuffed. And of course, the side dishes (from collards to black-eyed peas, cornbread, and baked apples) are Southern heaven.
711 W Rosemary St #2315 // (919) 933-8226
The chipotle salsa is so in-demand here you can buy it by the jar! They also make a mean horchata (or a margarita, if that's the direction your day is taking you.)
Everything here is super fresh and tasty, and the portions are really generous.
Make sure you order some queso or guacamole to go with your order, and you can't go wrong with one of their enormous burritos.
For a taste of Mexican food in Chapel Hill, this is the place to eat.
Best Late Night Chapel Hill Restaurants, NC:
203 E Franklin St. // (919) 933-6663
Last, but in no universe least, his beloved, beloved Linda's – a classic Chapel Hill restaurant.
Be informed, however, that Linda's deserves its own category, and occupies it with down-home charm and comfort food that you'll crave years later.
While they do have a full menu of tasty American pub fare if you're visiting at mealtimes, Linda's is best enjoyed at night as a "late-night snack" type of haunt. There is nothing better than their cheese fries or loaded tots (though I've always been partial to the cheese fries myself), especially paired with a few beers or signature cocktails. The Paloma is a particular favorite.
Linda's is a really special place– the type of place "where everybody knows your name," and its dive bar feels only makes it all the more charming.
Visiting North Carolina? Check out our other guides:
---
Which of these Chapel Hill Restaurants, NC do you most want to try? Let us know in the comments section below!
Tegan is a travel, hiking, and biking enthusiast currently based in Boston, USA, but a Southern girl at heart. After years spent exploring with her partner, Alex, their love for "walking the world" led them to found Why Not Walk, a travel guide site. Follow them on Instagram, Facebook, or Pinterest to start planning your next adventure.