Warning
: exif_imagetype(https://www.foodieflashpacker.com/wp-content/uploads/2021/12/Sycamore-Parmesan-Fries-©Lisa-Evans-843x1024.jpg): failed to open stream: HTTP request failed! HTTP/1.1 404 Not Found in
/home/customer/www/foodieflashpacker.com/public_html/wp-includes/functions.php
on line
3310
Warning
: file_get_contents(https://www.foodieflashpacker.com/wp-content/uploads/2021/12/Sycamore-Parmesan-Fries-©Lisa-Evans-843x1024.jpg): failed to open stream: HTTP request failed! HTTP/1.1 404 Not Found in
/home/customer/www/foodieflashpacker.com/public_html/wp-includes/functions.php
on line
3332
Columbia is not your typical 'college town'. Yes, it is home to three colleges: University of Missouri 'Mizzou', Stephens College and Columbia College. However, this vibrant city has so much to offer visitors to the area beyond what you would expect.
Let's talk about the culinary options you can choose from. I was amazed at the multitude of restaurants available. You can find anything from a great breakfast to pizza to high-end fine dining.
Visiting other destinations in Missouri? Check out our other delicious guides:
The 8 Best Columbia MO Restaurants
1005 E. Walnut // 573-874-7804
One of the most fun places I visited was Ernie's. The food was sensational and the atmosphere was fun and energizing – just what you need first thing in the morning! Open from 6:30 a.m. – 2:00 p.m., you can enjoy breakfast or lunch. My choice was breakfast and it was a terrific way to start the day. Chloe was the server and she was as bubbly and friendly as any I've seen – she obviously simply loves her job!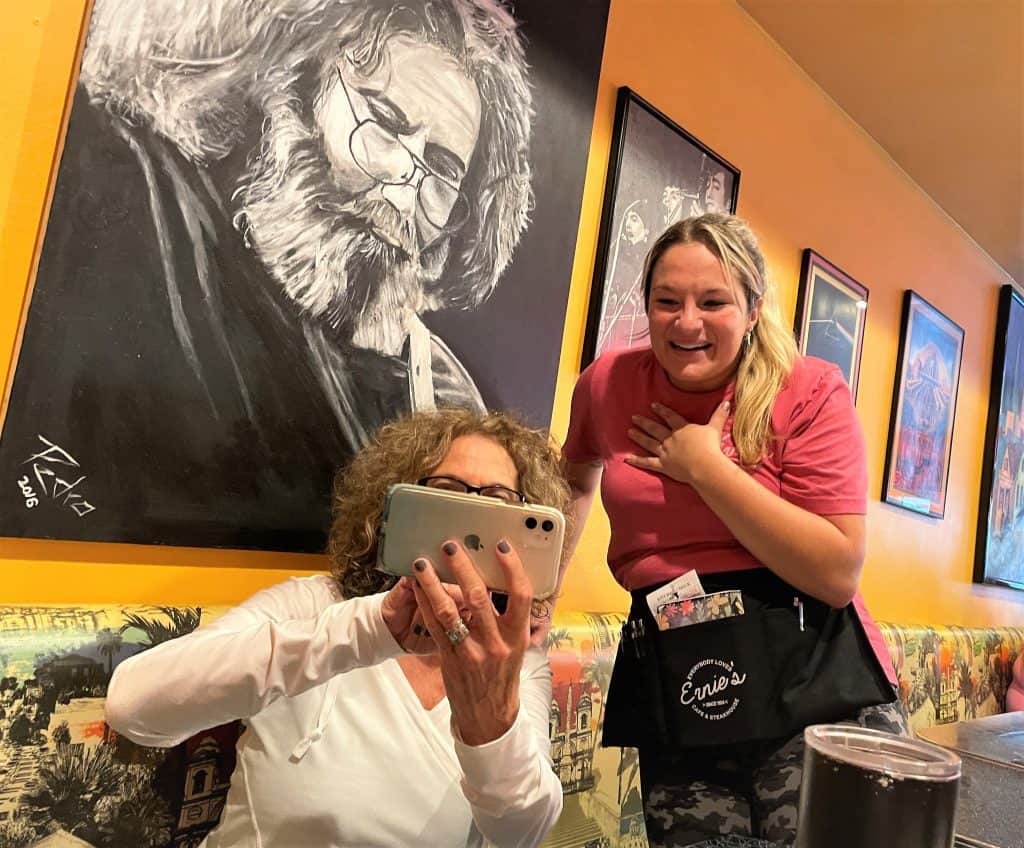 While Ernie's is known for its omelets, I opted to try the Breakfast Sampler. This consisted of not only eggs and hashbrowns but also bacon, sausage and ham. The portions were very generous and the food was superb. One specialty I did try and shared with my companions was Homemade French Toast. This yummy deliciousness is made with Texas Toast and served with lots of butter and syrup on the side.
While breakfast is notable, I'm told their lunch specials and hefty sandwiches are a must-try for lunch. Items such as the Boone County Ham Sandwich and famous 'Chopped Cow' are just a couple of the menu items which are most requested. Next time I'm in Columbia, this will be my lunch stop.
Another remarkable thing about Ernie's is the atmosphere. Being in the European-style seated restaurant and glancing around all the memorabilia on the walls is fantastic. You can find a large photo of Jerry Garcia alongside a street sign of Abbey Road. There is an old speaker from a drive-in movie and a tabletop listing of old jukebox tunes.
Another piece of trivia about Ernie's: the Dick Tracy comic strip creator, Chester Gould, would hang out in Ernie's a great deal when his daughter attended Stephens College. There is an original drawing on the wall.
Downtown location
225 S. Ninth Street // 573-449-2454
In a college town, you know there will be pizza options. Shakespeare's is one of the top ones, being named the 'Best' in multiple categories. There are three locations within the city of Columbia, so that will give you an idea of how popular they are in the area.
I had lunch at the downtown location shortly after it opened one day. Within minutes, the lines had formed and the staff was churning out the pizza in a steady stream. Their menu consists of pizza and salads, with a couple other items. But at Shakespeare's, pizza is all you need. Served by the slice or a whole pie – whichever you and your party prefer.
You can mix and match, as I did, but you get what's available at the time or choose to wait for your favorite topping.
The restaurant is more extensive than imagined at first glance. When entering, just join the line and wait your turn to order at the counter. Once you have your preferred choice, decide where you'd like to sit. I was lucky enough to get a table in the main area. Later, I meandered around. There is a path on the floor that reminded me of 'following the yellow brick road.' It continues through the building to various other rooms, with bars, games and other sitting places.
As I walked through the entire restaurant, I couldn't help to think what it must look like on a busy night, with all the booths and bars filled with lively patrons and oozing with energy. No wonder Good Morning America named it 'The Best College Hangout'. I can tell you from firsthand experience – when in Columbia, do not miss a chance to head to Shakespeare's.
14020 W. Highway BB, Rocheport // 573-698-2300
Just a short 15-minute drive from Columbia, you will enter the quaint town of Rocheport. Les Bourgeois Vineyards is one of the most prominent winemakers in the state of Missouri. A family-owned and operated winery, they offer a breathtaking blufftop view over the Missouri River.
In addition to having a wine garden and tasting room, you can also enjoy superb dining at the Bistro. Although reservations are definitely a good idea, you can enjoy brunch, lunch or dinner within beautiful surroundings. Have a private event or special occasion on the horizon? The Bistro offers a unique venue with an unsurpassed view.
Whether it's a special date night with your loved one or a business lunch with colleagues, you'll find something delicious on the menu. For starters, try the meat and cheese board or the Brie flatbread. This delectable dish consists of warm brie, poached cranberries, fresh apples and berries, pecans and a sauce made with Jeunette Rough (one of Les Bourgeois red wine varieties).
A sampling of other menu items includes Seafood Cakes, Smash Burger or Surf & Turf Kabobs. You can choose from a variety of wines made on-site to accompany your meal. Whatever you decide to order, you won't be disappointed – with the cuisine nor the view.
700 1st Street, Rocheport // 573-698-1222
Also in Rocheport is Meriwether Café & Bike Shop. It is located on the Katy Trail, just a quick trip from Columbia. The Katy Trail State Park is the longest converted rails-to-trails project in the US. Just steps away from where the trail goes through Rocheport, you can walk to Meriwether and rent a bike. When you're ready for a quick bite, head to the Café as I did.
What makes the food at Meriwether so special is that it is indeed homemade, sourced from local producers and suppliers. They call their menu 'simple scratch'. As such, sometimes their menu items change season to season.
After our bike excursion, my companions and I had a relaxing lunch inside (outside seating is also available). The Miso Peachy Salad consisted of fresh peaches, cucumbers, heirloom tomatoes, mint and basil covered with a sherry miso vinaigrette. The salad was refreshing and tasted delightful.
Another salad we tried was the Native Roots Salad. This lovely concoction was a mix of greens, roasted and pickled beets, radishes, microgreens, toasted walnuts, quark (a soft cheese) and honey lavender vinaigrette. The traditional Meriburger on a potato bun, with all the veggie add-ons and a portion of battered fries, rounded out our menu for the day.
The Meriwether was the perfect spot for a casual lunch. The food was fresh and delicious and served with a smile and laugh. When in Columbia, it is well worth the few moments it takes to arrive here.
21 South 9th Street // 573-443-7400
Sparky's is a unique favorite hotspot, where all the locals go. Since locals know the best places to frequent in their city, don't miss out.
Here you will find an ice cream shop that produces small batches of handmade ice creams, sorbets and other unusual combinations. These are in addition to exciting varieties such as honey lavender and banana Nutella. They make flavors utilizing local products like Les Bourgeois White Russian and Uprise Candied Bacon.
When in Columbia, a stop at Sparky's is a requirement. You cannot miss the bright green on the outside and pink floors inside while walking through the District. But the ice cream and other concoctions speak for themselves.
1204 Hinkson Ave. // 573-447-6547
For the ultimate experience in comfort food and atmosphere, you'll want to be sure to experience Ozark Mountain Biscuit Company. In their full-service restaurant, Ozark Mountain Biscuit & Bar, you will find some of the same favorites that began and are still served today in the Ozark Mountain Biscuit Truck. The mobile truck still serves patrons on the streets of Columbia and the Farmer's Market. To enjoy a sit-down meal with family and friends, head to the restaurant.
If you visit the Biscuit & Bar for breakfast, a plate of Buttermilk Pecan Waffles may sound good to you. These are served with butter and homemade fruit jam or syrup. If you'd like, add on a fried chicken breast for the best of chicken and waffles.
There are some unique favorites on the menu. Why not try the Sooie Pig – a tasty serving of pulled pork piled high and served with slaw and tangy Arkansauce. Perhaps a big plate of buttermilk marinated chicken breast, fried and served with beans, mashed potatoes, gravy and a biscuit. Looking for something a bit lighter? Try the MudPuppy Picnic – mixed field greens, crispy onions, pickled okra, baby red onions and sliced radish, served with a creole molasses vinaigrette. Sounds interesting, right?
Ozark Mountain Biscuit & Bar is where you flock when you're looking for delectable down-home cooking in a homey, friendly surrounding.
4600 Paris Road #102 / 573-443-3473
When in this part of the country, BBQ is a big deal. At CoMo Smoke & Fire, they have their own version, known as CoMo BBQ. This family-owned and operated restaurant makes you feel welcome from the moment you open the door. The entire family works and takes pride in the business they have created, and it shows.
If you enjoy mushrooms, you will want to start with the Portabella Mushroom Fries. It is just as you would imagine, a whole portabella, sliced thick, battered and fried for your delight.
All the favorite BBQ options are available: brisket, pork, ribs and beef, as well as turkey, salmon and chicken – all prepared using their homemade CoMo BBQ sauce. Want to have a burger instead? Try the Carolina Burger. Inspired by the BBQ traditions in the Carolinas, this juicy burger is served on a brioche bun topped with pulled pork, house slaw and your choice of cheese.
If you are so inclined and have room, you can also order dessert. Perhaps funnel cake fries or a slice of cheesecake. You can even get breakfast on Saturday or Sunday morning. There is something for everyone at CoMo Smoke & Fire.
800 E. Broadway // 573-874-8090
Sycamore has made its name as one of Columbia's original farm-to-table restaurants. They pride themselves on serving what is available locally and in season. They have developed unique relationships with local farmers and producers through the years, allowing them to continue serving Columbia well.
Sycamore is a fine-dining establishment with a casual setting. Although this might sound contradictory, it is the atmosphere that is conveyed. The patrons I saw varied from a business dinner to students and the parents on move-in weekend, to couples, to friends having dinner after a day of shopping.
While the menu and choices change sometimes daily, dependent on availability, they always have great options. We chose the Parmesan Fries as a shared appetizer. These were thick-cut fries, covered with shaved Parmigiano-Reggiano. As a lover of authentic Italian cheese, this was a must-try for me.
As an entrée, I highly recommend either the Ribeye or the Short Ribs. The Ribeye was served with roasted new potatoes, and fresh veggies were cooked to perfection. The steak was seared to lock in the flavor and remained juicy and tender.
The Short Ribs are braised with New Belgian ale, served with caramelized onions and mashed potatoes. The meat was so tender it just fell apart. The flavor was divine.
To further complement your meal, Sycamore offers an impressive array of wines and craft beer. After your meal, if you are so inclined, dessert is also available. My recommendation would most assuredly be the Apple Crisp.
The food choices of Columbia and in the nearby vicinity are a testament to the diverse nature of this vibrant and exciting city. Columbia not only has a thriving downtown district but a vibe that permeates the entire town with pride. This translated to unexpected culinary delights.
I look forward to returning and visiting the ones I missed.
---
Which of these Columbia MO restaurants do you want to visit first? Let us know in the comments section below!
Lisa Evans is a freelance travel writer and photographer. She has always enjoyed the outdoors and nature and often includes them in her writing and photography. History is another passion. Every place has a story to tell if only you find it.
Lisa is a member of TravMedia, IFWTWA, and Travel Writer's Café. She maintains a website and can be found on Instagram