Springfield, Missouri has been center-stage in many United States historical events. The Cherokee people on the Trail of Tears traveled through this area. Also, there were several major Civil War battles fought in the surrounding area. Wilson's Creek National Battlefield, 13 miles southwest of the city, is a 1750-acre site of one such consequential battle.
As that war ended, the "wild west" immerged. The legendary shootout which sealed Wild Bill Hickok's famed marksmanship occurred in Springfield. Later, Springfield leaders played a significant role in the development of Route 66.
With this rich heritage behind, the city is looking forward—growing and constantly revitalizing to meet the needs of its citizens. It has several colleges and universities. It is also home to the outdoorsman's favorite store. This "Grandaddy of all Bass Pro Shops" is just under 500,000 square feet and well worth visiting.
Springfield is also home to a growing culinary scene. Here are a few I discovered last month.
Table of Contents
16 Must-Try Restaurants In Springfield Missouri
2825 Glenstone Ave // 417-705-6000
Confession: I don't usually eat at food courts in malls. Most are chain restaurants and don't hold much appeal to me. But after researching restaurants in Springfield and reading numerous reviews in various publications, this place kept popping up. One reviewer called it "shockingly good." Okay, that caught my attention. So off to the Battlefield Mall we went to "give it a go."
What is a pasty (pronounced pass-tee), you might be wondering? It is a buttery, flakey shell stuffed with various types of ingredients. Basically, a handheld pot pie. They were initially used as lunch for Cornish miners in the 1800's. The miners used the crimped edges as a handle—as their hands were often covered with arsenic dust. Thus, they could hold on to the pasty and then discard the edge when done.
Neil Gomme, one of the co-owners, was born in Britain. He and his American sister-in-law, Carrie Mitchell, decided to bring a bit of the British tradition to Springfield. They began in a double-decker bus which served as the food truck. Now they operate out of the Battlefield Mall. They also have a place for ordering "take and bake."
I ordered the Original—tender pieces of steak with onions, potatoes, and rutabagas in the signature crust. I topped it off with the Guinness Gravy—a thick, rich concoction of gravy with Guinness and steak pieces. I have to say it was the perfect complement to the hearty pasty. My husband opted for the Shepherd's Pie. This savory dish of ground beef, peas, carrots, onions, and mushrooms was topped with rich gravy and whipped mashed potatoes. Truly a winner with my husband, who also enjoyed one of their beer selections along with his meal.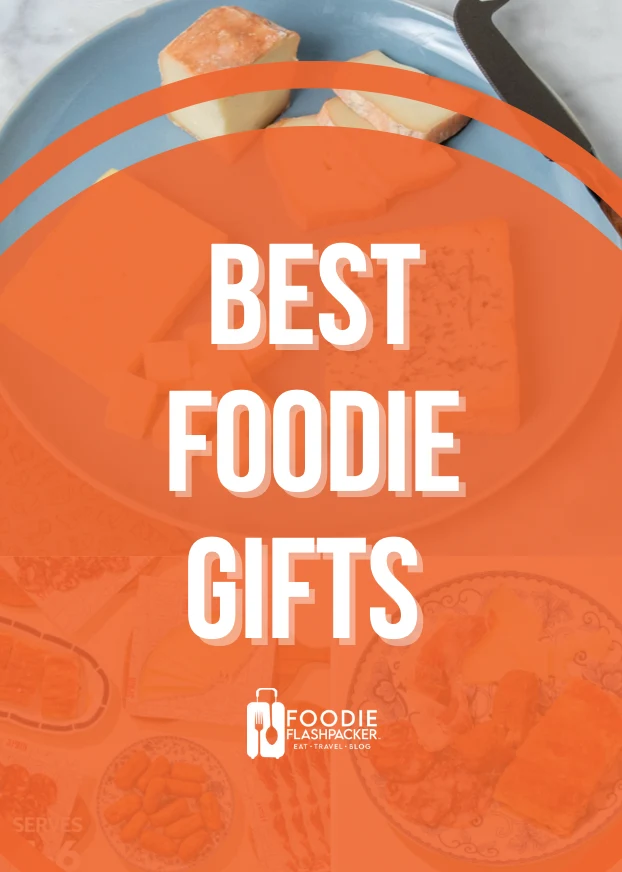 Are you a real foodie? I've compiled a list of the best foodie gifts you can get for yourself and your closest ones. Cheese, meat and sweets subscriptions, and some classic must-have foodie gadgets.
These pasties are hand-made daily with many variations of stuffing ranging from bacon cheeseburger, potato au gratin, bangers and mash, and cheesy chicken and bacon, to name a few. They also offer a Stilton Coleslaw—which I will try next time. Its description of "cabbage and carrots in a honey mayo dressing and topped with blue cheese" sounded very intriguing. And, of course, they serve fish and chips as well.
This creative restaurant certainly changed my mind about what might be available at mall food courts. And if I lived in Springfield, I would be a regular patron of the "take and bake" location.
2144 E Republic Rd B-101, Springfield // +14177999388
Progress is one of those restaurants in Springfield, MO, that everyone in town needs to try out. It's located at 600 West Walnut Street and operates Tuesday through Saturday, starting at 5 pm for dinner reservations.
If you happen to love brunch (who doesn't?), head to Progress and indulge in their brunch menu over the weekends.
Although there's no lack of upscale restaurants in Springfield, this one has been a preferred spot for locals and travelers. There is something about the innovative and modern menu at Progress, featuring foods that tell stories. And with the murals and sophisticated furniture mirroring the food's artful plating, this place is quite an experience over an ordinary dinner.
My first visit to Progress was when the restaurant first opened its doors. As soon as I stepped inside and noticed the trendy atmosphere, I thought to myself, "this is the place to see and be seen in Springfield." You'll find it one of the best fine dining restaurants in Springfield.
209 E. Walnut // 417-319-5905
Greeted with a cheery "hello" by the bartender as you walk through the door lets you know this will be a good experience. The interior just fits this local burger joint in downtown Springfield. The exposed brick walls topped by the open ceiling with reclaimed wood planks holding the warm lighting create a cozy place to meet for lunch or dinner. Lively music and an excellent beer selection, including many craft beers, add to the fun ambiance.
The burgers are their claim to fame—crafted from custom-blended 100% natural beef. They have garnered quite a following, as evidenced by their Readers' Choice Award as 2021's Best Burger in 417 Magazine (the local southwest Missouri area magazine).
My husband could not resist trying the "Don't Go Bacon My Heart" burger. How could you not love a 4-ounce patty topped with applewood smoked bacon, sharp cheddar, a smoky garlic mayo, complete with all the fixings?
However, I stayed with the lighter side and opted for the "Crazy for You" salad. A delicious Wagyu patty sitting atop a butter lettuce wedge, cheese, tomatoes, pickles, bacon, and spicy chipotle ranch dressing—can a salad get any better?
All their burger choices are tempting, as are the various selections of fries—from regular to sweet potato to truffle and parmesan. Then add a shake or specialty drink to really top off your meal.
305 S. Market // 417-832-8277
Since 1997, this locally owned company has been brewing its signature beers and distilling its own spirits. The refurbished old downtown Springfield building houses their stainless-steel brewery tanks, the onsite distillery, and a restaurant with a live music venue.
Their craft beers have won many National and International awards, including Bronze, Silver, and Gold at the Great American Beer Festival and Silver and Gold at the World Beer Cup. So many to choose from on tap—so try a beer flight. I was sold on the Bourbon Barrel Aged Dark Rum from their cellar distillery series. The bartender was fun, engaging, and very knowledgeable.
I must add that the beer pretzels with a fabulous Blue Canoe Pale Ale beer mustard and the 417 Lager smoked cheddar fondue were a fantastic complement to the drinks. Or you might prefer the nachos, wings, or pizza. The variety on the menu will satisfy any level of hunger.
331 Park Central E #101, Springfield // +14177191719
One of Springfield's most interactive restaurants, Druff's is the perfect place to spend an evening for dinner, drinks, and mingling. It's designed with indoor and outdoor areas, making it the ideal spot for an alfresco dinner.
The seating areas are wide enough, where guests are offered comfortable privacy for a quiet romantic dinner,
And if you're willing to deal with cold weather, then Druff's would be a great place once the colder months roll around. It has a beautiful view of the Ozark Mountains!
Even with a menu built on bread and cheese, Druff's doesn't serve your run-of-the-mill grilled cheese sandwich. Instead, you'll find sandwiches with creative fillings that contra
305 E. Walnut St // 417-851-5299
Springfield, MO, now has a contemporary boutique hotel in its downtown area—the Hotel Vandivort. The building was originally built in 1906 as a Masonic Temple. The hotel renovated the building, adding a modern ambiance while maintaining the historic appeal. The Hotel Vandivort is now listed on the National Register of Historic Places.
Immediately to your left, as you step through the big "V" doors, you will find a true gem of a restaurant—The Order. The room is bright, and the atmosphere is relaxed. The chef creates food that is elevated in flavors and delightful in presentation. Locally sourced suppliers provide the pork, cheese, chocolate, bread, and even a custom-blended rich coffee.
We started dinner with the roasted carrots. The presentation was lovely, but the blend of flavors of sassafras butter, cranberries, and walnuts was mouthwatering.
The special that evening was a grilled swordfish. The mild yet meaty swordfish was grilled to perfection and placed on a concoction of artichoke hearts, olives, and other Greek veggies. The chef topped with a flavorful roasted red pepper chutney. I don't know when I have enjoyed a swordfish dish more.
My husband selected the Bistro Steak—a perfectly pan-seared filet with pomme puree and smoked tomato relish. It was a beautiful blend of flavors and aromas.
I admit I do not normally indulge in dessert, but how can one expect to resist Gooey Butter Cake Crème Brulé or Hurts Donut Bread Pudding (Hurts Donuts are sourced from a local company)? I did not resist and did not regret the decision. They were absolutely delectable.
Pro Tip: I suggest ending your evening by going up to The Vantage Rooftop Lounge and Conservatory above the hotel. Arrive in time to enjoy a stunning sunset over Springfield. Then, as they toll the bell and toast the evening, raise a glass of your favorite beverage.
And if the weather is not conducive to sitting outside, the glass conservatory is a stunning alternative.
I also recommend a stay in one of the spacious rooms at the Hotel Vandivort. The accommodations are beautifully appointed, and the staff is efficient, helpful, and engaging.
431 S. Jefferson Ave. // 417-942-0958
For a change of pace and a fun atmosphere, stop by the 417 Taphouse in downtown Springfield. I believe this is the only "serve yourself" bar I have ever seen. The self-serve bar contains ten beers on tap. But the selection does not end there. More great choices are on tap behind the bar, as well as what is offered in cans and bottles.
Deep-fried bacon, pretzel sticks, twisted fries, and other appetizers will stave off your hunger. Or go for the chicken and waffles.
If you are looking for a fun group event, reserve the 417 Pedal Tour, where your group can cruise downtown Springfield while sipping and spinning onboard their 14-passenger pedal car. It comes complete with libations from the Taphouse.
621 S Pickwick Ave, Springfield // +14178667500
The Tea Bar & Bites Bakery and Cafe is another excellent lunch restaurant in Springfield, MO, that I really enjoyed. It's hard to miss this historic Spanish Revival-style home-turned-restaurant when driving down Pickwick Street in Springfield's Rountree neighborhood.
I promise that this "treat yourself place" will transport you to a romantic footpath cafe in Paris or Tuscany. Their menu offers delicious breakfast options and an excellent selection of exotic teas.
I took some time to decide on what I'd like to try and eventually settled on their Peanut Butter pita drizzled with honey. As cliche as it sounds, it was to die for. Right here, you will find the best quiche you have ever eaten.

Do not miss this enchanting spot if you are looking for a restaurant in Springfield that will make you feel at home and fill both your belly and your soul.
1935 S. Campbell Ave. // 417-891-5100
Ernest Hemingway was an avid sportsman and loved big game fishing. This restaurant is located in the Bass Pro Shop complex and is a nod to the inspiration of this legendary writer and outdoorsmen.
Sitting at the beautifully appointed bar, one becomes almost mesmerized while admiring the stunning colors and variety of fish in the aquariums behind the bar. It is a great place to relax before resuming shopping or visiting the aquarium and wildlife museum at the complex.
The restaurant offers soups, salads, seafood selections, sandwiches, and desserts. We shared the Islamorada Portofino. A combination of two of my favorite seafood items—blackened mahi-mahi and shrimp—is then topped with a lobster cream sauce. This was perfection. It was further plated with mashed potatoes and fresh vegetables. My husband and I were glad we had split this hearty dish.
Pro tip: I highly suggest spending an entire day at this complex. In addition to the Bass Pro Shop itself, the Wonders of Wildlife Museum and Aquarium is a perfect experience for kids and adults. The 350,000 square feet with approximately 1.5 miles of trails will both educate and enchant you. The aquarium takes you on a journey to view fish in ocean, lake, and stream habitats, while the immersive wildlife museum explores the environments of the world's wildlife.
334 E Commercial St, Springfield // +14173440085
When you are in the mood for some great burgers, sandwiches, and pies, check out Van Gogh's Eeterie in Springfield. With its authentic Dutch recipes, the place instantly throws you on a trip to the Netherlands, right in the heart of Springfield.
They cook everything from scratch, including their signature savory pancakes.
There's something for everyone's taste at Van Gogh's Eeterie. The restaurant serves traditional Dutch meals, pizzas, and tapas, and it also offers vegan options. Try the beet hummus sandwich on vegan wheat bread with cucumber and arugula or the traditional pancakes with goat's cheese or apples.
Van Gogh's Eeterie is a casual restaurant where you can get great food while sitting outside in the garden and wandering the Netherlands with your taste buds.
2931 E. Battlefield St // 417-889-4951
The restaurant advertises itself as the "cheers of fine dining." We immediately sensed this as we walked in the door. Patrons were welcomed by name by staff and servers and equally known by other patrons.
The chef is constantly updating his menu choices and sources both local and worldwide ingredients. The wine selection is extensive.
Our server was very engaging and enjoyable. He recommended we start our meal with the Flash Fried Spinach? We had never heard of this, but oh my. We were glad that we went along with his recommendation. It was amazing. The crispy baby spinach absolutely melts in your mouth. We were also thankful that he recommended a half order for two of us—as it was a generous serving.
The menu has a wide range of delectable sounding choices making it difficult to choose. I don't believe you could go wrong with the salmon, steaks, vegan options, or various kinds of pasta. But we decided on the "Legendary Molina." Our server explained that this is the favorite dish of St. Louis Cardinal Yadier Molina, who always requests it. We now agree with him. It is a perfectly grilled tenderloin topped with a cilantro citrus bearnaise crab cake. It is further plated atop a smoked salmon and prosciutto mac n cheese. This dish was so hearty that my husband and I split it. One word for these flavors—heavenly.
This 25-year-old restaurant is a must when visiting Springfield. The owner began working for the previous owner as a dishwasher. He worked his way up and eventually bought the restaurant. I love these stories, which makes one appreciate the dining experience even more. He is very much involved with the operations of the restaurant and was there the night we were. He even brought our main course to the table and greeted us. We were impressed by all aspects of this restaurant—from the atmosphere to the service and flavorful dishes.
234 E Commercial St, Springfield // +14178688088
Café Cusco Peruvian Steakhouse is one of the restaurants in Springfield offering an authentic South American experience. Located on historic Commercial Street in Springfield, in one of the city's oldest buildings, Café Cusco provides an elegant dining experience with the ambiance of an old-world coffee house.
It is precisely here that I experienced one of the most memorable meals in Springfield, MO. Caught in the middle of a happy hour on a Sunday, I chose to sit inside, surrounded by creative decorations and fabulous settings, and immediately knew it would be a promising meal. The restaurant will wrap you in the pleasant smell of food as soon as you enter.
I found the menu to have enough variety for a foodie or any vegetarian, yet not too extensive to overwhelm. The Fillet of Chilean trout topped with Kalamata olive puree and sautéed spinach, with mango drizzle aside garlic rice was terrific. Well worth the visit!
220 E. Walnut // 417-866-5500
With a rich history of having once been a fountain drugstore, this diner has a massive following in the Springfield area. It is located downtown across the street from the Hotel Vandivort. It is a local favorite for breakfast.
Breakfast choices are numerous—omelets, home fry skillet meals, pancakes, waffles, and signature classics. And the locals rave about the sweet potato hash browns.
A healthy option caught my eye, so I selected the avocado toast. The fresh avocado was spread on marble rye and topped with tomato and feta cheese. It is served with two eggs cooked to your preference.
My husband is always a classic breakfast-style guy and had a traditional breakfast of bacon, eggs, potatoes, and toast.
It's a fun corner diner. As you eat and sip your coffee in the mornings, you can observe downtown Springfield coming to life.
320 E Walnut St, Springfield // +14175973382
Opa! Greek Belly's all about an authentic Greek experience in the heart of Springfield. The restaurant opened eight years ago and shot to fame when its owners won a Travel Channel show called "Food Paradise."
The owner, John Tsahiridis, is a Greek native whose childhood in Greece and subsequent travels throughout the country inspired him to bring a touch of the Hellenic dining experience to Missouri. The recipes have been passed down from generation to generation, and many of the ingredients come from Greece.
Greek Belly's menu features so many delicious signatures. I think everyone who visits the first time will have a bit of a hard time choosing what to have. "When in Rome" turned to "When in Greece," and I decided on their Greek salad, spicy feta cheese, and souvlaki. All of them were dream-worthy. And do yourself a favor by trying out their baklava. Otherwise, it's like you've never eaten Greek.
When it comes to Greek cuisine in Springfield, Greek Belly remains true to its reputation. From the nuanced appeal of white walls and black ceilings to the traditional Greek food on your plate, you'll find a lot to like about this Springfield restaurant.
1845 E Sunshine St, Springfield // +14174300400
The Wheelhouse has been serving Springfield for several years, but the kitchen at Best Western Vīb is its newest location. It's the perfect place to eat Thai, Mexican, and everything in between, or as they say, "the best food in town without making a detour."
The Wheelhouse is one of the most popular places to get food in downtown Springfield, especially if you're craving a good, homey meal with a wide assortment to choose from.
The build-your-own nachos are a versatile option, with seemingly endless combinations, such as chicken with peanut sauce and spicy salsa. In addition to black beans and roasted corn salsa, you can also choose to build vegan quesadillas and tacos.
221 E Walnut St, Springfield, MO 65806, United States // +14178661111
Great selection of beers and good food. Wonderful pizza, both thin and thick crust to share, and reasonably priced for family fun. Attentive staff, cozy atmosphere, and simply an incredible experience.
For a starter, try out their famous housemade garlic bread with olive oil glaze, fresh minced garlic, and freshly grated mozzarella cheese, sprinkled with PaPPo's seasonings and served with warm marinara sauce. It is delicious.
They got interesting breaded eggplant, fresh tossed salads, ravioli pillows with beef, mozzarella & tomato crustini, and many more unique starters.
They have lovely fresh oven-baked sandwiches. My favorite is the sandwich with Joan's famous homemade Italian meatballs, marinara sauce, melted provolone, and parmesan cheese.
Last but not least is their pizza! The Pappo's famous five-cheese housemade red sauce, a blend of parmesan, mozzarella, fontina, romano & asiago cheeses, is absolutely a different experience than the regular four-cheese pizza. The chicken caesar pizza and the Sicilian are worth trying too.
As an option, you can build your own pizza by choosing your favorite sauce and toppings!
FAQ
What are the most popular restaurants in Springfield?
Andy's Frozen Custard, Metropolitan Grill, and PaPPo's Pizzeria & Pub Springfield Battlefield are one of the most famous restaurants in Springfield, MO.
What are the best restaurants in Springfield that deliver?
PaPPo's Pizzeria & Pub Springfield Battlefield, The Big Slice, and Greek Belly are one of the best restaurants that offer delivery in Springfield, MO.
What are some highly rated restaurants in Springfield, MO?
Yan's Sushi & Grill, Farmhouse Cafe, Ghettolicious, Joe's Route 66 Diner, and Pampa Empanadas are some of the top restaurants in Springfield.
Conclusion
Don't overlook Springfield, MO as a fun get-away. The city is clean, easy to get around in, friendly, and offers much to do. The Bass Pro Shop and Wonders of Wildlife Museum and Aquarium is an amazing experience. The city also offers gardens, a sporting arms museum, a route 66 car museum, and civil war battlefields. There is much to see and do and many restaurants to enjoy.
Please note: As always, during this time, it is best to call ahead to verify any safety or required protocols that may be in effect.
---
Which of these restaurants in Springfield Missouri do you want to try first? Let us know in the comments section below!
While in Springfield don't miss out on activities that will help immerse yourself with the city (hurry while they're hot!):
Visiting other destinations in Missouri? Check out our other delicious guides:
Lana is a retired CPA having survived 43 tax seasons. She is now embarking on an encore career — recording in word and photos the beauty in exploring the world. Her trips include glamping in the RV to indulging in luxury hotels; hiking in National Parks to cruising on a catamaran. She has traveled in the United States, in Italy and other foreign countries. She enjoys learning about and has begun collecting wines. When home, she splits her time between her home close to grandchildren and a lake home. She is a member of the ITWPA. Follow her at www.createsomedaytoday.com and on Instagram @lanavancleave.