It's one of California's best-kept secrets—but not for long. Located less than 30 minutes from California's Central Coast, Paso Robles is one of California's hottest and fast-growing wine regions. And being situated half-way between Los Angeles and San Francisco makes it a popular weekend getaway for those hoping to escape the more chaotic life of the big city. City dwellers are quickly discovering just how many fun things to do in Paso Robles await them!
Paso Robles full name is actually El Paso de Robles, Spanish for Pass of the Oaks due to the stately clusters of oak trees scattered throughout its picturesque rolling hills. In the 1860s visitors flocked to this area to "take the cure" in Paso's sulfur springs which were believed to have great medicinal values.
Today it's not just wine that's attracting visitors to this delightful destination. Its amazing cuisine, local missions, vibrant art scene, and natural hot springs are also a big draw. And stunning views, small-town USA charm, and friendly locals all add to its appealing allure.
We just know that every time we make a trip to Paso Robles, we find more hidden treasures in this magnificent region that Mother Nature has blessed with her bounty. These are some of our very favorite ways to stay and play in this very special California town.
Visiting other destinations in California? Check out our other delicious guides:
The 10 Fun Things to Do in Paso Robles
2175 Arbor Road // (805) 227-1111
There's nothing like waking up to the birds chirping and enjoying coffee on a private balcony overlooking the vineyards. Relaxation comes so easy here.
Summerwood Inn is a luxury nine-room romantic bed and breakfast farmhouse that radiates beauty, peace, and warmth. Each room is named for a vintage wine, ours was Zinfandel. Amenities of the inn include an in-room complimentary bottle of wine, daily gourmet breakfast, and afternoon wine and hor d'ourvres in the garden patio.
The winery tasting room is just across from the inn, offering guests the opportunity to savor more of Summerwood's fine vintages.
2777 Hidden Mountain Rd // (805) 226-5460
Wine is definitely one the main reasons visitors flock to Paso Robles, as the wines of this region are splendid with many well-earned awards. Choices for vineyard winetasting seem endless given that Paso boasts over 250 wineries dotting the hills and valleys of this Central Coast region.
Add in stunning picturesque views, and it's a wine country experience you'll find unforgettable. We have our favorites for the quality of their wine coupled with their awe-inspiring vistas.
DAOU Vineyards is renowned for its panoramic mountaintop views, luscious fare, and elegant fine wines. Our other favorite is Alta Colina, with its sweeping wine country vistas, top-quality organic wines, and their campsite called The Trailer Pond with refurbished vintage campers lining the shores of a private pond.
1111 Kiler Canyon Rd. // (805) 400 -1439
Farms are aplenty in Paso Robles and it's a perfect olive-growing region blessed with temperate coastal California weather and rich, minerally soil. And there are actually five properties growing olives that offer guests olive oil tasting experiences.
We loved our visit to Kiler Ridge Olive Farm, a family-owned and operated enterprise producing Italian estate-grown, award-winning, small-batch olive oil.
All production processes from hand-picking the olives, pressing and bottling, and labeling are done in-house. This culminates in some of the best olive oil we've ever tasted outside of Italy. Their informative on-site tour provides a real eye-opening introduction into the world of high-quality olive oil production.
4380 Highway 46 East // (805) 226-4287
Honestly, we've never seen anything like it. At sunset, over 58,000 stemmed spheres lit by fiber optics illuminate the rolling 15-acre landscape of Sensorio: Field of Light by Bruce Munro. The dazzling effect is a painter's palette of magnificent colors. This magically mesmerizing outdoor experience is definitely one that should not be missed.
The captivating solar-powered show beautifully blends light with nature resulting in an almost indescribable ethereal spectacle. I don't know if there's really such a thing as Heaven, but, if there is, and it looks anything like this, I'm all in.
Picnic in City Park
Paso Robles definitely has amazing restaurants we love, but on one of the days of our visit, we couldn't resist packing a picnic basket and lunching in the City Park. A picturesque gazebo and grassy recreation area form an Americana centerpiece within this lovely main downtown plaza.
The Park has a number of picnic tables and benches, a large barbeque area, and a horseshoes pit.
A Summer Concert in the Park series held here each Thursday evening features live performances with rock & roll, jazz, Latin, and rock music.
1130 Pine St. // (805) 238-9800
Historic downtown Paso Robles is an easily-walkable, beautifully-preserved area hosting a myriad of restaurants, cafes, brews, spirits and boutique shops. We love the antique and vintage thrift stores that pay homage to its timeless small-town past.
Paso Robles is also known for its vibrant art scene. A non-profit open-air art center in the heart of town, Studios on the Park is a fascinating story of community camaraderie. This venue showcases six studios under one roof with 15 artists in residence. Its four galleries contain an impressive collection of local arts and crafts, along with a delightful gift store.
As a matter of fact, this small town is so artsy and upbeat, that even the flower-filled barrels lining its sidewalks are painted with colorful happy scenes.
800 Clubhouse Drive // (805) 238-4600
Come on in, the water's fine. That is, the positive-charged, ionized mineral waters exiting the ground at 100.1 degrees Fahrenheit in the natural hot springs found throughout Paso Robles.
Paso Robles Inn, River Oaks Hot Springs, and Franklin Hot Springs are three locations that provide a true-to-form, relaxing, therapeutic hot springs experience.
Guests can soak in artesian thermal mineral springs under a starlit sky or relax in the shade of a private open-air spa with dramatic views of the rolling hills, vineyards or reflective lakes. The relaxing rejuvenating spa treatments at River Oaks Hot Springs help de-stress and restore balance and peace to the body, mind and spirit—as they have for centuries.
These spas also offer a menu of massage, skin, and facial treatments. And of no surprise, couples or a group of two friends can opt for a 60-minute soak in a privacy tub with a bottle of sparkling wine and artisan cheeses served tub-side. Chocolate-lover's packages are also available. You have to admit, these are hard to beat relaxation experiences.
450 Marquita Ave // (805) 434-5474
Tin City is a unique evolving industrial park nestled amongst ancient oaks that are the beginning of the historic 1,200-mile Juan Bautista de Anza National Historic Trail. Here friends, adventurers, and aficionados come together to partake in craft wine, beer and small-batch spirits served up by Paso's most passionate artisans.
This trendy and vibrant place has become one of Paso Robles' favorite hangouts and it's no wonder why after a visit here.
We love sampling the seasonal offerings at Tin City Cider taproom. Their innovative ciders sport fun names like Zig Zag, Fresh Quince of Bel Air, and Cousin Eddie. Good people, good times, and great beers can be found at BarrelHouse Brewing Company accompanied by live music on their outdoor patios.
Hand-made pasta making is fun to watch at Giornata's all-Italian wine store. A hop over to its tasting room provides an opportunity to taste delightful wines from Italian grape varietals like Fiano, an intensely flavorful and fruity white.
141 Niblick Road // (805) 226-0500
Outdoor enthusiasts can't help but delight in the great outdoor options Paso Robles and its environs provide. From biking, golfing, hiking, and horseback riding, to paintball adventures and jeep tours, Paso Robles adventures are practically endless.
We love biking the Salinas River Walk, one of the first sections of a planned 30-mile river trail extending from Santa Margarita in the south to San Miguel. Those into a heartier workout can head to Peachy Canyon providing breathtaking views of vineyards and orchards along with great climbing, curves, and downhill for a fantastic workout.
The Shoreline Trail on Lake Nacimiento is a 5.6-mile trail used for hiking and trail running. Just minutes from Paso Robles wine country, this trail offers stunning views of Lake Nacimiento and the surrounding Santa Lucia Mountains.
750 Hearst Castle Rd // (800) 444-4445
There's something about California's Central Coast that makes it so very special. It's majestic views, laid-back character, and quaint seaside villages give this region an air of authenticity—a throwback to the days when California beach towns embraced a simpler lifestyle.
The drive is less than 30-minutes from Paso Robles. That is if you can resist the many "honey, stop the car moments" on the relaxing and unbelievably scenic trip to the coast.
The Central Coast is blessed with over 300 days of sunshine and home to beautiful beaches and lakes, charming beach towns, oceanfront dining, and a beautiful pier where sunsets are utterly spectacular. Its coastal road is the historic Pacific Coast Highway (Route 101), marking the beginning of the magnificent world-renowned Big Sur Coast.
Hearst Castle, the "ranch" home of newspaper magnate and philanthropist William Randolph Hearst is an absolute must-do experience. This National and California Historic Landmark is one of the most exquisite and fascinating pieces of architecture on the West Coast. The castle reached its peak of notoriety in the Roaring Twenties and 1930s attracting the Hollywood elite and famous guests from all over the world. Views of the Pacific Ocean and rolling hills from this highly perched castle are absolutely breathtaking.
As we departed Paso Robles for our road trip back home to San Diego, Louis Armstrong serenaded us with these beautiful words: "And I think to myself…. what a wonderful world."
Looking at one other, we couldn't agree more. Magical places like Paso Robles truly help make this world a wonderful place.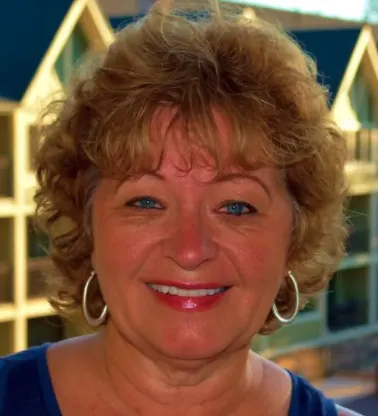 Noreen Kompanik is a Registered Nurse and San Diego-based travel writer and photographer. Over 400 of her published articles have appeared in 38 different digital and print publications. She especially loves writing about family travel, luxury travel, food, wine, coffee, history and travel writing and shares these articles on her travel website What's In Your Suitcase.