Nestled between Pikes Peak, Garden of the Gods, and various other natural wonders is Colorado Springs, a city that surprises many with its charm.
Visitors might not expect to find an exciting culinary scene, but they will be delighted. The restaurants in Colorado Springs are incredibly inexpensive, especially considering how gourmet they can be.
If you're here for our food, well, you've come to the right place. Colorado Springs is well known for its world-class restaurants and excellent food scene.
Whether you're a tourist or a Colorado Springs native, finding a nice restaurant is just one of the many things you will want to do while visiting our city.
But with so many choices, where on earth do you begin? Never fear! I've got you covered on some of the best places to eat in this great city.
The 10 Best Restaurants in Colorado Springs
4375 Sinton Rd., Colorado Springs, CO 80907 // +17195281155
Caspian Café transports you to the heart of the Mediterranean with their creative dishes, tantalizing martinis, and authentic recipes served in an elegant atmosphere!
Their menu is small, but they do offer creative options. Dine on tasty appetizers like falafel, hummus, tzatziki, and Baba Ghanouj, or try one of their delicious entrees like Sam's Mediterranean Pizza or Chicken Piri Piri.
Staff, chefs, and the owner are all wonderful here, and they make sure your stay here will be a pleasant one. Plus, their happy hour martinis are delicious!
The Caspian Café serves up bright flavors of Greece, Turkey, Morocco, and Lebanon in an intimate atmosphere perfect for casual eating.
In my opinion, it is one of the best casual restaurants in Colorado Springs!
321 N. Tejon St., Colorado Springs, CO 80903 // (719) 434-2741
If you are looking for a good place to eat in Colorado, try Four restaurant. Brother Luck, the owner, is passionate about using local foods to create unique dishes.
Try the Bacon Jam Burger topped with bacon jam, pickles, cheese, and herb aioli. Other favorites include Rabbit green chili and Ute blue cornbread.
Brother Luck sources locally for his menu to help support Colorado families. The menu is therefore subject to change daily according to the availability of fresh ingredients.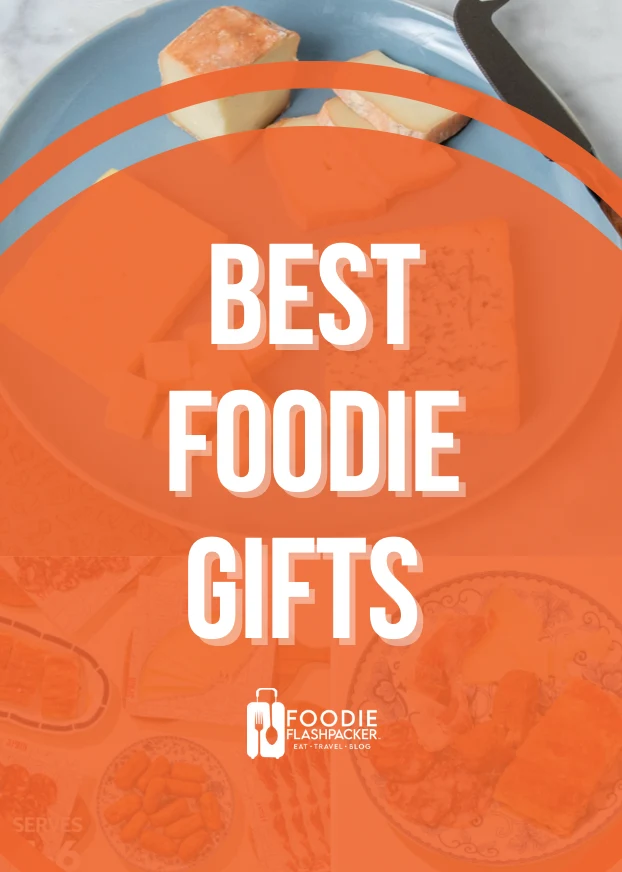 Are you a real foodie? I've compiled a list of the best foodie gifts you can get for yourself and your closest ones. Cheese, meat and sweets subscriptions, and some classic must-have foodie gadgets.
Rustic and industrial, with a touch of modern American flair, the restaurant is described as having a rustic feel. It reflects both the diversity of the region and excellence in cuisine.
From a romantic evening for two to a private party featuring live music from the area, Four offers a unique experience for everyone!
1025 S. 21st St., Colorado Springs, CO 80904 // +17194712905
Located on the edge of downtown Colorado Springs, this restaurant offers a wonderful international flair to the dishes. The freshness of the food, including seafood, makes it distinctive.
Serving breakfast through dinner, this local classic is rated the best restaurant in the state by Zagat.
The popularity of this restaurant is due to Chef Carlos' unique way of making truly delicious meals. Established over fifteen years ago, Carlos' Bistro has long been the local favorite to go to for great food and authentic Peruvian cuisine.
Though the owners might call it a "bistro," there is a little bit of everything in this restaurant. Eat an appetizer in the bar area, have drinks with friends after work, or meet a colleague for lunch. Have a date or enjoy a special occasion in the dining room.
You will notice the friendly atmosphere as soon as you walk through Carlos' Bistro doors. Not to mention that the food and service are impeccable. You'll love it here!
Do yourself a favor and make your reservations now!
2527 W. Colorado Ave., Colorado Springs, Colorado 80904 // 719-632-8121
For true Italian cuisine that's nothing short of spectacular, you can't go wrong with Pizzeria Rustica. This local favorite makes their dough from scratch, as well as the mozzarella cheese and sauce.
With its cozy atmosphere and location inside a historic 1889 building, this authentic Italian restaurant stands out from others.
Locally owned and operated, Pizzeria Rustica serves an array of Neapolitan-style pizzas, salads, sandwiches, and calzones, all made from fresh ingredients—right down to their crust.
The pizza at Pizzeria Rustica is just as good as you'd expect, and there are a lot of great things about it. In addition to the amazing food, the atmosphere is fantastic with a historic location, friendly staff, beautiful hanging light fixtures, and a working fireplace, of course.
And, of course, you'll love their great selection of beer on tap.
Pizzeria Rustica is ready to serve you some authentic Italian pizza. You've got to try this place!
7673 N. Union Blvd., Colorado Springs, CO 80920 // +17195998689
Kohnami Sushi is one of the best restaurants in Colorado Springs, CO, serving fresh, hand-rolled sushi.
Each roll is carefully crafted with an array of traditional Japanese toppings and sauces on top of Kohnami's special rice.
It has a traditional Japanese menu, but the rotating specials are superior, and the lunch special can't be beaten. The decor is simple and modern, and you won't find any frills, but this place is still popular among locals.
Try one of the innovative rolls, such as the Cotton Club, with three different kinds of fish with creamy avocado sauce and avocado inside, topped off with cucumbers and carrots.
My personal favorites include the J Pop burrito (a sushi roll, made on fried rice inside of a burrito wrapper), and the Korean sushi plate (spicy salmon roll, kimchi, and vegetables topped with Korean vinaigrette).
This is the sushi place to go if you're looking for a lively night out or a casual lunch on your lunch break.
1 Lake Avenue, Colorado Springs, CO 80906 // 719-577-5772
There are some very good restaurants in Colorado Springs, but one that might be new to visitors is La Taverne. The venue is located in the Broadmoor hotel, and it is an elegant restaurant, but one that is slightly less formal than some of its neighbors, making it a good choice for a date night.
The building has an indoor garden, decorated to look like a romantic European setting. It is a classy place with warm and friendly staff. The kitchen sources the beef from local farms and provides a range of seafood choices to top your meal off.
For a truly gourmet experience, you can also request a special cut.
If you are looking for steak, this is the restaurant we would definitely recommend!
La Taverne is very popular with locals, so make sure to book ahead of time if you want to dine here.
11 S. Tejon St., Colorado Springs, CO 80903 // +17193574554
Jax Fish House and Oyster Bar is a great choice for seafood lovers!
This amazing place offers the perfect combination of dishes with a selection of seafood, creative cocktails, and creative menu items. The family-friendly restaurant serves fish that is always fresh and served perfectly.
Located in downtown Colorado Springs, Jax is a great place for dates or to bring the whole family for a dinner out.
In addition to their amazing menu, they offer happy hour seven days a week with specials on oysters, crab cake, shrimp cocktails, and more. Their appetizers like Maryland crab cakes and lump crab cakes are sure to make an impression!
This casual eatery has live music most nights of the week, making it popular with locals and visitors alike. So, if you're in the mood for some fresh fish, then head to Jax Fish House and Oyster Bar, where you can find casual ambiance and the best seafood in Colorado Springs!
101 North Tejon Street, Colorado Springs, CO 80903 // (719) 203-5072
Open your door to the world of cuisine with a trip to The Rabbit Hole in Colorado Springs. Uniquely underground, this eclectic restaurant serves up rabbit meatloaf and flaming cocktails. From ambiance to amazing food, it's worth a visit if you're looking for a five-star experience.
The Rabbit Hole is a unique establishment by all standards. Tucked away, but not obscured, from the hustle and bustle of Colorado Springs' more public areas, there is a gem-a restaurant experience that has been called an "avant-garde" twist on the standard offering of a fine culinary meal.
It is underground by design – discrete, yet bursting with flavor and fun.
As for the restaurant's cuisine, you can't go wrong with anything on the menu; everything is simply mouthwatering. As kitchens go, this one's cutting edge, as it offers some amazing food choices you won't find anywhere else!
1605 South Tejon Street, Colorado Springs // 719-358-9822
Colorado Springs will always have its fair share of greasy fast-food restaurants, but it also has places like Prime 25. At this elegant steakhouse, you can dine on steak or seafood while enjoying live music.
Prime 25 is located in the middle of downtown Colorado Springs. This popular steakhouse offers a varied menu that includes steaks, seafood, tenderloin, quail, and chicken pot pie. For a classy night out, Prime 25 has a full bar and a pianist or a singer on weekends.
The dining experience is enhanced by the restaurant's elegant decor, giving an incredible ambiance.
If you're in the mood for a high-quality meal with a touch of class, consider heading to Prime 25!
2802 W. Colorado Ave., Colorado Springs, CO 80904 // +17194718200
Looking for a nice Italian restaurant? If you are in the mood for Italian food while visiting Colorado Springs, Paravicini's Italian Bistro is the perfect spot for you. They have some of the best dishes in the city, and you will not be disappointed with your meal, especially when paired with a glass of wine for a full glass of enjoyment.
The delicious pasta will make your mouth water, while the tasty sauces will make your stomach growl (in a good, frenzied way). Featuring dishes like the Prosciutto Wrapped Cod or Rigatoni Carmella, you'll understand why everyone keeps raving about this fantastic eatery.
Whether you opt for the traditional Italian fare or the seafood delights of the Adriatic coast, your meal here will be one you won't soon forget!
Summary Of The 10 Best Restaurants In Colorado Springs
While Colorado Springs may be best known for its cozy mountain lifestyle, there are still plenty of attractions that will excite your taste buds.
This guide will help you find the best restaurants, and no matter what's on the menu, you'll be able to find food for all tastes; whether you make it fancy with upscale restaurants or stick to classic dishes with family-friendly joints.
Colorado Springs is a great place to be for any foodie!
Visiting other destinations in Colorado? Check out our other delicious foodie guides:
---
Which of these best restaurants in Colorado Springs do you want to try first? Let us know in the comments section below!
Igor Jovanovski is an aspiring digital nomad, travel blogger and graphic designer who really loves food. He also has a creative side, and he works as a freelance graphic designer in his spare time. He has traveled across Europe quite a few times since he was young and recently started his mission to visit every country in the world! Igor's favorite thing about traveling is the way he gets to know new people, food, places and cultures.
This exciting experience helps him create his own stories and make memories that will last forever