Yakima Valley is touted by many as the Garden of Eden in the Pacific Northwest. Forty different crops are grown in this valley and turn the slogan "Farm-to-Table" from a marketing gimmick to a way of life. The people in Yakima Valley are predominantly farmers. They know food. They know good ingredients. And they will not accept anything that doesn't stack up to their trained taste buds. Restaurants in Yakima have to show their A-game, whether it is a fine dining restaurant or a family diner. And if they do, locals and visitors alike will come back over and over again.
On a recent trip to Yakima Valley, I explored the local eateries. Here are some of the best restaurants in Yakima, Union Gap, and surrounding areas, ranging from fine dining to James Beard Award-winning tamale shops, family diners, and drive-in burger joints. Are you ready to discover some of the best places to eat in Yakima?
The 11 Best Yakima Restaurants
22 N. 1st St. // (509) 426-2220
If you are looking for a fine dining experience amongst all Yakima restaurants, Crafted is it. The airy, modern farmhouse-style decor is inviting and fresh.
A great place to meet your girlfriends for cocktails, have a romantic date with your partner, or share a big table with friends and family to connect over a fantastic meal.
The food at Crafted showcases what the season has to offer in this region. The menu frequently changes, sometimes daily, to make sure the ingredients are at their prime.
Small plates make it perfect for sharing and trying more things, which is what we did. From classics like fried brussels sprouts to pasta with fava bean leaves in a lemony cream sauce, we also enjoyed perfectly flaky black cod with mushrooms, pureed leeks, and tarragon and served with bruléed lemon.
The sweet scallops with nutty black sesame puree and miso-almond butter were nicely balanced with the refreshingly sour pickled daikon.
One of my favorites was the savory and tender short rib, rubbed with coffee and braised for hours, then served on a bed of five-spiced ricotta with rainbow carrots and a thick slice of balsamic glazed red onion.
The table's favorite, however, was the flank steak. A simple cut of meat, elevated by a mushroom cream sauce, caramelized onion foam, and crispy tempura asparagus, became the most cherished plate of the night.
Oh, and then there was dessert. We decided to try a lemon/lime cream and the house specialty, the campfire s'mores served under a glass cloche trapping real smoke.
The smoke wasn't just for show. It imparted the traditional "campfire" taste on the s'mores, which was delightful and a fun way to end the night.
4 N. 3rd St. // (509) 575-5570
If this artisan bakery were in my neighborhood, I would be a regular. The smells of freshly baked loaves of bread and pastries in this bakery are an aroma I could not resist for long.
This place is perfect for a tasty breakfast, from sticky, gooey cinnamon rolls to freshly baked croissants ranging from plain to chocolate to ham and cheese to fresh fruit cups containing more variety than melon and grapes.
They offer delicious sandwiches and paninis for lunch, which I am sure are drool-worthy with their artisanal loaves. I wish we could have had breakfast there every morning!
4000 Creekside Loop // (509) 853-1057
On my way to the airport, we stopped at this fabulous gem amongst the Yakima restaurants called WaterFire.
This casual-chic restaurant offers traditional American cuisine but with exciting twists. Take the nachos, for example; instead of the same old same old, they serve Thai Chicken nachos made with fried wonton wrappers, spicy chicken, and coleslaw with a peanut satay drizzle. Delicious!
I also enjoyed a Southwest-inspired salad with a poblano green goddess dressing, a sprinkle of cotija, perfectly cooked shrimp, and of course, avocado—the perfect mix between indulgence and health.
7 N. Front St. // (509) 823-4498
Tacos and beer; say no more! I love when local breweries work with local food trucks. It is just the perfect combination and a win-win for everyone. But when the food truck is a taco truck, I feel thrilled. And when said taco truck offers Birria tacos, I am in foodie heaven.
This spicy, brothy, fragrant beef stew with a cheesy tortilla is a heart attack on a plate, and I admit that, but at least I'll die happy. If you find yourself in Yakima, it is worth hunting down his location for this fantastic meal.
2415 S. 1st St. // (509) 457-8194
This legendary burger joint in Yakima opened in 1948 and is currently run by the fourth generation of the Miner family. Legend has it that the founding brothers of the famous golden arches went to eat at Miner's and got "inspired" there. It's one of the legendary Yakima restaurants.
In any case, Miner's burgers are delicious, and portions are humongous. A regular burger can easily feed two adults. But get your own fries, as they are so delicious that you don't want to share them.
Today, this place is popular with traveling sports teams and is now an institution among kids from all over Washington State. Watching the kids enjoy themselves after their games is fun, and their energy is infectious. Of course, locals cherish their Miner's burgers and milkshakes and enjoy this place full of history and memories.
3706 Main St. // (509) 457-6003
A James Beard Award-winning tamales shop like Los Hernandez is a must on the itinerary for any serious foodie.
Felipe Hernandez started Los Hernandez Tamales over thirty years ago and was recently awarded one of the highest recognitions in the restaurant world. It's definitely one of the best Yakima restaurants.
We met Felipe and his daughter and were lucky enough to get a behind-the-scenes look into his kitchen and a demo of how to make tamales. Felipe is an incredible man and, despite his success, very humble.
Los Hernandez Tamales, as the name suggests, sells tamales. But what makes them special is that they ONLY sell tamales.
And only three flavors: chicken, pork, and a seasonal vegetarian option of either asparagus and pepper jack cheese, jalapeno and cheese, or cactus and cheese. I love tamales, and I have to say, these were some of the best I have ever had.
The masa was flavorful and not too dense, and the fillings (I tried them all!) were simply finger-licking good. The asparagus sounded strange at first but was not just my favorite, but everyone's at the table. I hope they start shipping out of state soon!
3211 Main St. // (509) 575-9709
I have a soft spot for old-fashioned family Yakima restaurants that serve the classics, like biscuits and gravy, chicken-fried steak, and other comfort foods. Jean's Cottage is precisely that.
It feels like you walked into your grandma's house, and she is serving up all the goodies in portions that are big enough to feed three and as tasty as only grandmas can make it.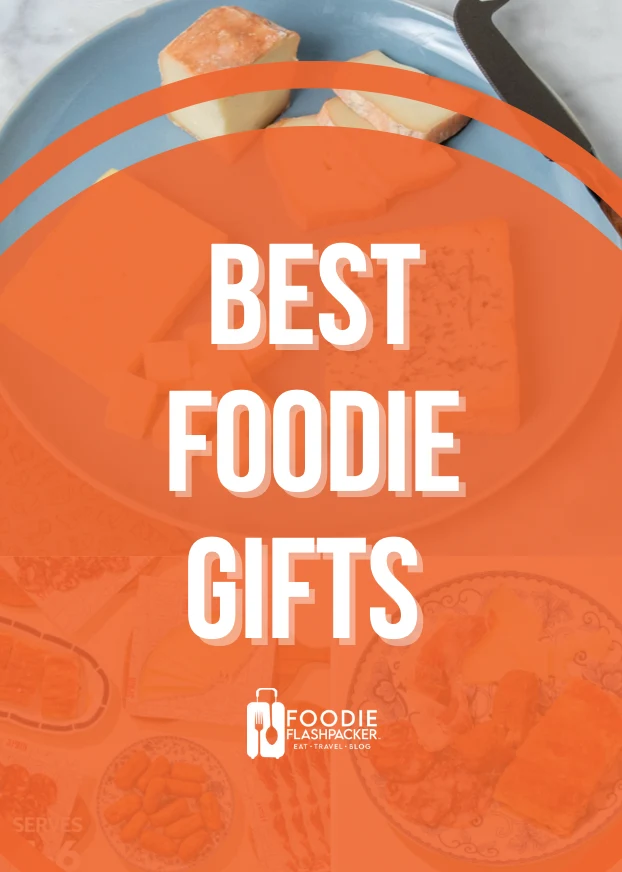 Are you a real foodie? I've compiled a list of the best foodie gifts you can get for yourself and your closest ones. Cheese, meat and sweets subscriptions, and some classic must-have foodie gadgets.
I had the biscuits and gravy, eggs sunny side up, and bacon. The gravy was so smooth and flavorful, mixed with the soft egg yolks, soaking the freshly baked biscuit into bites full of mouthwatering goodness.
Of course, the best part is always dipping your bacon into the gravy, and with that, I felt like I was in foodie heaven. Those simple meals, if done right, can bring back so many memories and feel like a cozy blanket of comfort that makes our lives better, at least for a little while.
Canyon Road // (509) 933-2309
Located in an idyllic fly-fishing lodge, Canyon River Ranch on the Yakima River, Canyon River Grill is a must-visit amongst the Yakima restaurants when you drive between here and Ellensburg. Executive Chef Kevin Davis grew up in Louisiana, and the Southern influence runs through his menu.
He has been a James Beard Finalist three times (so far), and after eating at Canyon River Grill, I am confident he will receive this award sooner rather than later.
I ordered the Shrimp and Grits, and the dish was a pure delight. The shrimp were sweet and had that springy texture you only get when cooked perfectly.
The grits had an incredibly satisfying texture and were full of flavor thanks to the spicy andouille sausage and crispy fried arugula. A generous drizzle of Creole-flavored chili oil gave it a nice little kick and warmth that makes Southern food so unique.
2560 Donald Wapato Rd. // (509) 952-4414
Pizza and beer on a summer day sitting on the terrace of HopTown in Wapato – it is hard to beat that. HopTown owners Lori and Carrie are two incredible businesswomen who know how to make their customers happy.
Their wood-fired pizzas are fantastic. Cooked in a traditional wood-fired oven that reaches up to 900°F, it only takes about 2-4 minutes to bake these thin-crust pies to perfection. An excellent tap selection that features local brews makes this place so irresistible.
I loved each and every piece I tried, yes, even the one that had blueberries on top. I have to admit, I had my doubts about whether that would be any good, but somehow, the combination of sweet blueberries, goat cheese, and spicy pepperoni not only works but is an absolute delight.
Another delicious slice was the Porky Pine, which had a base layer of pesto, pecorino, prosciutto, and pine nuts, topped with arugula and a drizzle of a sweet balsamic reduction – absolutely delicious.
Of course, they have all the regular pizza toppings as well, so if you are more of a pizza traditionalist, they've got you covered too.
Before you dive into the pizzas, try their Elote dip. The fire-roasted corn with the pungent Cotija cheese, a spicy kick from the Cholula, and the zesty freshness of the lime juice make this dip a great way to start your meal at HopTown.
514 Thompson Road // (509) 678-0324
It is not often that you find a brewery that makes it on a "Best Restaurants in List," but then, most breweries also don't have lobster rolls on their menu (it was a special, but still) and offer yummy burgers on top of that.
This brewery offers a very hop-forward selection of beers. Not surprising, as the owner and head brewer's wife comes from one of the many hop farming families in the Yakima Valley.
Cowiche Creek Brewing is also on the brewery hop on hop off tour of the Little Hopper, which is a great way to taste your way through Yakima Valley's breweries without having to pick a designated driver.
Back to the food. I was impressed with the food at this brewery. The menu is small, but what they have on offer is delectable.
Their charcuterie board looks like it came from an artisanal master and is loaded with locally produced and scrumptious treats that go beyond just the same old same old cheese, salami, and prosciutto. I am still dreaming of those juicy olives… yum!
​​12160 US-12 // ​​(509) 653-1109
Another brewery makes our list, and this one is also reachable by the Little Hopper brewery shuttle. Bron Yr Aur Brewery, named after the famous Led Zeppelin song, is located about 20 minutes northwest of Yakima on the banks of the beautiful Naches river.
We got there during golden hour, and the Welsh translation of Bron Yr Aur, meaning "Hill of Gold," fit the landscape like a tee. The brewery offers a stunning outside seating area with picnic tables, games for the kids, and enough grassy areas for the dogs to play.
This brewery also has found the magical combination of pizza and beer to be what brings back locals over and over again.
How could you not? This pizza is thicker and has a chewy crust with fun toppings and flavor profiles. My favorite was the "Date-Ender," which had an Alfredo sauce, grilled chicken, and a ton of sweet roasted whole garlic cloves.
An appetizer or two is always a good idea, and the things to get at Bron Yr Aur are the Cheese Zombies (a Yakima Valley classic – think Hawaiian sweetbread meets grilled cheese) and the Sweet and Salty Balls, which taste better than their name sounds, I promise. It's not a classical find amongst the Yakima restaurants but it's worth it.
Yakima Restaurants Wrap Up
Yakima restaurants stole my heart because they each have their focus and are so uniquely different. What they have in common is their passion for feeding their customers top-notch quality. You can taste the difference.
They don't use any shortcuts, and it is a question of honor to make good food. If you are a foodie who likes simple yet high-quality food, put Yakima, Washington on your list of places to check out.
Visiting other destinations in Washington State? Check out our other guides:
Disclaimer: The Yakima restaurants included in this roundup were paid by the Yakima Valley and Union Gap Tourism Office as part of a press trip. This does not influence my opinion and overall review.