Over a hundred years ago, my ancestors moved from Ireland to the tiny town called Ruston, which at the time was an enclave surrounded mostly by rural landscape, except for the copper smelter.
Today this area blends into the rest of Tacoma city limits — on the North End of town. This part of the city has many cultural and tourism areas, including numerous waterfront parks, beautiful views of Puget Sound, and most importantly, an abundance of Tacoma North End restaurants.
My relatives established a life here that raised my mom and her family, and, although I grew up in Oregon, my lifetime experience visiting family in Tacoma left a lasting impression on me.
In particular, were memories of food. It was a special treat to go with my grandmother to the Lobster Shop, on Ruston Way, for lunch. I remember the perfect crunch of the bay shrimp mixed into the cocktail sauce. The younger version of me also enjoyed too many oyster crackers, but that's a different story.
Today, I still enjoy Tacoma and visit family and friends who live in the area. While times have changed since my early childhood visits, some things remain constant, like the iconic Ruston Way restaurants lining Puget Sound, offering picturesque views of sunsets over the Olympic Mountains amid cocktails and seafood.
There are four main eating areas of the North End of Tacoma — The Waterfront / Point Ruston, Proctor, Sixth Avenue, and the Stadium-District, near downtown. While great food options are plentiful, I've created a list of nine can't miss locations that offer diverse culinary experiences in these four key districts.
At the time of this writing, all of these places were open and thriving and include dine-in options, albeit under ever-changing social distance guidelines, so check in with each place first.
10 Best Restaurants in Tacoma's North End
WildFin

(Point Ruston, water views, casual dining)
5115 Grand Loop // (253) 267-1772
I'm pretty picky when it comes to fish and chips. Being of Irish descent and all, the fish had better be tender and moist inside the breaded shell. This joint pulls it off the way I like it, and the location, in and among a busy, festive town center atmosphere, isn't bad either.
While there is an official sit-down restaurant, complete with views of the Sound, I prefer the experience of ordering the meal from the Fish Bar on the side of the building and enjoying a bag of to-go items while sitting on a bench overlooking the large green mural of the Pacific Northwest and towering Mt. Rainier.
The walk-up window offers cod and halibut versions of the basket, and they do the dipping and frying right there, just like in Ireland. There are also great fish tacos and an array of sauces available as well — the jalapeno aioli dipping sauce is delicious.
Point Ruston is a newish development that's built on the former land of the ASARCO copper smelter, where all my Irish relatives worked in the early part of the twentieth century. The company closed the polluting beast in the 1980s, and the area was a Superfund site for thirty years until all was cleaned up.
Today the land is a multi-use blend of high-end condos, shops, restaurants, movie theaters, and open walking trails with views of the water that stretch for miles in every direction.
This part of Tacoma showcases the natural beauty of Puget Sound and is a can't miss location. After enjoying a seaside meal, grab ice cream at local favorite Ice Cream Social and wander down the promenade to newly opened Dune Park. This is a great restaurant experience in Tacoma's North End.
Lobster Shop South

(Ruston Way, water views, fine dining)
4015 Ruston Way // (253) 759-2165
There are other iconic waterfront restaurants on Ruston Way — like Harbor Lights — but this fine-dining establishment does the best job combining stunning saltwater views with fresh food, all while pulling off an inclusive vibe often missing from fine dining experiences.
The shrimp cocktail of my childhood is no longer on the menu, but the cuisine still holds up after all these years. The views (both inside and out) are amazing and the food fresh.
Anything seafood is going to be delicious in this iconic location— I love the shrimp and Crab Louie salads — and reservations are highly recommended. Fine dining; fine seafood. You'll find both in this iconic Tacoma restaurant.
Moshi Moshi

(ethnic, casual, central)
110B N Tacoma Ave. // (253) 301-4688
They say it twice for good reason — the ramen noodles here are amazing and the staff friendly.
The cozy locals' hangout is located in a strip of restaurants adjacent to the impressive Gothic empress building of Stadium High School — notably used in the filming of several movies, including Ten Things I Hate About You starring Heath Ledger.
The neighborhood is a great part of town to explore, and this Asian eatery is a can't-miss from all Tacoma North End restaurants. I love the delicate fish cakes available as an add-on to any entree and the Tonkotsu is the best. The Japanese fried chicken also comes highly rated.
Get a taste of the Far East in the Far West restaurant in Tacoma's North End.
Asado (ethnic, Sixth Ave)
2810 6th Ave, Tacoma // (253) 272-7770
The only steakhouse with an Argentine theme in South Sound is Asado Cucina Argentina, a mainstay of the hip Sixth Avenue dining scene. From the moment you enter this flagship restaurant, which is named after its specialty dish, you can sense the excitement that emanates from it.
The architecture is not typical of the genre, but it provides just the right mix of welcoming ambiance, casual service, and traditional cuisine, making it a good choice for both residents and tourists.
"Asado" means a grill party – the Argentine equivalent of an American patio barbecue – and it represents a convivial gathering place for families and friends.
I enjoyed a fantastic dinner with friends here. On a Sunday evening, Asado was full, but it had a relaxed, pleasant vibe, and our server was fantastic.
My salmon was wonderfully cooked and delectably fresh. Delicious. The mixed grill was delicious. The wine list offers a decent assortment at moderate pricing.
The service was excellent, and the food was stunning. I will absolutely return, and I urge that you do as well!
Le

Sel Bistro

(water views, fine dining, central)
229 St Helens Ave // (253) 327-1015
From the outside, this sliver of a restaurant looks like it might belong somewhere in lower Manhattan — unassuming and quirky. Inside the smells, delight, and decor invites and the outdoor patio (enclosed in a clear plastic curtain in winter) offer a uniquely fancy yet inclusive environment to enjoy brunch with friends or a romantic dinner with a special someone.
The French-inspired food floats delicate sauces around amazing morsels of taste. The mushroom medley is a delightful mix of textures with a poached egg and an elegant light sauce, but for a heartier option try the crab cake Benedict.
The deck is perched on the side of a steep bank so views of the famous Tacoma industrial zone are broad and open. Great food and great views among the Tacoma North End restaurants.
Wooden City
(fine dining, central)
714 Pacific Ave. // (253) 503-0762
This Edison bulb beaming, steel, and wood combining eatery might feel just as comfortable in Brooklyn or Portland, but adds a uniquely Tacoma "grit city" vibe to the world of outstanding food and even better service.
The staff is very knowledgeable about the composition of each menu item, including craft cocktails. Their thoughtful touches, even amidst the service limitations around COVID-19, make any visitor feel like an honored guest.
The Caesar salad had a powerful kick of citrus and light anchovy, while the homemade beet ravioli brought interesting vegetarian flavors to life on our taste buds. The flatbread-style pizzas are interesting and even the basic margarita option presents a tasty zing.
The location in the heart of the downtown nightlife scene is busy and vibrant on the weekends. Make Wooden City your first choice of Tacoma North End restaurants, as part of a big night out.
1702 6th Ave. // (253) 272-1375
Some of the best Greek food I've ever eaten outside of Greece!
Delicious meats marinated make any variety of gyro mouth-watering (although chicken is the best), and salads fresh with a dressing that provides a unique personality. Their fries, battered with something magical, are addicting.
It's mostly "to-go" these days, but seating is available in the back of the building.
Sixth Avenue is also a can't miss location in town, adjacent to the University of Puget Sound and a young, artistic vibe along this row of mostly independent businesses, restaurants, bars, and nightclubs. Worthy of exploration in your hunt for the best Tacoma North End restaurants.
2309 6th Ave. // (253) 572-0588
Although this might appear to be just another Tacoma dive bar, DOA, as locals know it, is a can't miss for the outstanding flavors of critically acclaimed food.
There is a gothic amount of black paint inside and out with no windows, but rest assured, the staff is pleasant and tables are spaced very far apart. Space also harkens back to the very brooding music scene from the 1980s, when Nirvana first got started in Tacoma among other punk-meets-grunge youth.
Try the cauliflower wings, crab cakes, and other flavorful starters while enjoying a favorite beer or craft cocktail, and stay tuned for a delicious entree made from quality ingredients. The staff is very friendly and the place feels alive in the best of "Grit City" restaurant vibes.
You don't just get a Tacoma restaurant here; you get a microcosm of the city.
Brewers Row
(ethnic, causal, Proctor)
3205 N 26th St. // (253) 327-1757
You wouldn't necessarily expect a restaurant named Brewers Row to serve delicious Mexican fare, but this place surprises you in many ways.
Named for the beer and coffee produced in the back of the building, this Tacoma fixture, located near the bustling Proctor neighborhood, serves up a huge menu with anything under the sun from all over Mexico, it seems.
Breakfast burritos provide solid quality and vegan and veggie options are the real deal. Fish tacos, the most famous of Baja foods, are flavorful and famous.
The drink options are just as diverse, ranging from coffee products to at least twenty-five varieties of beer. Wine is also served here, along with a few brunch teasers with tequila.
This restaurant holds space in a building with several other solid eateries, but this one is the not-to-miss option as you explore restaurants in Tacoma's North End.
565 Broadway // (253) 300-8759
I'm a big fan of the McMenamins empire of brewery/restaurant/hotel ecosystem, not only because part of my heritage is related to this family (my mom's maiden name is McMenamin), but mostly because of the emphasis they place on original art and creating a unique aesthetic in each and every hotel and bar located on their map. This massive fixture of Tacoma history, originally built in 1915, is no exception.
While the food is solid in all the Tacoma North End restaurants hiding in various nooks and crannies of the historic Benevolent and Protective Order of Elks (B.P.O.E.) temple, I especially love the tiki vibe of the lower level bar and restaurant, The Old Hangout.
The menu is pointedly Polynesian in theme and flavor and a can't miss restaurant in North Tacoma for the atmosphere among a full waterfall surrounded by bamboo awnings and a patchwork of Trader Vic style carpets.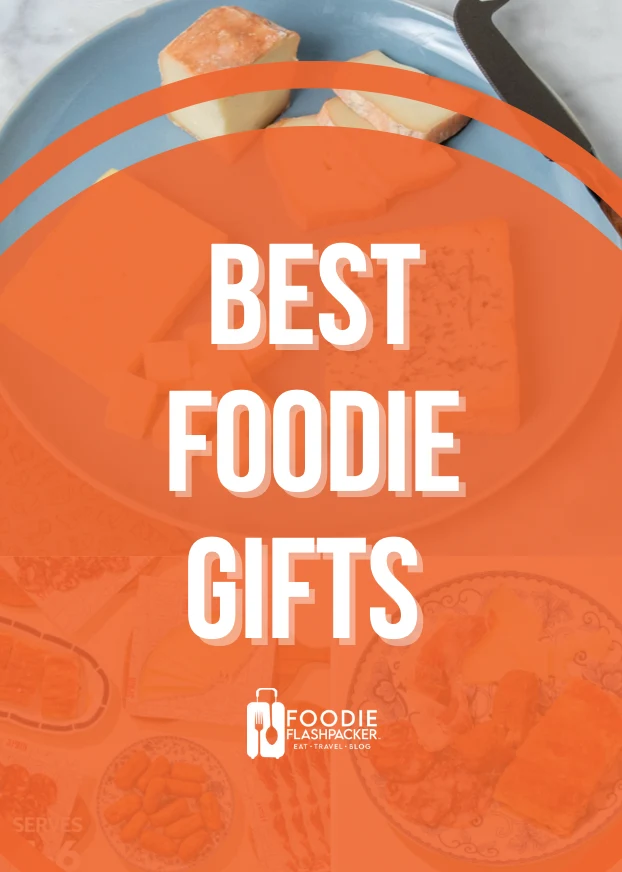 Are you a real foodie? I've compiled a list of the best foodie gifts you can get for yourself and your closest ones. Cheese, meat and sweets subscriptions, and some classic must-have foodie gadgets.
After filling up on pork sliders or a popcorn shrimp hoagie while drinking tropical potions, explore the other levels of the catacomb-like fortress for bites of Spanish tapas, and, of course, the comprehensive lists of in-house produced McMenamin beers. There's even a secret bar that remains, uh, secret — to the non-discerning eye.
This space is strategically located near the heart of downtown Tacoma, just adjacent to the Spanish Steps, and also serves as a very comfortable hotel.
After a great night's sleep, I went down to the main dining room, clad with quirky historic photos and artwork, to enjoy an outstanding spicy crab cake Benedict that packed a delicious punch. The re-imagined B.P.O.E. is a great option — breakfast, lunch, or dinner.
These nine must-visit Tacoma North End restaurants will have you singing the praise of dining options in "Grit City." My Irish relatives would be surprised by the options of tasty and unique food today. Now go, eat your way through the North End Tacoma!
FAQ
What is the city of Tacoma known for?
Tacoma's bustling metropolitan core is alive with culture and is known for its world-renowned glass art. You'll be surrounded by creativity and city sophistication when you eat, shop, and wander Tacoma's downtown.
Many people are inspired to appreciate this welcoming city's fusion of old and contemporary.
What food is Tacoma known for?
Almond Roca (Tacoma)
It's a little-known fact that the U.S. military ate Almond Roca during WWII, the Korean Conflict, and Vietnam, and now it's served in 63 countries worldwide to civilians and military forces.
Is Tacoma a nice city?
Tacoma is a lively city with plenty of beautiful restaurants and nightlife. The downtown center, as well as the shoreline, are both relatively walkable. Unfortunately, there is more criminality on the hill; it would be wonderful if the police could clean it up a little more.
---
Which one of these Tacoma North End restaurants do you most want to try? Let us know in the comments section below!
Not in the mood to go out to eat tonight? Click here to have Grubhub deliver directly from the best restaurants in town to your doorstep.
Wonder where to travel next? Check out this guide of 7 Amazing Things To Do In Redmond WA!
Visiting other destinations in Washington State? Check out our other guide:
Matthew Kessi is a travel writer known for infusing a thought-provoking perspective into helpful information about exploring the Pacific Northwest — with a focus on the spirituality found in nature. He has spent a lifetime traveling the planet — over 60 countries — and this global awareness helps inspire a fresh look at his beloved Oregon and Washington. Matthew is on a quest to help you find meaningful connections through travel, so check out his site: www.kessiworld.com