Wickenburg is known as the "most Western town in Arizona." Although it's only an hour northwest of the hustle and bustle of Phoenix, it feels like another world where cowboys roam and cattle ranches rule. Whether you're in town for a rodeo, the annual Gold Rush Days festival or just sightseeing, you'll find a wide choice of restaurants where you can experience the Wild West.
These are some places where you can get a substantial breakfast, authentic Mexican food, a mouth-watering steak and some of the best barbeque you've ever tasted.
Visiting other destinations in Arizona? Check out our other guides:
The 8 Must-Try Restaurants in Wickenburg
Horseshoe Café
207 E. Wickenburg Way, Wickenburg, AZ 85390-1484 // 928-684-7377
The Horseshoe Café is a Western diner that specializes in downhome cooking and friendly service. Owner Deb Thomas and her staff greet regulars by name. The food is as good as the service, which adds to the pleasant atmosphere.
We both enjoyed our eggs, bacon and sausage and my husband said the country potatoes didn't disappoint. The locals we talked to love the chicken fried steak and chorizo/jalapeno omelets and said Horseshoe Café's biscuits and gravy are the best in town and the best amongst the restaurants in Wickenburg.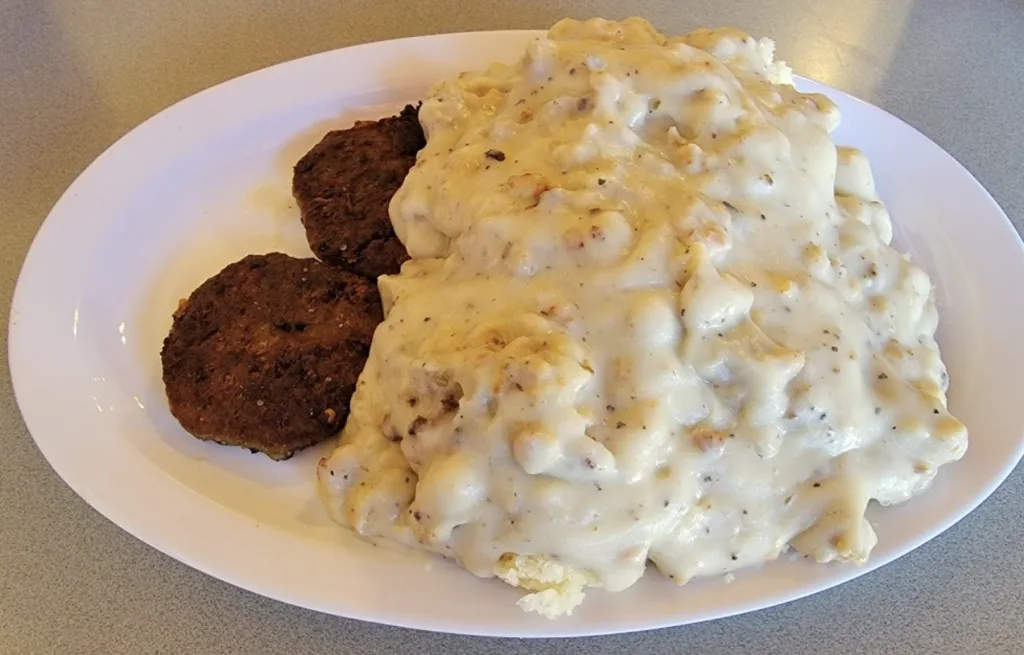 While waiting for your food to arrive, check out the amusing cowboy signs on the wall while you enjoy a cup of their excellent coffee (per my husband since I don't like coffee).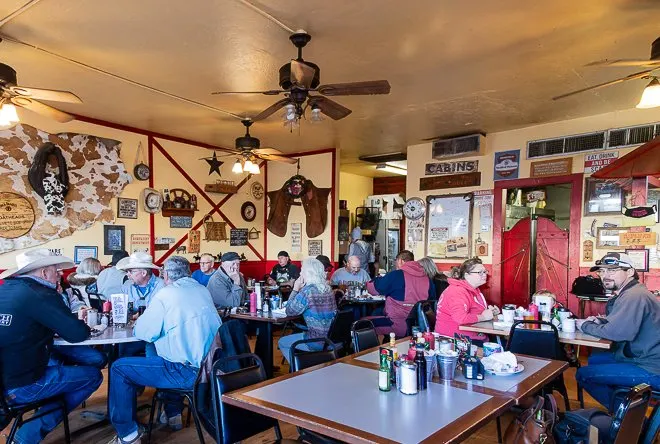 The Horseshoe Café opens at 5:00 am daily and closes at 2:00 pm. There's no parking lot, but there's plenty of street parking. There's also a parking lot behind the movie theater across the street. If you don't beat the breakfast and lunch rushes, you may have to wait for a table, but it'll be worth it.
683 W Wickenburg Way, Wickenburg, AZ 85390-2269 // 928-684-5121
There are several good Mexican restaurants in Wickenburg, and El Ranchero is one of them. You'll feel welcome the moment you arrive because the walls display cheerful, colorful murals and frescos similar to the kind you'd see in a Mexican hacienda.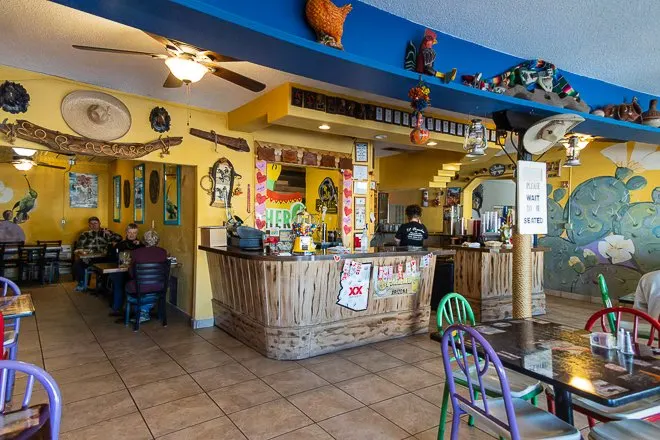 While waiting for our food, we snacked on hot tortilla chips with regular and spicy salsas and bean dip. I enjoyed a mango margarita while my husband opted for one of the many Mexican beers from the well-stocked bar.
I thoroughly enjoyed my Shrimp Enchiladas, one of El Ranchero's specialties. They were accompanied by rice, refried beans, and a Pico de Gallo salad that I've never seen in any other Mexican restaurant. My husband let me sample his Shredded Beef Chimichanga drizzled with red & green salsa. The beef was nicely flavored, and the tortilla was crisp and not greasy.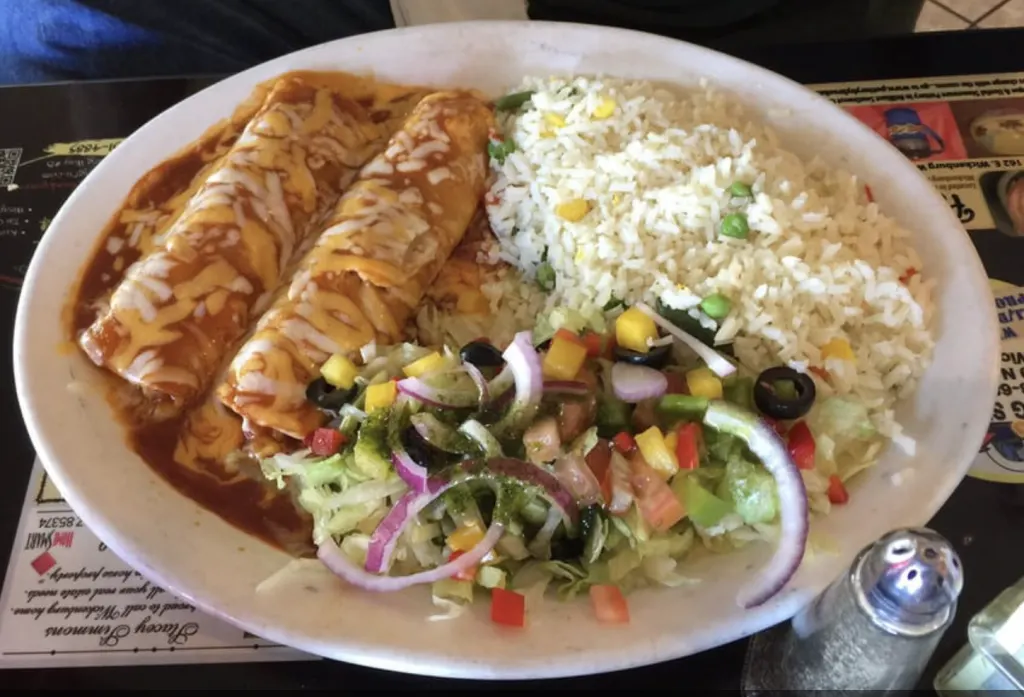 El Ranchero is open from 11:00 am to 8:00 pm daily. There's limited parking in front but there's a large lot in the back.
686 N Tegner Street, Wickenburg, AZ 85390 // 308-765-9654
No Western town is complete without a place to get some good barbeque. If that's what you're in the mood for, head to the Onery Hog – the best bbq amongst the restaurants in Wickenburg.
Dan and Jo Flower, the owners, came to Arizona, fell in love with the warm weather and friendly people, and decided to stay. By the way, "Onery" isn't a typo. When they named the restaurant, they chose to spell "ornery" the way they pronounce it. So "onery" it was.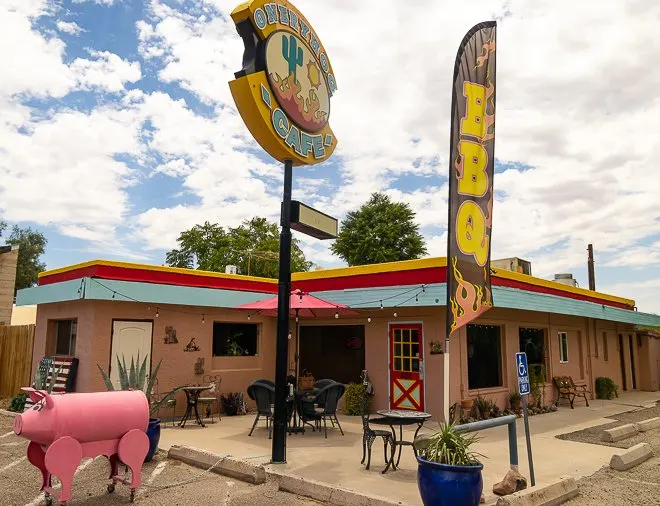 Their slogan, "All Smoke…No Mirrors," says it all. Their dry rub is Dan's own recipe, and he's been perfecting it for 50 years. He also smokes and grills all meats himself. I tried the pulled pork, and it was some of the tastiest barbecue I've ever eaten. They offered me a sample of brisket and it was so tender that I could cut it with a plastic fork.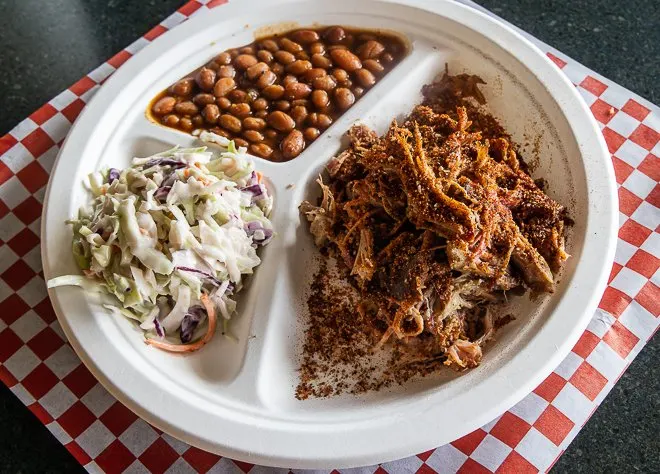 The coleslaw and potato salad were nicely seasoned, but the beans really surprised me. I'm not usually a big fan of beans, but I loved these! Jo said they're flavored with Dan's specialty dry rub and jalapeno peppers. She also said if she told me anything else about the recipe, she'd have to kill me;).
The Onery Hog is open Wednesday through Saturday from 11:00 am to 7:00 pm or "until sold out," which tells you how popular their food is with locals and visitors. There's plenty of parking available onsite.
172 E Wickenburg Way, Wickenburg, AZ 85390-1481 // 928-684-8777
The Spurs Café is a quaint Western diner where the friendly staff makes you feel like family. It's popular with locals and visitors for breakfast and lunch and is constantly busy. We got the last available table even though we arrived early, and people were waiting to be seated when we left.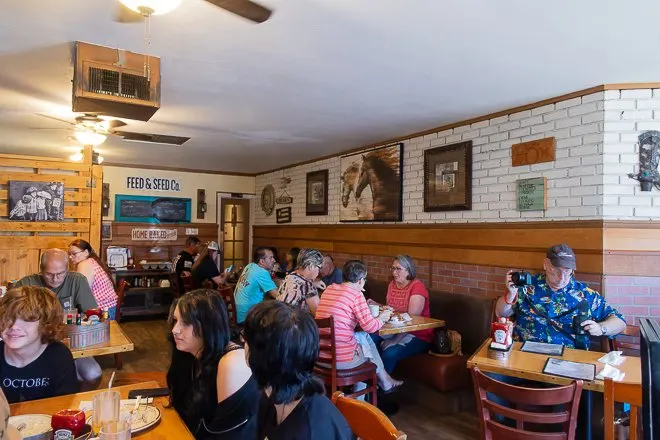 Arrive hungry because the Spurs Café doesn't do small portions. My husband ordered the short stack of pancakes, which could easily have fed both of us. He didn't get much help though because I was busy with my half order of French Toast. It was made with thick, good-quality bread and it tasted like the egg mixture included a hint of cinnamon.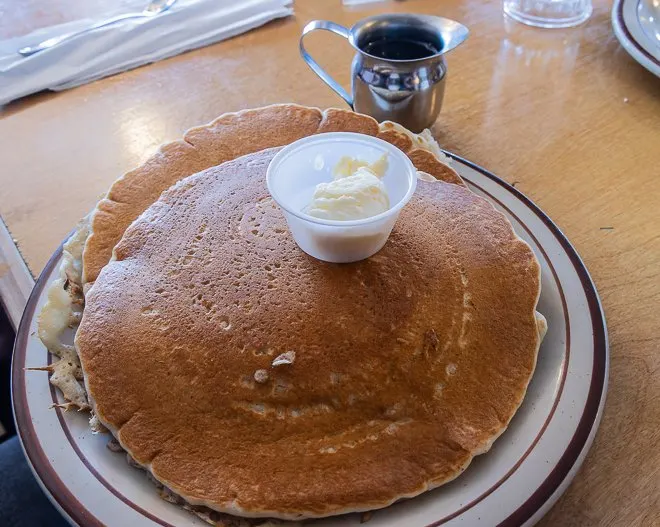 While waiting for your food to arrive, enjoy the Western decor while you sip on a cup of excellent coffee (per my husband), tea or a glass of orange juice.
The Horseshoe Café is open daily from 6:30 am to 2:00 pm. There's no parking lot. If there are no parking spaces on the street, try the lot behind the movie theater. I almost forgot…If you brought your spurs, be sure to wear them because you get a 10% discount. Definitely one of the best restaurants in Wickenburg.
57 N. Valentine Street, Wickenburg, AZ 85390 // 928-684-5777
When people who know Wickenburg think of Mexican food, one of the places they talk about is Anita's Cocina. Owned by Tom and Sherry Hunt, it's been a permanent fixture in the historic downtown area for over 30 years.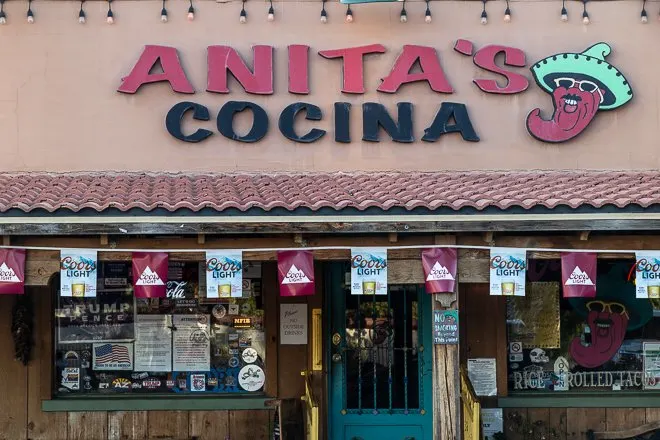 Anita's opened for business in 1986 as a small, one-room restaurant with a walk-up window and seating for ten people. Tom and Sherry have expanded it to four dining rooms, and they also market their own brand of salsa.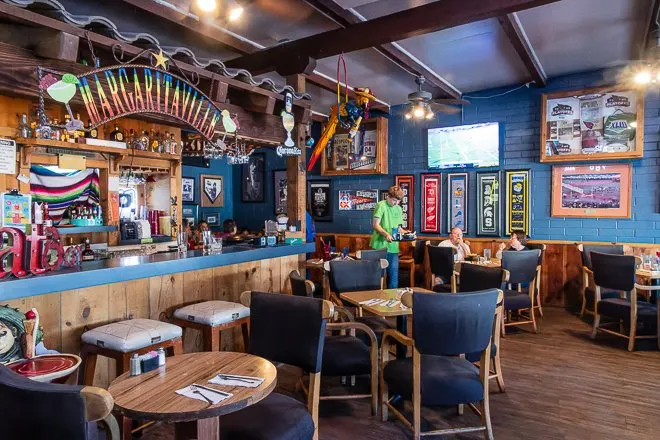 All dishes are made daily using fresh ingredients, and the staff follows the same recipes they've been using and perfecting for over 20 years. Even the Margaritas are mixed using Anita's homemade syrup made with freshly squeezed lime juice.
My husband and I have lived in Arizona for half our lives. So, we've tasted a lot of Mexican food. We both agreed that Anita Cocina's salsa is among the best we've tasted. You can taste all the flavors, and the hot version has a bite but doesn't burn your mouth out.
The main courses also lived up to our expectations. My Chile Relleno was nicely flavored, and the texture of the poblano pepper was crisp but not mushy. I sampled my husband's chimichanga, and the shredded beef was moist and tasty. If you know Mexican food, you know in an instant if refried beans came out of a can. Anita Cocina's refried beans were definitely homemade, and they were good.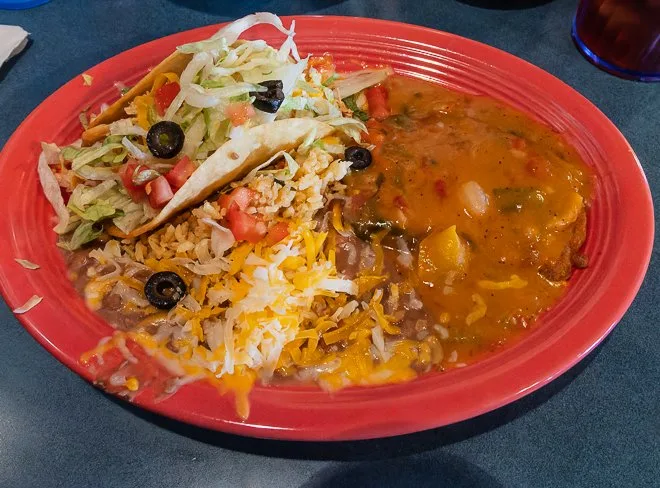 Anita's Cocina is open from 10:30 am to 8:00 pm Tuesday through Saturday and is closed on Sunday and Monday. There's no parking lot, but plenty of spaces are available on the street. One of the finest Mexican restaurants in Wickenburg.
495 E Wickenburg Way, Wickenburg, AZ 85390 // (928) 684-3882
Cowboy Cookin' is located just outside the historic downtown area. As the name implies, it's one of the restaurants in Wickenburg to get a steak, ribs or barbecue. The menu also includes burgers, sandwiches, salads, and "comfort food" such as Classic Pot Roast, Chicken Fried Steak, and Meat Loaf.
Be sure to save room for dessert because all Cowboy Cookin's pies, cakes and cookies are homemade. On the day I was there, they had apple, cherry, peach and pecan pies, carrot cake, and ginger, peanut butter and Mexican wedding cookies.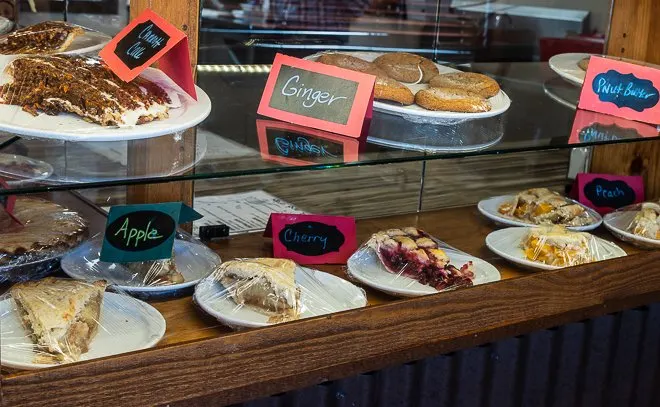 If you like Western memorabilia, you'll love the atmosphere at Cowboy Cookin'. The walls are covered with cowboy posters and relics. Even the light fixtures look like they could be in a Zorro movie. Old-time western music plays in the background, and you can see episodes of your favorite Westerns and cowboy movies on the TVs in the dining room, bar area and covered patio.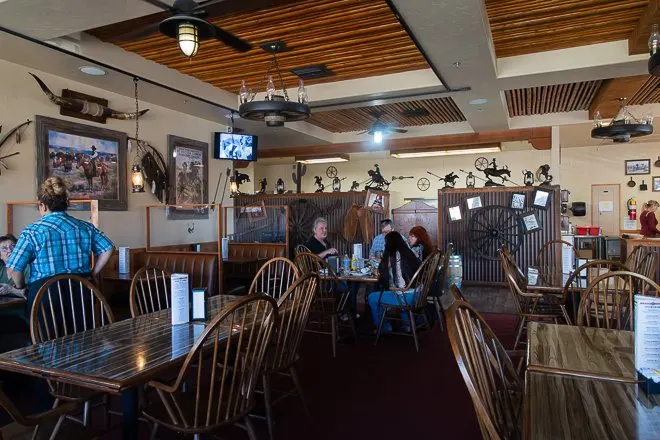 Cowboy Cookin' is open from 3:30 pm to 9:00 pm Thursday through Monday and is closed Tuesday and Wednesday. Parking is available onsite.
Note: As of this writing, Scott & Jamie Putnam, a local couple, have purchased Cowboy Cookin'. So, there could be some changes to the menu or hours.
169 East Wickenburg Way, Wickenburg, AZ 85390 // (928) 684-6123
Hassayampa Barbecue is renowned for excellent barbecue, including shredded chicken, pork, and brisket. Many locals and frequent visitors to Wickenburg also swear by their breakfast burritos. However, they can also accommodate lighter appetites.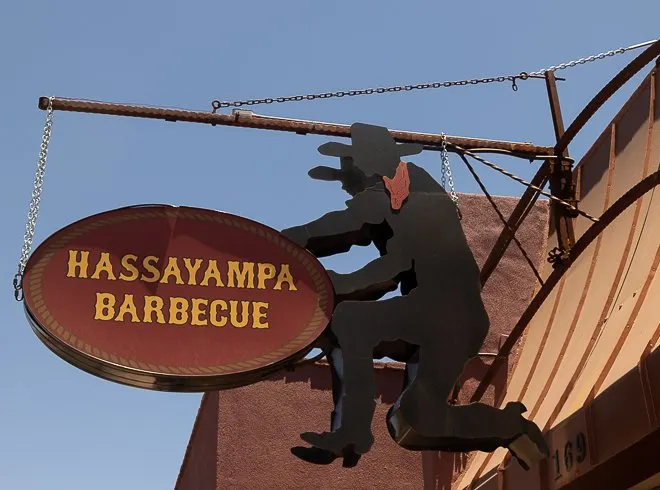 Since we just wanted a light lunch, the Fruit and Cheese Platter that includes artisan cheeses, Bordeaux cherries, almonds, artichoke hearts, flatbread, and fig jam was perfect for me. My husband enjoyed his bowl of chili, which came with a generous slab of homemade cornbread.
Hassayampa Barbecue is one of the restaurants in Wickenburg known for its delectable desserts. After our waitress told us about Peach Crisp and Pecan Bread Pudding that comes with or without ice cream, we gave in to temptation and shared an order of the Pecan Bread Pudding. We weren't disappointed.
Hassayampa Barbecue is open daily from 6:00 am to 8:00 pm, and parking is available onsite.
107 E Wickenburg Way, Wickenburg, AZ 85390 // (928) 684-4442
The Palomino Club is an excellent choice amongst the restaurants in Wickenburg for a sandwich, salad or Mexican food. Their Prime Rib Sandwich is the daily special, and they feature $2.00 tacos every Tuesday and happy hour from 3:00 pm to 6:00 pm Tuesday through Friday.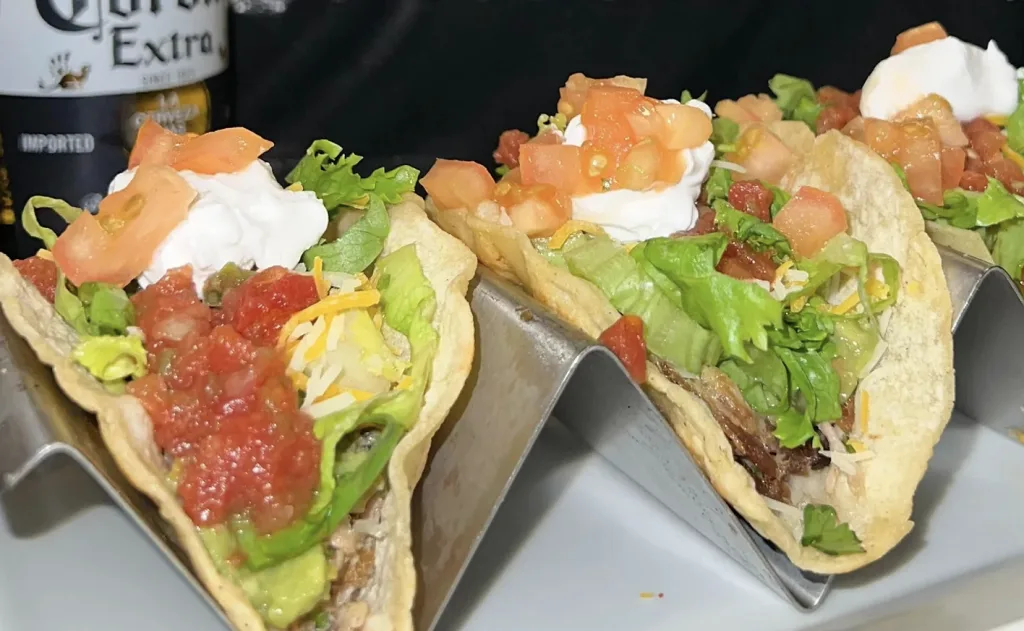 They get rave reviews from locals for their appetizers, including Shrimp and Calamari and Carne Asada Cowboy Fries—French fries with queso, grilled onions, cilantro, guacamole and sour cream.
There may be some changes to the menu because the Palomino Club is under new management by the Lindsey family, recent migrants from Utah. They moved to Wickenburg so they could "team rope and grill outside all winter long." They bought the restaurant in early 2022, and daughter Brynlee handles the day-to-day operations and management.
The Palomino Club features a full bar, a dining room separate from the bar, patio dining, and live entertainment and dancing on weekends. Hours are 11:00 am to 10:00 pm daily. Parking is available in front and the lot to the left of the building.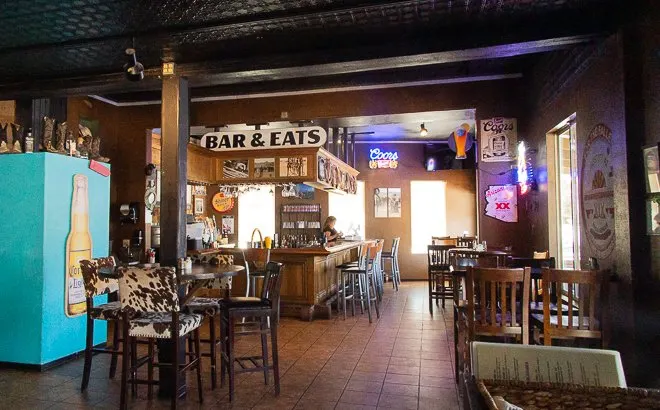 Wrap Up Of The Best Restaurants in Wickenburg
You'll get a huge dose of Western hospitality when you visit Wickenburg. Everyone in town knows each other, and it's not unusual for strangers to stop you on the street and strike up a conversation.
Since it's only an hour from Phoenix, it's a fun day trip and a great place to take out-of-state visitors who want a taste of the Old West. Plan a visit to see the Desert Caballeros Western Museum, tour the Vulture City Ghost Town, watch a team roping competition, or just stroll around the historic downtown area.
When you're ready for something to eat or want to relax over drinks while enjoying some live, local entertainment, you won't go hungry if you check out these eight restaurants.
Marni Patterson is a travel writer, photographer and videographer in Phoenix, AZ. She has lived and traveled extensively in the U.S. and Europe and is gradually making it to all the destinations on her "bucket list" in Asia/Pacific, Africa and South America. After years of writing web content and marketing materials in the high-tech industry, she's applying her experience writing about software, cloud computing and cybersecurity services to promote destinations and provide travel tips.