Mention Half Moon Bay, and most folks think of the California coastal community 30-miles south of San Francisco.
The region is also called 'Half Moon Bay Coastside' (HMBC). The North Coast, Half Moon Bay, the South Coast, and the Redwood Region make up HMBC. This beautiful California region has something for everyone.
HMBC has a commercial fishing harbor, beaches, hotels, shops, and all manner of adventure and water sport in one of California's best vacation, staycation, workcation, learncation destinations.
Let's Eat!
As you might imagine, HMBC is the place for hook-to-mouth seafood. It's fabulous.
But this area is also known for fine produce and meat from the ubiquitous farms and ranches surrounding Half Moon Bay and Coastside. Year-round fair-weather makes for long growing seasons for fruit and veg. Beef, pork, goats, and chickens provide some of the state's highest quality meat and dairy.
It's hard to go wrong with any eatery in this region, but here are 10 Half Moon Bay Coastside Restaurants. If you feel like you want to walk some of that hard earned food in your belly, check out some of the best things to do while in Half Moon Bay.
Not in the mood to go out to eat tonight? Click here to have Grubhub deliver directly from the best restaurants in town to your doorstep.
Visiting other destinations in California? Check out our other delicious guides:
The 10 Best Half Moon Bay Coastside Restaurants
4210 North Cabrillo Hwy // +16507120245
Sam's Chowder House serves up seafood and a view that will set your mood to California Casual. Ask for a deck or window table and soak up the beach vibe. The restaurant sits above the beach with a vista of Coastside, the Pacific, and folks enjoying the water, sand, and the California Coastal Trail.
Sam's is known for New England style chowder and lobster rolls, and there are plenty of California favorites to discover. On my first visit, I went New England all the way with chowder and a lobster roll.
Lobster rolls come naked or dressed. Naked is served warm, tossed in butter. Dressed is served chilled with lemon aioli, celery, and chives. Both are served on a toasted bun with sides of coleslaw and chips. Both are fabulous.
Seafood is served steamed, fried, sautéed, and in Ceviche. There are choices for pasta lovers, sandwich lovers, and meat-eaters.
The drinks menu is the best place to start. The Moscow Mule, with its ginger beer, made a perfect companion for my starter of Ahi Tuna Poke. I love ginger and soy sauce. A full-service bar has cocktails, local wine, and beer. Definitely one of my favorite Half Moon Bay Coastside restaurants.
390 Capistrano Rd // +16507282739
Half Moon Bay Brewing Company's patio is the place for sunset in Coastside. Find out what time the sun will set and plan to be there an hour before the sun goes down.
This locally owned and operated brewery was founded in 2000. Since that time, the award-winning brewmasters have crafted beer in many styles. Try a Kolsch, Saison, Amber Ale, IPA, Coffee Milk Stout, a Belgian Blonde, or one of many other styles. Beer is served in 16 oz glasses, 32 oz Crowlers, or 2-liter Growlers.
The menu is perfect for sipping and munching the sundown. Small plates were my favorite. Grilled artichoke hearts and calamari were more than enough for dinner. Try the beer-steamed clams. The Kolsch ale and garlic were perfect for sopping up with the garlic bread.
Soups, salads, and sandwiches are flawless lunch orders. Entrees include beer-battered fish and chips, Portuguese Fisherman's stew, Flat Iron steak, a seafood sampler, fish tacos, and more.
If you're not a beer drinker, HMB Brewery has a full-service bar serving spirits and California wine. When the sun was below the horizon and the air chilled, I tried a Hot Buttered Rum for dessert. It should be called a 'chill chaser'.
240 Capistrano Rd // 650 728 8108
Caffé Mezza Luna reminded me of a small cafe I frequented in Florence. Family-run, friendly, and everything is house-made and magnificent.
Mezza Luna serves breakfast, lunch, and dinner. For early morning breakfast, I had the best ham and cheese omelet I've savored – ever – including Paris. Crunchy hash browns, sour-dough toast, and fresh-squeezed OJ made this breakfast a lovely way to start the day.
Don't miss Mezza Luna. The quality of the food is exceptional. The service is friendly and attentive. Try made-to-order crepes, panini, piadina (Italian Flatbread), frittatas, quiche, pizzette, and gelato.
A wide variety of coffee, tea, local wine, and beer are offered at the beverage bar. Mezza Luna is family-friendly. Indoor and outdoor seating is available. Dogs are welcome on the patio.
Get ready to meet some goats. Harley Farm and Goat Dairy are in Pescadero, down the coast. The goats are the star of the show here. Take a tour; it's beautiful, enlightening, and full of baby goats in the spring.
After your tour, there is a little shop where you can buy treats for a picnic on the grounds. Cheese varieties change from season to season. Chevre, feta, and spreadable fromage are available. I went crazy for the Herbs de Provence Log.
To go with your cheese, select crackers, sandwiches, jams, spreads, and fruit nectars. Everything is raised and produced on the farm. Locals shop here for cheese and goat milk bath and body products.
Take your goodies to one of the picnic tables on the farm. Some are beside a pond that attracts birds and other wildlife. A private dining room in the barn's loft hosts farm-to-table dinners and private events.
287 Stage Rd // +16508790147
Don't let the name fool you; Arcangeli Grocery Company, known as Norm's Market by locals, is a treasure trove of locally produced food. Founded in 1929 by Sante Arcangeli, his family continues baking their "better get there early before it's all gone" Garlic Herb Artichoke Bread.
Shop here for in-room treats and picnic fare. You'll find French and Italian bread, house-made pies, 'made while you watch' sandwiches, house-smoked meats (the smoked duck breast is a 'must-try), house-made condiments, jams, and jellies.
Don't miss the local wine and beer or locally grown fruit and veg here at one of the best Half Moon Bay Coastside Restaurants.
202 Stage Rd // +16508790464
Ready to step back in time a couple of decades? Duarte's Tavern is your portal. This timeless roadhouse and eatery opened in 1894. The food is described as "American country cooking, spiced by the Portuguese roots of the Duarte family." This Pescadero institution has a James Beard American Classic Restaurant Award.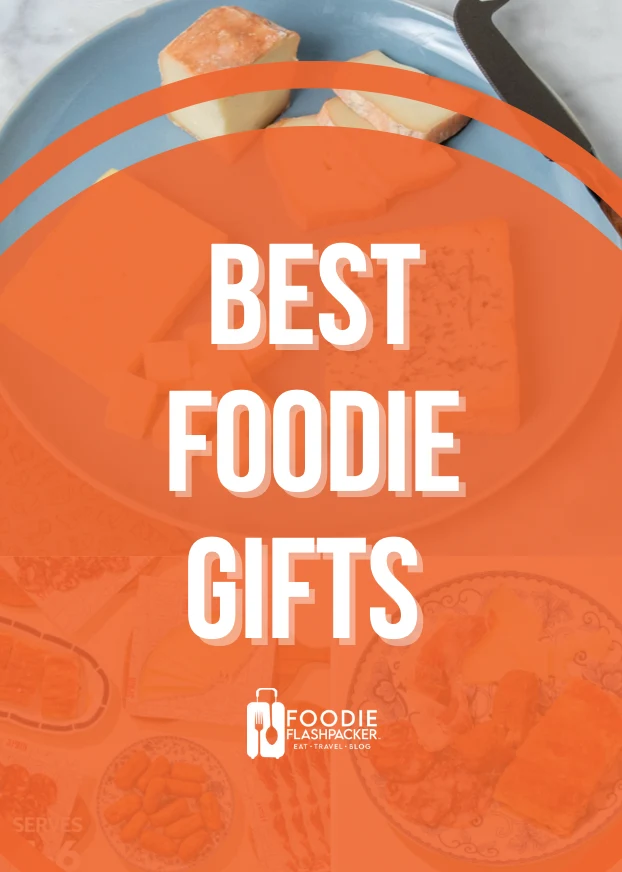 Are you a real foodie? I've compiled a list of the best foodie gifts you can get for yourself and your closest ones. Cheese, meat and sweets subscriptions, and some classic must-have foodie gadgets.
The vegetable garden behind the restaurant grows artichokes, onions, leeks, beans, peas, lettuce, squash, chard, fennel, herbs, olallieberries, and strawberries. The pole beans and rhubarb were brought by Frank Duarte from the Azores, his homeland.
Duarte's Artichoke soup is legendary. Locals buy it by the quart and come for lunch early, so they don't miss out. You'll find fish, beef, and lamb on the menu, all locally sourced within 10-miles. Veggies and berries come from the back garden and local farms.
I saw the Cowboy cut 16 oz bone-in rib eye headed to a table. Wow. It was impressive. When I asked Alice, my server, "What are the favorites?" she answered, "Osso Buco, Pan-Seared Calamari Steak, Chanterelle Pappardelle, and the House Rolled Gnocchi."
A full-service bar offers cocktails, highballs, beer, and wine. Best of all, this is the place to meet locals and learn more about the region's marvelous food. Definitely holds one of the top places out of all Half Moon Bay Coastside Restaurants.
401 Main St // +16507264444
I dream of the braised beef ribs and polenta I ate one beautiful evening on the secret candlelit courtyard of It's Italia. Succulent, rich beef was cooked for hours in red wine, garlic, onions, and carrots. The sauce is sweet, tangy, and addictive.
I got into an Italian mood from the full-service bar with a Red Light Negroni, a combo of gin, vermouth, Galliano red amaro, lime, grapefruit, and soda. It is served in a lightbulb. – Brilliant!
Grilled octopus was a starter big enough for two. My dinner companion started with Burrata Bruschetta; we shared, of course.
The food is extraordinary, the service sublime, and the atmosphere is splendid. The menu changes seasonally with locally sourced produce, meat, dairy, and wine. If you're thinking about which of the Half Moon Bay Coastside Restaurants to visit first, this one should be at the top of the list.
356 Main St // +16507269507
Locally called San Benito Deli, this is ideal for your takeout lunch. I suggest calling ahead or ordering online. The line for their colossal sandwiches will stretch down the street.
Whole or half deli-style sandwiches are served on their house-made whole wheat, French, or olive-walnut bread. The loaves of bread are available to take home, but they sell out quickly, I'm told. Sides include soup, salads, and cookies.
131 Mirada Rd // +16507269053
The Miramar Beach Restaurant has a stellar reputation for luscious food and hospitality. Still, in the past, Miramar's reputation was a bit dicey. Initially, a speakeasy, Maymie Cowley, a redheaded madam, dealt with rum-runners and ran the notorious roadhouse.
Today no worries about 'illegal booze'; Miramar has an extensive collection of 'legal'; libations and an ocean view from every seat.
Serving lunch and dinner utilizing surf, turf, and garden ingredients, dishes are influenced by global cuisine. Cajun Seafood Boil, Prawn Carbonara, Seafood Paella, Scottish Salmon, and an all-American Roadhouse Burger are a few internationally inspired dishes.
The extensive wine list includes California, France, Spain, and Argentina. Highly recommend this one out of all Half Moon Bay Coastside Restaurants.
281 Capistrano Rd // +16507287049
Barbara's Fishtrap is iconic in Coastside. Barbara Walsh, the owner, has been serving Coastside since 1971. All fish and shellfish come directly from the Pacific just outside the door.
The Fishtrap is a quintessential 'fish shack' serving seasonal seafood, pasta, sandwiches, chowder, and salads. Not in the mood for fish? They have the best beef burger in town or try chicken or veggie versions.
You must try the Key Lime Pie for dessert. It's authentic.
Barbara serves beer and wine. Insider tip: Every day features a $2.50 canned beer special.
---
Half Moon Bay Coastside Restaurants are not to be missed. Everything from fine dining to walk-away shrimp cocktails on the pier has something to offer every budget and taste.
If you are short of time for your visit, I suggest a dine-around. The walkable fishing village has numerous eateries. Stop into the first for an appetizer and cocktail. Move on to a new location for an appetizer, then a third for after dinner, coffee, and dessert. Make your last stop for a nightcap and moonlit harbor view.
No matter where you eat in Half Moon Bay Coastside, you'll have a taste of the Pacific in California casual surroundings.
---
Portfolio | Website | Facebook | Instagram
Mary Charlebois is a freelance journalist, photographer, videographer, and editor. Her home base is the wild, remote, and fragile Mendocino Coast of Northern California. Her travels include domestic and international destinations. No matter where Mary wanders, she digs in, getting to know people, history, food, and art. She is always drawn to the 'path-less-taken.'