The town of Danville, east of San Francisco, has an enticing, vibrant downtown that's bursting with creative restaurants, with Hartz Avenue as the focal point, leaving you with several great choices of where to eat in Danville.
Danville is a fashionable enclave with quaint wooded neighborhoods of million-dollar homes and Lamborghinis on the prowl.
However, the price tag for a top-notch meal doesn't have to be steep. Eateries range from casual to fine, and all tend to have a relaxed northern California vibe that makes this outer suburb a terrific destination for SF Bay Area foodies and tourists alike.
Speaking to the owners and chefs, I was moved by their close relationships with local farmers, and commitment to Danville's community of restaurants. Notably, each restaurant mentioned the incredible support from Danville's residents throughout the COVID-19 pandemic.
For those not familiar with the area, the first people in the Danville area were Bay Miwok Indians who, for thousands of years, populated this land that was made lush by creeks with prime camping space on Mount Diablo.
Eventually, it became part of Mission San José's lands, as Spanish missionaries moved in, later evolving into farmland. In the 1800s, gold-seekers who'd found their fortunes, including a German immigrant named John Hartz, slowly built up the initial town.
In 1891, Hartz sold a small parcel of land to the Southern Pacific Railroad for a train depot, and the rest is history.
The nearby Blackhawk Museum will delight classic and luxury car aficionados, with its rotating collection of extremely rare cars.
Schedule a docent's tour ahead of time to view the collection; check the museum's website to learn about the rest of their special galleries.
As always, we didn't make it to every deserving eatery, but here are 8 delicious Danville restaurants. Enjoy!
Not in the mood to go out to eat tonight? Click here to have Grubhub deliver directly from the best restaurants in town to your doorstep.
Visiting other destinations in California? Check out our other delicious guides:
Nine Of Our Must-Try Downtown Danville Restaurants
428 Railroad Ave, Suite B // +1-925-838-8824
A delightful way to start a day in Danville, Crumbs offers a terrific menu of breakfast and lunch classics (and is a clear local favorite). This fun eatery is family-friendly and offers our furry four-legged friends a little menu with treats like Ozzie's Grilled Chicken.
Owner Amy Sidhom told us how she and her neighbor decided to open a restaurant for brunch, building off his experience running a place in San Leandro.
Seventeen years ago, the old Country Waffle that occupied this corner closed, and their time had come.
Their Avocado Toast was an instant hit, served on a nice, thick slice of crispy sourdough bread with mashed avocado and queso fresco, smothered in nutty arugula. The Salmon Royale Benedict is a twist on the classic, this time with salmon smoked in oak and applewood.
When Freddy came over to take our order he was knowledgeable, focused, and hilarious.
He introduced me to the jaw-dropping Fried Chicken Bloody Mary, tender chicken strips lightly breaded in panko and laced with spicy tajin and hot sauce atop a tall, tajin-lined, chilled glass filled with Petrov Reserve Vodka and the fixings—Applewood smoked thick bacon, pepperoncini's, olives, celery, and lime. It was a huge social media hit.
The Belgian Waffles were presented as thick half-slices artfully stacked with pieces of cascading fresh bananas and strawberries, walnuts, blueberries, and topped with blueberry compote, a large dollop of whipped cream on the side.
A showstopper and sure to please the kids.
For the sweet-tooth in all of us, try the Crêpe a la Christophe.
It comes out sweetly plated, with fresh strawberries and bananas drizzled with Nutella and sprinkled with powdered sugar.
All of the food arrived beautifully plated. Their lunch menu hosts a terrific range of salads, sandwiches, and burgers. Don't miss their All-Stars Menu, featuring creative house specialties like a Shakshouka that looked deliciously savory.
Crumbs is refreshing and is one of the best Danville CA Restaurants for breakfast and lunch.
312 Railroad Ave, Danville, CA 94526, the United States // +19257185445
Albatross in Danville offers delectable Californian cuisine in a variety of dishes. This lovely location helped to make one of my favorite group brunches in a long time. They quickly accommodated a huge table outside for us.
They offer a nice wine variety and a charming bar area. In addition, the setting and design were appropriate for the posh metropolis of downtown Danville.
The service was prompt and attentive.
Because it was a hot day, we ordered strawberry gazpacho, entire branzino fish that was wonderful and boneless, honey-fried chicken that wasn't at all overly salty (US restaurants typically oversalt their food) and curry mussels in a creamy sauce with bread. Superb!
We had bread pudding for dessert; it was the perfect way to cap off a satisfying meal because it wasn't overly sweet or fatty. Additionally, the cappuccino was excellent—better than at many well-known coffee shops.
All-around pleasant surprises are relatively uncommon, in my experience. So, try it out and witness your own amazement!
500 Hartz Avenue // +1-925-362-3665
Danville Harvest is one of those Danville CA Restaurants for the wholesome, health-conscious diner. Open for lunch and dinner, they offer a Whole30 diet-compliant menu.
Chef Paul Durias is a wonderful culinarian, dedicated to fresh, locally sourced, and organic ingredients that highlight natural flavors.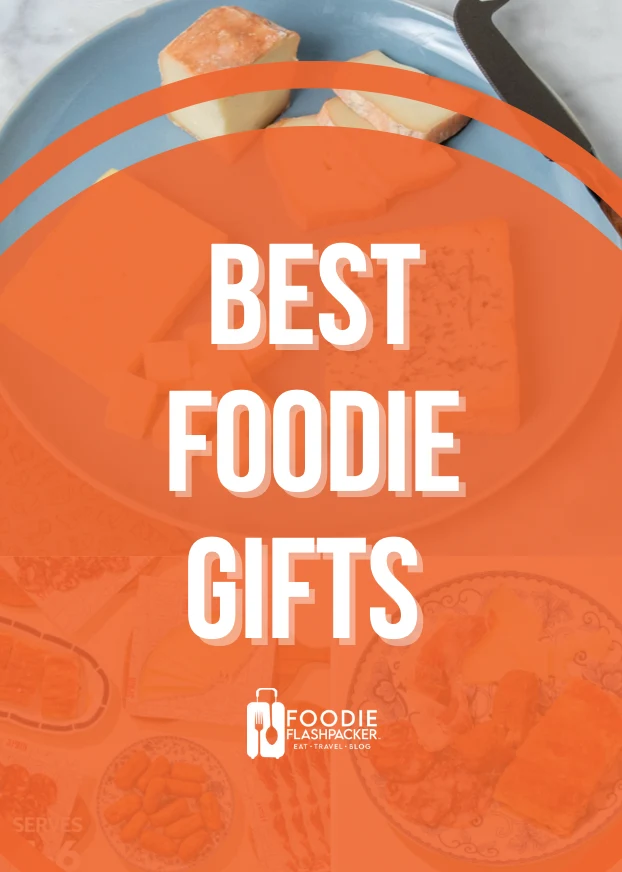 Are you a real foodie? I've compiled a list of the best foodie gifts you can get for yourself and your closest ones. Cheese, meat and sweets subscriptions, and some classic must-have foodie gadgets.
The menu is seasonal and changes regularly—he makes sure to keep certain popular items on the menu for the regulars and loves the creativity of adding new creations according to what produce and meat are available and which specialty items (like a bunch of black truffles!) might pop up.
The healthy menu nods to Bacchus with its wine, beer, zero-proof, craft cocktails, and an impressive selection of whiskeys.
I went for the Hi-Tide Cocktail, a dangerously delicious mix of house-infused blood orange tequila, Ramazzotti Rosato, lime, and hibiscus.
The Seared Ahi Tuna, with sesame seeds and yummy horseradish aioli, was accompanied by arugula, shaved fennel, grapefruit segments, and endive. This dish was light, highlighting the fish and giving it a few accents.
The Farmer's Super Food Salad was incredible. A colorful plateful of healthy goodness showcases diet- and health-enhancing ingredients: Baby greens, escarole, Brussels sprouts, beets, avocado, mixed berries, and protein in the form of nuts and seeds.
It was topped with a flavorful açai dressing made with probiotic kefir yogurt. The thought that goes into the composition of each dish was evident.
The New England Crab Roll came with a detail that I loved.
They take a hotdog bun, slice the round part off of the top of the bun and the crust on the bottom, and pan-fry it. You got a light, fluffy, slightly spongey yet crispy bun that was just the right weight and texture to go with the overflowing fresh Dungeness and Blue Crab salad.
A local favorite, the Fried Chicken Sandwich with Truffle Fries, was kicking. A spicy Asian marinade ensured that the chicken was tender and chock full of flavor.
Fried until crispy, topped with Swiss cheese, slaw, Jalapeño, and mayo, this was a mouthful of goodness. It came with a huge side of some of the best truffle fries ever. Chef Paul does not skimp on the truffle shavings.
Don't miss dessert. An extraordinarily good chocolate cupcake came with a scoop of vanilla ice cream wedged in the middle, topped with rich chocolate frosting and strawberry wedges.
As we talked with Chef Paul about his cooking philosophy, he told us of his earliest food memories.
Growing up in the Philippines, he lived with his grandmother, watching her cook, and helping tend to the livestock—pigs, goats, turkeys, and chickens. "Prepping them to be eaten," he joked. He learned to respect the animals. "This translates into how I treat meat as a chef and…why we source directly from local farms within 100 miles."
For those of you striving for more health-conscious and sustainable dining habits, this restaurant is one of the best places to eat out of all Danville CA Restaurants.
501 Hartz Ave // +1-925-725-4161
​Are you looking for the best Mexican food restaurant out of all Danville CA Restaurants? Open for brunch and dinner, Cocina Hermanas offers creative Mexican food at a terrific price point.
This family-friendly restaurant offers entrées under $20 and appetizers $15 and under. Open for just over two years, Cocina Hermanas has rapidly become a go-to.
As music filled the air, Cuernavaca native Chef Arturo told us about his passion for cooking, drawing inspiration from the many regions of Mexico, "I love to create new things, something that people don't expect. I love it. That's why I never get bored."
The Tostadas de Atun Fresco appetizer was excellent—cubes of ahi tuna #1 with avocado and cucumber slices in a light lime-cilantro dressing, with a chipotle-garlic aioli.
The Mazatlan-inspired Red Snapper Ceviche had that fresh spring to its flesh, bathed in lime juice with bits of mango, avocado, and orange. Everything was served in beautiful Mexican pottery dishware.
Next, a Baja Caesar Salad with a wonderful twist! Crisp romaine lettuce was dressed up with succulent spicy shrimp, roasted pumpkin seeds, and cotija cheese, finished with creamy Hermanas Caesar dressing. Divine.
The Tres Hermanas Tacos were another hit.
A trio of tacos: Birria (short rib braised in spices, nice and tender) with salsa roja; a Carnitas, or pork confit of fatty meat cubes that melt in your mouth with a beautiful flavor, smoked in-house. Last and possibly best was the Carne Asada, a skirt steak taco with diced onions and tomatillo-avocado salsa. Simple and delicious, and paired with their Piña Gordita Margarita.
The pièce de résistance was a dessert sampler that was over the top in its deliciousness and color. Simply fantastic. There was a generous Crema Catalan.
A dish of fresh seasonal berries. A plate of warm, soft, sugared churros with warm chocolate sauce. And a mango chili sorbet with a bright red chamoy sauce that was absolutely killer on the sorbet. A winner with kids of all ages.
For fun and delicious Mexican food in Danville, don't miss Cocina Hermanas. It's one of the best Danville CA Restaurants.
331 Hartz Avenue // +1-925-208-1758
Revel Kitchen & Bar is a cool space full of windows, with an understated contemporary look and feel and muted colors.
There's a deceptively deep bar set in the middle, underscored by a good-sized wine list featuring eclectic small producers from Europe and the U.S. West Coast.
Owners and chefs Esin and Curtis deCarion started the restaurant in 2014 as a place for craft cocktails and casual, good eating in downtown Danville. It's one of the must-try Danville CA Restaurants.
Their commitment to quality shines through, using local, sustainable, organic, and natural ingredients.
Revel elevates the avocado toast by offering an Avocado Bruschetta that's made with micro-greens and crispy shallots.
Dusted with sea salt, the bruschetta was light and fluffy, made with sourdough bread from local baker Semifreddis.
I have to rave about the Fried Mary's Chicken Breast & Buttermilk Biscuit Sliders. Super cute mini biscuits cuddle pieces of real Southern-fried chicken, with cheddar cheese, red pepper jelly, and garlic aioli.
These little gems are addictive! They come with house-made potato chips.
The cheddar added a dash of saltiness, the meat was super tender, the biscuit buttery, and the fresh slaw cleansed the palate. The whole thing is like a delicate, savory taste bomb.
The sliders paired well with an Out of Bounds drink. Made with Buffalo Trace Bourbon, Amaro CioCiaro, Black Walnut Bitter, and orange peel, it was slightly oaky and deliciously smooth.
Served attractively in an old-fashioned glass over a large ice cube, this proved a great way to settle into a gorgeous afternoon!
Revel Kitchen & Bar has a terrific menu. Alongside the many tempting cold and hot small plates, their "Heartier Fare" includes American classics with substantial sides.
The Grilled King Salmon comes with Potato-Fennel Gratin, Sautéed Kale, Fennel Purée, and Roasted Beet Vinaigrette.
They serve nightly specials on Sunday, Monday, and Tuesday—one is a Paella With Wild Prawns, Chorizo, Mussels, Cod and Saffron Rice. Highly recommended as one of the best Danville CA Restaurants.
44 Church Street // +1-925-820-7200
This elegant establishment is set back off of Hartz Avenue in downtown Danville. It has a beautiful pergola-covered patio area in the front of the restaurant.
Each table is separated by a panel, providing a warm, intimate experience—with heat lamps, it's a perfect place to sit, among plants and trees, on any evening.
Bridges gained fame early on when the crucial comedy "reveal" scene in the Mrs. Doubtfire movie, starring Robin Williams, was filmed on the premises in 1993. It's been an institution in Danville for three decades and maintains its high-quality today. One of the must-try out of all Danville CA Restaurants.
We started with the Pizzetta with Cornice pear, Point Reyes Blue Cheese, caramelized onion, and arugula.
What a wonderful flavor and texture combination of savory-sweet; the middle of your crispy bite was filled with warm, umami softness.
I'm still excited about the Pan-Roasted Pork Chop with Port Reduction Sauce.
It came presented as a sizeable chop on the bone that was about 1 ½" thick. Both sides were roasted to a thick crisp, revealing juicy, tender meat, and a pure pork flavor with each bite.
The port reduction sauce contrasted nicely, just a bit sweeter and richer than red wine with a beautiful dark pink-burgundy color. The chop sat atop a generous pile of Gorgonzola Dolce grits that were stellar.
The texture was both creamy and slightly crunchy and the flavor was out of this world. (I've even tried to recreate this recipe twice at home, it's that good.)
A cult favorite with the regulars, the stir-fried Mexican Prawns in a Thai Red Curry Sauce with crispy noodle cake was also delicious—this item has been on the menu for at least the last nine years.
The sauce features a winning combination of shiitake mushrooms, red pepper, mint, and peanuts. Everything else on the menu rotates.
Executive Chef Kevin Gin encourages creativity in the kitchen; each chef can innovate and try out recipes.
Sous Chef Grace Hockman expressed her appreciation: "Chef Gin puts so much emphasis on teaching others. All of the cooks in the kitchen have the freedom to come up with menu items that they want to do. I've never worked for a chef that does that, that gives you that kind of freedom, helps you learn and grow."
The full menu is just gorgeous, offering a wide array of classics with a flair. Open daily for brunch, lunch, and dinner; don't miss Bridges Restaurant & Bar for a delicious meal in one of the best Danville CA Restaurants.
455 Hartz Avenue // +1-925-820-2349
The lovely Incontro Ristorante has been chosen for OpenTable's Diner's Choice Award each year since 2014. We heartily concur. This is an absolutely fabulous place for a casual fine Italian dinner in Danville.
The menu is Italian regional cooking, and Head Chef Sanchez takes pride in the restaurant's freshness and high-quality ingredients. His technique in authentic Italian cuisine is superb, reflecting his deep apprenticeship with several head chefs from Italy over the years. He creates the menu along with owners Gabe Moufarrej and Stefano Giovacchini, in a culinary collaboration that hits all the right notes.
The Arancini (from Sicily) is a terrific way to begin your meal. These delectable balls of Arborio rice and mozzarella cheese were lightly fried in a delicate marinara sauce that was flavorful and full of oregano and topped with small dollops of pesto. They were a delight to dig into and went wonderfully with a glass of hearty Nero D'Avola.
Another best-seller on the menu is their house-made Gnocchi (northern Italy), which was divine. Fontina cheese with truffle oil creates a flavor combination that elevates this humble potato dumpling, and we would order it again.
And what can I say about the Osso Bucco in Porcini Mushroom Sauce (Milan)? It was everything you would want in this classic dish. Served with polenta and spring carrots, each element of this dish stood on its own. The polenta was some of the best I've had. Buttery, nutty, with a fantastic texture—I could not put my fork down. The meat was fall off the bone tender, with sautéed carrots providing just a touch of earthy sweetness.
Other entrées that looked inviting included the Chicken Marsala, the seafood Frutti di Mare, and the Mostaccioli. Incontro's dessert menu is mouth-watering. Imagine a Bourbon Panettone, Italian-style bread pudding with bourbon-glazed bananas and vanilla gelato. The service is impeccable—a testament to the tight ship run by the charming Antonio Fillari.
Manager Bernadette Moufarrej walked us through the restaurant's evolution in the historic old Hartz building. Her husband, Gabe, designed the many renovation touches, including the wooden bar that adorns the bar and lounge area.
She relayed that Chef Sanchez has been with the restaurant for years, working his way up through the kitchen. During the pandemic, he dedicated himself single-handedly to running the kitchen for takeout, making it possible to keep the restaurant open. Naturally, when dining opened back up, he was promoted to Head Chef. It's a classic American success story, and his dedication is evident in the high quality and taste of Incontro's food.
480 Hartz Ave // +1-925-820-7210
Another one of the terrific downtown Danville CA restaurants is The Vine and Spirits, owned by the same folks as Bridges Restaurant & Bar, and also overseen by the creative Executive Chef Kevin Gin.
The building is contemporary, with a large open main room and bar and an industrial-style ceiling with big round air ducts. The kitchen is partially open to the main room—it's fun to see Chef Richard working his magic at the stove.
Yet again, we experienced exceptionally tasty, fresh food that was artfully presented, with excellent service. The menu focuses on a smaller number of plates, complemented with a substantial wine cellar.
For starters, he brought out a Warm Brie with Honeyed Apple. Served with thinly cut bruschetta, this brie was charred, adding a delicious depth to the flavor. Add in Coppa, brandied pecans, fresh herbs, and a glass of the Napa Valley 2018 Far Niente Post & Beam Cabernet Sauvignon, and you're in for a satisfying treat.
Another tasty small plate is the KFC—nuggets of fried boneless chicken doused in a yummy Korean gochujang spicy and sweet sauce. A Pilsner is just the right weight to go with it.
The Grilled Flat Iron Steak with Tomato-Scallion Relish was scrumptious. Slices of rare steak with sautéed asparagus and zucchini on top of a bed of warm Farro salad, this dish tasted like spring. I can honestly say that my taste buds sang as I bit into the zucchini.
So often this vegetable is rather sad, slightly mushy, and bereft of flavor. But this bite, no, this was different! It was a burst of full, green zucchini flavor that elevated the whole plate.
When you visit, consider this perk. Join The Vine and Spirits Wine Club and you'll enjoy 15% off of your bill every time you dine there. What's not to love? Ask your server for details. For classic food and wine pairings, this downtown Danville restaurant is a must-try. One of the best Danville CA Restaurants.
254 Rose Street // +1-925-820-0635
Thai House is hands down one of the best Thai food experiences I have had in the San Francisco Bay Area and one of the best Danville CA Restaurants altogether.
Owners Sam and Marysa Sendee were childhood sweethearts in northeastern Thailand, eventually immigrated to San Francisco, and have been running the restaurant for the past fifteen years.
Set in a charming old Thai style wooden house, and rated a Bib Gourmand by Michelin since 2011, this is world-class Thai cuisine at reasonable Bay Area prices.
They offer most dishes for under $20 and many for under $15.
Sam is Head Chef and likes his kitchen small, so he can orchestrate everything. His cooking style is a fusion from within Thai regional cuisines, all authentic Thai.
The menu is huge, and he accommodates all kinds of allergies and gluten-free requests. No alcohol is served.
The Thai House Wrapped features crispy iceberg lettuce leaves filled with ground shrimp, chicken, carrot, onion, and chunks of jicama, with thin crunchy noodles. It's refreshing, with a light sweet and sour sauce, and beautifully presented.
Another dish of note: Smoky Catfish with Eggplant.
Lightly breaded, the fish was tender and the sauce had a slightly smoked flavor that was ambrosial—made with a Chinese technique for quickly smoking food in a wok.
The Spicy Pork with Eggplant came in a spicy Prik Khing curry sauce with capers, green peas, bell peppers, and fresh basil.
Roasting the eggplant added a layer to the flavor. Sam kindly brought out a vegetarian version for my photographer partner.
The special pumpkin curry is fabulously creamy and spicy, filled with chunks of chicken, scallops, shrimp, and pumpkin.
Not at all like a dessert, the pumpkin was lightly aromatic and enhanced the flavors of the other ingredients. I was also tempted by the Green Curry Halibut and the Lamb Of Siam.
In every dish, you'll taste the care that goes into its preparation. Thai House in Danville will quickly charm you with its warm, friendly service and excellent fare.
When I asked Chef Sam about his future goals, with smiling, twinkling eyes, he said he'll be at Thai House forever. When you want authentic Thai food in Danville, you've found your House – the best Danville CA Restaurants for Thai food.
That wraps up our summary of eight of the best Danville CA Restaurants. From breakfast to dinner to dessert, Mexico to Thailand to Italy, this is food paradise. Make sure you try these Danville CA restaurants soon.
Photo Credits: Bruce Williams
Tonya Hennessey is a freelance writer and non-profit professional who resides in the San Francisco Bay Area, and grew up in the Minneapolis, Minnesota metro area. Early travels awakened her astonishment at the world's varied cultures, landscapes, and, of course, food. She's now marrying a passion for travel with love of the written word. Food tops the list of Tonya's writing interests, with cultural and sustainable travel right behind. Learn more about her work on Instagram and her website.