Lafayette, Louisiana, is not only known as the "Happiest City in the US" but also earned the top spot as "Best Food City in the USA" by USA Today.
As a self-proclaimed foodie and lover of all things Cajun, I was excited to eat my way through Lafayette on a recent visit and try some of the best restaurants in Lafayette.
I went to High School in Louisiana, so my expectations were high, but I also know the best cajun food is usually found at a local's kitchen table, not in a restaurant. But these Lafayette restaurants did not disappoint and served us some delicious cajun (and other) food to try.
I only had limited time, so I did a Cajun Food Tour, where owner Marie introduced us to some of the typical Cajun food staples and the best places to try them. If you are pressed for time and want to try as much "authentic Cajun food" as possible, I highly recommend this tour. So, where to eat in Lafayette? Let's find out!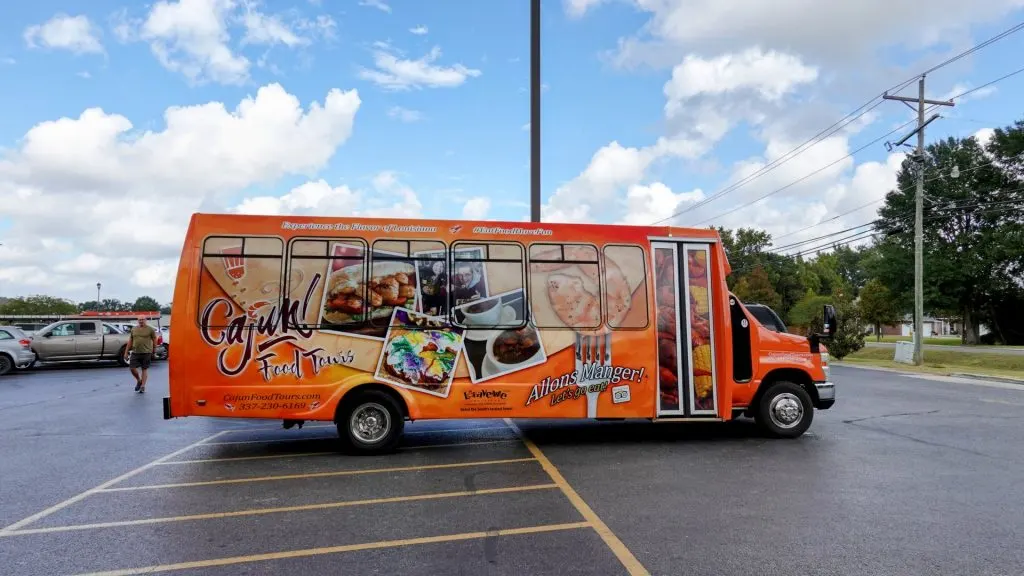 Where To Eat in Lafayette
900 Jefferson St // (337) 534-0585
This colorful and fun gas station diner brings together the flavors of Mexico, Asia and the Gulf Coast, highlighting fresh ingredients and skillful preparation.
The atmosphere is casual and fun, lighthearted and cozy at the same time.
Chef Jeremy Conner knows how to tingle your palate with surprising twists to old-time favorites, like Louisiana blue crab quesadillas, loaded pork fries with a kick, and crispy spring rolls stuffed with gulf shrimp, pickled veggies, and drizzled with awesome sauce.
The mains include seared tuna wraps, Bibimbap bowls, grilled gulf fish with veggies and avocado, and, of course, sinfully juicy burgers. This place is perfect when you and your partner or friends can't decide what cuisine to get.
We also got to enjoy Chef Conner's kitchen skills at a Peat & Pearls Supper Club event, where he spoiled us with a 5-course tasting menu with wine pairing featuring Louisiana Gulf Oysters and other local ingredients.
Peat & Pearls hosts events in several cities in the South, so if you love to celebrate local food prepared by local chefs, and mingle with locals in a stunning setting, then see if you can join one of their events.
720 I-10 South Frontage Rd // (337) 261-2464
Chargrilled oysters with pecorino and Parmigiano with garlic and fried alligator are on many restaurant menus in the South, but Fezzo's takes them to the next level. The oysters also have bacon bits and Jalapeño slices on top for extra spice and umami. So delicious.
Fried gator is easy to get wrong. Too tough, too salty, soggy batter, and other issues are typical. Not so at Fezzo's.
The batter was crispy and flavorful, and the meat tender like, you guessed it, chicken. If you tried alligator at another restaurant and did not like it, give it another shot at Fezzo's. They do an excellent job preparing these local staples.
305 Bertrand Dr // (337) 233-5446
If you like thin-crust pizza with an overload of toppings, then Deano's is your place. Their tagline, "Pizza like no other," sums it up perfectly. I have never had pizza like this before, and I certainly wish they had a location here in San Diego, where I live.
My husband enjoyed the vegetarian pizza and added sausage while I tried one of their signature pies: Marie Leveau—named after the famous New Orleans Voodoo Queen.
Loaded with Louisiana blue crab, mushrooms and onions, this pizza tastes like crab dip and pizza had a baby. Oh my, what a heavenly combination!
1900 W Pinhook Rd // (337) 233-0422
T-Coons is a local Lafayette favorite, but has fans far beyond its Parish border.
This place was recommended to us by several people, including the lady at the car rental counter in New Orleans. We almost didn't have time to squeeze it in, but I am so glad we did.
This family-style diner offers sit-down breakfast and cafeteria-style lunch and dinner.
We opted for lunch and enjoyed delicious red beans and rice served with buttery corn, green beans, and a flaky roll. Other dishes offered were catfish courtbouillon, crawfish ettouffée, smothered pork, fried chicken, and brisket. Simple food, simple setting, but oh… so delicious.
The only negative about this place is that it does not offer a sampler that lets me try all their delicious foods in one meal.
How am I supposed to make a decision when everything sounds and looks so tasty? I guess I will have to come back to eat my way through the whole menu.
101 W Main St // (337) 837-6684
Ton's is another low-key local diner with home-cooking style local favorites. Ton's only serves breakfast and plate lunches, so stop by before 2 PM.
Their menu includes old-school favorites like gumbo, po-boys (try the fried oyster!!!), chicken fried steak, and liver and onions (as a special).
The menu is extensive, but if you want something different and they have the ingredients, they will whip you up a personalized meal and might even put it on the menu later.
We tasted the sausage and chicken gumbo with rice and potato salad, which was delicious.
The roux was perfectly toasted, and just a tad bit smokey, the holy trinity of onions, celery and green bell pepper cooked down to perfection, and the chicken and sausage were juicy and flavorful.
I was initially skeptical about the potato salad, but the mayo dressing with pickles works well with the smokey gumbo.
4309 Johnston St // (337) 981-1141
Don's Seafood is an excellent Lafayette restaurant serving traditional Cajun staples, such as shrimp remoulade, blackened alligator, boudin balls, seafood in all shapes and forms, and steaks. They are a micro-chain with 6 locations in Southern Louisiana with a long history.
Don Landry started the first location in 1924. Not many restaurants can look back on an almost 100-year-old legacy.
They also recently started serving brunch on the weekend, so check out their brunch menu featuring Bayou Benedict or Crawfish Scrambler, best washed down with one of their signature cocktails.
406 Garfield St // (337) 295-4769
A popular food truck turned brick-and-mortar restaurant that features local ingredients in innovative dishes? What's not to love???
The handwritten menu board not only changes according to what is freshest and tastiest this season but also showcases the local farmers that produce the goodness on your plate.
From hearty breakfast burritos and eggy scrambles to delicate instagrammable salads and fun interpretations of local dishes such as the boudin (boudin patty served on a skillet biscuit topped with turnip kimchi with a side of crispy hashbrowns and eggs) make for an exciting menu.
You can feel and taste the love and passion for the Farm-To-Table movement that goes into this menu.
2865 Ambassador Caffery Pkwy // (337) 456-3317
If you're thinking of where to eat in Lafayette and want to switch Po-Boys for Banh Mi and Gumbo for a bowl of Pho, then Saigon Noodles is the spot to try.
The broth is flavorful and aromatic, and slurping up the noodles will make you feel like you got a hug from the inside. If you want something more robust, try the Oxtail Pho, the spicy beef noodle soup, or the grilled meat rice plate.
509 Lafayette St // (337) 856-6889
Before we get into Nunu's, let's talk briefly about Boudin and Meat Markets in Lafayette. Boudin is to Lafayette, what tacos are to San Diego and Bratwurst is to Bavaria. What is boudin? It is a heavenly spiced meat and rice mixture stuffed in a sausage casing and steamed.
They even have a boudin trail. The local Acadians eat tens of thousands of pounds of boudin per week as a snack, meal, appetizer, stuffed in other meats, and more.
While you can find fried boudin balls or other specialty items on restaurant menus, the best place to eat it is fresh out of the steamer at the deli counter of a local Meat Market.
Each Lafayettian has their favorite spot to buy their boudin, and they will support that place with about as much rigor as the local sports team. The meat markets even sell fan gear, like T-shirts, cozies, and stickers. And yes, I saw quite a few cars in Lafayette proudly displaying their favorite meat market on their bumper.
Nunu's Market is one of the local favorites. Their boudin is, of course, outstanding, but they also offer their delicious spice mix and over two dozen other sausage variations at their locations. From steamed boudin to smoked boudin, andouille sausage, chicken and pineapple sausage, and many creative twists on what can be stuffed in a casing.
2968 Johnston St // (337) 534-4060
Kartchner's is another meat market we tried on our quest for the best boudin in Lafayette. They are famous for their Boudin Noir, which uses pork blood as the thickener of the mixture instead of rice. This method was the original way boudin was made until German settlers showed the Acadians how to thicken the boudin with rice instead.
However, the FDA established regulations that required butchers to use up and sell all items containing blood on the same day the pig was slaughtered.
This was pretty unrealistic. At the same time, the popularity of blood sausages and boudin noir was dwindling, so most meat markets and butchers were no longer serving boudin noir.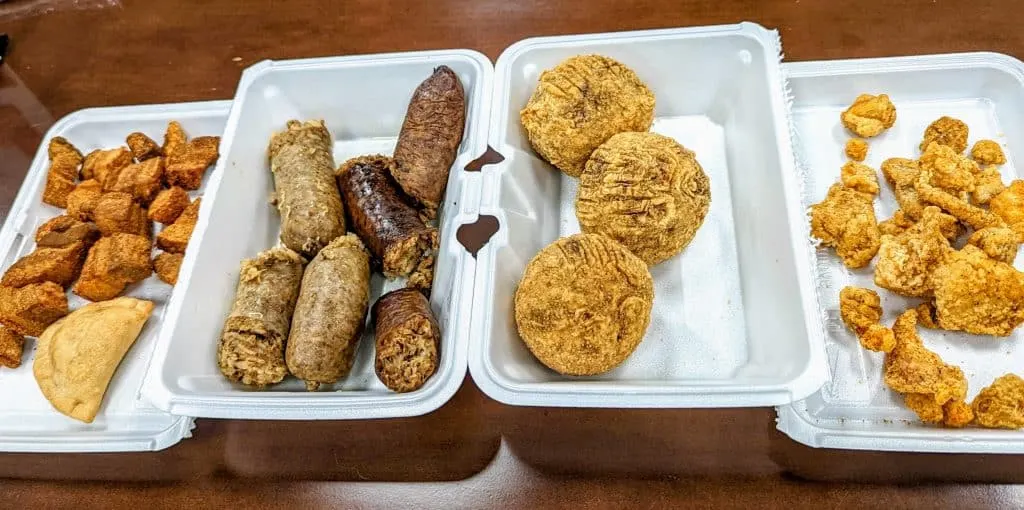 Kartchner's, however, is still upholding this old-timely way of making boudin noir using modern technology.
Instead of using the blood of a freshly slaughtered pig, they use the same technique as blood banks to draw as much blood as they need for their sausage, and the pig gets to live another day. It sounds pretty crazy, but I guess you have got to do what you got to do to find a loophole in the FDA regulations if you want to keep traditional recipes alive.
Unfortunately, when we visited on our way to the airport, they only had boudin noir frozen, so we could not try it. But Marie, our cajun food tour guide, highly recommended this place, and I will try and see if they can ship me some once the temperatures cool down. So if you're thinking of where to eat in Lafayette, think Kartchners.
1902 W Pinhook Rd // (337) 232-7921
Who has the best King Cake in Lafayette? This is also a hot topic, but most locals agree that Poupart's Bakery makes the best of the best.
This bakery marries Cajun tradition with French pastry finesse to create the ultimate King Cake. Their Mardi Gras King Cake is made of Brioche dough, which makes it extra airy and fluffy and stuffed with cream cheese, fruits, nuts, or any combination thereof.
The "traditional" King Cake is made of puff pastry and filled with almond cream, which is much flakier than the typical yeast sweet bread used by most bakeries.
While this cake is traditionally only served between January 6th (Epiphany) and Ash Wednesday, the beginning of lent, we were lucky to try this cake in October on our Lafayette food tour. Poupart's is in the same strip mall as T Coons, so if you want to hit two birds with one stone, you can try them back to back. Just make sure you wear your stretchy pants!
1812 W Pinhook Rd // (337) 504-4242
If you can't decide where to eat in Lafayette, Cajun Market Donut is a perfect spot to hit. They serve delicious donuts and sweet pastries, as well as savory treats.
The Boudin Kolaches, a Polish bread roll stuffed with boudin, were delicious, and I wish I could have tried their Boudin King Cake. I am not a big fan of donuts, but their blueberry donuts were delicious. So soft and flavorful, a perfect morning treat.
My favorite was the boudin kolaches, though. The bread roll was the ideal delivery device for the soft boudin, and I could see myself getting addicted to them as my favorite breakfast item.
Where To Eat in Lafayette: Conclusion
Restaurants in Lafayette don't have it easy. Most Acadians are exceptional home cooks and can be quite critical of the food they try at local restaurants.
Not presumptuous, but simply because they know good, high-quality food. Once they find a restaurant worthy of their high standards, they are fiercely loyal and will support them in any way they can.
Having Marie show me some of her favorite places and trying out the recommendations of other locals led me to some of the best restaurants in Lafayette and to try some of the best food Louisiana has to offer.
Visiting other destinations in Louisiana? Check out our other delicious guides: