When I first stepped foot in Panama, I was amazed by all the country's food varieties. Despite being a popular tourist location, Panama's food closely resembled its central Latin American culture and history.
Panama's cuisine combines Spanish and African influences with native American cooking methods.
Panama's food tastes like cultural heaven; those who have tried the famous dessert, Sopa Borracha, and the main course traditional dish, Sancocho de Gallina, know precisely what I'm talking about.
On ocean coasts, the locals presented delicious combinations of seafood and vegetables. However, away from the waters, maize, rice, yuca (edible roots), and meat goodness are Panama's most featured ingredients.
The food in Panama was delicious and unique everywhere I went, especially the local eateries!
If you are traveling to the country and are confused about how to reach the authentic taste of Panama—well, I have tested and reviewed eleven delicious traditional foods of Panama.
Panama and its culinary wonders made it to my foodie hot-spot list, and here are all the details on what you must try on your gastronomic trip through the country.
Also, try these 11 delicious foods in Nicaragua, 15 Best Costa Rican Dishes, 20 Best Restaurants In Puerto Escondido, Oaxaca, Mexico & 8 Must-Try Anguilla Restaurants.
Table of Contents
Traditional Panama Foods
Before visiting the popular fancy restaurants, take a local tour inside the cozy villages, street food counters, and small local family restaurants or eateries. That's where you will indeed discover the traditional foods of Panama.
Spending your days with locals will help you cross the language barrier.
Sancocho de Gallina
I first tasted the famous Sancocho De Gallina at El Trapiche—a cozy, local restaurant with the best cultural food menu in the area. Sancocho de Gallina is a national food of Panama, cooked with meat, potatoes, cassavas, other roots, and herbs.
Panama food recipes mainly depend on the area. Some locals use chicken to make Sancocho; others may include beef and pork. If the restaurants allow you, do witness their unique cooking style behind the doors.
For Sancocho de Gallina, the locals first boil the meat (skinless chicken) in water with onion, garlic, and sofrito leaf.
Once properly cooked, the same broth is used to boil the vegetables, including potatoes, yuca (cassava), plantains, carrots, and cut corn cobs (mazorca). For flavor, the food is seasoned with salt, pepper, and other spices.
Sancocho de Gallina is the signature chicken stew in the country. Featuring both Caribbean and Spanish cuisines, this recipe offers two distinct fusions in one bowl.
Sancocho's every bite was a delight for me. This stew is made even more impressive by the prominent use of the spicy local spice, culantro (different from cilantro), which imparts slightly sweet undertones to the dish.
Sopa Borracha
For those with a sweet tooth, Panama's food does not lack mouth-watering desserts. My personal favorite is Sopa Borracha, and what won me over was probably its hints of rum and wine.
Sopa Borracha, roughly translated to drunk soup, is not an actual soup—but a dessert adorned by a thick, sweet syrup. The syrup consists of sugar, cinnamon, rum, wine (optional), lemon juice, lemon zest, and sherry. When it is done, the cake is served with raisins and prunes.
Presented in a cocktail glass, Sopa Borracha consists of a sponge cake cut into small pieces. A layer of thick syrup is then poured over the cake until it is entirely soaked (not submerged).
For garnishing, locals use dried raisins and prunes. I remember eating it the first time; every flavor stood out independently. I could taste the syrup, the sweetness, the rare rum flavors, and the softness of the cake altogether in a single bite—it was intoxicating and slightly tipsy!
Primarily inspired by Spanish cuisine and bread, Sopa Borracha is a festive dish in Panama, especially for birthday parties, weddings, and Christmas Eve. You can always find them in local street counters throughout the year!
Bistec Picado
Starting my morning with Bistec Picado was nourishing and spicy hot! If you love spices, this beef stew/stir fry is fierce, crispy, juicy, and perfect for you. Bistec Picado is often a breakfast choice in the local areas, but It's also not wrong to pair it with rice for lunch or a solo dish for an evening snack.
Panamanian people fry Bistec Picado with beef meat (steak or ground) and vegetables. The fried meat and vegetables are then cooked in delicious tomato sauce and served hot. I did taste the faint and crispy taste of onions and bell pepper with every bite.
As a snack, you can consume this dish with a special Panamanian salad for added crispiness. Truly originating from Panama, this dish is already a delight to locals and foreigners alike. It's also a popular dish in Cuba and Guatemala.
Hojaldras
Cooked as a dessert and savory breakfast, Hojaldras is a typical Panamanian fried bread roll. Although readily available throughout the week, locals especially enjoy this bread on weekends with bacon, beans, Fritos, etc.
The bread's dough is allowed to sit overnight for a better texture. It's fried the following day and looks very similar to donut buns. Panamanian bread is mainly served during a savory breakfast with cheese, cream, and other side dishes such as steak and bacon.
The meal closely resembles a French breakfast. The side dish Hojaldres con Salchichas is served with sausages cooked in tomato sauce.
When fried as a dessert, hojaldras are sprinkled with crushed sugar, and you can use maple syrup or honey for added flavors. I had the pleasure to enjoy both of them, and the taste was equally delicious!
Panamanian Snacks
Panamas' cuisine has plenty of traditional snacks. I devoured more snacks than the main course dishes. The snacks are readily available wherever you go in Panama—every village, every beach has a unique twist of cultural snacks to offer. If you relish having small meals throughout the tour, do not miss trying these popular snacks in Panama.
Carimanolas—Meat-Stuffed Yuca
Perfect for morning breakfast and early evening snacks, Carimanolas are crispy goodness in the country. The snack is made using yuca and meat filling.
I was lucky enough to find a local vendor making delicious Carimanola with generous meat filling (not scarce). The outer surface was crispy like buttery pastry, and the insides were soft and delicate.
Carimanolas or Yuca fritters are typical Panamanian food—famous among the locals, foreigners, and neighboring countries. If you are wandering the Panama streets, they are a great companion to tag along with.
Panamanian locals offer almost all types of fillings—meat, vegetables, and a combination of both. I enjoyed many varieties of this snack, with fillings of beef, onions, bell pepper, cumin, garlic, and tomato sauce.
Usually, boiled yucas are mashed with egg, butter, sofrito, and other herbs. It's then allowed to cool down in the refrigerators. Once all the ingredients are prepared, the yucas are first stuffed and then packed in a torpedo-like shape for frying.
Patacones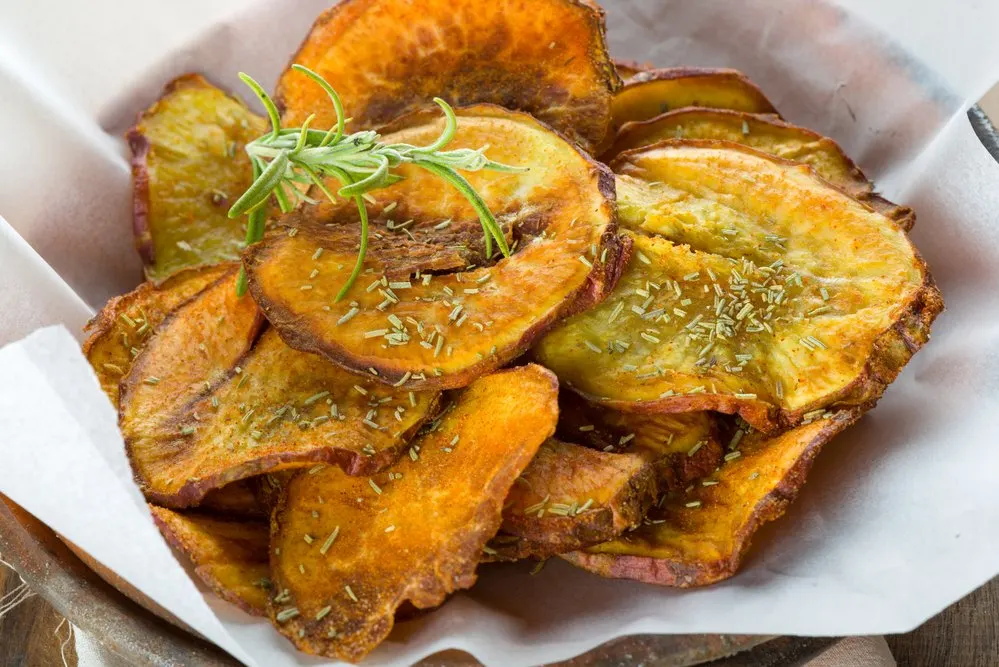 Another popular evening snack in Panama is Patacones or fried green plantains. Fried plantains or plantains, in general, are a popular staple in the whole of Latin America, not just Panama.
Just as french fries are for the rest of the world, fried plantains are for Central America. Although very similar to bananas, plantains are greener, raw, and starchier, and they are used as a vegetable rather than a fruit.
In Panama, green plantains are fried many times to produce crisp and golden brown Patacones and then seasoned with salt for the exclusive taste.
Panama Typical Food
Want to enjoy the unique cuisine of Panama that locals dearly cherish every day and night? I came across a specific dish called Panamanian tortillas; it's different from any tortillas you must have heard of in other Latin American countries.
Other exotic Panama side dishes are Platanos en Tentacion and Torrejitas de Maiz. Why are they special? Well, read along.
Platanos En Tentacion
I tried various unripe plantains in Panama, but Platanos en Tentacion was my first ripe plantain experience—its sweet taste was tranquilizing. After Sopa Borracha, Platanos en Tentacion is the next sweet delight for me, literally meaning plantain in temptation.
I felt tempted to taste this Panama food right away when I saw it for the first time; it looked exotic, dripping in hot and sweet sauce. Locals prepare this dish by cooking ripe plantains in a thick sugary syrup from blended vanilla, cinnamon, sugar, and water.
In addition to cooking the plantains sufficiently, the locals add syrup and continue cooking for fifteen more minutes. The whole platter looks sizzling and delicious.
If you love hot desserts, Platanos en Tentacion is an obligatory treat on your Panama visit! Locals consume this as a side dish more than a dessert.
Torrejitas De Maiz
Just like Carimanolas, Torrejitas de Maiz is yet another fritter delicacy. The batter, consisting of flour, eggs, corn, butter, cheese, adobo, and baking powder, goes directly into heating oil for frying.
Torrejitas de Maiz is a traditional Panamanian food, popularly eaten as an evening snack with Pico de Gallo and Salsa Verde. Pico de Gallo is an uncooked salsa made using tomatoes, cilantro, chilies, onions, and salt.
Salsa Verde is a green chutney made using green tomatoes and is usually tart in taste. I love to dip them in both the salsas and additional cheese—they are delicious, crispy, and addicting!
Panamanian tortillas
One of my favorite breakfast choices during my stay in Panama was the Panamanian tortillas. They pair heavenly with eggs, melted cheese, sour cream, and green salsa. Unlike other American countries, tortillas in Panama were thick, round, fried, and crispy like the Colombian arepas.
Also referred to as corn cakes, these tortillas resemble the thickness of pancakes and are very accurately circle-shaped.
In Panama, these tortillas are made using cornflour—both corn and tortillas are traditional foods of America. Panamanian tortillas are either fried or baked. While frying intensifies the overall flavor, baked Panamanian tortillas were healthier and equally tasty.
In Panama, deep-fried snacks are called tortillas fritters, and baked snacks are called Tortillas Asadas.
Either way, these tortillas are fried/baked until golden brown and crispy. I devoured fried tortillas, but baked tortillas are equally delicious if you are on a healthier diet.
Panama Drinks
It's a hot country, but luckily, Panama is full of boasting beverages, including homemade beer, energy drinks, and some traditional treasures that you won't find in fancy restaurants. One such fulfilling drink for me was Seco.
Seco is a hidden Panamanian treasure—it's an alcoholic beverage distilled from sugar cane. The locals distill the drink three times to reach its full potential.
Seco goes hand in hand with milk and ice, but you can order fresh grapefruit juice to enhance its flavors. It is considered the national drink of Panama.
Ron Ponche
Ron Ponche is a popular Christmas beverage in Panama, just like other Central American countries. However, you can find them just any time of the year, if not Christmas.
Panama's beaches are one of the greatest destinations to get drunk in love. While the sun will warm you up, this chilled rum eggnog will cool you down. It's a thick, delicious, and sweet cocktail made using rum, egg yolk, nutmeg, vanilla, cinnamon, and condensed, evaporated milk.
Once it becomes thick like gravy and gets cooled off, a certain amount of rum is added, depending on how strong you like your "eggnog." Your Panamanian "rum punch" is then ready for sipping.
Chicheme
On a healthier and non-alcoholic note, Panama has the traditional Chicheme beverage to offer. A thick corn-based drink made using dried corn kernels, condensed milk, sugar, nutmeg, and spices like vanilla and cinnamon.
I used to drink Ron Ponche at night in Panama, and my early mornings were blessed with Chicheme's goodness. All the ingredients are cooked together until transformed into a thick, sweet fluid.
Some consume it as a hot and sweet dessert, and some as a cold drink with ice. I like my Chicheme as a refreshing cold beverage in the morning.
Chicheme is also very healthy and super filling. So if you are someone who skips breakfast, have this ready when you are on the run to explore Panama!
FAQs About Panama Food
If you are already in the country and are wondering where to start your food quest in Panama, this guide is all you'll ever need.
However, Panamanian people are kind and very helpful—they can introduce you to the side of Panama's cuisine you may never find on your own.
Here are a couple of FAQs and doubts that I had when I first visited Panama; you can use it to surf your way through the country.
What to eat in Panama?
Skip the fancy restaurants that offer you general food found worldwide. Instead, choose local restaurants that purely dedicate their menus to traditional and typical Panama foods. I listed down eleven1 such Panamanian food delicacies, but that's not all.
Panama is full of surprising recipes closely resembling the strong culture of the country. Explore the streets on foot when visiting Panama villages and share every food that's locally displayed.
What food is Panama famous for?
Majorly influenced by Spanish, African, and American culture, Panama is famous for corn, rice, plantains, and meat. Every traditional food that I tried in the country had a unique twist of corn and a blend of plantains.
Seco—the national beverage of Panama.
Sancocho de Gallina—the national food of Panama.
Ceviche dish—A seafood cocktail delight.
Platanos en tentacion—dessert to melt your days in Panama.
What kind of food do Panamamians eat?
The foods that locals enjoy the most are their traditional and typical varieties, including meat (chicken, pork, and beef), seafood, corn, and plantains.
What are the main vegetables consumed in Panama?
As mentioned above, Panama majorly consumes yuca (cassava), squash, and other common vegetables like onion, tomatoes, etc. Panama also uses plantains as a significant vegetable in most foods, snacks, desserts, and side dishes.
Wrapping Up The Best Panama Foods
Not just the authentic food, my tour in the country introduced me to various traditional cultures, local cuisine, their prominent food history, the mesmerizing sunsets at the beaches, the Panama canal, and modern, sophisticated cities.
Panama is blessed with mesmerizing avenues, calming beaches, warm seas, welcoming villages, and helping locals. If you plan to visit this beautiful country, choose small cottages instead of choosing a fancy hotel.
Live with the locals, wake up with their culture, explore the country with their wisdom, and you will never be bored. There's a new surprise unfolding every day in Panama, and the cuisine is phenomenal, making Panama a paradise to behold!
Igor Jovanovski is an aspiring digital nomad, travel blogger and graphic designer who really loves food. He also has a creative side, and he works as a freelance graphic designer in his spare time. He has traveled across Europe quite a few times since he was young and recently started his mission to visit every country in the world! Igor's favorite thing about traveling is the way he gets to know new people, food, places and cultures.
This exciting experience helps him create his own stories and make memories that will last forever