There's a wide variety of foods to try in the country. Although Nicaraguan towns have multiple McDonald's and other popular US-based food chains, Nicaraguan people still cherish their cultural food and home-grown ingredients.
Majorly influenced by pre-Columbian and Spanish culture, Nicaragua is a country of traditional food and corn cultivation. The two separate coasts of Nicaragua, the Pacific, and the Caribbean offer two different varieties of cultural cuisine.
The Pacific region offers a typical Nicaraguan food menu, including corn, rice, beef, beans, tortillas, poultry, and local fruits. On the contrary, the Caribbean coast deliciously platters seafood and coconut-rich dishes.
Visiting other destinations in Central America? Check out our other delicious guides:
Nicaraguan Food: 11 Best Dishes
If you are in the country and want to taste some delicious Nicaraguan dishes, take a stroll down to street foods and local vendors; that's where the authentic flavors emerge.
Here's a list of eleven deliciously traditional foods that you can try in Nicaragua to experience their authentic and traditional cuisine.
Nacatamales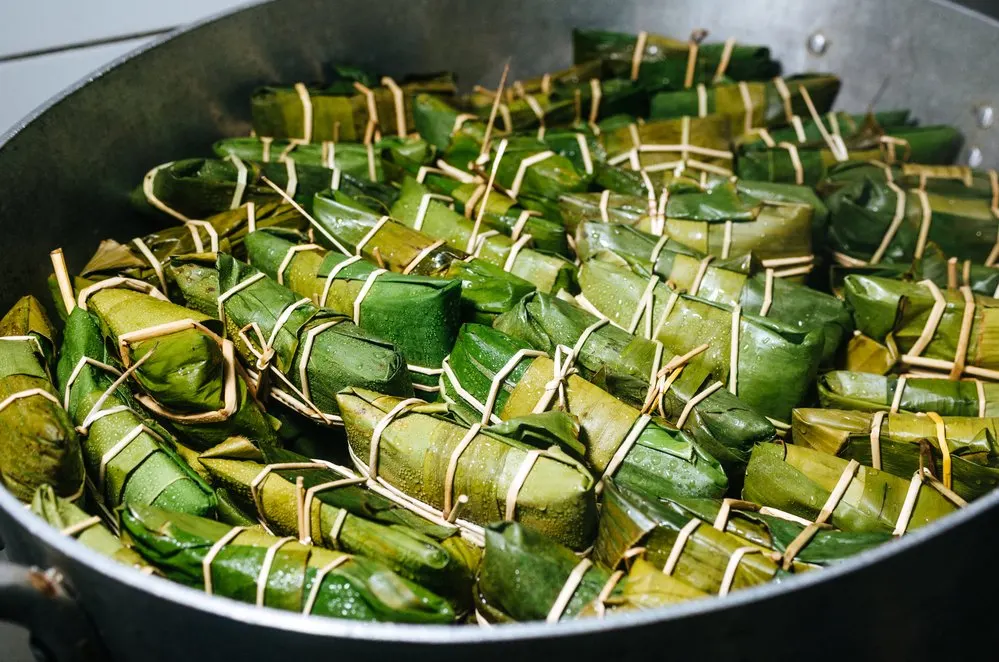 Nacatamales are the Nicaraguan version of Guatemalan tamales, wrapped in plantain leaves (banana leaves) and stuffed with chicken or pork, bitter orange, potatoes, rice, bell pepper, chilis, etc.
Nacatamales are often stuffed with prunes, olives, capers, and raisins on festivals and casual Sundays. This morning breakfast is usually served with coffee and bread.
Considered the most traditional Nicaraguan food in the country, nacatamales will offer you a taste of the Pacific coast, Latin America, and the surrounding countries—Guatemala and Mexico.
The banana leaves are first steamed to accentuate their flavors and textures.
Next, the locals add a thick layer of corn masa (dough/paste) that doubles in size after steaming.
Unlike Guatemalan tamales that only use 2-3 ingredients, nacatamales are filled with chicken, pork, bitter orange, prunes, raisins, potatoes, onions, chilies, peppers, capers, olives, and whatnot.
The banana leaves are then wrapped and steamed for an hour. Nacatamales are heavier than other country versions.
Craving some cultural Nicaragua food and corn? Here's a cozy restaurant—Cocina De Dona, that we enjoy. Travelers love their flavors and the Nicaraguan food list the restaurant offers.
Berenjenas Rellenas
Berenjenas Rellenas is a delicious savory dish made using big eggplants. These eggplants are first cooked to remove the pulp (some locals remove the pulp without cooking) and then stuffed with mouthwatering fillings.
This filling differs from restaurant to restaurant throughout the country, and you may come across some delicious berenjenas rellenas variants.
Main ingredients: They primarily include ground pork or beef, rice, and cut vegetables.
Main vegetables: Tomatoes, onions, potatoes, zucchini, chili pepper.
Seasoning: Includes oregano, thyme, parsley, salt, chili flakes, spices, etc.
Other ingredients: Some locals also add corn, beans, bacon, mushrooms, etc.
Sauces and creams used: Parmesan cheese and bechamel sauce, marinara sauce for the creamy taste.
The dish is then cooked until crisp.
Gallo Pinto – Nicaraguan National food
Gallo pinto is a unique twist between rice, red beans, vegetables, and spices. The name vaguely refers to "spotted rooster," given its exotic color combination and appearance. Vegetables used while cooking Gallo pinto include cilantro, celery, and the required herbs and+spices.
Pinto is considered the national food of Nicaragua and is one of the most controversial dishes between Costa Rica and Nicaragua.
Nicaragua has a profound history of Gallo pinto's origins that dates back to 1900. However, Costa Rica also claims a similar basis. Nonetheless, whether in Costa Rica or Nicaragua, you will definitely enjoy a bowl of freshly cooked Gallo pinto every now and then.
Craving something light-weighted and delicious? This dish is one of the most famous Nicaraguan breakfasts and side dishes. The country locals usually consume their lunch and dinner with pinto as the cherry on the top.
Where to eat? Dedicating its name to the dish, Gallo Pinto Cafe in Granada is a beauty to visit for delicious traditional food, great ambiance, and friendlier staff.
Vaho, or Baho
Popularly enjoyed as a breakfast, Vaho is yet another steamed goodness in Nicaragua. It's made using boiled yuca and beef. The dish is adorned with flavorful spices, and sometimes onions and peppers as well.
All the ingredients are wrapped inside banana leaves and steamed for the desired time.
Vaho is also one of the most popular hangover cures in the country. Locals enjoy this dish early in the morning, in late afternoons, and on weekends. It's served chiefly with curtido, a spiced-up cabbage salad.
Rondon
Rondon is a Caribbean-style seafood soup delightful to many local fishermen and foreigners alike. The soup is made using every possible seafood available in the locality.
The main ingredients used in the recipe are shrimp, fish, lobsters (tail and whole), conch meat, etc.
Locals also add various vegetables for flavors, including yuca, plantains, bell pepper, potatoes, carrots, chili pepper, etc.
Once the ingredients are spiced up, it's cooked in a combination of fish stock and coconut milk. All these ingredients result in a delicious, savory soup that foreigners especially enjoy.
Sometimes, food enthusiasts also prepare this delicious soup with pork, beef, and other meats. Rondon or run down is majorly inspired by Jamaican food and their culture.
Vigoron
Vigoron is a typical Nicaraguan food cooked with a combination of fried meat and yuca roots. Locals love to cook this tasty recipe for unexpected guests and busy foreigners because it's cooked very quickly and doesn't require much effort.
The recipe requires boiled yuca, chopped vegetables, and fried pork rinds. The vegetables include cabbage, tomatoes, onions, chili peppers, etc. Along with spices, locals also add a tangy twist to the recipe by squeezing mimbro (a sour fruit) and adding its cut-pieces in the dish while cooking.
Vigoron originated in Granada, Nicaragua—a historical city in the country. To enjoy the best Vigoron and its flavors, take a stroll down in the town and savor their authentic flavors.
Indio Viejo
Made using vegetables, shredded beef, and ground tortilla dough, Indio Viejo is a thick, mouthwatering Nicaraguan salsa. After grinding the tortillas and soaking them in water, the vegetables are fried with shredded beef.
Locals use multiple vegetables and spices along with achiote paste to complement the dish.
Main ingredients: Day-old tortillas, shredded beef, achiote paste, spices, and vegetables.
Vegetables added: Tomatoes, onions, garlic, sweet pepper, etc.
Indio Viejo is an old pre-Columbian recipe, roughly translated as "old Indian," and is considered the oldest native dish in Nicaragua.
Desayuno Nica (Nicaraguan Breakfast)
Just like Honduras Desayuno, the Desayuno Tipico Nica is a heavy breakfast, too. In Central and Latin America, there are at least three or four different foods put side-by-side while serving this hearty and filling meal. The foods include:
The very famous Gallo Pinto
Scrambled or fried eggs cooked with onion and pepper.
Fried plantains.
Cheese
Sometimes, the restaurants may include pico de gallo (tomatoes and onion salad with added vinegar, bacon, blood sausage, and sour cream.
The overall breakfast is complemented with a healthy dragon fruit juice (original name: pitahaya) or passion fruit juice (calala). You can also order a strong coffee with the combination.
Desayuno Tipico Nica is a fusion between the United States breakfast and traditional Nicaraguan food.
Quesillo
A cultural cheesy Nicaraguan delight? Who are we to say no? Quesillo are tortilla wraps filled with excessive cream, chopped onions and tomatoes, and a famous homemade cheese named quesillo.
Quesillo originated on the streets of Leon (the second-largest city in Nicaragua), and you will probably find the best version of the dish on the same streets.
Locals and foreigners love this dish so much that there are dedicated restaurants solely selling quesillos. While ordering quesillo, ask the vendors to add chile sauce to balance the overwhelming creamy goodness.
This typical Nicaraguan food is served with a chocolate and maize beverage called tiste.
Guirilas
Originating in Matagalpa, guirilas are sweet and salty pancakes served with delicious cuajada (curd cheese) and savory cream. The traditional pancake is cooked or grilled using sweet corn dough between banana leaves.
Guirilas pancakes are very thick and are considered a heavy breakfast or wholesome evening snack. If you are spending the night near Matagalpa, Sebaco, or Chontales, these cities serve the best guirilas in the country.
Arroz a La Plancha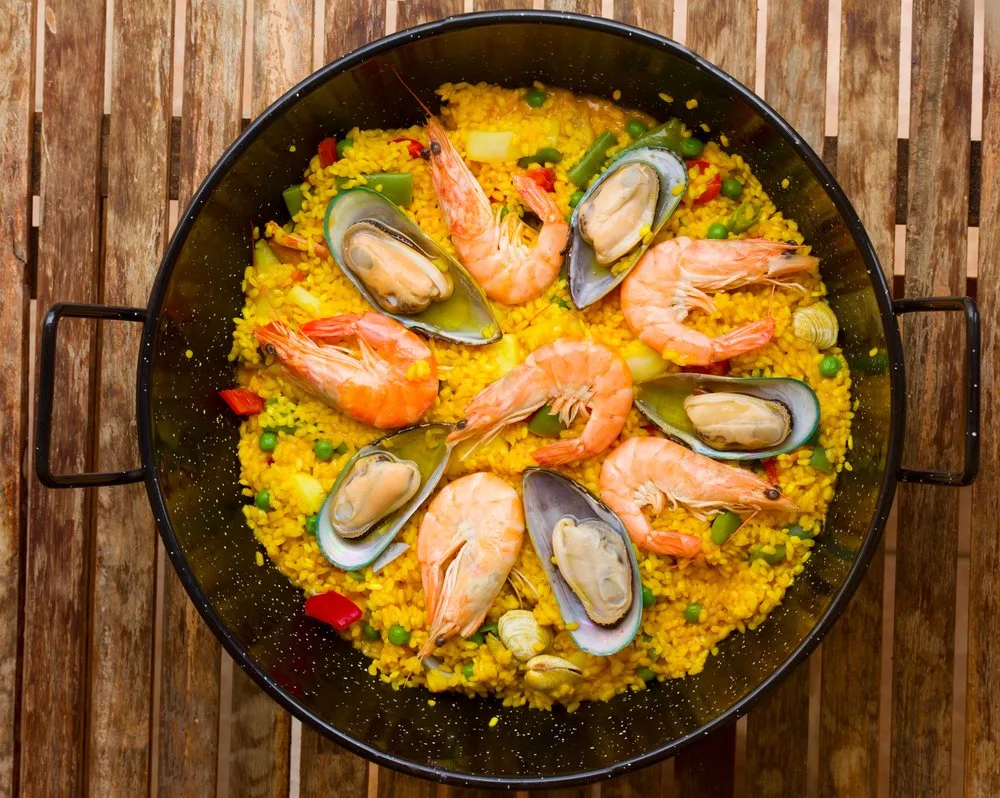 If you are looking for a similar dish like the famous Honduran "Arroz con Pollo," Arroz a la plancha will serve you a delicious rice platter with seafood. Nicaraguan rice is unique in the way it's cooked. After boiling rice in stock/water, it's grilled on a flat metal plate or a non-stick pan called plancha in the native language.
The rice is grilled until the bottoms and corners turn a little crispier on the edges and golden-brown in appearance. Arroz a la plancha is then served with cooked sauteed shrimp, small cuttlefish, small squid, and European squid.
The locals mold their rice heap into a square or sphere at the time of grilling for authentic food presentation.
Bonus: Nicaraguan National Drink—Macau
Recognized as the national drink in 2006, Macau gained popularity as the delicious fruit and rum cocktail among the locals. Macau is made using various juices, including guava, orange, simple syrup, and lemon juice. The bottom layer is always white rum topped with the above juices.
The drink is garnished with crushed ice/ice cubes and an orange wheel. Macau is named after a native bird in Nicaragua.
Nicaraguan Food History
Just like every other Central and Latin American country, Nicaragua also has a profound history of cultivating corn as a staple food.
Quetzalcoatl, a historical hero for the Mesoamerican civilization, was believed to have found corn and its proper usage as a staple food for Mayan, Inca, and Quiche cultures.
In Mesoamerica, corn was not just food; it was a means of civilization, unity of people, and growth. Corn production gave stability to the nation and cultures alike. It promoted the social-economic growth of the country.
"The goddess of new corn," a famous tale encircled throughout Mesoamerican people, is about a princess named Xilonem. During a rough drought in the locality, Princess Xilonem sacrificed herself so that her people wouldn't starve to death.
Her death and sacrifice are celebrated and praised every year (the eight-month) through rituals and practices.
As a representation of Princess Xilonem's sacrifice, the farmer-priests cut the first young corn cob to produce more prominent and healthier corn cobs.
Conclusion
There's no doubt that corn is delicious; we have most probably consumed sweet corn at theatres to taste the flavors. However, when whole cultures depend on corn and corn-based dishes, imagine the varieties they could offer you.
Nicaragua is one such country to offer various corn-based recipes that are healthy, dense, and delicious.
Not just corn, the country offers delicious Caribbean-style and Jamaican-style seafood. If you plan to visit Nicaragua, before you enter the popular restaurants, it's better to visit the famous food alleys of the country.
Not only do they serve delicious food, but they are also 100% traditional without foreign recipe administration or changes. The locals profoundly prefer the ancient recipes of the food over modern changes. As a traditional food lover myself, I know the importance of original recipes and ancient cooking methods.
Visit Nicaragua, their great volcanic range of mountains, and their great food; you will not be disappointed.
Igor Jovanovski is an aspiring digital nomad, travel blogger and graphic designer who really loves food. He also has a creative side, and he works as a freelance graphic designer in his spare time. He has traveled across Europe quite a few times since he was young and recently started his mission to visit every country in the world! Igor's favorite thing about traveling is the way he gets to know new people, food, places and cultures.
This exciting experience helps him create his own stories and make memories that will last forever