Visiting Chesapeake, Virginia, for the first time, despite having grown up about three hours away, was a better late than never type of experience. We'd expected the historical aspects of the area, but not the outdoor recreational activities, urban art, focus on people across time, or excellent dining opportunities. I look forward to returning to visit more restaurants and cover more ground in the second-largest city (by population) in the Commonwealth of Virginia.
We met with the Visit Chesapeake, VA staff, Kim and Wendy, at the Greenbriar Inn, where they escorted us to The Hive. They've worked together for over twenty years. That's how much they love both living and promoting the area.
Visiting other destinations in Virginia? Check out our other guides:
The 7 Must-Try Chesapeake Restaurants
225 Sign Pine Road // (757) 421-2141
The Historic Greenbriar Inn covers expansive property that includes a house (once used as an Airbnb), tree, flower lots, petting zoo, children's play area, strawberry fields, space for weddings and other events, and a lake large enough to fish.
On the far side of the house is The Hive, a food truck serving farm-to-table meals and a stand with items to purchase to eat there or take home.
Entrees include southern-style maters, fried green tomatoes with goat cheese, and peach bacon jam. Repeatedly, I heard the peach bacon jam is "life-changing." When you visit, plan to purchase extra to take home with you. Two from our party chose this; one had never eaten fried green tomatoes (think the movie) and found it tasty, with or without the cheese.
Hive fries are sweet potato fries with smoked pork and another new flavor profile for me, blueberry BBQ sauce. Chef Doug Parsons tells us that he first fell in love with this while working in Florida. He's kept it "in his pocket" ever since. Another one to plan to take a jar home with you.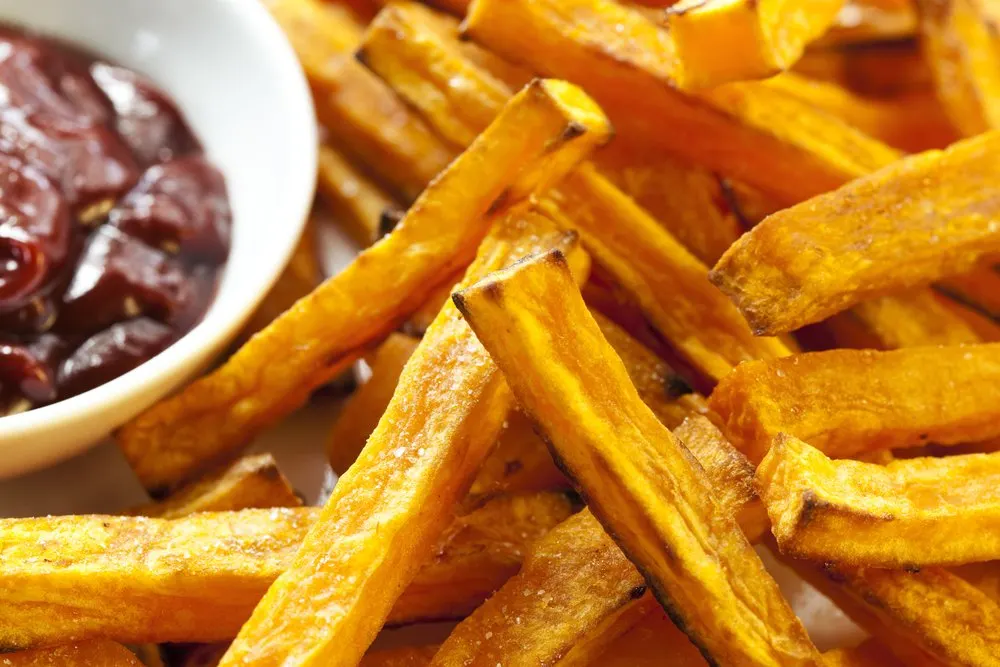 Pulled pork sandwiches are pulled pork shoulder, chow-chow slaw (Chef adds a jar of chow-chow to his slaw), and the blueberry BBQ sauce on a brioche bun. My colleagues that tried it said it was "delightful" and "delicious!" The Pro Tip is to get a knife and fork because it's too big to eat all together. They adored the Blueberry BBQ sauce as it was sweet with a tang. Perfection.
The smoked turkey sandwich is a breast with NC Hoop Cheddar, fresh greens, apples, and peach bacon jam.
The Farm Burger is ground chuck with fresh greens, tomato, and onions on a brioche bun. They cook the beef to order, so expect it to take a few minutes. The chef shared that they're working toward having table service after they increase the menu to "full strength." He says they're currently running at about 80% since no seafood is currently included, and that's his strength.
The honey sriracha fried chicken sandwich is a crispy fried chicken breast, fresh greens, tomato, and onion, with the ability to add cheese or bacon for a slight upcharge.
The chicken salad was recommended by several fellow guests, so I tried that. The chicken is mixed with mayo, almonds, some celery, and a variety of fresh greens, served with apple slices and cucumber slices with fresh tomatoes, onions, and your choice of vinaigrette. I chose strawberry vinaigrette, with the strawberries picked right from this farm, and found it was tasty for the fresh chips as well. I chose sweet potato fries as my side dish. They were sweet and perfectly fried all on their own. No need for any condiments.
The Farmhouse salad includes fresh greens, tomato, cucumber, apples, blueberries, almonds, goat cheese, and peach vinaigrette, with grilled chicken or smoked turkey added.
For kids, the options include chicken tenders or cheese quesadilla.
Sides include tortilla chips with salsa roja, hive mad chips, sweet potato fries, fresh fruit, or the chow-chow slaw.
You will leave satiated, perhaps even ready for a nap, but do yourself the favor of walking around the grounds or picking strawberries to take with you when they're in season.
2207 Mt. Pleasant Road // (757) 546-9225
Known since the time they were a dairy farm, this company's homemade ice cream is legendary. So is their chicken salad.
You would have to do a proper permutation or computation to figure out the true number of possible options when you build your own sandwich. First, you get to choose your meat from Turkey, ham, roast beef, bacon, salami, or pepperoni. Then choose your cheese with Colby, provolone, Swiss, pepper jack, or cheddar as your options.
Next, choose a roll between wheat, white, and dill onion (I highly recommend the dill onion). Step four: choose your condiments, which can include mayo, yellow mustard, deli mustard, oil, vinegar, or horseradish. And step five, choose your toppings with lettuce, tomato, onion, pickle, and sweet peppers available. If you'd like any extras for a slight upcharge, you can choose extra meat, extra cheese, avocado, or red pepper hummus.
Or, get a half or whole specialty sandwich choosing from Black Forest ham, classic roast beef, Italian, turkey bacon club, roast turkey, pork barbecue, veggie sandwich, or BLT. That homemade chicken salad I mentioned above is a white meat chicken with diced grapes, celery, and a sweet dressing with lettuce, tomato, and onion, typically served on a wheat roll. I enjoyed the additional flavor of the dill onion roll, which the lady who took our orders recommended.
When you walk into this establishment, the sandwich orders are taken in the back center by the kitchen, the bulk of the area is store, and the desserts are found either on the far left where the ice cream and cookies are, or in the cooler in the back right which include pies, limited to one per person, and drinks to the far right.
They do also offer dinners "to go" with chicken pot pie, chicken salad, or pork barbecue, which are family size and look like they could easily feed a family of four.
Turning to the ice cream, you have the option of a single or double scoop cup or a waffle cone for an additional charge. They do serve milkshakes or floats and even a brownie sundae. You can ask for a pint or quart to go in any of their daily flavors. The flavors on offer today included vanilla, cookies and cream, lemon custard, banana, mint chocolate chip, strawberry (which was fresh with the strawberries being picked from the fields next door), chocolate, Key Lime, and something totally new for me, "ice cream for breakfast." The ice cream for breakfast included bacon and shards of waffle cone that looked like an actual waffle.
After consultation with the staff, I chose the strawberry and banana for a double scoop cup. My first taste of banana was just like banana bread. I admit to eating almost half of it before we even received our sandwiches to check out. They provide the meal for you in a paper bag that you can then take with your drinks around the corner to indoor seating or sit in front of the building at picnic tables with umbrellas.
Even indoors, they have tic tac toe, Plinko, and a variety of other games to keep kids and adults engaged as they wait or after the meal as others chat.
Following the meal, take the time to look around the grounds, either visiting the petting zoo or going over and picking your own strawberries at the farm next door.
510 Bellaire Ave. // (757) 698-4216
It's obvious pretty quickly when you walk into this Brewing Company that it has a German bent. What is only understood once you see the menu is that they also love their dogs.
With appetizers named kibbles, dog bones, dog park, puppy tails, tail twigs, and a jumbo beer pretzel, if you're in the mood for an appetizer, you're going to be dog-related.
We went for the dog park, hungry like a hound between the four of us, and wanted to try all their favorites, including a puppy tail, cheesy pepperoni's twisted and baked, then diced into snack sizes and served with the house-made marinara or ranch sauces, boxer bites which are their diced pretzel, and a "snoot watering" serving of kibbles, pepperoni slices baked to a crispy finish, also with ranch or housemaid marinade. Sadly for us, no pretzels were available in any variety, so our plank of dog park was a few puppy tails and half a board of pepperoni kibbles.
From the fryer, our host enjoyed the short-haired French fries, topped with beer cheese, beer chicken, and green onions. Brussels Griffon was shared; fried Brussels sprouts tossed in their Thai chili sauce and sprinkled with sesame seeds. If you like Brussels sprouts, you'll really appreciate these fried offerings.
The German influences were especially evident when you look at the main dishes with beer Bratwurst, the vegan brat, Wasserhund brat, with a choice of two Bratwurst and a side of German potato salad. They offer four salads that are much more sea-influenced, including a beach bum, sea coaster, sunbather, and coral wonder.
Their specialty pizza saved the day with options like the Wasserhund, a burly bulldog, a white shepherd, a Puggle, a Dachsinater, an Italian greyhound, a hellhound, a lil' yapper, a moon doggy, or a rottweiler, with make your own options available. They do offer a gluten-free crust (cauliflower) and small, medium, and party-size pizzas.
The dessert offerings were classic. Try their "catnip," their custom dough, lightly buttered, then sprinkled with cinnamon sugar. The vanilla bean salted pretzel, when available, can be drizzled with house-made beer caramel as well as a side of caramel cream cheese for dipping. My favorite was the carnival tomcat. Funnel cake batter "fries" covered in powdered sugar with a side of caramel sauce were even more delicious when served prior to the pizza. I didn't even have to ask for dessert to be served first.
Our diverse pizza choices were well suited for us. I had a plain cheese, one colleague a pepperoni pizza, and one with no cheese but both pork and pineapple.
Also on offer are their house-made brewery selections and various liquors. One had a mimosa flight and another a flight of mostly fruity pale ales. They both enjoyed them with little remaining. They do place a shortlist of the flight selection along with the puppy paw-shaped tray. It gets wet quickly, so you may want to take a photograph of the list first so you can remember your favorites.
1230 Perry Avenue // (757) 545-9311
While not technically a restaurant, I would be remiss to not mention the Williams candy factory on this list. We were able to stay from the time the sugary concoction was poured onto the lawn cool table and the first color added, and then flavorings, then citric acid.
We watched brothers Dave and Joe manipulate, maneuver, and meander through the layering, tossing, folding, and kneading required to make this delectable ribbon candy. No one else has been able to replicate the addition of coconut on the interior of this ribbon candy. You'll have to take my word for it that it tastes even better fresh and warm.
The factory has been in existence, originally at a different location, since Dave and Joe's grandfather's time. Their sister, Ann, is now the president of the company since their parents have both passed on. Both brothers are vice presidents.
It's not air conditioned and is warmed only by the heat coming from the back of the room where the sugar is boiled. Expenses had increased so much with the supply chain challenges that it now costs $20,000 to fill the syrup tanks when it was once only $12,000. Their candy is remarkably inexpensive, especially considering the value and taste offered. They don't have a website and don't take credit cards. They accept checks or cash and still sell out regularly.
If you're there as they are making the candy, they'll be happy to answer questions as you have them.
4201 Indian River Road // (757) 351-2724
Wicker's Crab Pot has been a family-owned business for the past four generations. They specialize in harvesting Virginia blue crab and oysters as well as other fresh seafood. The night we went, their grouper was already sold out. Their menu is extensive, with appetizers that include a big crab dip, chicken planks, Kent crab bowls, oyster rock, Haley seafood Mac and cheese, Wicker's tuna bites, Buffalo BBQ shrimp, and Big Mom's deviled crabs.
They offer a house or Caesar salad and a choice of three soups, including she-crab soup. We learned that female crabs are smaller and sweeter than male crabs. Also available is a Hatteras clam chowder that includes a clam broth, clams, bacon, potatoes, carrots, and celery, or jambalaya with shrimp, chicken, Andouille sausage, onions, peppers, and Cajun stewed tomatoes topped with rice.
Sandwiches are called "claw-helds," served with hush puppies, then a choice of chips, salsa, or potato salad. The choices range from a lump crab cake to flounder to fried soft shell crab or pork barbecue sandwich. Po' boys are served on a toasted sub roll with lettuce, tomato, and the homemade Chipotle ranch dressing and can be either oysters or shrimp. The Wicker's chicken sandwich, fried or grilled, a blackened tuna sandwich, or blackened mahi "steak," cheeseburgers, and crab burgers are also available.
The couple next to us was sharing a steam pot and highly recommended it, so two in our group got the shrimp and snow crab steam pot. It was a half-pound of steamed large shrimp and a half pound of snow crab with corn on the cob and seasoned red potatoes. We were really happy to see that it was the sweet white corn that isn't commonly farmed any longer in the upper middle West of the United states.
The couple shared an even larger steam pot which included a half dozen oysters, a half dozen clams, a half-pound of snow crab, a half-pound of large shrimp, corn, and seasoned red potatoes. The seasoned red potatoes were spicy, salty, and a great complement to the meal.
Wicker's also gave the option of building your own steam pot for an individual meal or a feast to share. You could choose a base of seasoned red potatoes or steamed broccoli, seasoned fresh corn on the cob or andouille sausage, and then choose your proteins, which could be the large shrimp, crawfish, seaside oysters, or snow crab, clams, mussels, Bayside oysters, or Dungeness crab, and then season it plain, Old Bay, lemon pepper, garlic crab, Cajun, or Indian River crab dust.
You can even buy the crab by the bushel if you like. Their variety of seafood continues with the big raised local flounder dinner, Captain Wicker seafood platter, which includes shrimp, scallops, oyster, local flounder, and lump crab meat, the oyster dinner, crab stuffed shrimp, scallop dinner, shrimp dinner, crab and butter, soft shell dinner, Caroline's crab cakes, crab stuffed flounder, or Wicker seafood delight which includes she-crab soup, Tampa scallops, shrimp, hush puppies, and bacon.
Entrees are served with a side salad and include crab meat, chicken fried, grilled, or blackened, chicken breast, chicken dinner, or pork barbecue. Cajun dirty rice is available in a wrap with your choice of protein. I opted for the blackened tuna tacos that were wrapped and served in flour tortillas served with shredded cabbage, tomato, and their perfectly spiced Chipotle sauce. I chose seasoned potatoes as my side. They were a great complement to my meal, and I could've just as easily eaten them for dessert.
Our host scored the last remaining tuna steak in the entire restaurant. It's her go-to meal at this restaurant.
As if that weren't enough, the captain's catch service includes hush puppies and a choice of plain, branch, or Old Bay potato chips, slaw, or potato salad. They also offer fish and chips, which is a cold-water Atlantic cod, or a quarter-pound or half-pound boat of flounder, shrimp, oyster, or scallops. Their a la carte menu includes flounder, lump crab cake, oyster, scallops, tuna steak, shrimp, soft shell crab, chicken, a dozen hush puppies, and battered cod.
The desserts sounded delicious, with banana pudding, carrot cake, Key Lime Pie, and white chocolate chip bread pudding. It was a tough choice, but the pair that shared the steam pot had enough energy for dessert and went with the banana pudding and white chocolate chip bread pudding, respectively. They said it was delicious. You'll hear that word a lot as you eat across this city.
The environment of the restaurant is nautical, as you might expect, and very family oriented. They have fun signs and, outside, places to create your own fun with pictures (stick your head in to become part of the crab). Our server, Tonya, was mindful of our need for time to speak and very observant when our drinks needed to be refilled. She took great care of us.
200 North Battlefield Blvd. Suite 1 // (757) 410-5999
Our morning started at the museum, so it's an easy jaunt over to Lockside Bar and Grill. We'd already been nearby since the Lock Great Bridge park is so close, and we've been enjoying the blue heron sculptures earlier in our trip.
We were offered indoor or outdoor seating and chose the gliders in the "back yard" along the waterfront. This allows you the sun protection of the cover and the beauty of the outdoors on a lovely day (ours at 84 degrees with a light breeze).
There are plenty of things to keep you entertained in the backyard, including Connect 4, corn hole, and more activities inside by the bar.
They serve breakfast until 3:00 PM daily and include classics like the American, the hungry man, steak and eggs, country ham, a petite, country fried steak, or shrimp and grits. The breakfast favorites include a creamed chip beef or sausage gravy, eggs Benedict, which was chosen by one of our party, and she really enjoyed the two poached eggs on the English muffin with country ham and hollandaise sauce. She chose home fries, which are cubed potatoes, as her side dish. The Lockside Benedict adds crab cake to the mix.
There's also a kale Benedict, an eye opener that includes a fried egg on brioche, and the Charlottesville, which is a bacon, lettuce, tomato, fried egg, and pesto mayo on white, wheat, or rye bread with hash browns, grits, or home fries.
Their omelets include cheese, ham and cheese, western, spinach, or seafood.
They offer classic French toast, banana French toast, stuffed French toast, and then pancakes or banana pancakes.
The rest of us went for lunch dishes. Entrees offered include meatloaf, shrimp scampi, which one writer had without the tomatoes and really enjoyed, Lockside ribs, fish and chips, fried shrimp, and chicken tenders. One of the visitor Bureau staff and I both chose the mahi tacos. Other available options were shrimp tacos, avocado tacos, and Lockside giant burritos.
I finished my first mahi taco very quickly, served with chips and salsa; I thought I would be done before anyone else. Sadly, as I bit into the second taco, something very hard caught between my two teeth and the crack could be heard around the table. An emergency dental visit, aided greatly by the visitor's Bureau, revealed a loose tooth and a strained TMJ ligament. I don't think I'll be having tacos for a long while, but it tasted good while it lasted.
Soup and salads available include crab and corn chowder, Caesar salad, Greek salad, and stuffed avocado.
Handhelds include the Yardbird, the Cubano, the Reuben, the fried flounder, the classic burger, the Patty melt, beyond burger, grilled cheese, BLT, club sandwich, and chicken Caesar wrap. Our final writer decided on the fried flounder. I was a little concerned to have it after having such a great experience at Kill Devil Grill in the Outer Banks. She was not at all nervous about it, and they were true to their word when they said it was too big for the bun.
It was at least double the size with lettuce and tomato and typically served with red onion and remoulade but held for her. She folded the flounder on itself and cut it in half and finished the sandwich quite quickly and was still able to make room for dessert, although she ultimately decided against it.
Desserts available today included a New York cheesecake, Key Lime Pie, brownie a la mode, vanilla bean creme brulee, a bread pudding, and chef's choice, which was a coconut dish. The Key Lime Pie is a very popular option in this region. If you are a fan of Key Lime Pie, I highly recommend you try a piece at every restaurant and let us know your favorites.
725 Eden Way N. Ste. 700 // (757) 382-0015
Owners Shawn and Rachel Dawkins open their third branch of the Cutlass Grill, named for the machete used in Jamaica. Highly recommended by the Chesapeake visitor's center, the menu is diverse with a swath of food items that can please nearly any appetite.
Tonight's specials were twin fried lobster tails and also beef ribs. They usually have a pork ribs special. It is a very large portion, though, at a full rack, so bring your appetite, especially since it includes two sides. Not only are the ribs smoked with a rich barbecue sauce, but they also have a spice blend rubbed on them before it ever reaches the BBQ sauce.
The restaurant space is open and airy, filled with friendly chatter and good music, with the Jamaican flag and multiple signs with Jamaican sayings easily visible from every vantage point.
Appetizers include mini-beef patties, jerk lamb chops, chargrilled oysters, jerk shrimp tacos, fried grouper tacos, and hot wings.
After a dental challenge earlier in the day, I was afraid to try the tacos, and I don't usually like to eat meat from bones, so I went with the jerk chicken salad. As spicy as they told me, it is a grilled chicken breast with tomatoes, cucumbers, carrots, cheese, and a boiled egg. With the help of the egg white and the cucumbers and carrots, I was able to have the jerk chicken without burning my palate too much. It was incredible.
Accompanying my meal, I chose to purchase additional fresh green beans and fried plantains. The side dishes were all delicious. The plantains could easily have been eaten as a dessert.
They also offered a grilled salmon salad and a grilled chicken and avocado salad.
For vegetarian dishes, they offer plantain tacos, coconut Curry mixed vegetable dish, and a vegetarian pizza.
The island favorites usually take the most time to sort through. The jerk chicken is still on the bone and is offered with a choice of either white or dark meat. Oxtails, browned and stewed with a variety of herbs and spices, are offered with one or two sides and were eaten by the gentleman at the next table, who truly devoured them. The brown stew chicken is very similar to the dishes that I saw in Belize, with chicken leg quarters browned and stewed in a house-made sauce. I believe brown sugar is involved, and it smells delicious.
Their jerk pork is marinated for 24 hours; the curry goat is as tender as you could imagine, and served with potatoes and carrots. The curry shrimp is sauteed with onions, red and green peppers, and carrots, all served over rice and peas or white rice if you prefer.
I was disappointed that the whole red snapper truly came whole, including bones and eyes. It is served in your choice of four different ways: brown stew, escovitch, steamed, or roasted. I would have really enjoyed a snapper fillet, but they're so busy, that it would be difficult for them to accommodate that request.
The rasta pasta is fun to say and eat, with coconut milk-base, onions, red and green peppers, tossed with spaghetti pasta, and Parmesan cheese. It too is served in four different ways for your choice of no meat, chicken, shrimp, or salmon. The jerk lamb chops are lightly marinated, grilled, and served with garlic and aioli sauce.
The chef's specialties included jerk rib eye, rum glazed pork chop, and baby back pork ribs. One of the writers that accompanied me had the full rack of ribs and two sides; she chose Mac and cheese and French fries, and it was impossible for her to finish.
The Whiting fish is "quite delicious," with a buttermilk Whiting filet, fried golden brown. You can add shrimp to make it a combo. Fried shrimp, grouper sandwiches, and the most popular, rum glazed salmon, come with one or two sides. Two of our group had the rum glazed salmon, one with macaroni and cheese and mixed vegetable side, which she had to take home, the other with steamed cabbage, which she declared delicious, and collard greens. She tasted the baby back pork ribs after having started a rum glaze salmon and initially thought there might be some rum in the pork ribs, but the owner confirms that they are two different dressings.
The side dishes include Jamaican rice and peas, white rice, macaroni and cheese, steamed cabbage, fresh green beans, fried plantains, collard greens, mixed vegetables, and French fries. All of them were delicious and highly recommended.
When it came to desserts, I thought I was home free because I don't eat coconut or carrot cake, but they also had a bonus this evening with a peanut butter mousse chocolate cake that all three of us ended up eating (one piece each). They were out of their toasted coconut cream cake. The carrot cake, mango coconut bread pudding, plantains foster, and banana pudding will have to wait for another day.
The peanut butter mousse chocolate cake was decadent, dark, delicious, and very filling.
They offer Coke products, Minute Maid lemonade, freshly brewed sweet or unsweet tea, as well as coffee and water. Our service was excellent, which we hadn't necessarily expected because of a sign on the door explaining that they have had problems obtaining enough support staff. She exceeded expectations.
We'd go there again. Over and over again.
---
Which of these Chesapeake restaurants will you try first? Let us know in the comments section below!
Gail Clifford, MD, a physician for more than 25 years, has traveled to five continents and all 50 United States. An avid traveler, she happily goes on new adventures, especially on birthdays. Multi-generational travel remains a treasured pastime. She divides her time between Ireland and the U.S. You can find her on Instagram, LinkedIn and Facebook.