Wytheville calls itself "The Only One." This moniker fits its culinary scene also as there are many one-of-a-kinds in its dining experiences. Wytheville lies in the foothills of the Blue Ridge Mountains about 40 miles from the Blue Ridge Parkway. It was once on the pathway of westbound settlers and is still a crossroads where Interstates 77 and 81 cross.
It has several historic sites to visit while dining there, including Edith Bolling Wilson's birthplace and museum. She was President Woodrow Wilson's second wife and many historians consider her the first acting woman president. An interesting culinary fact, Ettore Boiardi, the Italian American chef who later became famous as Chef Boy Ar Dee, catered their wedding reception.
Thomas J. Boyd Museum tells the town's history and about the polio epidemic that devastated the town in 1950.
The African American Heritage Museum tells the history of African American education in Wythe County.
The Nine Best Restaurants in Wytheville, VA
520 E. Main St., Wytheville, VA 24382 // (276) 228-4139
For a revolutionary idea in dining, try traveling back to 1776 and dining in the Log House 1776 Restaurant. It's one of the oldest remaining structures in Wytheville, with portions of the building dating to 1776.
We dined in the log cabin section and later toured the rest of the restaurant and its yard and other buildings.
Judging by the size of the servings here, Colonial Americans had enormous appetites. Our home-baked bread looked like a giant biscuit. It was hot and soft with a crispy crust. Delicious, but significantly more than two of us could eat if we wanted to save room for our appetizers and main course.
For appetizers, we had Corn Fritters with honey. They resembled fat hush puppies but were even better. There were whole corn kernels, and the sweet taste of the honey blended perfectly with the crumbly dough.
My main course was a delight, Orange Chicken served on a bed of wild rice and topped with Mandarin orange slices, almonds, and wontons.
It was coated in their signature orange sauce. That tangy sauce brought out the flavor in that tender chicken.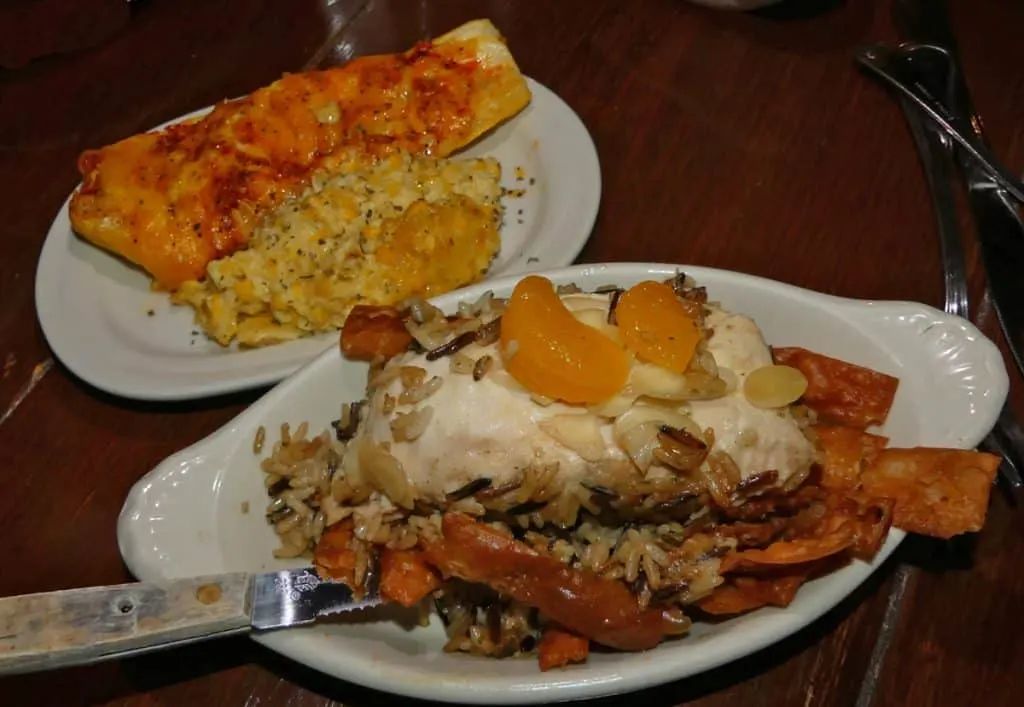 Their Christopher's Lounge resembles a colonial public house with its hand-crafted bar and exposed beam ceiling. Perfect spot if you are looking for a drink in a cozy spot.
There's a world of experience in the yard. I loved watching the bunnies. One had gotten out of his habitat and was enjoying the freedom of the entire yard. Since the yard is filled with plantings of herbs, flowers, and vegetables, he was having a good time.
Every now and then, he would go back and roam around the side of his habitat while his roommate paralleled him on the inside of the wire fencing around their home.
The captive one looked jealous. The other rabbits and doves in their own areas ignored us and the roaming rabbit. My companion, who lives in Wytheville, told me that the same rabbit has a habit of escaping.
There's a touch of art here with a cement shepherd seated on a stone seat between a wildly blooming pink rose bush and a deep green archway. His three metal-art sheep stand in the grass across the brick path.
There are lots of other art pieces between the Wilderness Road Trading Company and Earth Evolved Gift Shop. All the buildings are part of the restaurant complex and all look as if they were built in colonial America. It's definitely one of the most unique restaurants in Wytheville, VA. On the front lawn near the original 1776 log building, there is an ancient tractor.
Grayson Restaurant
100 Grayson Rd., Wytheville, VA 24382 // (276) 228-5304
Locals know where to find the best restaurants in Wytheville VA. Grayson's was packed with locals when we had breakfast there. They offer down-to-earth dining.
Nothing fancy, but well-prepared, traditional food. They had a unique idea of pricing everything individually so you can build your breakfast. I opted for biscuits and gravy and a sausage patty.
My companion went all out and built his with two eggs over easy, two slices of bacon, and a large slice of farm-grown tomato. They are open through dinner and have very reasonable prices.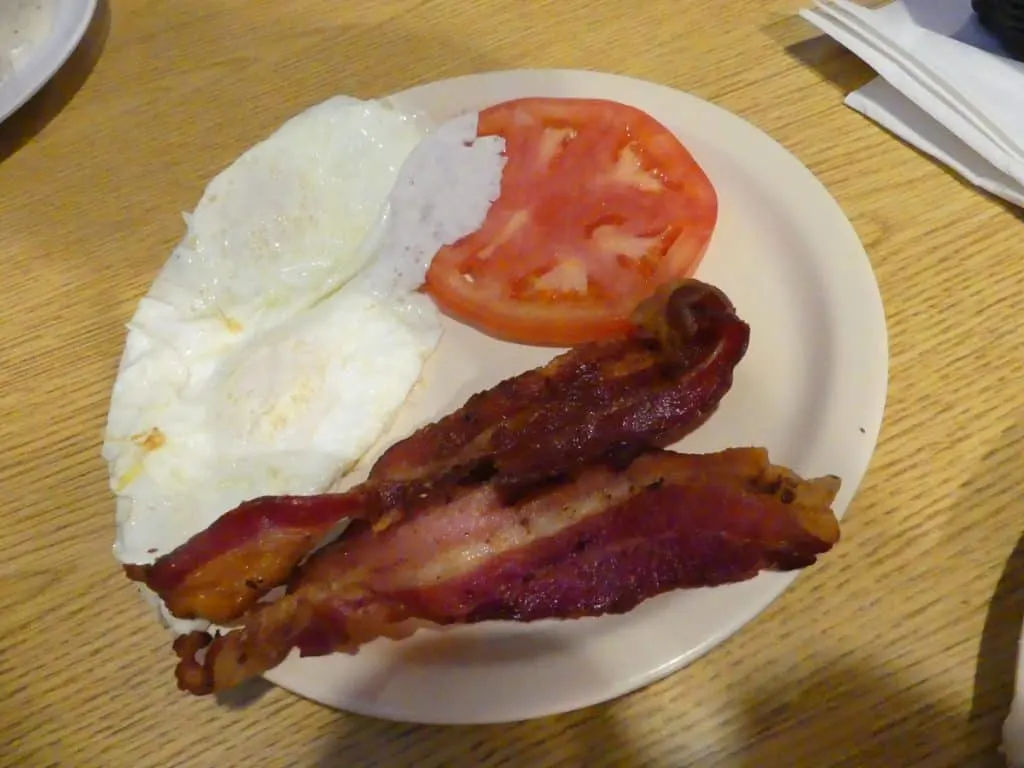 165 E. Main St., Wytheville, VA 24382 // (276) 228-2611
Skeeter's is home to the Skeeter Dog, with over six million hot dogs sold. It's housed in the same building where first Lady Edith Bolling Wilson, wife of President Woodrow Wilson, was born. It's one of the most famous restaurants in Wytheville VA.
Skeeter's opened in 1925 and got its name from the owner, Mr. Umberger's, son's nickname. It was originally a grocery store, and the hot dogs and lunches were a sideline. Eventually, the popularity of the dogs turned it into a restaurant.
Today, it's listed on the Top 64 Hot Dogs in America in the Rachel Ray magazine, Every Day. This will be one of the more fun and unique restaurants in Wytheville. Make sure to try it.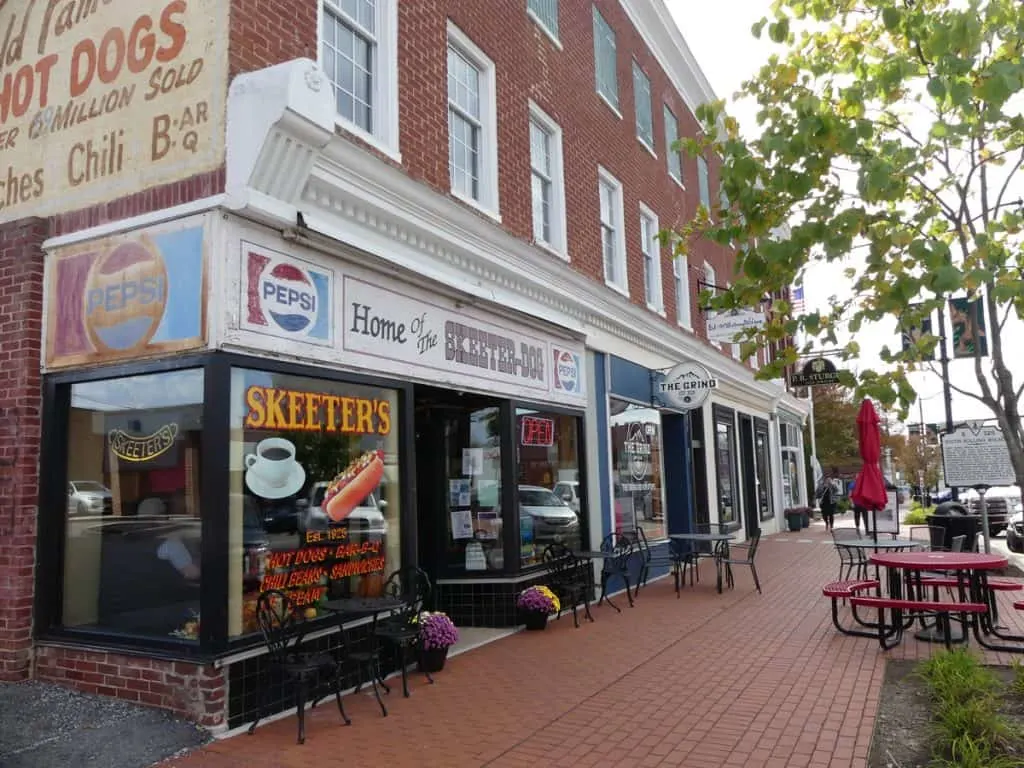 8711 Stoney Fork Rd., Wytheville, VA 24382 // (276) 663-4016
Drive up Big Walker Mountain Scenic Byway to the highest point. There you find Virginia's oldest privately owned attraction, Big Walker Lookout and Country Store.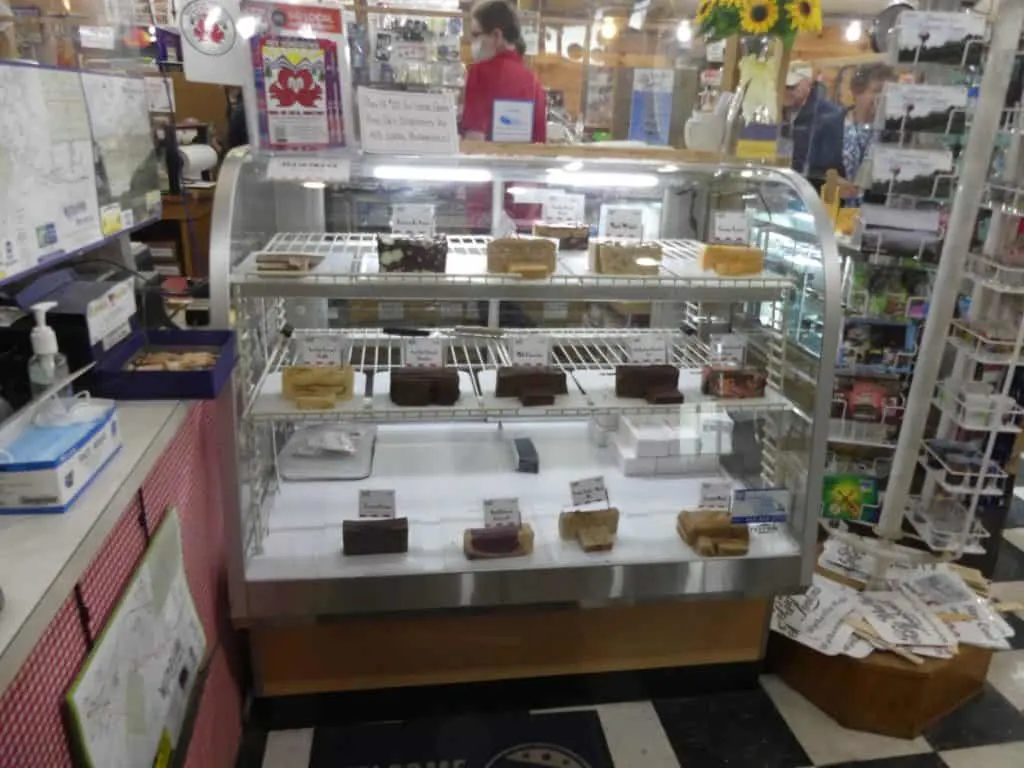 The steel beam lookout tower gives you a view of five states from its one hundred-foot top. Inside the Country Store, you will find tasty sandwiches, hot dogs, handmade ice cream, and fudge to replace all the calories you burned climbing the tower.
You can find lots of local art, crafts, and food items like jams, honey, and BBQ sauce. There are lots of local authors' books and on weekends, you will find local musicians playing.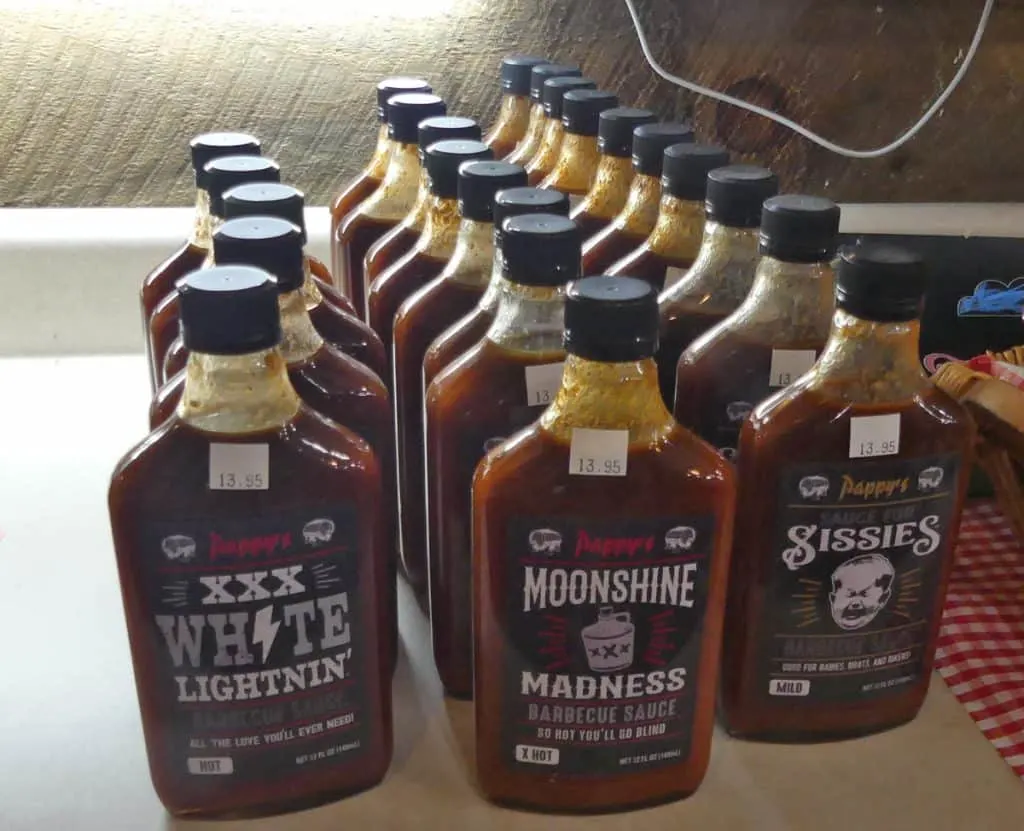 I met the current owner, Heather, granddaughter of the original owners, Stuart and Abigail Kime. Stuart was a WWII veteran machinist. When the war ended, he sought a peaceful place to settle and found this spot.
He moved to an original building and opened a small place that just said "Eats" on its side. The original restaurant in Wyethville consisted of a curved counter built by Stuart and had 10 stools.
He began building the tower around 1952 and opened it to visitors in 1953 for a twenty-five cents admission. By 1956, he completed the Pioneer Dining room that seated 60 people.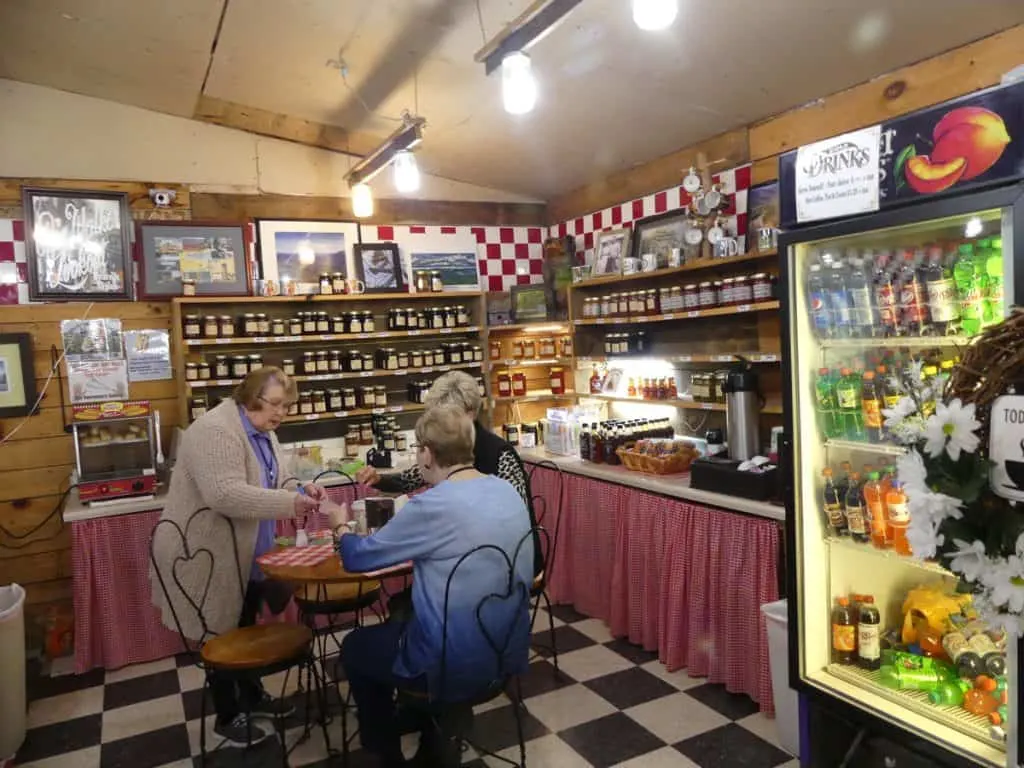 Tragedy struck in 2003 when a fire destroyed the original building. Stuart's son, Ron, and his son, Michael, began rebuilding and reopened what you see today in July 2003.
Today there is just one inside table but lots of outside picnic tables. It is worth driving up the mountain for the view alone, but the fudge and ice cream are something you won't find better.
205 E. Main St., Wytheville, VA 24382 // (276) 227-0401
As the name indicates, the specialty here is pizza. Their sauce is homemade. It's the reason why this place is one of the best restaurants in Wytheville, VA.
They offer everything from a simple cheese pizza to their Absolute Pizza with pepperoni, ham, bacon, Italian sausage, hamburger, green and black olives, onion, green pepper, mushroom, banana pepper, jalapeno, and anchovies, if you are really hungry.
I wasn't, so I had one of their other offerings, a Buffalo wings appetizer.
The wings were tender and well-seasoned. Something else you find here is craft beer on tap. Since Moon Dog is owned by the owner of 7 Dogs Brewery, it's all 7 Dogs Beers.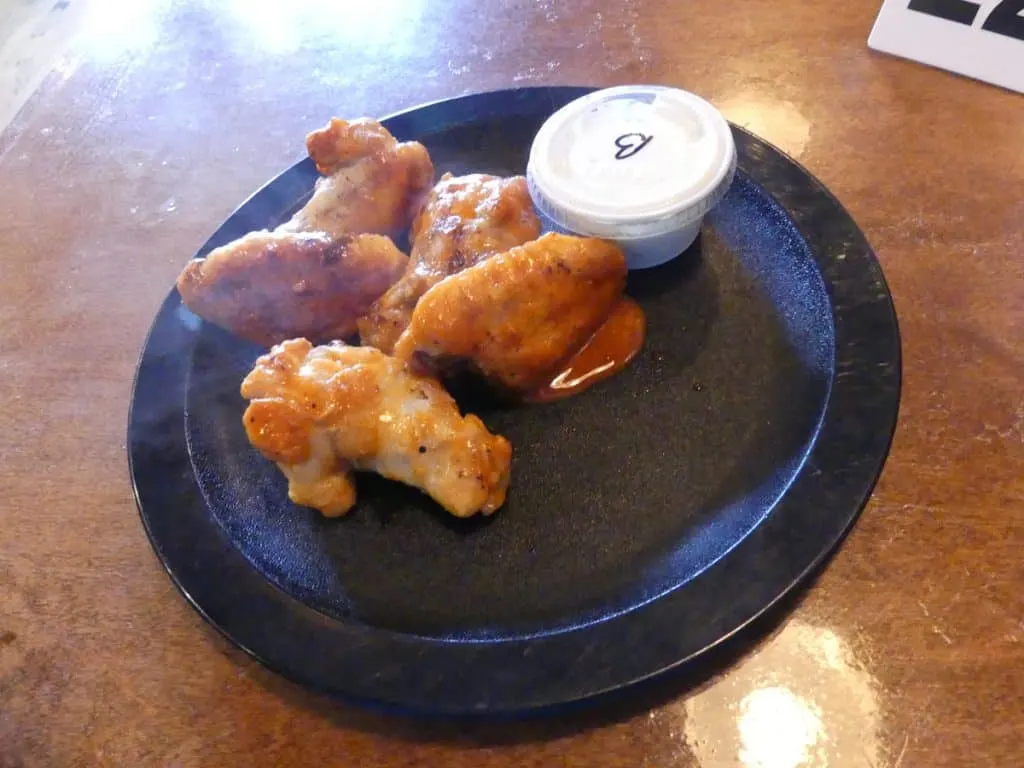 7 Dogs Brew Pub
360 W. Spring St., Wytheville, VA 24382 // (276) 228-0994
Owner Nelson Tidwell named Seven Dogs for his seven rescue dogs. He divided the menu items into sections named for one of the dogs and Dizzy, his gray cat, who keeps all the dogs in line.
Dizzy rates the soups listings, where you have a choice of Homemade Potato Soup or a Soup and Salad combo. I choose one of Tyson's options.
Tyson is a lab/pit bull mix, so it's only appropriate for him to be over some very big tacos. They heaped mine with BBQ pulled pork with onion straws, coleslaw, and barbeque sauce.
I chose a side of fried apples. My friend went with Buddy, the coon dog's Black and Blue Burger. It's a blackened burger with lettuce, tomatoes, onions, pickles, and blue cheese. He had a side of homemade potato chips.
Ginger, a dachshund mix, rules over the sides. Beer and music go together, so there are local bands. We sat inside as it was raining, but if you choose the biergarten, you can bring your furry friend and there are burgers and chicken on the menu for him as well as dog biscuits. It's one of the cutest restaurants In Wytheville, VA.
7 Dogs is relatively new. Nelson Tidwell found one more thing needing rescue in 2018 beside his dogs and cat. The historic Carpenter Building across from the courthouse was about to be demolished. He bought it and 7 Dogs Brewpub began.
Today, it's a popular spot for music and beer as well as food.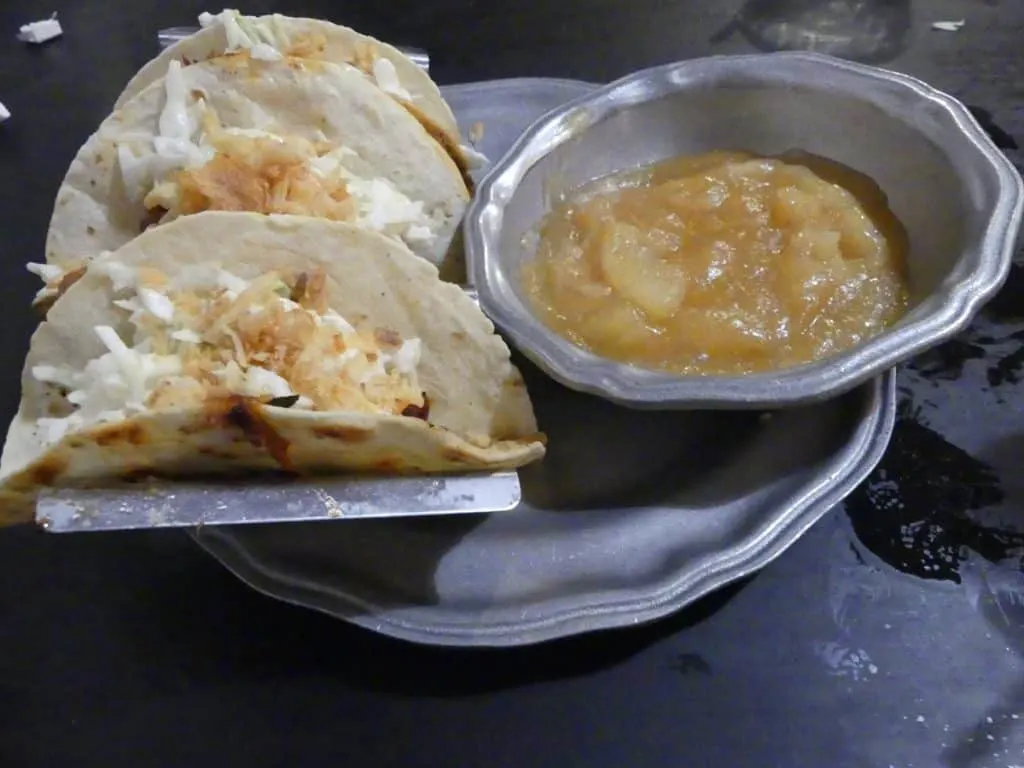 355 East Main Street, Wytheville, Virginia 24382 // (276) 227-0999
There's another fun brewery in Wytheville. Seven Sisters Brewery, named for the beautiful Two Sisters Mountain, is in the repurposed historic R.P. Johnson Building and it too is pet-friendly and child-friendly.
They brew all the beer in the back.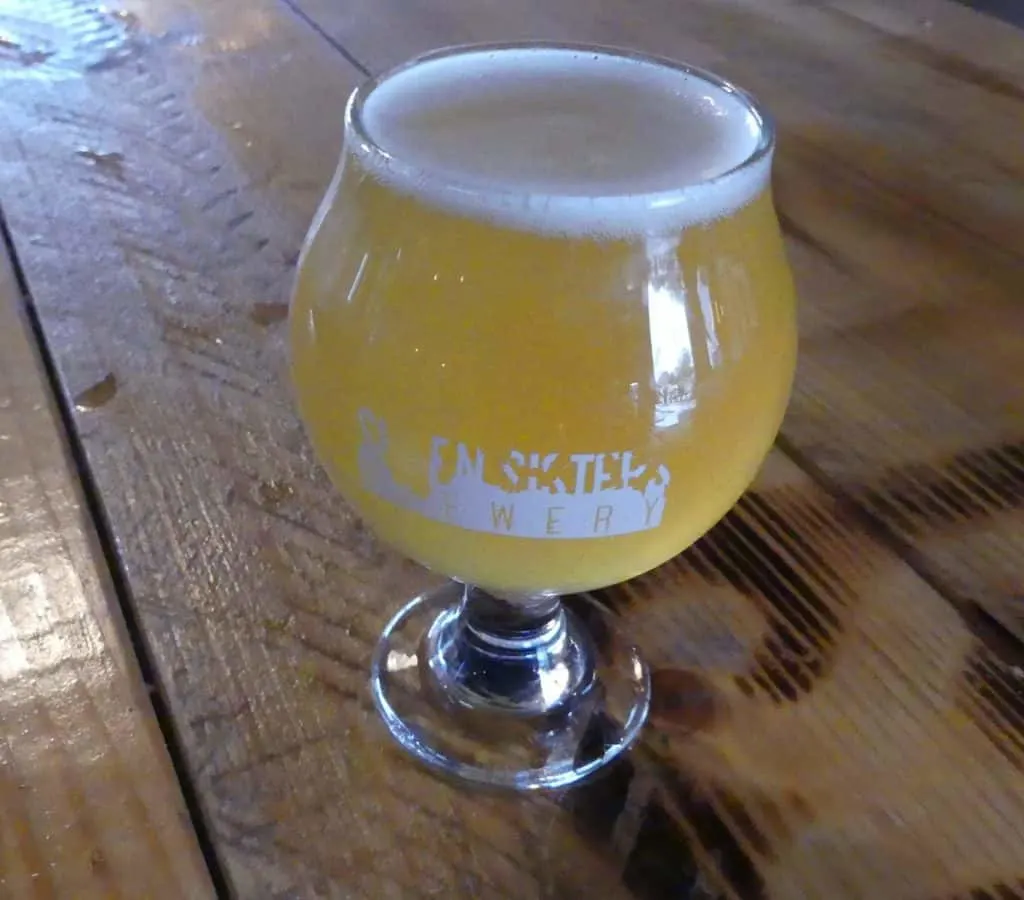 They team with Heart and Seoul Food Truck, so you can have your drink and dine too.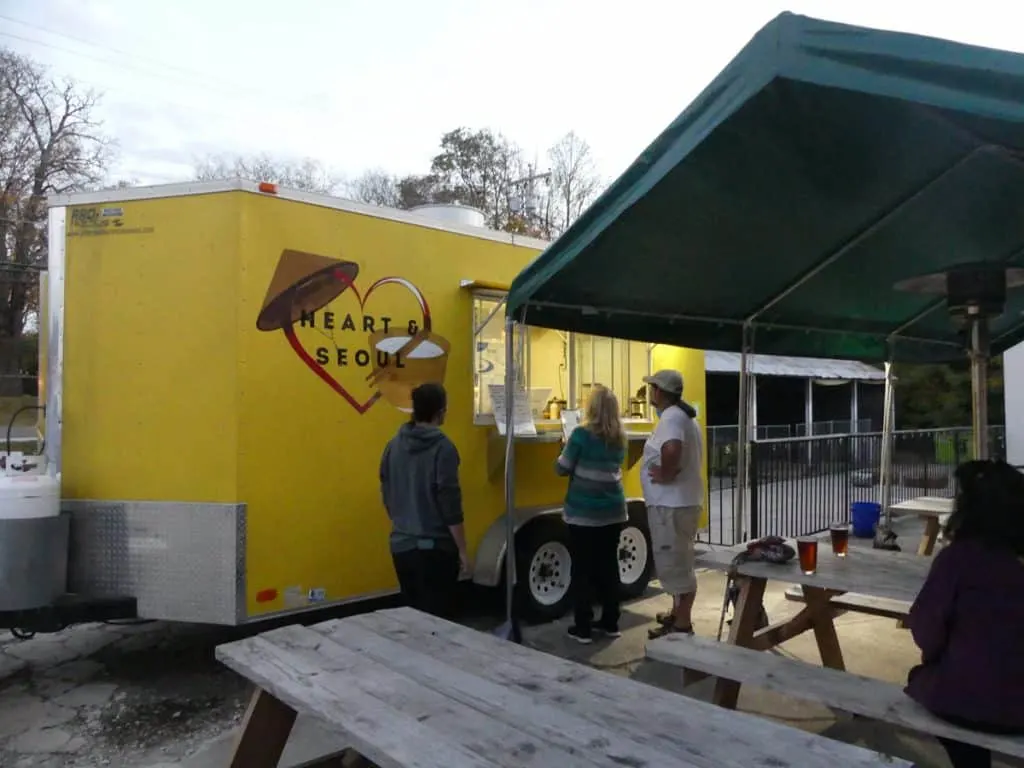 The day we visited, they were having a fun contest. Three people were competing to see how long they could hold a beer mug at arm's length without spilling any.
There's a game hall where every age can have fun. The stage hosts local musicians. TVs accommodate sports fans.
The building dates to pre-Civil War time and was originally a carriage and wagon shop. In the 1900s, with the coming of automobiles, Johnson's descendants branched out as well, into a sawmill, woodworking, and heavy machinery shop.
160 Tazewell Street, Wytheville, Virginia 24382 // 276-227-0031
Where there is beer, there must be wine. Petals is a combination florist, bottle shop, and dining spot. It serves gourmet grilled cheese panini, salads, soup, charcuterie, and cheese plates alongside artisan wines from local vineyards and worldwide. It's definitely one of the best restaurants In Wytheville VA.
They have a board offering special wine of the month.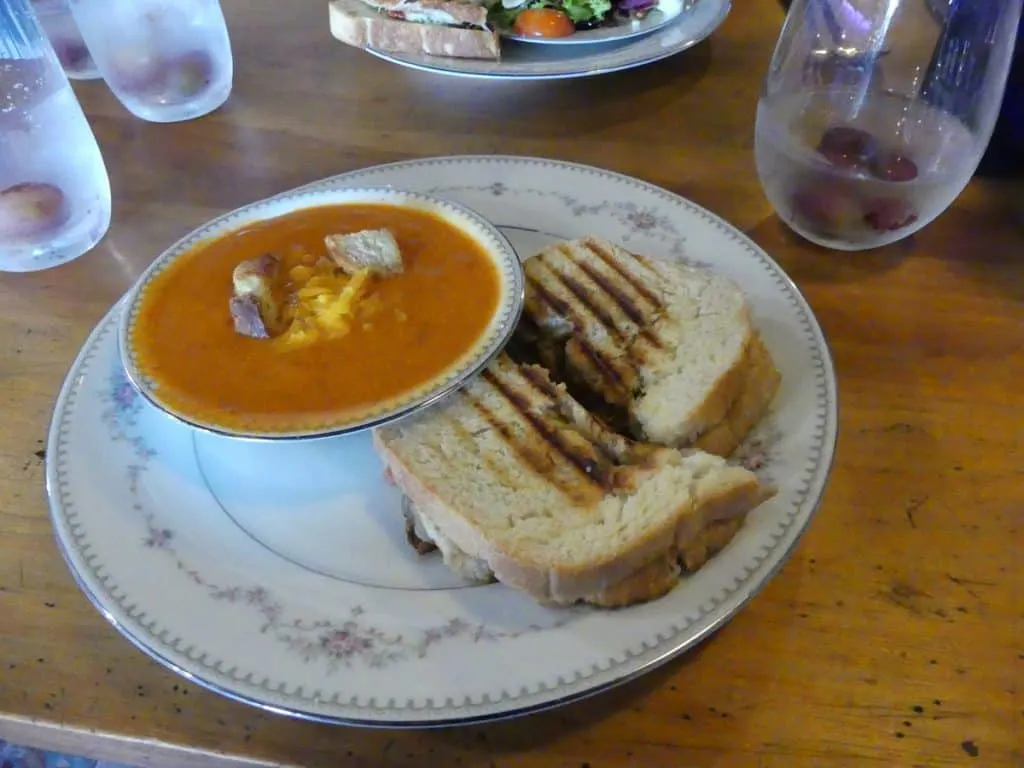 We had lunch there and I enjoyed a fruity sangria to accompany my Prosciutto, Blue cheese, and fig Sandwich and Tomato Basil Soup. The sangria was unusual as it was white wine with grapes added. It was perfect, mellow, and sweet.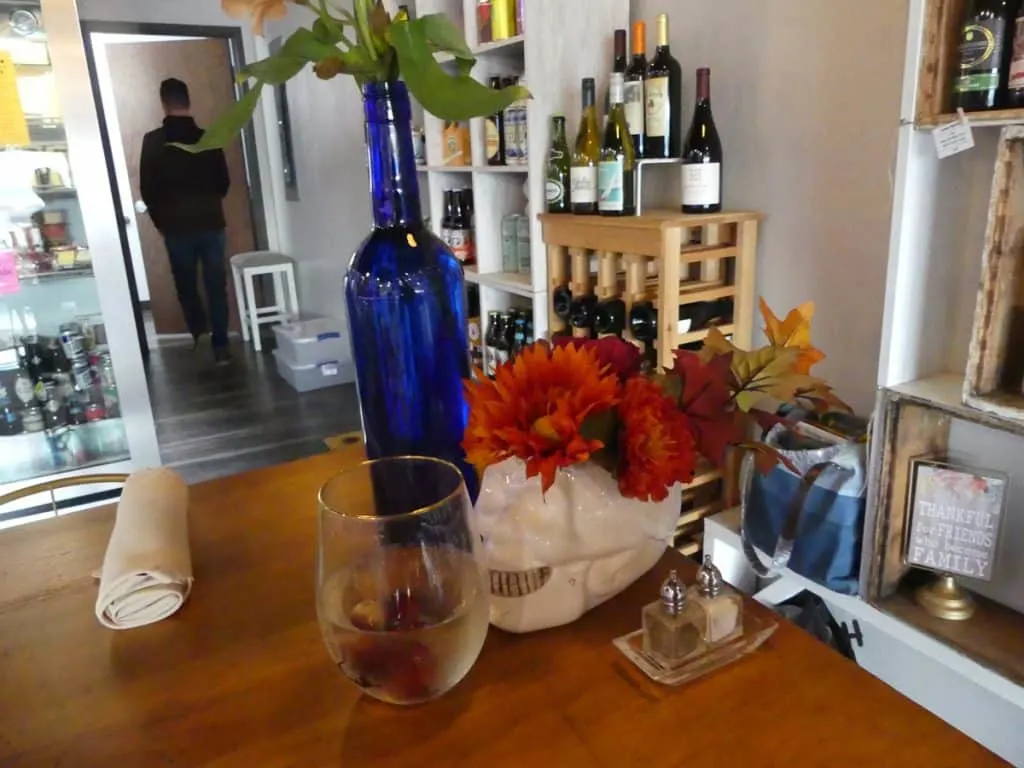 525 W. Main St., Wytheville, VA 24382 // (276) 625-0625
If you are searching for lodging with out-of-this-world food, Trinkle Mansion Bed and Breakfast is for you. It's a Classical Revival home built for William Trinkle, a gentleman farmer. Construction began in 1910 and was completed in 1912.
As soon as they moved into their new home, Mrs. Trinkle hosted a lavish housewarming party that lasted for seven days. Patti and Bernie Pizinger, the current owners and innkeepers, copy the lavish concept.
They serve guests three-course breakfasts at a fireside table set with crystal and silver. Patti does all the cooking and is proud of her original recipes.
Her favorite is Mountain Man Cinnamon Rolls. She says, "I make these rolls the prior evening and let them rise in the refrigerator overnight. The next morning, the entire house is filled with their enticing aroma as they bake. I make these Godzilla size. Help! One fell on me, and I can't get up."
My breakfast there was a three-course delight. Patti started us with a serving of fresh strawberries cut into bite-sized pieces and topped with whipped cream and decorated with a sprig of mint. The small Cinnamon Stick was a roll made with fresh dough covered with cinnamon.
Since I am one of the few non-coffee drinkers, Patti brought me a fascinating tea infuser with a little hourglass timer to tell when the tea had seeped to the strength I wanted.
Our main course was Benedict Bundles with Ole Timey Hash Browns. The plate was nicely decorated with an orange slice, a sliced strawberry, and a couple of blueberries.
The Benedict Bundle was a delightful take on the usual eggs Benedict.
The softly scrambled egg atop the Canadian bacon on the English muffin was topped with a poached egg drenched in Hollandaise sauce and finished off with cheese and a cherry tomato. Ole Timey Hash Browns are nicely brown, but not overcooked, potatoes.
As if that was not a culinary feast to make one drool, dessert was one of Patti's homemade Almond Poppyseed Muffins. Although breakfast didn't last seven days, Mrs. Trimble would be proud.
Restaurants In Wytheville VA: Summary
Like the town itself, each of these places offers a unique culinary experience. All share a relaxed small-town atmosphere. Traffic is never a problem, and you won't find expensive parking lots, just a few parking meters on Main Street.
May through October are the best month to visit for moderate temperatures. Their biggest festival is Chautauqua Festival featuring hot air balloons and lots of art is held in June.
Visiting other destinations in Virginia? Check out our other guides:
I'm Kathleen Walls, former reporter for Union Sentinel in Blairsville, GA, currently publisher/writer for American Roads and Global Highways. I live in Middleburg, FL but travel extensively, mainly in the U.S. I'm the author of travel books, Georgia's Ghostly Getaways, Finding Florida's Phantoms, Hosts With Ghosts, and Wild About Florida series, and several novels. All available at my site, katywalls.com/.
Publications I write for include Travel the South, Roadtrippers, Travel Awaits, World Footprints, Snowbirds and RV Travelers, Family RVing, Deep South, Florida Country, and more. My photographs appear in many publications. I also do videos. I'm a proud member of International Food, Wine, and Travel Writers (IFWTA), Society of American Travel Writers (SATW), and North American Travel Journalists Association (NATJA).