Charlotte's culinary scene is booming. While Southern food and barbecue are still favorites, the overall food scene is becoming bigger than ever.
You can literally taste the world in Charlotte restaurants, probably because it's one of the fastest-growing cities in the country.
It has become a melting pot that makes it a place that doesn't feel hard to come and put down roots. This cultural melting pot is reinforced by a multitude of restaurants in downtown Charlotte.
The city has diverse new neighborhoods with plenty of great Charlotte restaurants to try, breweries to visit, and events that attract people worldwide.
It still has that old-fashioned charm, but there's definitely something exciting and modern happening. It has become a destination for active people due to thirty-seven miles of greenway trails for hiking and mountain biking.
Paddleboarders and kayakers are drawn to the various rivers and lakes, including Lake Norman. The 1,300 acre U.S. National White Water Center attracts thrill-seekers and nature lovers with over thirty outdoor activities, including white water rafting, zip-lining, and events throughout the year.
It is a cultural city with performing and visual arts. There are neighborhoods like NoDa dedicated to muralists and music or museums for design enthusiasts who visit the Mint or the NASCAR Hall of Fame for stock car fans.
It's easy to reach Charlotte by air. A flight from New York to Charlotte Douglas International Airport takes an hour and a half. Driving from the same spot takes about ten hours.
Once in Charlotte, using your car is easy, as traffic hasn't become an issue yet. The recently built light rail system connects many of the neighborhoods, a fantastic thing for the Queen City, and it will make getting to all these upcoming spots even easier.
Here are seven fantastic food finds (for various reasons) to try, but there could easily be seventy on this list of places to eat in Charlotte. If you're not happy (me neither!) check my list of the best BBQ in Charlotte!
Not in the mood to go out to eat tonight? Click here to have Grubhub deliver directly from the best restaurants in town to your doorstep.
Visiting these other destinations in North Carolina? Be sure to check out our foodie guides to the following cities: 13 Must-Try Restaurants in Mooresville 11 Best Restaurants in Manteo, NC
7 Must-Try Restaurants in Charlotte NC
2216 Freedom Dr. // +1 (704) 703-5252
Jim Noble grew up with barbecue and loved it since he was a kid in High Point, North Carolina. His dad sold furniture, traveling around tasting amazing BBQ around the state, and sharing his experiences.
Young Jim's appreciation for hamburgers and Lexington BBQ was so good, it never left his memory. He learned how to cook French cuisine from Julia Child's Mastering the Art of French Cooking on PBS and wanted to be a chef.
He paired wine and food in Napa, cooked with wood for close to thirty years, and experienced an "aha" moment when he tasted mind-blowing brisket in Texas.
He made it his mission to perfect the craft and open his own barbecue restaurant in Charlotte. His research led him all over North Carolina and to Texas, reading and meeting the greats.
He honors 23 barbecue masters he learned from (reading, tasting, and talking about the craft) to determine the best way to bring his barbecue home to North Carolina. Noble Smoke is the culmination of research, and we are the lucky recipients.
Noble Smoke resides in an 11,000 square foot space that includes a beer garden and 2,000 square feet dedicated to the smokehouse.
There are 200 seats inside a full bar with beer, wine, craft cocktails, and a patio outside to enjoy all the meat. His menu starts with 1,200 pounds of premium beef, pork, turkey, and chicken, slowly smoked over hickory coals for hours, depending on the protein.
The brisket takes the longest and is cooked in shifts anywhere from twelve to fourteen hours.
He had six Texas-style off-set smokers built that are 1,000 gallons each. All run continuously for service and traditional Lexington Style Brick pits for the Boston butts (pork). Any food that isn't consumed in the restaurant is donated.
The Noble's sister restaurant, Kings Kitchen, is an organization that the Nobles started to help the local community learn the food business, is paused to focus solely on feeding the hungry in the community. Noble Food & Pursuits, in partnership with the Charlotte Dream Center, is serving dinner to the underserved communities in the Charlotte area with monetary donations from the public.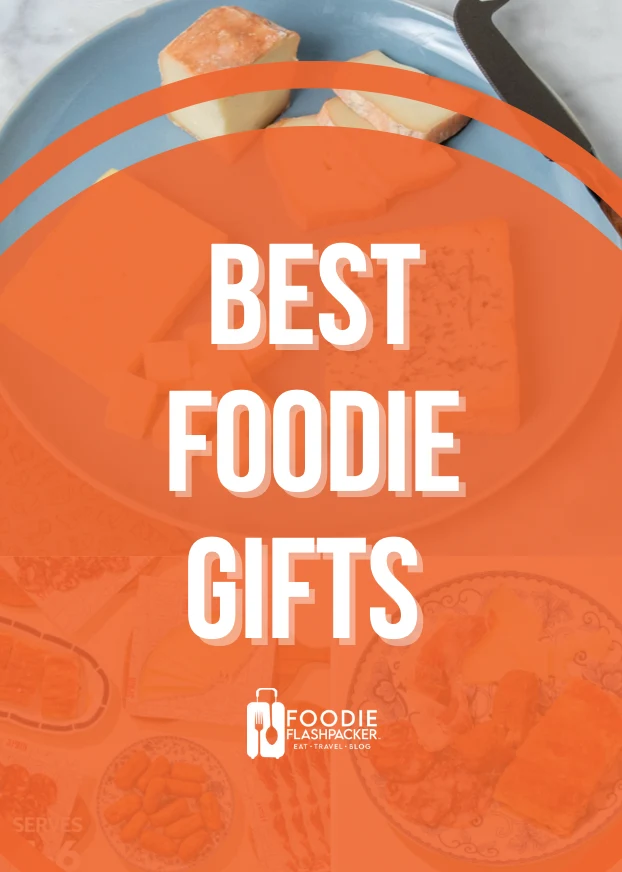 Are you a real foodie? I've compiled a list of the best foodie gifts you can get for yourself and your closest ones. Cheese, meat and sweets subscriptions, and some classic must-have foodie gadgets.
They have a goal of serving 2,000 hot meals per day to families, teens, and the elderly and bring those meals directly to them at home. This charitable community service alone should give you a reason to visit this A-one Charlotte barbecue restaurant.
I ordered a local NoDa Lager and a starter of pimento cheese with toasts. The cheese was a creamy dream next to a pile of toasts (bread made in-house) crispy and buttered. I stopped before I ruined my appetite.
Then the meats came out.
I ordered a quarter-pound of smoked turkey breast, a slice of brisket, and a house-made bratwurst (sausage changes daily). All the house-made sides were tempting, and I chose Zack's collards and mac & cheese.
The brisket was even better than fork tender, so juicy it didn't need the three types of sauce (Lex Sauce, Smoke Sauce, Sauce 19).
The turkey was absolutely delicious, tender, juicy, and fantastic with the sauces. The brat was delicious, not too smoky, and seasoned perfectly.
It was all so good in the hands of a dedicated chef serving up some of the best barbecue in Charlotte. This is a legitimate barbecue palace and heaven for any 'cue lover.
Camp North End 301 Camp Rd. // + (980) 309- 0690
Two-time James Beard-nominated Chef Greg Collier and his business partner and wife, Subrina Collier, created Leah & Louise, a modern "juke joint." It's their second restaurant concept in Charlotte, in their new Camp North End location.
This must-try Charlotte restaurant is a modern interpretation of food they grew up on, classics that honor the Mississippi River Valley foodways (Memphis, Arkansas, Tennessee, Louisiana, and Alabama).
A juke joint was a spot where working African Americans could relax, have a drink, and let their hair down. The Colliers wanted their space to have that community feeling for everyone. They placed a large communal table in the center of the room to meet and enjoy good food, craft cocktails, and music. And it feels just like that in this top Charlotte restaurant.
The space is warm and cozy with eclectic antique furniture and pillows. The Bar Program is led by recently named "Best Mixologist in Charlotte" Justin Hazleton. Hazelton creates "Black Historic Cocktails" reimagined.
Chef Collier makes dishes with a nod to his southern heritage, which is anything but soul food.
The restaurant is named for his late sister and late grandmother. Chef Greg pays homage to them but infuses southern cuisine with modern twists.
We started with the River Chips, fried chicken skins sprinkled with a voodoo spice blend and topped with ranch dressing and green onions called granch. Wow. The best part of fried chicken is the crispy skin, and this addictive starter is a labor of love piled high on the plate to munch and enjoy.
We tried the house salad, listed as greens, dressing, something crunchy, and something sweet. Chef Greg leaves it open because he wants to choose fresh local produce daily. I loved the greens with pickled radish, golden raisins, and smokey-slivered almonds in a sweet dressing.
But my favorite was my entrée, 2 N Da Bush, described as brownin chicken and Jefferson red rice pelau, Callaloo, with field pea -chili relish and squash puree.
I absolutely loved this dish, with so much heart and soul on the plate. I tasted history and heritage on the plate with all the layers of incredible flavor and spice.
I couldn't leave without trying the bread pudding of the day. It was triple chocolate with a banana foster glaze and graham cracker topping. It was moist and gooey with that banana-caramel flavor and crunch. So satisfying. I loved this restaurant.
If you are looking for exceptional, innovative regional food, this is one of the best places to eat in Charlotte.
514 East 36th Street // +1 (704) 374-9656
Smelly Cat Coffee House began in 1999 in the middle of a mill neighborhood in the North Davidson area of Charlotte. The quirky name and funky design drew customers, and a loyal following began.
As the business changed hands over the years, it became more community-minded. Since 2006, its current owner, Cathy Tuman, has continued to pursue community support, kept the quirkiness, but added a dedication to being the best coffee house in all of Charlotte.
The coffee is ethically selected and sensory roasted for each particular variety of bean. Each bean has a point where it's roasted to perfection, based on where it's from.
There's a variety of roasts and coffee drinks, pour overs, and cold brews, so if you don't know what you like, ask a barista to help, and they will guide you to the perfect cup.
If you aren't a coffee drinker, there's organic tea. Add to that house-made syrup, scratch-made biscuits, pastries, and quiches, and "build your own breakfasts," and you have a fantastic coffee house right in the heart of NoDa (North Davidson).
There are gluten-free and carb-free options on the menu. Plus, the coffee grounds are composted, there are no straws, and you receive a discount if you bring your own cup. All this makes it a great place for breakfast or brunch in Charlotte.
The biscuits are house-made, and the eggs are cage-free. All the meat, produce, and dairy products are sourced locally. I can't resist a biscuit, and these are not to be missed, but neither are the baked goods.
I love a good chocolate chip cookie, so I ordered that too, along with an iced coffee. Honestly, it was a delicious treat washed down with a perfect cup of cold coffee.
Everything is made with love here, the coffee, the pastries, and the biscuits. While I heard the inside is cozy and inviting, the drinks and food are served for outdoor consumption right now.
The brick building's patio has a terrific selection of outdoor eating areas, and an amusing mural painted on the wall. I am picky about coffee, and this cup was outstanding. If fresh and homemade drives you, then Smelly Cat will be a great place to eat in Charlotte.
5000 Whitewater Center Parkway // + (704) 391 3900
The US National White Water Center has been operating in Charlotte, North Carolina, since 2001. Its mission is to bring people together outdoors to enjoy different recreational activities.
Additionally, the center hosts outdoor competitions, events, and festivals on their 1,300-acre campus year-round. The community can observe or participate depending on what the qualifier entails and enjoy any festivals or events.
There is a goal to increase the size of the protected acreage over time to provide even more outdoor enjoyment. There are over thirty different activities, such as white water rafting, white water and flatwater kayaking, high ropes courses, zip-lining, fifty miles of mountain biking, hiking and running trails, and all kinds of climbing experiences.
With all those activities, you are sure to work up an appetite. The River's Edge is the White Water Center's full-service dining restaurant. It features a fantastic selection of food, beer, and wine either inside the dining room or outside on the patio overlooking the man-made whitewater river.
While you are enjoying a delicious meal, you can watch all the action on the river. There are four other kiosks in the park to pick up a grab and go dinner, but this is the place to kick back with a beer and some delicious food. Especially after you've ridden a few miles on the track, dropped 100 feet from a high platform, or zip-lined over the river and across the park.
The menu has some terrific starters like pulled pork nachos or smoked chicken wings, but we opted for fried pickles with a spicy ranch dipping sauce.
I love pickles anyway, but when you fry them, they are even tastier. Dipping them in a zesty ranch just enhanced that sour flavor, and paired with a beer is just heaven.
My entrée was the most giant triple-decker bacon, lettuce, and tomato sandwich you have ever seen. It was huge.
There are lighter options like salads. Plus, other hand-held sandwiches like burgers and a fried chicken sandwich with lettuce slaw and chipotle aioli on a brioche bun like my friend enjoyed are available.
Still, when I saw the BLT, I had to order it. It was served on sourdough bread brushed with herb aioli. The bacon was thick cut and was cooked perfectly crisp next to crunchy lettuce and fresh ripe tomatoes, all sourced from local farms. We worked hard zip lining and kayaking, and we were hungry, but I still took half of it to go.
The menu has steak, salmon, and pasta entrees, too, if you are eating later (River's Edge is open until 7:00 pm) and want dinner instead of lunch.
There are also some delicious items for dessert, like key lime pie. Still, we wanted to do some more of those awesome activities, so we decided to try it next visit.
If you are the outdoor type and want to follow up your activities with some great food and a fantastic view, River's Edge is where to eat in Charlotte.
135 Levine Avenue of the Arts // + (704) 800-5680
Fin and Fino is an absolutely stunning Charlotte seafood restaurant near the museums and the Knight Theater along Levine Avenue of the Arts. With a gorgeous bar and one of the best wine and craft cocktail menus anywhere, you can have incredible seafood and a guaranteed fun evening any day of the week.
As an oyster lover, I was thrilled when I discovered that Fin and Fino has one of Charlotte's freshest oyster selections. They source sustainable fish and shellfish that are delivered daily.
The raw bar is perfect if you like those selections. You can enjoy A Dish of Fish, a mix with eight oysters and six each of N.C. shrimp and mussels; A Tower of Power, featuring sixteen oysters, fourteen N.C. shrimp, and sixteen mussels; or the Penthouse, sixteen oysters, fourteen N.C. shrimp, sixteen mussels, snow crab claw clusters, and lobster and shrimp salad. A total feast!
Of course, there are other fantastic dishes like the bay scallop ceviche or the grilled octopus with a sunchoke latke, agrodolce onions, and sunchoke chips. The octopus was so tender and grilled perfectly, and the sunchoke cake was a tasty addition.
If you don't enjoy the sea's fruit, there are duck, lamb, steak, and vegetable options.
If you have a group that loves seafood, order The Treatment. The chef will offer a tour of the menu and donate $5 to the charity of your choice for $59.
The craft cocktail program led by "B.K. and the Clams" with Bar Manager Brittany Kellum at the helm is so fun and engaging.
The bar staff loves to conjure up tasty cocktails around a theme. The sixth theme in the series is titled "80s Yearbook Superlatives." My drink of Blanco tequila, Dolin blanc, chartreuse, and sage was herby with an ombre appearance. It was astonishing, much like my superlative—an utterly captivating experience at Fin and Fino.
Want a seafood restaurant in Charlotte? Want a steak restaurant in Charlotte? Want one of the best places to eat in Charlotte? Fin and Fino is your answers to all three needs; one of the top restaurants in Charlotte.
225 S. Poplar St. // + (704) 626-6116
Chef William Dissen incorporates a modern space with old-fashioned Appalachian values. He uses the bounty of the Piedmont area. He reinterprets it to honor the historic foodways with local, seasonal ingredients and sustainable meat and seafood. He receives fresh deliveries from local farms, artisanal products in the kitchen, the dining room, and the bar.
The restaurant is laid back and casual, but the space feels upscale too. The brass around the bar and the leather banquettes are comfortable but elegant. The ambiance alone makes this one of the nicest restaurants in Charlotte.
The menu has some southern inspirations mixed with world cuisine ingredients which make it exciting to peruse. It is divided into small and large plates, as well as snacks and sides.
We went straight for the mains as we heard great things about the Billy D's Fried Chicken Sandwich with the celery seed slaw, B&B pickles, and white BBQ sauce served on a potato bun with seasoned fries. It did not disappoint and lived up to ALL the hype.
The tender, juicy chicken and fixings married to make the most delicious sandwich that was absolutely massive. Every ingredient was so fresh and perfect that we would have ordered it again, but didn't dare make hogs of ourselves.
I ordered the pork shoulder steak that was chili-rubbed, with a pear and herb salad, Carolina gold rice middlin' risotto, and calvados jus. I loved this dish. The pork was fork-tender, and the sauce was addictive, almost a barbecue sauce, but elevated. The rice preparation was utterly new and mixed with the jus was a creamy side that matched the tender, spicy pork.
We loved the homey feel of this modern yet comfort food restaurant in Charlotte that honors the roots and soul of North Carolina.
2710 N. Brevard St. // + (704) 375-7808
The tiny storefront on Brevard Street, in North Davidson or NoDa, has been operating since 1973. It is a legend and has the best hamburgers in Charlotte, hands down. Don't take my word for it. Brooks consistently ends up on the "Best List" every time. It's simply that good.
Nothing has changed except the color of the building. Since then, it was run by David and Scott Brooks, identical twin brothers who took over the business when their dad passed away. Sadly, Scott passed recently too.
Dad told them that the customers used to be primarily blue-collar railroad workers and truckers. Now, just about everybody comes to Brooks for their famous burgers.
Brooks is also known for its renowned chili with a secret recipe that hasn't changed in forty years. It sells separately or can top anything on the menu, but you have to order it "All The Way," which means beef chili, mustard, and onions.
The menu is limited to burgers, fries, hot dogs, bologna, livermush, bacon, BLT, fish filet, chicken filet, country ham, smoked sausage, and chuckwagon.
You can get the chili and slaw by the pound. The storefront takes only cash, but there's an ATM on-site, and there are picnic tables where you can eat if the weather permits.
I ordered a cheeseburger with lettuce and tomato with a side of fries. I forgot to ask for condiments. You have to ask for every topping. Luckily, I got packets of ketchup. It was good. Really good.
For a roadside stand with picnic tables and a line around the corner, you know they are doing something right.
There is nothing fancy here, and maybe that is all you need, a good burger and crisp fries fried in oil. And if that's your thing, Brooks is a great place to eat in Charlotte. Yum.
So there is your summary of seven of the best places to eat in Charlotte. You can try any of all of them, and we can guarantee you won't be disappointed.
With all the good restaurants and places to eat in Charlotte, it was tough narrowing down the list to seven, but feel free to find your own favorite places to eat in Charlotte, too.
And, while not technically in Charlotte, here are two bonus restaurants worth making the short drive to Davidson for that I couldn't wrap this article up without mentioning.
Located less than thirty minutes drive from Charlotte I assure you these two restaurants are worth making the short drive to Davidson!
---
131 N. Main St. // + 1 (908) 231-5000
Joe and Katy Kindred were employed in some of the finest restaurants around the United States. He is a chef and she a sommelier. They traveled worldwide but eventually brought their growing family, their culinary prowess, and style home to Davidson.
They opened Kindred in 2015, and overnight it was named one of the top restaurants by Bon Appetit. The praise and customers kept coming.
The James Beard semifinalist and his wife have created a welcoming space in the renovated drug store on Main Street that's over one hundred years old. It's no wonder that the professors from Davidson College are regulars. The food is sophisticated and homespun at the same time.
The menu is curated and chef-driven, with seasonal ingredients selected from local farmers and growers.
The plates are meant to be shared, and all pasta is homemade.
The squid ink conchiglie with Georgia royal red shrimp in sea urchin butter and tarragon is the only pasta that doesn't change, it's a fan favorite.
We started with the complimentary milk bread and cultured butter. It was soft, pillowy, and delectable.
Next, we tried the Tuna Crudo with green coriander, white asparagus, rhubarb, and English peas, dotted with edible flowers. The presentation was beautiful, and the taste was so delicate and light, I was stunned.
For entrees, we opted for two pasta dishes, the squid ink and the spring onion bucatini with maitake mushrooms, asparagus, and crème Fraiche.
Both dishes were delicately sauced with tender shrimp and earthy mushrooms. Both were a revelation.
For dessert, we had to try the chocolate birthday cake. It arrived with layers of moist chocolate cake, smooth cream cheese frosting, and a scoop of sweet cream ice cream. The rainbow sprinkles were the perfect touch.
I felt all the love here, from the bread to the mastery in each dish, the exceptional service, and the comforting dessert.
This is a must-visit restaurant. Only a twenty-five-minute drive from Charlotte, it is worth the trip.
202 S. Main St. // + (704) 765-2190
Davidson is such a charming town. It's a great day trip from Charlotte. If you decide to explore the boutique shops and the incredible sculptures on display on Davidson College campus, stop in for lunch at the Pickled Peach.
The owners' source local and organic produce and grass-fed or natural meats to serve in their restaurant and market. They want to pick the freshest ingredients to nourish your body and soul while supporting the community of local purveyors and hard-working farmers.
The menu consists of three daily soups, composed salads that offer protein toppings, and sandwiches with gluten and carb-free options.
Southern favorites like pulled chicken or a BLT with pimento cheese piqued my interest.
Still, I really wanted to try the cornmeal fried shrimp with spicy mayo, butter lettuce, and tomato on a long roll. I opted to pick a salad and am so glad that I did. The chopped butter lettuce, chicken, celery, red onion, chickpea, tomato, and feta tossed with mustard vinaigrette was simple but packed with delicious local produce and flavor. It was the freshest, tastiest salad, full of satisfying crunch.
I ordered it to go, but there's an indoor dining room as well. I sat at a picnic table and enjoyed the warm Carolina sunshine and activity on Main Street.
The steady stream of customers coming and going from the Peach shows that they have loyal customers who appreciate the care and craft. The market offers artisan groceries, beer, wine, grab-and-go items, and take-home dinners.
If you're looking for a green, sustainable, and environmentally friendly restaurant approach, this is one of the best places to eat in the Charlotte area.
While in Charlotte don't miss out on activities that will help immerse yourself with the city (hurry while they're hot!):
---
Which of these Charlotte restaurants do you most want to try? Let us know in the comments section below!
Jeanine Consoli is a freelance travel writer, photographer, and foodie based in Washington Crossing, PA. A retired elementary school teacher used her summers to feed her passion for travel and kept journals of all the destinations she explored. Today, Jeanine is working as a writer full-time. She loves uncovering the history and understanding the culture of each location, including the local flavors of each place. She has traveled extensively in the United States and Europe and is excited to keep adding to the list, finding special places that are off the beaten path both at home and abroad.