Peruvian cuisine has received a lot of attention lately. The country was recently named the best culinary destination in the world for the seventh year in a row. I spent more than a month eating my way through the country to see what all the fuss was about.
Peru's food is most famous for it's wonderful and exciting blends of spices and bold flavors. Peru is an amalgamation of many food cultures. Corn, quinoa, and the incredibly diverse range of potatoes are all grown in the Andes mountains and have been for thousands of years. These staples have formed the basis for dishes and recipes dating back to the Incan Empire.
To be honest, while there were many Peruvian dishes I really loved, overall I didn't find it amazing enough to warrant being named the best in the world for nearly a decade. I still find myself craving some dishes after my visit: the ceviches, causa, and of course pisco sours. Others were really good, but the best in the world? After my month in Peru, I still lean towards dishes from Thailand, Italy, Vietnam and India.
A Brief History of Influences on Peruvian Cuisine
When the Spanish arrived in 1522, they brought their own Old World staples, like wheat and rice and also domestic livestock such as chicken, beef, and pork. These ingredients integrated with traditional Incan cooking methods and indigenous ingredients to create an entirely unparalleled, world-renown cuisine.
When Chinese immigrants arrived between 1848-1874, they brought with them ginger, soy sauce, and scallions. Many Chinese cooking methods were also applied to local ingredients such as bananas, potatoes, and pineapples. This new and unique combination also contributed to the development of the Peruvian cuisine we can taste today.
When the Japanese arrived on the scene in 1899, they brought their love of seafood and the art with which they prepare it. To them, presentation is just as important as the taste, and some of these ideas were adopted within the Peruvian culinary world.
Must Try Peruvian Dishes
Ceviche
No visit to Peru is complete without this national staple. Ceviche is so well known and loved in Peru that the dish is considered an indispensable part of Peruvian national heritage.
To make this classic traditional Peruvian food, you cure raw fish in citrus juices before spicing it up with chili and serving it with sweet potatoes, onion, and corn. This simple dish countless variations. It often includes shellfish, either as a substitute or companion.
Ceviche, like most Peruvian seafood, is typically served only for lunch. We learned that Peruvians are very particular when it comes to seafood, and they are used to having it very fresh. Many locals consider fish caught in the morning not fresh enough to be served at dinner.
Lomo Saltado
Lomo Saltado combines the cooking styles and tastes of both Chinese and Peruvian cuisine. This combo is known as chifa.
Chifa cooking was created when the Chinese immigrants experimented with the local ingredients. While completely separate from Chinese cuisine, some chifa techniques remain distinctly Chinese.
Chifa cooking offers many dishes. But, the most famous and well-loved is lomo saltado. This dish consists of beef stir-fried with tomatoes and onions and then served with rice and French fries.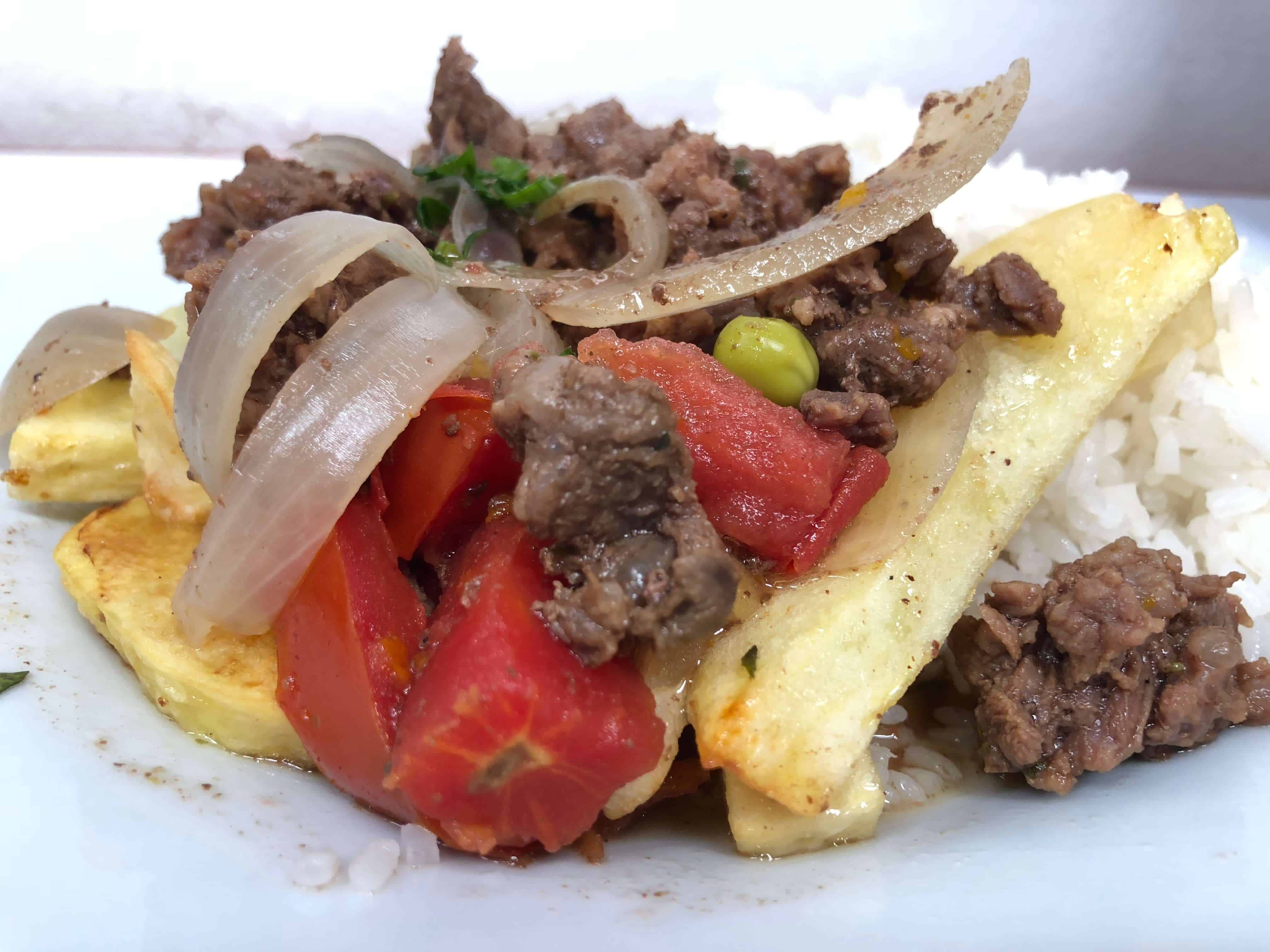 Aji de Gallina
Aji de Gallina is a delicious, slow-cooked masterpiece. Shredded chicken smothered in a sauce made of walnuts, cheese, and milk. The sauce, which has aji amarillo chili pepper, gives the dish its signature flavor and pepper color.
This bold, bright sauce is topped with black olives and served alongside traditional Peruvian food favorites – rice and potatoes.
This dish perfectly represents Peru's love of sauces and spices, as the creamy, nutty sauce softens the bite of the chili pepper.
Arroz con Mariscos (Peruvian paella)
This popular dish translates to "rice with seafood". Several different Latin American countries claim to have invented it. But, whether it's an original Peruvian dish or not, you can find it all anywhere in Peru.
Similar to Spanish paella, but without a crusty bottom, arroz con mariscos loads flavorful rice with fresh seafood. You'll typically find some combination of squid, fish, lobster, scallops, or shrimp.
This hearty, filling dish was one of my favorites, and I enjoyed it several times during my visit.
Cuy (Guinea Pig)
Cuy, or cooked guinea pig may be a point of concern for some pet-loving Westerners. But nonetheless, it is one of the most popular Peruvian dishes and a common source of meat (along with the alpaca).
When cooked right, the meat is smoky and tender with a crisp, golden skin. One could compare it to a cross between suckling pig and duck, as the meat is oily.
In traditional Peruvian cuisine, the entire animal is stuffed with local herbs, roasted over an open wood fire, and served with potatoes. When prepared this way, it tastes best dipped in aji sauce and then eaten by hand – much like fried chicken. While this traditional way is most popular, some of Peru's more refined restaurant-style recipes instead involve braising and deep-frying the meat.
Pan con Chicharron
Pan con chicharron is perhaps the most iconic sandwich in Peru. Bread stuffed with slow braised pork, topped with boiled sweet potato and finished with salsa criolla, a topping of red onions, citrus juice and a bit of heat from some peppers.
As a sandwich, this may sound like a lunch or dinner dish. But it's most commonly eaten for breakfast. Many locals enjoy it as a traditional Sunday breakfast.
You can find it on menus all over Peru, but my favorite versions were sold as street food dishes.
Rocoto Relleno
This dish is a specialty from the city of Arequipa, Peru's second largest. Essentially Peru's version of a stuffed pepper, Rocoto Relleno comes with a signature taste: a spicy kick and a whole lot of bold flavor!
Peruvians stuff a mix of pork, onions, minced beef and pecans into their rocoto. They then top the pepper with delicious cheese and grill it. The dish is most commonly served with a side of pastel de papa, a thinly layered potato covered in cheese.
Causa
I found Causa quite possibly my favorite Peruvian dish, likely because of the variety of ways I tried it. As this dish has adopted many forms. Causa can be served as a cake roll, casserole, terrine, or even individual servings.
However presented, the dish is prepared the same way. It begins with meaty, yellow mashed Peruvian potatoes blended with oil, lime, and a spicy aji amarillo sauce. Next, they add several layers of avocado, olives, and hard boiled eggs. The surface is then topped with more potato mix, and many layers are made (creating a lasagna-like effect).
This dish is bright, not very spicy, and great served as a salad or side dish.
Papas a la Huancaina
This dish takes a Peruvian staple food – the potato – and smothers it in a creamy, spicy cheese sauce. To prepare it, Peruvians slice yellow potatoes and drench them in a puree of garlic, aji amarillo, lime juice, evaporated milk, queso fresco, and saltine crackers.
Finally, the chef adds a sprinkling of olives, eggs, and more crackers as garnish. It can be served as a side dish or commonly as a Peruvian appetizer. Though the dish originated in the city of Huancayo, it has now become a staple throughout Peru.
Many proclaim this ubiquitous dish their favorite. But, I never had a version I was crazy about. Still, I feel like there must be a better version out there, based on how much people love it. I would be happy to try it again.
Anticuchos de Corazón
Anticuchos de corazón translates to "grilled heart." Although that sounds off putting, it's one of the best dishes I had in Peru. Grilled heart is a popular Peruvian appetizer and also quite commonly sold as street food.
In traditional Peruvian cuisine, the dish consists of either alpaca or beef heart. The heart is marinated in cumin, aji, garlic, and vinegar and then grilled over charcoal until medium rare with ever so slightly singed edges. The meat is then cut into small cubes, usually around one to two inches, and served on a skewer with sliced potato or onion.
Finally, it is drizzled with lime. Today, some cooks make this dish with other cuts of beef (and even chicken), but nothing tastes better than making it with a heart as intended.
Grilled Piranha
Another dish that may sound exotic to the rest of the world, piranha is a common food in some parts of Peru. The fish has a very distinct taste that will not sit well with some. The meat gives off a noticeably fishy smell that can make it difficult to eat. If you do plan to be adventurous and try devouring this famous, flesh-eating fish, I recommend it when grilled lightly. Many other cooking methods tend to exaggerate its "fishiness." When done right, the fish has a fairly mild taste, despite its vicious nature when alive!
Suspiro de Limena
Anyone with a sweet tooth will find themselves overwhelmed with options in Peru. One particularly popular choice is the suspiro de limena, or "sigh of a lady from Lima." It already sounds so lovely and romantic!
This dessert dates all the way back to nineteenth century Lima. That city serves it most often, but the dessert is well-known and loved in the rest of Peru as well. The dish combines meringue topping with blancmange.
Pisco Sour
Ok, I know a pisco sour isn't technically a dish. But the drink is such an local icon that I felt it deserved a spot on the list. This drink just legitimately tastes better in country – I've never had a pisco sour that I liked nearly as much as those I enjoyed in Peru.
Pisco, a type of Peruvian brandy, serves as the base for the drink. To that you'll add lime juice, simple syrup and bitters. But what makes this cocktail truly unique? The added egg white creates the drink's foamy, frothy top layer. I know adding egg white to a cocktail may sound off-putting, but trust me – a well made pisco sour is something you won't forget!
---
Peru has a long and interesting history inspired by years of tradition and many cultures from around the world. These influences have melded together to create a cuisine unique to Peru without sacrificing the recognizable pieces of each contributing region.
From the strong Spanish influence imposed after the invasion of the Incan Empire to Chinese methods and flavors and the introduction of Japanese style, Peru is a culinary adventure that never ends. The food here is diverse and plentiful, and there will always be something new to try.
Which Peruvian dish do you most want to try? Let me know in the comments section below!
If you enjoyed this post please consider pinning it using the image found below!