Immensely delicious, mouthwatering, and satisfying are just a few words to describe Jamaican cuisine. If you've never tried a Jamaican dish, I'm sorry to tell you, buddy, but you're missing out on some really good foods. Jamaican foods are sought frenzied by tourists and locals.
Our dishes are more diverse than any other place on earth, making the island a foodie's paradise.
Authentic Jamaican foods are historically influenced by Amerindians, Africans, Indians, Chinese, Irish, and other inhabitants who introduced their unique flavors, spices, and cooking practices to create what many know today as Jamaica's culinary "melting pot."
There are many delicious foods and beverages to choose from during your stay in Jamaica, and this article aims to guide you on the best, most loved dishes. From jerk chicken to Oxtail to Red Stripe beer, here are the 25 best foods and drinks to try in Jamaica.
If you are traveling the whole of Central America, don't miss out on some delicious 11 Mouth-Watering Honduran Foods.
Recommended food tours: From Ocho Rios: Flavors of Jamaica Guided Food Tour

Kick off an unforgettable Jamaican adventure, starting with a comfortable pick-up from your hotel and a scenic drive to the lush Prospect Estate in St. Mary. Aboard an open-air carriage, explore the 1,000-acre property, home to vibrant gardens, local crops, and a mesmerizing bird aviary, all while guided by friendly, knowledgeable staff.

Immerse yourself in Jamaica's rich culinary heritage by strolling through tropical gardens and visiting the Great House, where Chef Irie will teach you how to prepare mouthwatering local dishes like jerk chicken, steamed callaloo, and coconut shrimp rundown. Savor the lunch you've crafted before sightseeing at the Great House and enjoying a relaxing ride back to your hotel.
While in Jamaica don't miss out on activities that will help immerse yourself with the country (hurry while they're hot!):
The 25 Must-try Jamaican Food And Dishes
Main Dishes
1. Jamaican Jerk-Chicken
Jamaican jerk chicken is an irresistibly delicious, flavorsome, globally loved dish. It infuses smoky, spicy, and sweet aromatics while clothed in tantalizing, crispy, charred bits from its unique cooking style called jerk cooking.
Jerk cooking is native to Jamaica, in which meat, usually chicken, is dry-rubbed or wet marinated with jerk seasoning made from herbs and spices before being cooked over fiery woods, taken from pimenta diocia, a pimento tree native to the Caribbean.
In the earlier days of jerk cooking, Maroons who fled from their enslavers to nearby mountains would dig a pit in the ground, fill the hole with pimento wood chips, light the chips, add the seasoned wild boar (pig meat), cover the holes, and allow the meat to cook slowly.
Even though most jerk chicken today doesn't cook in pits, modern Jamaican jerking takes a similar approach.
First, the chicken is carefully seasoned with a unique blend of Jamaican scotch bonnet pepper, allspice, onion, scallions, garlic cloves, thyme, and other potent ingredients.
The chicken is then slow-cooked or grilled over locally sourced pimento woods in an enclosed old barrel drum known as a jerk pan.
The natural flavorful aromas from pimento woods help shape Jamaican jerk chicken into a distinctive, celebrated, and finger-linking dish.
Authentic Jamaican jerk chicken tastes incredible on its own but even more satisfying when paired with rice and peas, bread, or Jamaican festival.
2. Jamaican Ackee and Saltfish
Jamaican ackee and saltfish is Jamaica's proud national dish. Tourists, locals, and diasporans highly enjoy Jamaican ackee and saltfish because of how authentic, rich, and satisfying the meal is.
Ackee is an exotic, reddish, pear-shaped fruit with three lobes. Ackee was brought on a slave ship from West Africa to Jamaica around the mid-1700s.
Ackee, over time, adapted well and flourished quickly due to Jamaica's incredible climate and soil. Now, almost everywhere you turn in Jamaica, you'll find an ackee tree around 10-23m tall.
When ackee ripens and split opens, it's one of the most unique things you'll ever see.
Inside reveals three to four large, shiny black seeds, each partly surrounded by yellow, soft, spongy flesh called arils.
The arils are the only part of the fruit we should eat when it fully ripens, as unripe ackees are poisonous and should be avoided.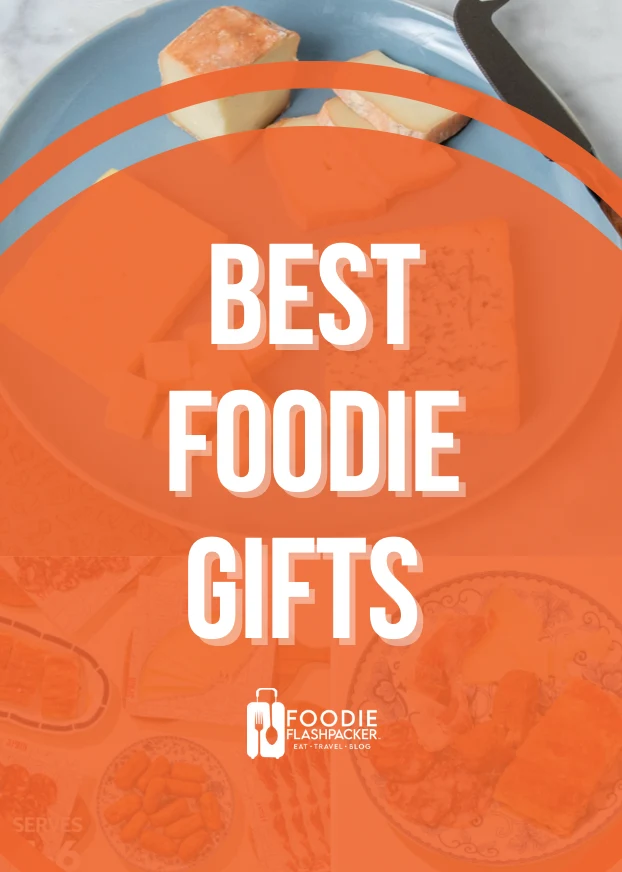 Are you a real foodie? I've compiled a list of the best foodie gifts you can get for yourself and your closest ones. Cheese, meat and sweets subscriptions, and some classic must-have foodie gadgets.
Ackee has a buttery mouthfeel and delicate nutty and neutral taste that help lessen the sharp, bold, dry, and saltiness of saltfish.
The perfect combination of Jamaican ackee and saltfish seasoned harmoniously with Jamaican herbs and spices creates an authentic, unique, delectable, and satisfying dish.
Ackee and saltfish is even more enjoyable when eaten with Jamaican fry dumplings, roti or boiled yam, dumplings, and banana for breakfast or brunch. Make sure to try this authentic Jamaican dish.
3. Jamaican Curry Goat/Mutton/Chicken
Jamaican curry goat arguably ranks in the top five of the best Jamaican meals. Jamaican curry goat is nothing but delicious, mouthwatering, bursting with juicy, spicy, and savory flavors that will have you coming back for more.
Curry, similar to the popular pimento seasoning used in Jamaican jerking, is a significant part of Jamaican cuisine, history, and culture. Indentured Indian servants introduced curry to the island in the 19th century, after the abolition of slavery.
Since then, curry has been a popular spice for seasoning meats such as goat, chicken, and fish. Aside from curry, the goat also marinates with Jamaican scotch bonnet pepper, thyme, scallions, ginger, cloves, onion, pimento (allspice), and coconut milk for several hours before being thoroughly cooked until the meat becomes tender and flavor-rich.
Jamaican curry goat tastes best when served with Jamaican rice and peas or roti.
4. Jamaican Oxtail
Authentic Jamaican Oxtail is super juicy and tender, imbuing vibrant flavors and traditional Jamaican food.
Jamaican Oxtail is inspired by the African one-pot cooking traditions which enslaved Africans and Maroons used. Today, Jamaican Oxtail is predominantly cooked with butter beans and punctuated with authentic Jamaican aromatics, such as scotch bonnet peppers, thyme, scallions, onions, ginger, and the popular pimento (allspice) seasoning.
Enjoy this gelatinous rich and flavorful meat with Jamaican rice and peas.
5. Jamaican Escovitch Fish
Jamaican Escovitch fish is a spicy, tangy, and tasty dish in which crisply fried fish is topped with a spicy sauce made of vinegar, lime, and lots of carrot strips, onions, bell pepper, scotch bonnet pepper, and pimento berries.
This delicious Jamaican food connects Jamaica to Spaniards, who once ate a similar dish called escabeche back in 1494.
This dish is best to eat when feeling a bit peckish. Still, I highly recommend adding Jamaican bammy or festivals (more on this below) for a more enriching experience as you sample this Jamaican cuisine.
6. Run Dun (Fish Stew)
Jamaican run down is an incredibly juicy and flavorful fish stew simmered in coconut milk, tomato, garlic, onion, spices, and other aromatic seasonings.
This Jamaican food is called "run dun" (a Jamaican dialect) to describe the "runny" or "watery" nature of the sauce and also points to how the fish is thoroughly cooked until it disintegrates or "runs down." Jamaican run dun usually features pickled mackerel, a pelagic fish full of proteins, vitamins, and minerals.
I implore you to try this awesomely nutritious and tasty dish alongside Jamaican rice and peas or dumplings and green bananas. You will love it.
7. Porridge
If you wake up looking for something sweet and tasty, try a Jamaican-made porridge. You will not taste any other porridge as delicious as our porridge.
Jamaican porridge is hearty, warm, and satisfying Jamaican food, with a distinctive taste attributed to the perfect fusion of coconut milk, cinnamon, nutmeg, and vanilla. Jamaica has many delicious porridge options, such as hominy corn, cornmeal, banana, plantain, oats, and rice porridge.
The cornmeal flavor is our most popular porridge, but also try my two favorites, banana and hominy porridge. We enjoy drinking porridge with saltfish fritters, and you can even add small bits of Jamaican cream crackers to your porridge for a more fulfilling experience at your Jamaican breakfast.
Soup
8. Jamaican Fish Tea
Jamaican Fish Tea is a spicy soup served as an appetizer at Jamaican restaurants and on special occasions, such as birthday parties and family and funeral gatherings.
Jamaicans also love to drink fish tea during sickness and cold weather to help keep the body warm. You must wonder why this dish is called tea, not soup.
The reason is that the soup broth is thinner and has fewer ingredients than other heartier and heavier soups (like the ones mentioned next).
Jamaican fish tea mainly consists of yellow yam, pumpkins, carrots, okra, thyme, cho-cho, onion, salt, pepper, pimento (allspice) seasoning, and, importantly, fish (usually Doctor Fish). Make sure to try this tasty and somewhat addictive Jamaican food when you're here.
9. Jamaican Mannish Water
Jamaican mannish water or goat soup is my absolute favorite Jamaican soup to have as an appetizer or main dish.
Mannish water is incredibly delicious and meaty, exploding with spicy, smoky, and distinctively rich aromatic flavors.
Jamaican mannish water is made of green bananas, yam, carrots, dumplings, thyme, onion, allspice, scotch bonnet pepper, roasted head, intestines, testicles, and feet of a rammy (a male goat). This dish gets its unique name because men mostly prepare it.
Mannish water is known as "power water" and is considered an aphrodisiac to Jamaican men, though it extends beyond the bedroom. Locals often prepare this menu at restaurants, birthday parties, weddings, fun fairs, and funerals.
You will never taste a soup so distinctively delicious, addictive and intense as Jamaican Mannish Water. It is one helluva exotic meal you must have while dining in Jamaica.
10. Jamaican Red Peas Soup
Jamaica is the land where the Red Peas Soup was born. Jamaican Red Peas Soup is warm and savory with a distinctly rich taste.
Most Jamaicans will tell you that Red Peas Soup is incomparable to any other food. I absolutely agree with that.
Jamaican Red Peas Soup is full of soft and juicy dumplings, kidney beans, yam, pumpkins, and carrots – harmoniously fused with coconut milk, thyme, pimento (allspice), scotch bonnet pepper, garlic, and other herbs and spices to yield the most delectable dish.
Locals often add small pieces of chicken, beef, or pigtail to the soup to boost its flavor, but this is optional. This dish is satisfying with or without meat. Jamaican Red Peas Soup is available at most local posh and street restaurants. Locals mostly drink this soup as an appetizer or main course.
Sides
11. Jamaican Rice and Peas
Jamaican Rice and Peas is a popular Jamaican food – staple, main, and side dish in Jamaica that you will enjoy. Jamaican rice and peas is flavored rice consisting of kidney beans or dried gungo peas, and fused with coconut milk, thyme, uncut pepper, garlic, onion, scallion, and pimento (allspice).
Combining all these ingredients offers a unique taste you won't find anywhere else.
Jamaican rice and peas dish is traditionally prepared on Sundays to accompany main courses such as curry goat, oxtail, or baked, jerk, and stew chicken.
However, you can find Jamaican rice and peas on the menu at most restaurants, regardless of the day you visit. I enjoy eating authentically made rice and peas. It is satisfying and tastes so much better than plain rice.
12. Jamaican Festivals
Yes, we're still talking about food here, but definitely try this delicious treat at a festival event or funfair in Jamaica.
This is by far my favorite Jamaican side dish. Jamaican festivals are sweet, long, crispy, fried dumplings made of sugar, cornmeal, flour, vanilla extract, salt, and milk. These dumplings are super tasty and often accompany Jerk chicken and Escovitch fish.
Festival is my favorite Jamaican food, and it may become your favorite, too.
13. Saltfish Fritters / Stamp and Go
Jamaican saltfish fritters, also known as stamp and go, is a popular appetizer, side dish, and snack in Jamaica.
Saltfish fritters are fried dumplings that are equally delicious as Jamaican festivals, except fritters are not usually made sweet. Saltfish fritters are made from a flour mix consisting of finely chopped saltfish or codfish, tomato, scallion, and onion and seasoned with salt and black pepper.
The outside of a fritter is crunchy and crispy, whereas the exterior is soft, warm, and tastes slightly spicy.
Jamaicans enjoy eating saltfish fritters with porridge during breakfast hours, and you should also give it a go when eating in Jamaica.
14. Roast/Fry Breadfruit
Jamaicans love their roast and fry breadfruit, particularly in the mornings, and I think you'll love breadfruit too.
Have you ever heard of breadfruit before? Probably not, and I'm happy to share more about it.
Breadfruit is a large, circular, green, starch-rich, and gluten-free fruit brought to Jamaica in 1793 by navigator and explorer Captain William Bligh as an economical way to serve the numerous enslaved people who worked on sugar plantations.
Since then, breadfruit has become a staple fruit in Jamaica. It has a mild sweet taste. It is mainly used in soup to make it heavier and heartier when boiled.
When roasted, breadfruit is greatly enjoyed with curry chicken or goat. But when roasted and then fried, locals enjoy it with ackee and saltfish, salt mackerel, and steamed callaloo for breakfast.
15. Fry Plantain
Anyone who has mastered the art of frying plantains will tell you how addictive this Jamaican food can get. Fried plantain goes with just about any main course, so it's a must-have in your Jamaican food arsenal while visiting the island.
The fried plantain is a famous Jamaican appetizer, served alongside other starters such as jerk chicken, mussels, and Escovitch fish. You can dip the plantain slices into a mixture of soy sauce, garlic powder, and thyme – which, in my opinion, is the perfect combination for fried plantains.
16. Jamaican Bammy
Jamaican bammy is a well-known "ital" dish in Jamaica, particularly enjoyed by the Rastafarian community.
Bammy is a thick flatbread made from pressed or grated cassava roots and soaked in coconut milk.
Jamaican Bammy is mild, slightly sweet, with a nutty flavor. Even though Bammy consumption is decreasing, locals would pair bammy with escovitch fish, callaloo, cabbage or ackee, and saltfish. We often eat bammy for breakfast as a great way to kick start the day.
Bammy is a relatively easy to prepare Jamaican food and very fulfilling.
Snacks and Desserts
17. Jamaican Beef Patty
The Jamaican beef patty is the unofficial national dish of Jamaica, owing to its massive consumption by Jamaicans, who take full delight in this delicious snack.
The Jamaican beef patty is a semi-circular, yellow to golden brown enclosed pastry, filled with seasoned minced beef.
This beef filling is perfectly seasoned with onions, scallions, thyme, breadcrumbs, curry, and other flavorful herbs and spices.
Jamaican beef patty is our quintessential fast food, and we enjoy eating patties at lunch hours alongside a box drink.
If you are not a fan of beef, consider other patty flavors such as chicken, shrimp, and vegetables. If you want to enhance the taste of a beef patty, try a cheese patty, which is a beef patty where the inside crust is lined with melted cheese.
For a more fulfilling treat, consider placing the beef patty between a Jamaican coco bread to help quench that afternoon hunger.
Visitors near and far frenzies over authentically made Jamaican patties, and you might do too. This could become your go to Jamaican snack.
18. Coconut drops
Coconut drops are traditional Jamaican sweets consisting of three simple ingredients, coconut flesh, ginger, and sugar.
Older Jamaican folks enjoy making coconut drops at home, which explains the many variations in taste and appearance. Some are small, round balls, while others are long sticks with a thicker core. The outside is thin and crispy, while the inside is softly sweet and slightly chewy.
I love coconut in almost everything, so this sweet, tasty, gluten-free dessert is right down my alley. You will often find coconut drops in shops within the tourist area, such as Montego Bay, and you will also find them selling on the streets in busy towns.
19. Pudding (Bread, Banana, Sweet Potato)
Many Jamaicans, particularly the older generations, enjoy making puddings, such as bread, banana, and the most popular, sweet potato pudding.
Jamaican sweet potato pudding is a hearty and sweet Jamaican food made from manually grated sweet potato, flour, sugar, cinnamon, nutmeg, vanilla essence, and other potent ingredients. Locals often recognize sweet potato pudding by the famous Jamaican riddle "Hell a top. Hell a bottom and hallelujah in the middle."
This riddle speaks to the traditional method of baking the pudding, which involves baking in an iron Dutch pot with hot coals below and on top of the pot.
This method helps to bring out the smoky, sweet, and nutmeg flavors in the pudding.
You're also going to enjoy authentically-made Jamaican bread pudding. In fact, I'm somewhat crazy over this pudding simply because it is very soft, savory, and sweet. I love that Jamaican bread pudding has the perfect blend of raisin, rum, cinnamon, vanilla, and stale bread. When eaten with ice cream, it makes the perfect treat. You should give our puddings a try.
20. Jamaican Gizzada
Gizzada, also known as pinch me around, is a famous traditional coconut-inspired snack/dessert Jamaicans enjoy.
Gizzada is a circular pastry with pinches around the edge of the buttery and soft crust, whereas the inside fills with sweet and spiced coconut fillings.
The grated coconut mainly seasons with three simple ingredients, brown sugar, ginger, and mixed spice, perfectly fused to create a sweet and delectable treat. Jamaican gizzada is a must-try on any given day. If you're looking to satisfy your sweet tooth, an authentically made Jamaican gizzada is the way to go.
Beverages
21. Tea
Jamaicans love their morning tea as a means to "buss gas" (relieve bloating) and awaken their spirit before they take on the day.
Jamaicans do not enjoy drinking tea prepared from teabags, as they believe teabags are weak in nutritional value. Besides, why should Jamaicans drink teabags when in almost every Jamaican home, you will find dried or fresh herbs harvested and suitable to make good, tasty, and super healthy tea?
Among the most notable teas that Jamaicans enjoy sipping are ginger, peppermint, lemongrass, thyme, basil, lime leaves, orange leaves, chocolate, and cerasee tea.
When you're visiting Jamaica, I encourage you to request or seek an authentically made Jamaican tea. You will appreciate its warmth, richness, and earthly flavors.
22. Jamaican Rum
You will love the taste of full-bodied Jamaican rum.
It is funky, distinctive, tasty, and wild. Jamaica has strict standards in ensuring that its rum is of the highest quality. As such, people from near and far grow to enjoy and appreciate the richness and authenticity of Jamaican rum.
The traditional method of preparing Jamaican rum dates back to the 17th century, which helps give it its distinct flavors. In this method, molasses is strategically fermented in large puncheons with all-natural GMO-free yeast before being distilled in pot stills and then allowed to age in oak barrels for several years.
Aside from the natural fermenting process and history of Jamaican rum, the island's rum is also special because it is produced from sugarcanes grown from limestone-rich soil.
Limestones are full of calcium carbonate, which significantly help to soften the final product, making it a little sweeter and richer. Locals and foreigners enjoy adding Jamaican rum to their cocktails and punches; some will simply have it with plain water.
My favorite Jamaican- based drink is the Jamaican rum cream consisting of milk, fruits, and spice flavors. I highly recommend Jamaican rum cream as it's creamy, rich, and delicious.
If you are a rum lover, you ought to ensure you're drinking the best, and Jamaican rum is simply the best.
23. Red Stripe Beer
Red stripe beer is Jamaica's most popular beer, and you don't need to be a beer connoisseur to relish this homemade beverage fully. Red Stripe beer has become part of the Jamaican way of life, from workdays to beach days, from lazy Sundays to parties.
The company describes its beer in one simple sentence, "A beautiful amber lager with low butterscotch flavor, full-bodied, and a smooth post-palate sensation." That said, grab this awesome beer as you and your friends chill on Jamaica's beautiful white sand beach.
24. Dragon Stout
Dragon Stout, a mysterious, dark, and smooth liquid, is Jamaica's stronger brother. Dragon Stout has been brewing exclusively in Jamaica since 1920 with 2-Row European hops, caramel roasted malts, and brown sugar, all fused perfectly to produce a sweet, malty, and roasty flavor.
Jamaican working men enjoy drinking Dragon Stout as they associate it with strength and vitality. So, if you're looking for that extra boost and stamina in your body, Jamaican Dragon Stout is the way to go for Jamaican beer.
25. Blue Mountain Coffee
Coffee lover or not, you'll enjoy the rich taste of 100% Jamaica Blue Mountain coffee. Jamaica is globally known for its pricey, authentic, and one-of-a-kind coffee. These coffee beans are grown in the cool, misty, mineral-rich soil of Blue Mountain.
These tropical conditions make it ideal for growing this highly sought-after coffee. Jamaica's Blue Mountain coffee is mild, refined, and pleasantly sweet, with a hint of chocolate flavor, and lacks bitterness. While in Jamaica, consider sipping the Blue Mountain coffee to kick start your days.
Frequently Asked Questions
What is the most popular dish in Jamaica?
Ackee and Saltfish is the national dish of Jamaica, traditionally eaten for breakfast. It's a flavorful mix of ackee fruit, dried salted codfish, onions, and peppers.
What is a unique Jamaican dessert I must try?
he Jamaican rum cake, also known as "Black Cake", is a must-try dessert. It's a rich, dense cake made with rum-soaked dried fruits, warming spices, and browning to give it a dark color.
How popular is seafood in Jamaican cuisine?
Seafood is quite popular in Jamaican cuisine. Fish is a staple, especially red snapper, parrot fish, and doctor fish. Jamaican Escovitch Fish is a popular dish, prepared with fried fish topped with a spicy vinegar-based pickled vegetable sauce.
Are Jamaican dishes spicy?
amaican cuisine is known for its use of Scotch bonnet peppers, which add considerable heat. However, not all dishes are spicy. The amount of spice varies from dish to dish and can often be adjusted based on personal preference.
Jamaican Food: Final Words
Jamaican foods are unapologetically delicious and satisfying. Every bite from a carefully prepared meal is guaranteed to be flavorful, sumptuous, tantalizing to the tastebuds, and make you long for more. While you're in Jamaica, be sure to visit as many local restaurants as you can, so you can try all the authentic Jamaican meals and have an all-sense feast.
My top three Jamaican food recommendations are jerk chicken, curry goat, and ackee and saltfish. I loved these dishes and would happily devour them regularly if I lived near a Jamaican restaurant. Whether eating from the roadside to immerse in the fun local style experience or at an exclusive restaurant, you will always find authentic Jamaican foods and drinks to savor.
There you have it! The 25 best Jamaican foods and beverages to try while on your trip to Jamaica. Make sure to subscribe to our newsletter to receive awesome tips on the best local foods to eat on your next vacation.
Ashaki Dixon is a part-time writer and aspiring food blogger. She was born and raised in beautiful Jamaica, where she developed a great love and appreciation for Jamaican cuisine. In her free time, you can find her cooking or reading a great book. Find out more about Ashaki via LinkedIn