Located in northern Alabama, Huntsville sits at the foothills of the Appalachia Mountains. While Huntsville's nickname is Rocket City, known for all things related to space, Huntsville restaurants are now blasting off in quality and quantity and may soon become known as Culinary City.
So, take a trip worldwide—all while staying in Huntsville with their booming culinary food scene. Visit countries like England, Vietnam, and Mexico on your foodie journey. No passport required!
Visiting other destinations in Alabama? Check out our other guides:
The 7 Must-Try Huntsville Restaurants
117 North Side Square // +1 256 715 7152
Taking you to the UK, at the Poppy & Parliament, my bone-in ribeye came to the table served on a large cutting board. It took more than a fair share of the tablespace, so it made a big impression as the server placed it before me.
I ordered the 16-ounce size; however, the option for 22-ounce was also available. But remember, 16-ounces is a full pound.
The steak came atop a pile of sliced potatoes about an eighth of an inch thick and then twice-fried in beef fat. Then came the steak cooked precisely to order. And finally, Chef Kristen topped the steak with a mound of crispy fried parsnips and a drizzle of chimichurri sauce to round out the dish.
That wasn't all. The chef accompanied the steak with two sauces, so no matter your tastes, you have something to dip in each bite. One dish held a traditional hollandaise sauce, the other pot a classic chasseur sauce that included mushrooms.
One of my dining companions ordered the bangers and mash as a nod to the UK. The rest of us at the table couldn't resist the ribeye. Be sure to visit the gourmet butcher shop upstairs.
109 Northside Square // +1 256 427 2500
Entering Beezr, I asked the host if they served food, as the brewing equipment was front and center. She assured me that they did. And I was surprised that their menu was extensive because I expected more of a brewery than restaurant food.
The thing I love most about brewery food is the dishes they feature using their beer, and Beezr was no exception.
We started the meal with carnitas nachos. Then, beginning with house-made tortilla chips, they topped the chips with beer-queso cheese. Next comes the star of the plate, the beer-braised pulled-pork, braised with the Deception dark lager.
It appeared that they seared the pulled pork a bit after braising for some added flavor. After that, they sprinkled the dish with roasted corn, chopped onions and tomatoes. Finally, they topped it off with some mozzarella and Cotija cheese, garnished them with cilantro, and served them with salsa.
While we had the nachos as an appetizer, they were so good. I'd recommend not sharing and making them your meal.
I had the mojo shrimp tacos with blistered marinated shrimp and roasted corn. Then they topped it with purple slaw and fresh chopped tomatoes. Finally, the chef topped the tacos with a lemon-garlic aioli and garnished them with cilantro. While I loved these, I kept thinking about the carnitas nachos.
Just so you know, you can also order the carnitas as tacos, if like me, you ended up sharing the nachos and couldn't get enough of that tasty pork.
My dining companion had a pizza called the pesto buscaiola. It featured a house-made basil pesto, blistered bacon and mushrooms. Then they topped it with hard cheese and fresh buffalo mozzarella. I tried a bite of this, another winner on the menu.
They offer lots of specials throughout the week, like Weiner Wednesday, where you'll find bratwurst cooked in one of their lagers.
2610 Clinton Ave W // +1 256 801 9650
Located inside the Straight to Ale brewery at Campus 805, Ale's Kitchen's name is a fun play on words and is definitely one of the best Huntsville restaurants. Their restaurant serves food that perfectly complements their beer. You'll find tacos, pizza, sandwiches, and burgers.
While the burgers looked outstanding, I was thrilled to have ordered the Smokestack. I'm a BBQ fanatic, but this house-smoked pulled pork sandwich didn't disappoint. Their bun came stacked with smokey, yet succulent pulled pork that they topped with thick-cut crisp, smokey bacon.
At that point, the sandwich had some slightly sweet BBQ sauce added before they topped that with a creamy slaw. Then came crispy onion straws and bistro sauce.
Finally, they served fresh, hand-cut fries; overall, a large lunch platter that I knew I should have left some behind, but it was so tasty that I finished every bite. I could have eaten an entire side of coleslaw; it was just that good!
106 Jefferson Street S // +1 256 361 0090
Situated inside the 106 Jefferson Hotel, the Revivalist opened along with the hotel in 2021. It had a modern upscale vibe, yet a closer look revealed historical details, like the original floors from a furniture store that once occupied this location, and original exposed brick that now works as accent walls throughout the restaurant.
My meal started with warm cornbread served in an individual cast-iron skillet, topped with bacon jam. But this was only the beginning of a meal signaling southern comfort food.
My favorite dish at Revivalist was Chef Gary's signature shrimp and grits. I'm from the north, and whenever I travel south of the Mason-Dixon line, I always look for shrimp and grits on the menu. I found my all-time favorite at Revivalist.
This dish featured a smooth, fluffy mound of grits flavored with a hint of smoked cheddar. First, the chef topped it with a cream sauce, and then he artfully stood the golden-brown shrimp tails up for an Instagram-ready presentation.
He rested strips of Benton's ham crisps in the center of the grits for textural contrast, then garnished with a sprinkling of thinly sliced scallion tops. This dish alone was worth the trip to Huntsville. A gem amongst the Huntsville restaurants.
2620 Clinton Ave W // +1 256 517 9797
Located inside the 805 Campus, Hops N Guac is one of the Huntsville restaurants serves fast-casual Mexican food with counter-style service. The atmosphere is fun and colorful.
And what goes better with tacos than beer. Hops N Guac has a beer wall with 45 taps where customers create their own experience by pouring their own beer. In addition, their full-service bar offers some of the best tequila in Huntsville.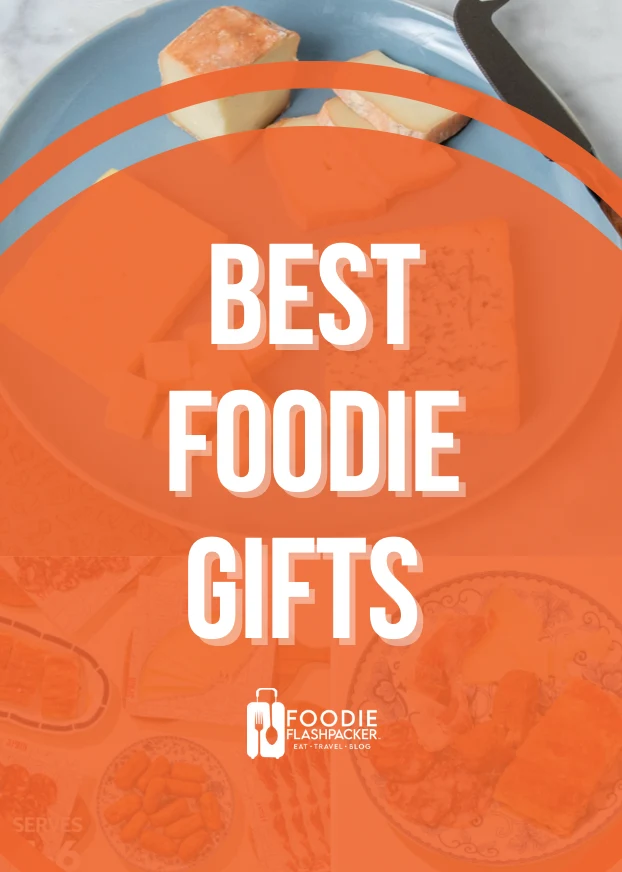 Are you a real foodie? I've compiled a list of the best foodie gifts you can get for yourself and your closest ones. Cheese, meat and sweets subscriptions, and some classic must-have foodie gadgets.
Our group started the meal with a flurry of appetizers. First, of course, we had to have the eponymous guac, classic guacamole made to order and served with fresh chips, radish slices, and cucumber. The fresh veggies were a pleasant surprise to lighten the Mexican dishes and add another pop of color to the presentation.
Next, someone else ordered chicharrones, fresh cracklings, that came drizzled with crema and pico de gallo. Then, to showcase their house Estrella Jalisco beer, we had their famous beer queso, made from several types of cheese.
My entrée at Hops N Guac featured three regular-sized tacos with Mexican street corn. I had the carnitas, the carne asada taco, and a shrimp taco, but you can select any combination you like.
104 Jefferson St S // +1 256 489 0232
You'll spot Phat Sammy's by the yellow and green neon pineapple, beckoning you. Then you'll take a flight of steps down to a lower-level venue with a tiki bar atmosphere. You'll find a variety of drinks reminiscent of the islands, but the food had an Asian flair which made it stand out in between all the other Huntsville restaurants.
Since we had appetizers at an event earlier in the evening, I wasn't looking for a big meal, just something to accompany the rum punch I'd ordered.
I selected the Chinese chili dawg as a footlong dog served on a Hawaiian roll bun. The bun was the New England-style bun cut on top rather than the side, so the hot dog was nestled inside the bun. They topped the dog with melted cheese, pickled mustard greens and Mapo Dofu.
Mapo Doufu, aka Mapo Tofu, is a traditional Sichuan dish consisting of tofu in a spicy sauce, based on douban, a fermented broad bean and chili paste, and douche, which are fermented black beans. Finally, they garnished the dish with scallions and Szechuan peppercorns.
Not the hot dog you'd find at the all-American July 4th picnic, but a fun change. Fresh hand-cut fries accompanied the hot dog.
My friend turned a couple of appetizers into a meal. First, she ordered the Korean BBQ pork belly and the fried Brussel sprouts. The pork belly featured a BBQ sauce. Then they topped it with pineapple pickled radish, a scallion-onion salad and sweet and spicy squid.
The fried Brussels sprouts had a charred appearance, but char equals flavor. The sprouts featured pork floss, coconut vinegar, cured egg yolk, and benne seeds.
2004 Airport Rd SW // +1 256 489 0745
While they call it Edgar's Bakery, they offer a complete breakfast and lunch menu and this is one of the reasons why it's among the best Huntsville restaurants. I had the pimento cheese biscuit, a cheddar biscuit with pimento cheese, eggs and bacon. Anything baked is a sure thing here, and the biscuit is one of my southern favorites. Add in the pimento cheese, and it's a winner.
If you prefer lunch over breakfast, try one of their deli sandwiches paired with a fresh salad. A favorite is the cranapple Jack turkey sandwich. It started with cranberry walnut bread, layered with Swiss cheese and bacon. Lettuce adds crunch and the apple butter adds flavor.
Resisting baked goods was impossible. After all, this café has the word bakery in its name. They featured a king's cake as I visited right before Mardi Gras, and I loved the filling. Another favorite was the strawberry bundt cake.
Wrap Up of The Best Huntsville Restaurants
It's a difficult choice when you have to choose between two things. But imagine 7? My father always said if you can't decide, try them all, so when you're in town, please do the same and visit each and everyone of these Huntsville restaurants. You won't regret it.
Amy Piper is a freelance travel writer, photographer, and blogger. A native of Michigan USA, she has traveled to 41 countries and 42 states, most recently adding New Mexico to the list. She aspires to go to Antarctica and finally visit all seven continents. She specializes in food and multi-generational travel, frequently traveling with her husband, daughter, and two granddaughters. Amy has had six-month-long expat assignments in South Korea and Argentina. She has been chased by bomb-sniffing dogs in the middle of the night in Bogotá (working late), refused boarding for a plane from Buenos Aires to Paraguay (wrong visa), and Federal Marshals once announced her seat number on a flight while looking for a murder suspect (traded seats.) It is always an adventure! She is a member of the International Food Wine and Travel Writers Association (IFWTWA), Travel Massive, TravMedia, and the International Travel Writers and Photographers Alliance (ITWPA). Follow her on Twitter @amythepiper