I was heading out to the Chilled100 Elevate Conference in Louisville Kentucky, where I knew I would indeed be having great cocktails. However, I wasn't expecting to find food that reminded me so much of my childhood in Wisconsin. No question, most entrees were heavier than I am used to eating in Palm Springs, but hey, we don't have cold weather like they do, so it makes sense that hearty meals are plentiful.
It is with pleasure I take you on a tour of some of the downtown Louisville restaurants and food I experienced while at the Chilled100Elevate Conference. After the conference, I followed the excellent advice of Visit Louisville and found some more unusual places to dine.
First, a little background about this river city: this city, located on the Ohio River, has always been an important trading spot as it flows directly into the Mississippi. Named after King Louis XVI of France, George Rogers Clark founded this river city in 1778. Many of the places in Louisville are 100 years plus old. For example, the Seelbach Hotel, The Brown, Stoneware & Company, and Wagner's Pharmacy honor their rich history.
Table of Contents
The 5 Best Downtown Louisville Restaurants
2300 Lexington Rd, Louisville KY 40203 // 1-503-458-8888
I remember walking through the door and feeling like I was entering a country-like setting, and then it magically transformed as I walked in to see décor worthy of any fine European old-world restaurant. Chandeliers and heavy drapes surrounded the windows, and intimate booths and tables strategically placed at different levels gave privacy to anyone who dined.
With the subtitle under its Le Moo name Fine+Steak+House, I realized this was the place to have my favorite steak, a ribeye. According to my watch, it was late, and not being used to eating a large meal late at night, I opted to pass on the salad and ordered the ribeye steak with garlic mashed potatoes patties, which turned out to be delicious and had my dining mates asking if they could try them.
I had flown in from Palm Springs and was dealing with a 3-hour time change, which I knew would have an impact in the morning. Tired but not wanting to miss any experiences presented to me in Louisville, I bucked up and went out with the group of nine for what turned out to be an outstanding dinner, not just because of the food, but the great conversations with new friends.
Pro Tip: The salads are gigantic, so you will want to share if you order a full entre.
500 S 4th Street, Louiseville KY 40202 // 502-585-3200
You don't have to be at the Seelbach Hotel long before you hear about the ghost believed to be that of a woman found in an elevator shaft. The mystery remains, did she commit suicide after she learned her ex-husband was killed on the way to meet her at the hotel?
Wandering through this hotel reveals beautiful wooden staircases and formal lounge areas. However, one of the most beautiful places is the Rathskeller, created in the Bavarian style, covered with what is believed to be the most extensive collection of Rookwood tiles worldwide.
It was a great pleasure to drink these two outstanding cocktails from the hotel's mixologist. Both cocktails are made with Casa Del Sol Tequila. The one on the left is called "Chilled Top 100," created for the Chilled 100Elevate Conference. The other Paloma Del Sol is one I would certainly order on a hot Palm Springs day.
350 W Chestnut Street, Louisville, KY 40202 // 502-585-3200
For the winter months, temporarily enclosed igloo-like clear plastic structures provide a place for intimate dinners at the 8Up Drinkery & Kitchen on the top floor of the Hilton Garden Inn. There is open kitchen seating and private dining rooms for that celebratory dinner with your friends. A bird's eye view of downtown Louisville restaurants is stunning from there on any evening.
While I enjoyed the braised short ribs, I must say the meal's crowning glory was the key-lime cheesecake. I am not, admittedly, a cheesecake fan, but this light dessert had me rethinking whether maybe I should start giving cheesecake another try.
630 E Market Street, Louisville, KY 40202 // 502-585-2952
It is located on East Market Street, NuLu, area of Louisville. There are plenty of independently owned retail stores, galleries, and restaurants, so plan to spend quite a bit of time exploring, for you are sure to get caught up in the fun atmosphere and enjoy conversations with the people browsing and talking to establishment owners.
You can't miss Muth's, for their retro sign stands out from the building. On my visit, I met the great-granddaughter, who told me her mother brought her to the store when she was just a few days old. With a smile, she said, "Honestly, I know no other life." The 4th generation of the same family celebrated 100 years of continuous store operation in 2020.
Handmade chocolates filled the cases; I couldn't pass up a bourbon ball since I was in bourbon country. I was thrilled when she took me back to see where the chocolate is made and formed into nuggets of pure savory joy you will appreciate.
My childhood immediately popped up before me, for I lived in an apple orchard. As I was leaving, I noticed a candy-covered apple. With my apple purchase, I walked out the door and thought to myself, "Now that was fun!" And the apple? It was a wonderful bedtime treat.
335 W Broadway, Louisville, KY 40202 // 502-583-1534
Before going to Louisville, I had never heard of a Hot Brown. It didn't take long to hear about it, and locals would invariably ask me if I had eaten a Hot Brown. I decided that, if I were going to have one, I would wait until I moved to the Brown Hotel, which was where it was initially created in 1926.
The story goes, the nighttime dance revelers got tired of the usual late-night fare of ham and eggs. Chef Fred Schmidt heard the rumblings and went into his kitchen and made open-face turkey sandwiches with bacon covered with a Mornay sauce. It was an immediate hit with the large crowd and has become a staple in the exquisite Lobby Bar & Grill inside the Brown Hotel.
Oh my, so good. It was one of those entrees you know is filled with a humungous number of calories. Yet, you keep eating and practically end up licking the frypan-shaped ceramic dish clean.
It was my last day, and I decided I would have another Hot Brown for the road. Though this time, I opted for the vegetarian one made of macaroni and a few vegetables with the sauce. For the record, I regretted not having the original again, but for vegetarians, it is an option for them to try this landmark food of Louisville.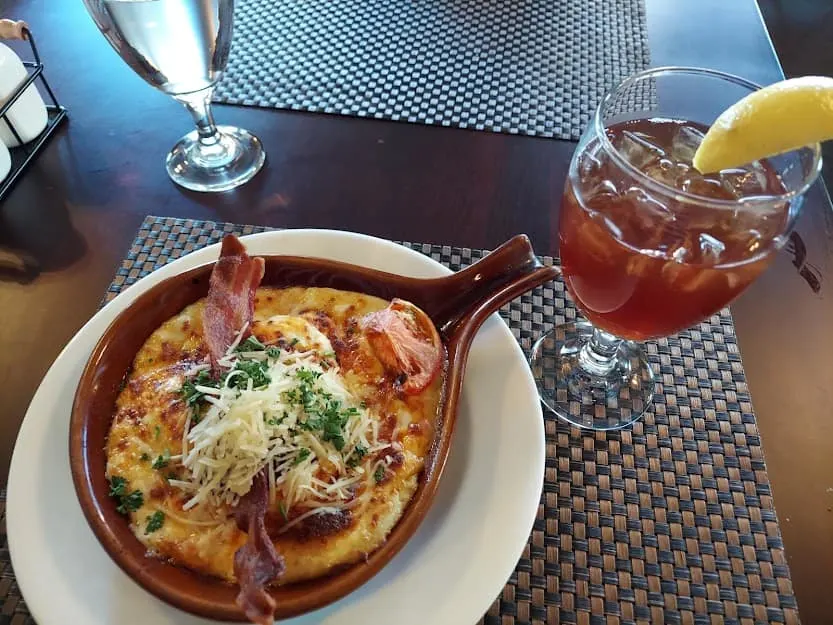 Downtown Louisville Restaurants: Conclusion
Here are my final thoughts about the downtown Louisville restaurants. If you like bacon, you will definitely be thrilled to see bacon incorporated into at least one item on every restaurant menu. Frankly, over five days, I ate more bacon than I probably do in a year. And YES, I enjoyed it every time, for it always showed up in creative ways.
Since we are in bourbon country, you can be sure you will find its way into your life in many different ways. You will discover bourbon-infused candy. Bourbon slipped into entrees as the secret ingredient to craft cocktails that will knock your socks off, created by mixologists who are constantly experimenting.
Louisville, Kentucky, is one of those cities that causes you to want to dig deeper into the culture and history and explore its culinary fare. I regret that I heard there is a place with the best-fried buttermilk chicken in the entire state, and I didn't have time to get to the North end to find it. Gee, I guess I will have to go back…!
Visiting other destinations in Kentucky? Check out our other delicious guides:
Journalist and travel writer with immense curiosity that has taken her to 29 countries, 16 islands, and 49 states (Alaska on the bucket list). She is the author of two books: Face-to-Face Networking: It's All About Communication and It Doesn't Hurt to Ask: It's All About Communication, which was named Best Book Finalist by USA Book News.
Her motto: Let me help tell your destination's story to the people throughout the world.